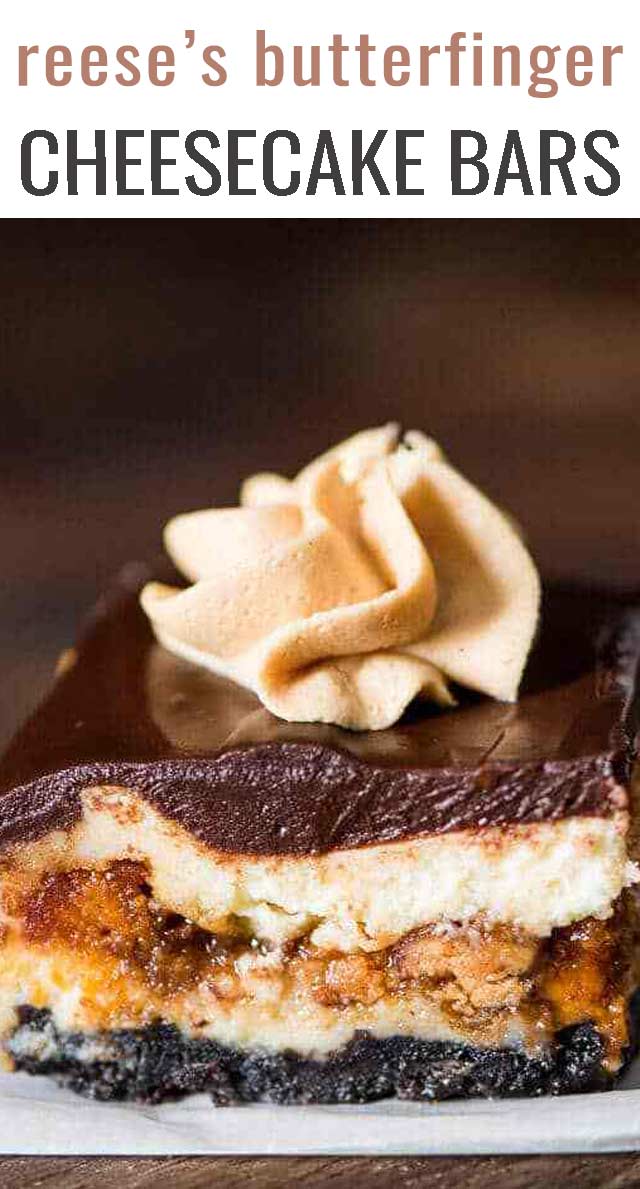 Reese's Butterfinger Cheesecake Bars are our copycat version of The Cheesecake Factory's Adam's Peanut Butter Cup Fudge Ripple Cheesecake. Creamy cheesecake stuffed with two kinds of candy bars, caramel, and topped with chocolate ganache and peanut butter frosting.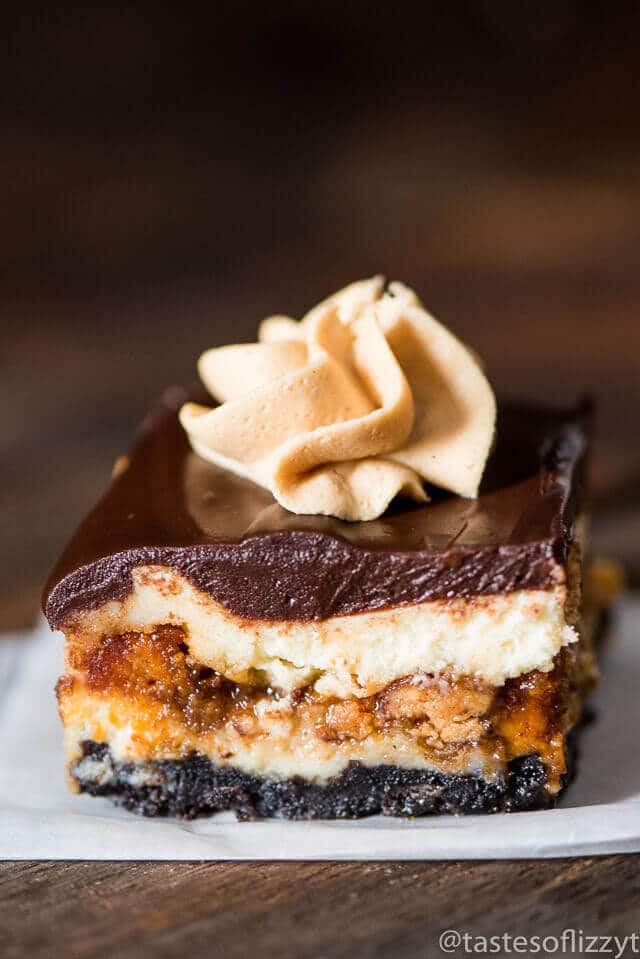 I don't think I've ever met a cheesecake I haven't liked.
Have you ever eaten at The Cheesecake Factory? It's one of my favorite restaurants because….cheesecake! Although each time I go I tell myself I will be brave and try a new flavor of cheesecake, Adam's Peanut Butter Cup Fudge Ripple calls my name loud and clear. And there's no saying no to that chocolate peanut butter lover's dessert.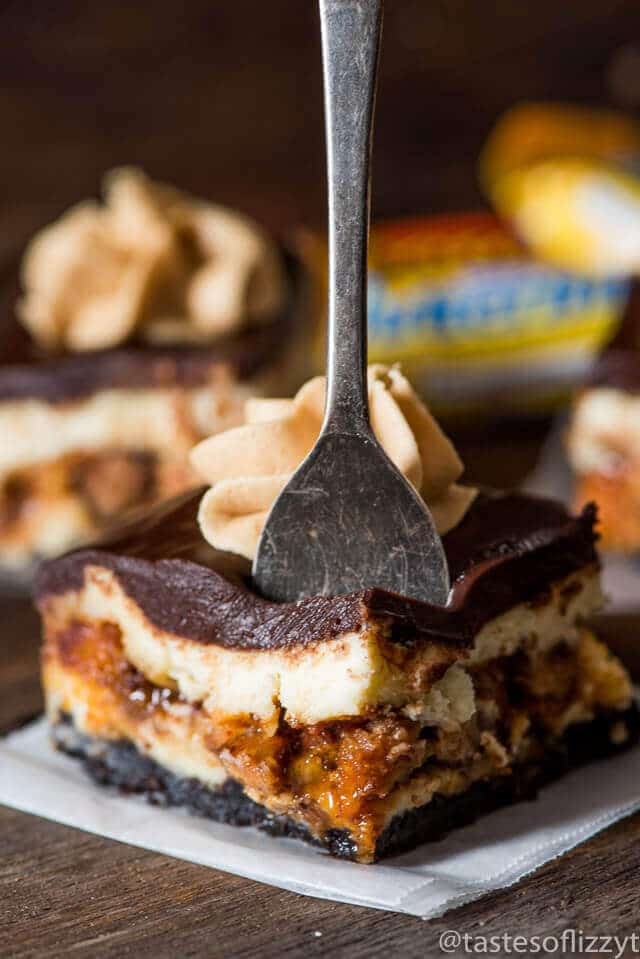 I decided that before I went broke buying $8 slices of cheesecake, I needed to create a copycat Adam's Peanut Butter Fudge Ripple cheesecake at home. The result? Reese's Butterfinger Cheesecake Bars. A heavenly copycat of Adam's Peanut Butter Cup Fudge Ripple Cheesecake.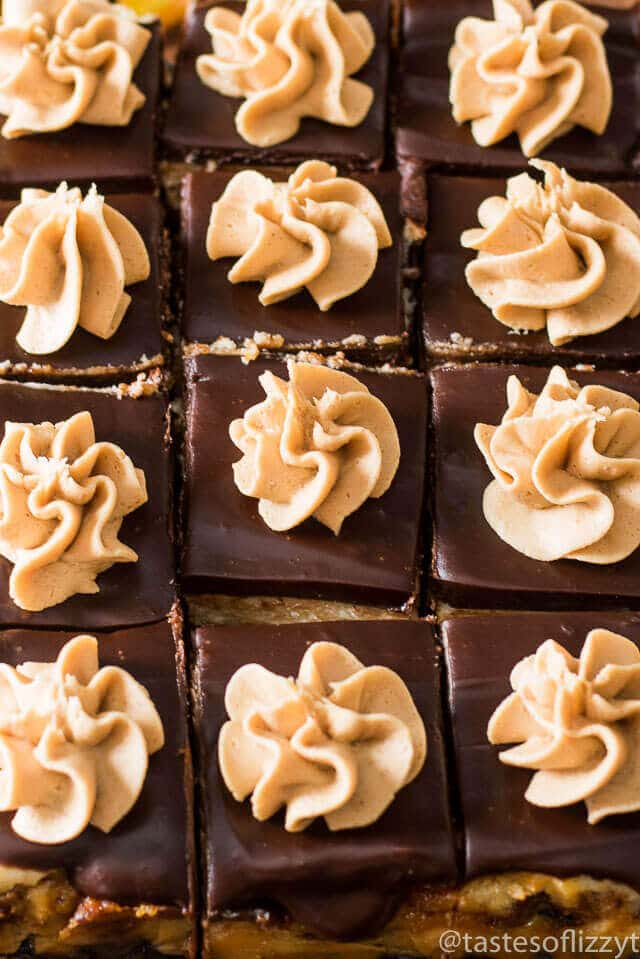 I like to think that these Reese's Butterfinger Cheesecake Bars are healthier than their fancy restaurant version. Why? Because they're smaller which means less calories. If you can keep yourself from eating the whole pan, that is.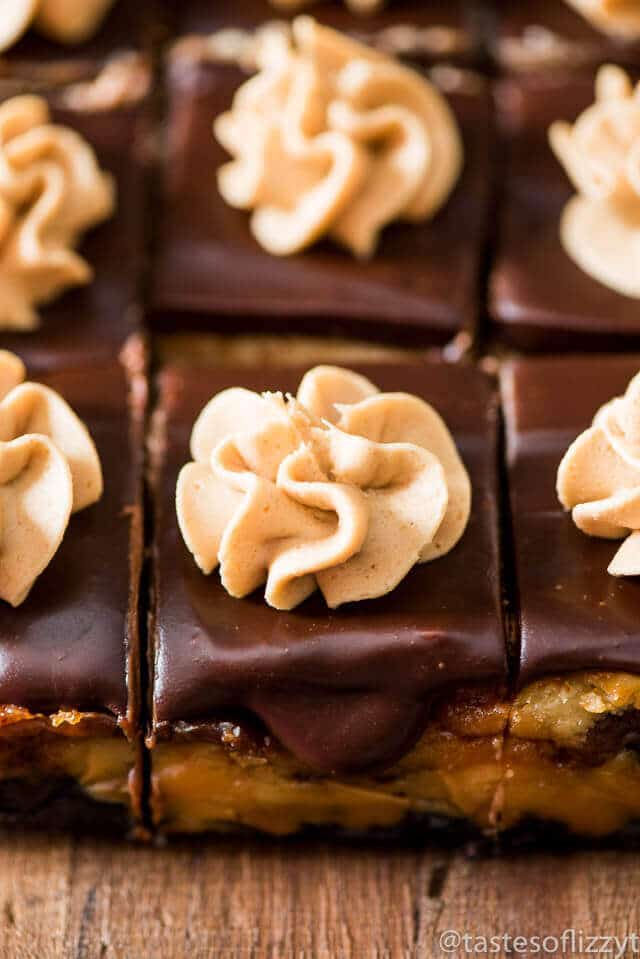 What makes these Reese's Butterfinger Cheesecake Bars so special?
1. An Oreo crust. When a dessert starts with an Oreo crust, it is a definite winner in our house.
2. A layer of rich, creamy cheesecake.
3. Chunks of chopped Reese's peanut butter cups and Butterfinger candies.
4. Drizzle of caramel. We use caramel ice cream topping to make it quick and easy.
5. Another layer of cheesecake.
6. A layer of smooth chocolate ganache.
7. Cute little swirls of peanut butter frosting.
And the result?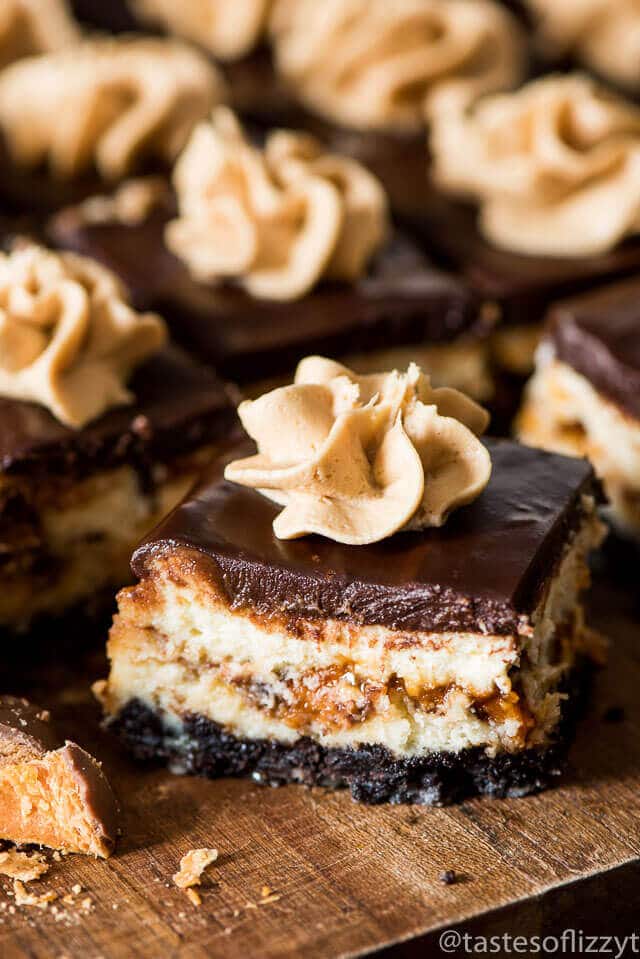 My very own homemade Adam's Peanut Butter Cup Fudge Ripple Cheesecake, right in my own house, able to be made at any time.
This really is dangerous, ya know.
I am getting better with my self-control when it comes to eating, but all bets are off when these are around.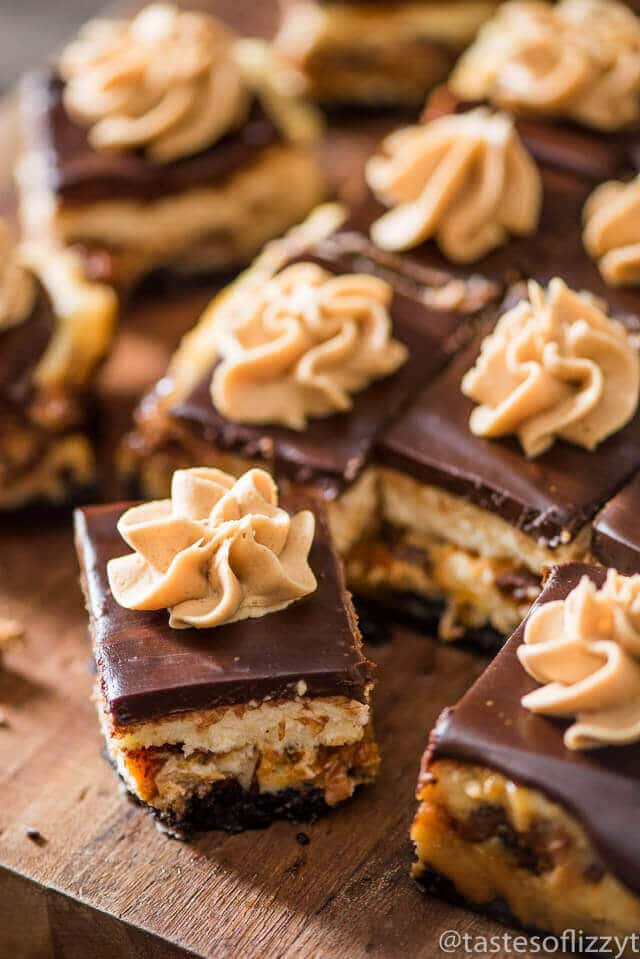 Here are some hints if you want to make these heavenly Reese's Butterfinger Cheesecake Bars.
*Line your baking pan with foil, and let that foil hang over the sides. This will make removing these bars sooooo much easier, and cleanup is a breeze, too! You'll pull out the bars with the foil that is hanging over and be able to cut these into perfectly shaped little bars.
*I've recently gotten a Ninja Chopper
. This is what I used to crush the Oreos & it worked great! You can also put them in a Ziploc bag and let out your stress, smashing the Oreos like there is no tomorrow, but the Ninja Chopper really worked like a charm.
*Be sure to bake the Oreo crust for about 8 minutes before layering in the cheesecake and chocolate goodies. The crust will fall apart if you don't!
*These bars are best if made a day in advance. At the very least, they need to completely cool. I waited about 4 hours before I ate my first bar. And it was good, but when I ate one the second day, the layers had settled nicely into each other, the cheesecake was cooled all the way through, the Oreo crust had gotten a little softer, and it was just perfect. It will be the longest wait of your life, but so worth every bite.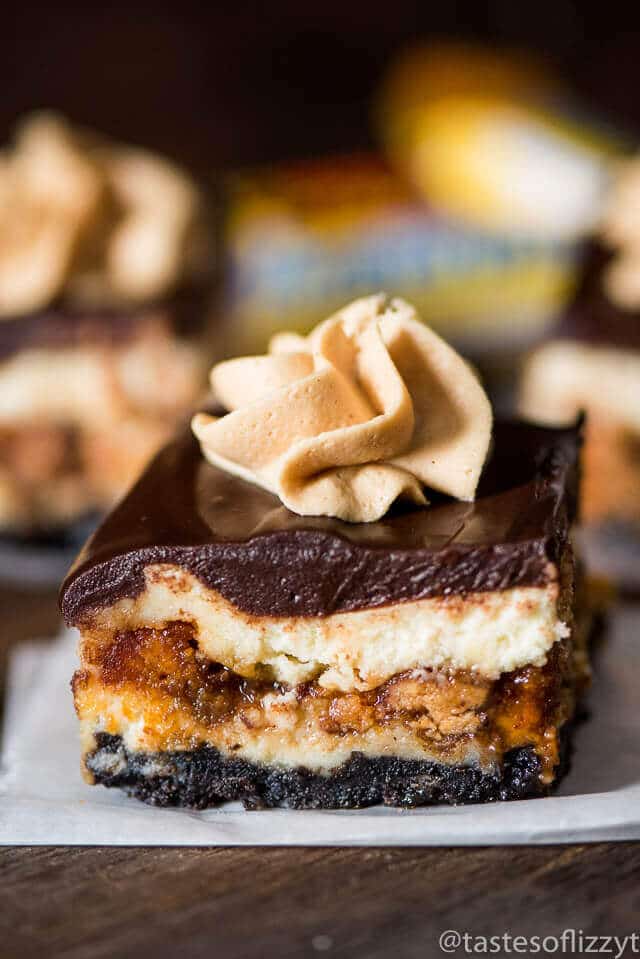 Other Cheesecake Bars Recipes
Reese's Butterfinger Cheesecake Bars
These cheesecake bars are our copycat version of the Cheesecake Factory's Adam's Peanut Butter Cup Fudge Ripple Cheesecake!
Ingredients
Crust:
22

Oreos

about 2 1/2 cups crushed,

6

tablespoons

butter

softened
Cheesecake:
16

ounces

cream cheese

softened

2

large

eggs

1/2

cup

sour cream

1/2

cup

sugar

1 1/2

teaspoons

vanilla
Toppings:
8

Fun Size Butterfinger bars

chopped

8

Reese's peanut butter cups

chopped

1/2

cup

caramel ice cream topping
Chocolate Layer:
1

cup

dark chocolate chips

or semi-sweet

1/2

cup

heavy whipping cream
Peanut Butter Frosting:
1/4

cup

butter

softened

1/2

cup

creamy peanut butter

1 1/2

tablespoons

milk

1

cup

powdered sugar
Instructions
Line an 8x8 baking pan with tin foil. In a small bowl, combine the crushed Oreos and butter. Press them evenly into the bottom of the baking pan. Bake at 350 for 8 minutes. Remove from the oven and set aside on a wire rack to cool.

In a stand mixer, mix the cream cheese, eggs, sour cream, sugar and vanilla. Beat until smooth and creamy, about 2 minutes. Spread 1/2 the batter over the cooled Oreo crust. Sprinkle the chopped Butterfingers and Reese's cups evenly over the batter. Drizzle 1/2 cup caramel topping over the candies. Spread the remaining batter over everything. Bake at 350 for about 35-40 minutes or until the cheesecake has set and the edges are lightly browned.

To prepare the chocolate ganache topping, heat the heavy cream for about 30 seconds in the microwave. Do not allow the heavy cream to boil.**

Place the chocolate chips in a medium-size bowl and pour the heated cream over the chocolate chips. Cover the bowl with a plate or a lid and allow it to sit for 3-4 minutes.

Mix the chocolate chips and the cream together until the cream is completely mixed in with the chocolate. The ganache should be completely smooth.

Spread the chocolate over the top of the cheesecake evenly and allow it to set in the refrigerator preferably overnight, but at least for 4 hours.

After the cheesecake has set, remove the bars from the pan by pulling up on the tin foil. Discard the tin foil, place the cheesecake on a cutting board, and cut it into 16 squares.

In a small bowl, mix the butter, peanut butter, milk and powdered sugar until creamy. Drop this by tablespoons on top of each square of cheesecake, or use a decorating bag and tip (Wilton tip 1M) to make a simple swirl on each square.

Store in an airtight container and refrigerate leftovers.
Notes
**If the heavy cream is too hot, it may burn the chocolate and make the chocolate seize. It should be heated, but not boiling hot.
Nutrition
Calories:
648
kcal
|
Carbohydrates:
66
g
|
Protein:
9
g
|
Fat:
40
g
|
Saturated Fat:
21
g
|
Cholesterol:
88
mg
|
Sodium:
421
mg
|
Potassium:
323
mg
|
Fiber:
2
g
|
Sugar:
43
g
|
Vitamin A:
800
IU
|
Vitamin C:
0.1
mg
|
Calcium:
110
mg
|
Iron:
2.3
mg