Reese's Peanut Butter Oreo Truffles. Oreos, cream cheese, Reese's Peanut Butter Cups and Reese's Pieces together in a bite-size, chocolate dipped treat.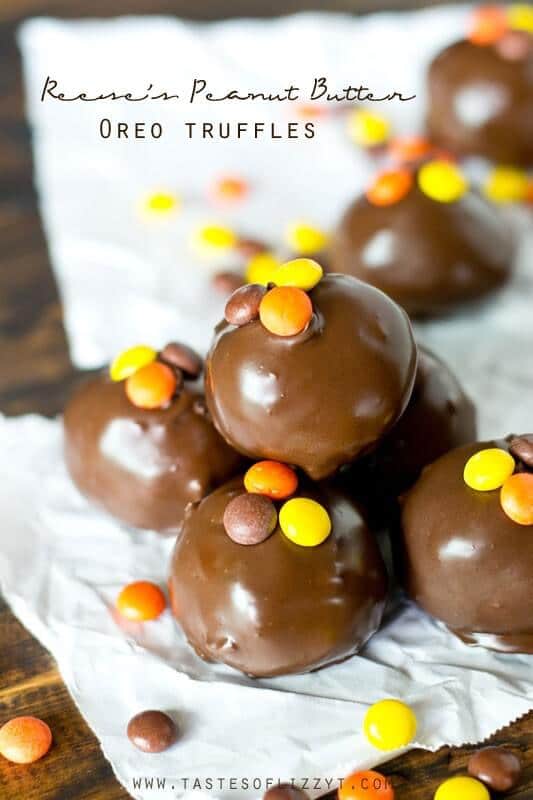 Reese's Peanut Butter Oreo Truffles
Back a few years ago, I was at an art reception for my mother-in-law. (You can check out her art here: Donna Pierce Clark). At this reception, I ate a truffle that I thought was fantastic and wondered if I'd ever be lucky enough to get a similar recipe. It was smooth, chocolatey, rich and covered in chocolate. I hate to think how many of those truffles I ate that day.
Fast forward a few years, and my sister-in-law introduced me to Oreo Truffles, and it was after I tasted these that I realized these were THE art reception truffles!
Needless to say, I was excited that the truffles I loved so much were just a simple mixture of Oreos and cream cheese.
Who would've guessed?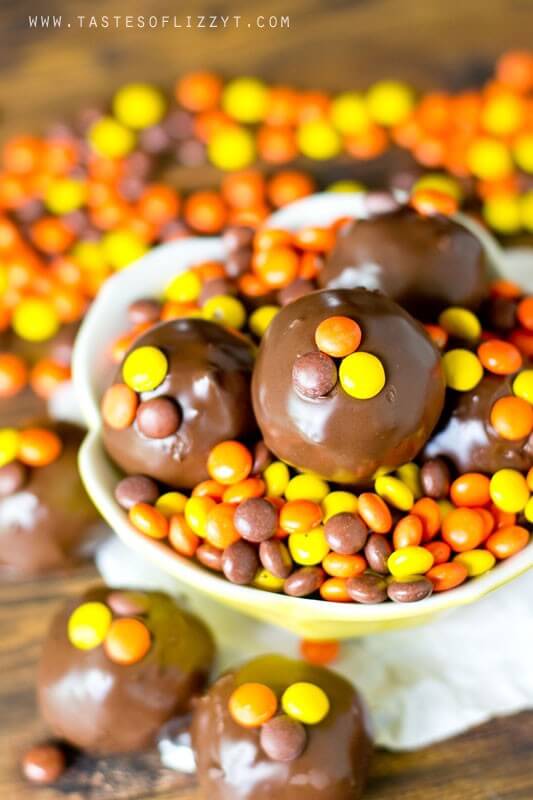 After getting an ice cream cyclone recently, I thought, "What if I make a 'tornado truffle' and mix more than just Oreos in? It would have to be good!"
And the idea for these cute little Reese's Peanut Butter Oreo Truffles was born.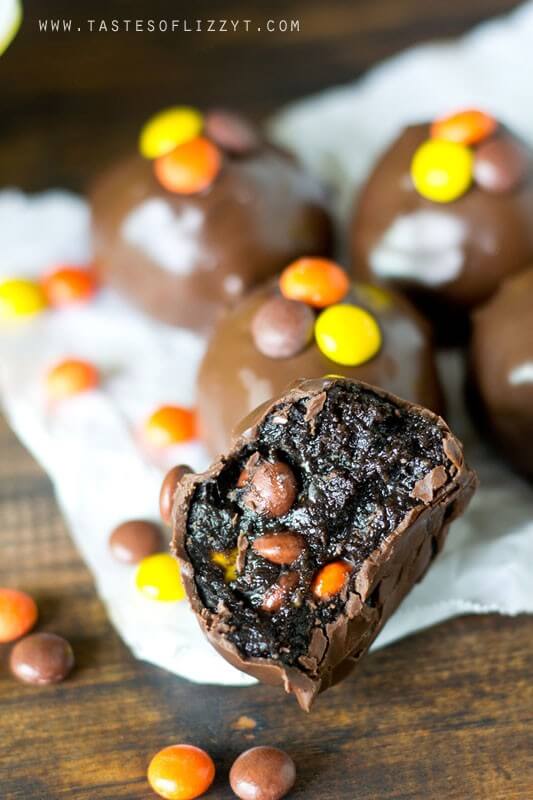 These really are simple…
Peanut butter Oreos, cream cheese, Reese's cups, Reese's Pieces.
All 'tornadoed' together and rolled into a rich, creamy ball, then dunked in chocolate.
I don't know why I doubted these would be good. But I did.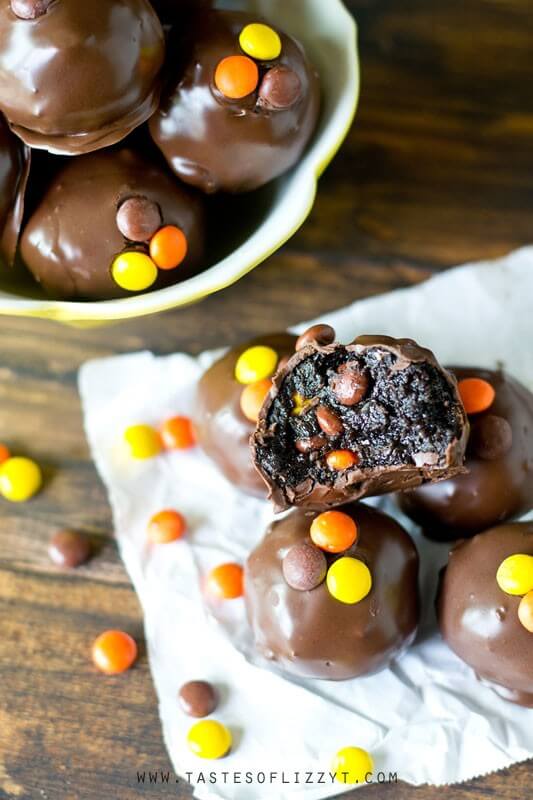 And thankfully, I was wrong.
They are amazing! We tried them out on a few friends and the consensus was that these little bite-size delicacies are a danger to have sitting around.
How to Make Oreo Balls
If you have a stand or hand mixer, these are super easy to make. Here's a few instructions:
Crush the Oreos with your hands a bit before putting in a bowl. This will just help the process along a bit. We used Peanut Butter Oreos so we had that extra punch of peanut butter flavor.
Add in some softened cream cheese and 6 Reese's cups. Mix like crazy 'til the mixture is nice and smooth. You want those Oreos to be completely blended in with the cream cheese. No chunks will make for a smooth truffle!
At the very end, fold in some Reese's pieces.
Refrigerate for about an hour, roll the mixture into 1 inch balls, then freeze the Oreo balls for about another hour so they are firm and easier to dip in chocolate.
How to Melt Chocolate for Dipping
Melt some chocolate either the microwave or a double boiler. Double boilers are the easiest way to melt chocolate for candy making. It keeps the chocolate nice and warm. If you choose to use the microwave, be careful to take the melting slow…about 30 seconds at a time, and stir in between. I've burnt and ruined my share of chocolate in the microwave!
You can use any kind of chocolate you'd like (milk, dark or semi-sweet) and in just about any form (squares, bars, chips, etc). Just don't use mini chocolate chips. They don't melt smoothly.
If your chocolate seems like it is too thick, you can add a teaspoon or so of shortening, or a small chunk of paraffin. A friend introduced this to me, and it has really been a life-saver. My chocolate candies at Christmas come out so much more smoothly!
Use a fork to dip the truffle balls completely into chocolate and put them on a pan covered in wax paper to harden. If you'd like, right after dipping, you can put some mini Reese's Pieces on top for some color.
I usually pop my pans into the fridge and within a few minutes, the Peanut Butter Oreo Truffles are ready to go!
Peanut Butter Oreo Truffles
Reese's Peanut Butter Oreo Truffles. Oreos, cream cheese, Reese's Peanut Butter Cups and Reese's Pieces together in a bite-size, chocolate dipped treat.

Ingredients
15

oz

package of Peanut Butter Oreos

8

oz

cream cheese

softened

6

Reese's Peanut Butter Cups

1/2

cup

mini Reese's Pieces

6

squares semi-sweet baking chocolate
Instructions
In a stand mixer or with a hand mixer, beat Oreos and cream cheese together for 2 minutes. Add in the Reese's Peanut Butter Cups and beat until smooth. Fold in the Reese's Pieces. Refrigerate the truffle mixture for an hour.

After refrigerating, roll the truffle mixture into 1 inch balls. Freeze the Oreo balls for 1 hour.

Melt the chocolate, either in double boiler or in the microwave. Dip the truffle balls in the chocolate, covering completely. While the chocolate is still wet, garnish with a few extra Reese's Pieces, if desired.

Allow the chocolate on the truffles to set completely before storing them in an airtight container.
Nutrition
Calories:
131
kcal
|
Carbohydrates:
14
g
|
Protein:
1
g
|
Fat:
7
g
|
Saturated Fat:
3
g
|
Cholesterol:
7
mg
|
Sodium:
90
mg
|
Potassium:
79
mg
|
Sugar:
9
g
|
Vitamin A:
90
IU
|
Calcium:
16
mg
|
Iron:
1.4
mg