You'll love this tornado of cream cheese, Nutter Butter cookies and Butterfinger candy bars rolled up and covered in chocolate.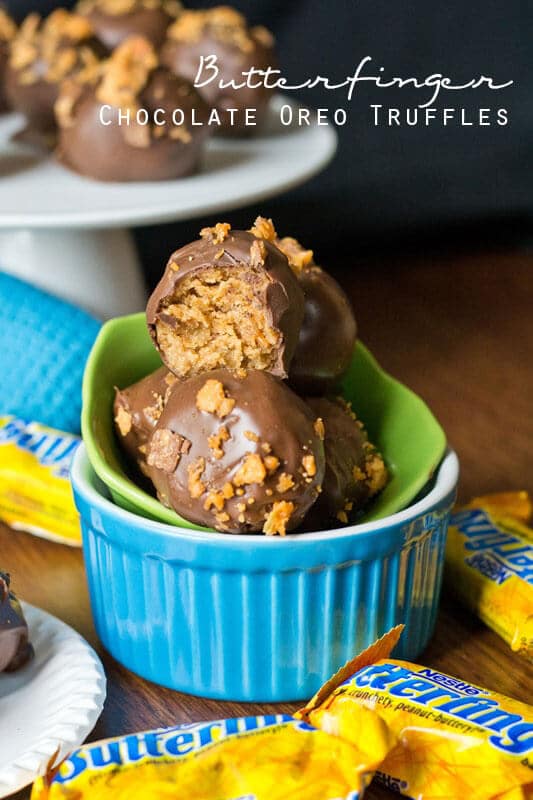 Here it is: another tornado truffle. Or in other words, Butterfinger Nutter Butter Truffles.
Butterfingers are one of my favorite candies (besides all of the other candy at the cash register!).  I used to love eating them- that is, until I got braces.  I was really sad that I couldn't eat all of my favorite candies, like Skittles, Butterfingers, and bubble gum.  When we made these truffles, obviously I was excited. Truffle has a one meaning for me- and that is soft, sweet, and chocolate covered goodness.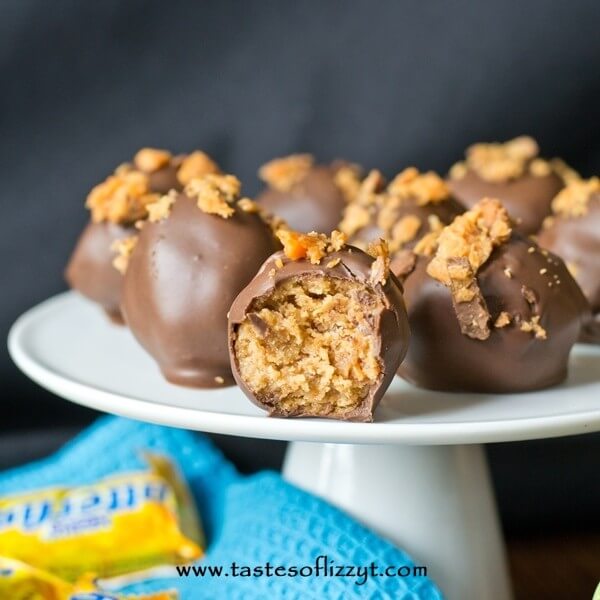 You might have an empty spot on your Christmas cookie plate and it could be one of two things- someone ate them, or you might need more cookies!!!! But, with Christmas ahead, who has time to make a whole batch of cookies?  I'd certainly love to. But sometimes we can make something a little easier- nothing that needs to bake, or broil, or anything like that.
 These Butterfinger Tornado Truffles might have to be on your cookie plate this year.
The ingredients?
Simple.
Butterfinger candy bars, Nutter-Butters, and cream cheese. Oh, and Candiquik dipping chocolate.  That part is crucial.  Other than that, you're set! Easy and delicious- how's that for a fast tray filler?
Out of all of the truffles left, I like these almost best. It's a close tie between these and the Reese's truffles. That's how good they taste. Mmmm.
Do you see how soft and decadent these truffles are? I'm really excited for you to try them!
Julie
Yields 36
Butterfinger Nutter Butter Truffles
A tornado of cream cheese, Nutter Butters and Butterfinger candy bars rolled up and covered in chocolate.
10 minPrep Time
10 minTotal Time
Ingredients
1 package Nutter Butters (16 ounces), crushed
1 8-ounce block of cream cheese, softened
10 Fun-size Butterfinger candy bars
1 package (16 ounces) chocolate Candiquik, or your favorite chocolate
1 tablespoon shortening, optional
Instructions
In a stand mixer or with a hand mixer, beat the Nutter Butters and cream cheese together for 2 minutes. Add in 8 of the Butterfinger candy bars and beat until smooth. If the truffle mixture is too sticky to roll into balls, refrigerate the mixture for 30 minutes to an hour.
Roll the truffle mixture into about 36 1-inch balls. Place them on a baking sheet covered in wax paper and put them in the freezer to harden for about 30 minutes. This will make them easier to dip in chocolate!
Take the remaining two Butterfinger candy bars and chop them finely. Set aside. Melt the Candiquik according to the package directions. Add a tablespoon of shortening if the chocolate needs thinned This is optional and is just to make dipping easier. Using a fork or a toothpick, dip the frozen truffle balls in the chocolate, covering completely. While the chocolate is still wet, garnish the tops with the chopped Butterfinger bars.
Allow the chocolate on the truffles to harden completely. Store in an airtight container.
7.6.4
589
https://www.tastesoflizzyt.com/butterfinger-tornado-truffles/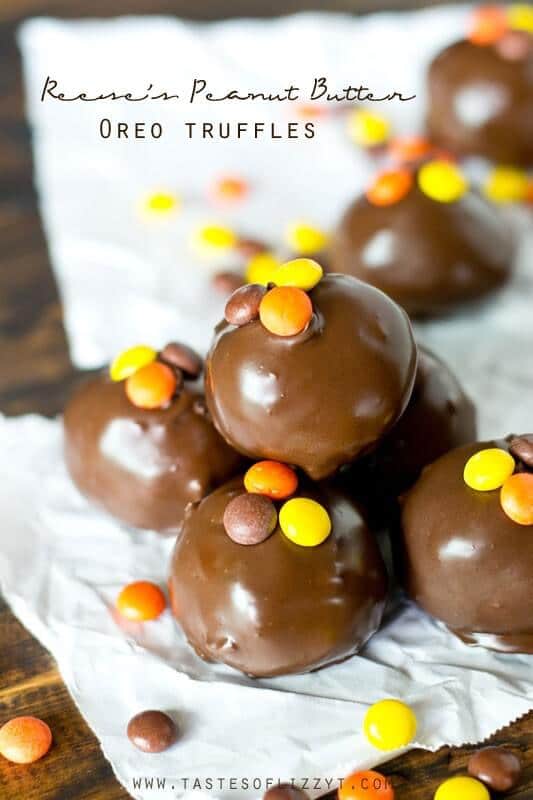 Peppermint Patty Mint Oreo Truffles
Almond Joy Chocolate Coconut Truffles