Strawberry Shortcake Pancakes
Tastes of Lizzy T participates in affiliate advertising programs. We may earn a commission when you make a purchase through links on our site.
Classic, fluffy pancakes with strawberries and sugar streusel baked inside. Serve these Strawberry Shortcake Pancakes with macerated strawberries for a unique, irresistible breakfast!

Strawberry Shortcake Pancakes Recipe
We've posted so many types of pancakes. Healthy ones, not so healthy ones, peanut butter ones, and all out crazy ones! All out delicious pancakes, though. 🙂 Because we sort of paused on the pancake area for a while, you thought you were a rid of the constant torture of our delicious pancakes. But you were wrong. We're back!
Strawberry Pancake Recipe
As you can see, these strawberry shortcake pancakes have a strawberry sauce on top. And there are finely chopped strawberries inside. But these pancakes have something else that makes them fantastic.
You can't just put strawberries in a pancake and call it a strawberry shortcake pancake, right? You need some shortcake! The BEST thing about our homemade shortcake, in my opinion, is the streusel on top. Sugary sweet, and definitely something I could eat by the handful. 🙂 So to make these pancakes the ultimate strawberry shortcake pancakes, we sprinkled some of this streusel on top while they were cooking. Okay, who am I kidding?  We pretty much dumped the streusel on top!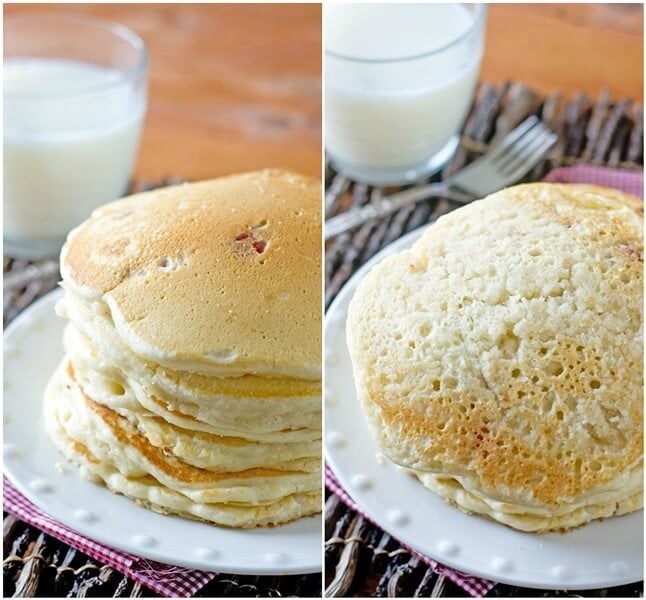 Strawberry Topping for Pancakes
With the strawberries inside and the streusel baked in the pancakes, they are pretty great. But the strawberry sauce on top is what makes the pancakes BURST with strawberry flavor. There's actually a word for what we did with the strawberry sauce: macerating. Or macerated. Or whatever. (My mom's better at the grammar thing than I am. 🙂 Okay, ready for my nerdy side to come out? Don't worry, it won't be that bad!
Macerating is like marinating, but with fruit. You take a fruit and use either vinegar, syrup, or sugar to draw out the fruit juice. For this syrup, we used sugar. You can either soak the strawberries overnight, or at least 2 to 3 hours, depending on how much time you have. What you get is a bunch of strawberries, basking in a slightly sweetened syrup.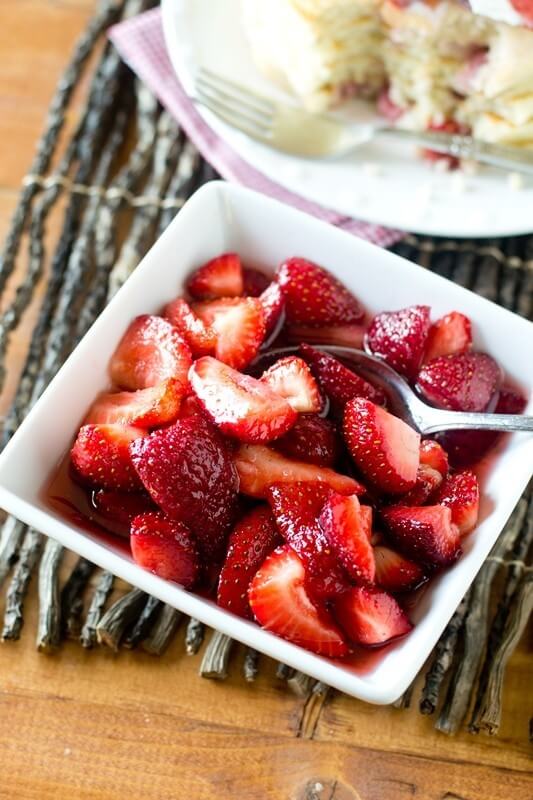 Love pancakes? Try These Pancake Recipes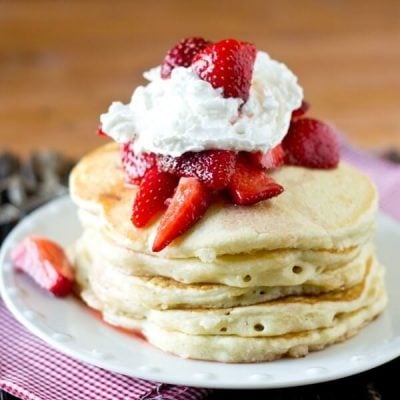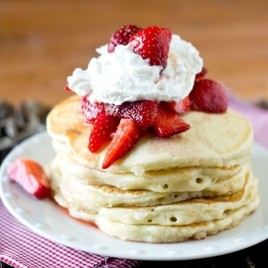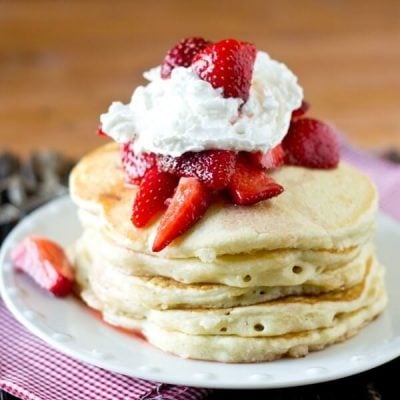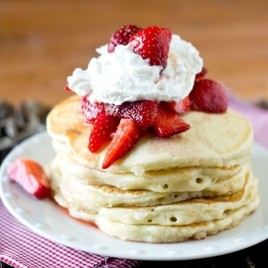 Strawberry Shortcake Pancakes
Classic, fluffy pancakes with strawberries and sugar streusel baked inside. Serve these Strawberry Shortcake Pancakes with macerated strawberries.
---
Ingredients
For the macerated strawberries:
3

cups

quartered strawberries

1/4

cup

granulated sugar
For the streusel:
1/2

cup

granulated sugar

1/2

cup

all-purpose flour

3

tablespoons

butter
For the pancakes:
2 2/3

cups

all-purpose flour

1/4

cup

granulated sugar

2

tablespoons

baking powder

1 1/2

teaspoons

salt

1/3

cup

canola oil

2

large

eggs

2 1/2

cups

milk

1

cup

chopped strawberries

very small pieces

Whipped cream

optional
Instructions
At least 6 hours before you plan to serve the pancakes, mix together the 3 cups of strawberries and ¼ cup sugar in a bowl. Cover the bowl and refrigerate. As this mixture sits, it will create a syrup.

For the streusel: In a small bowl, mix together the flour and sugar. Soften the butter just a bit. It should not be melted, but just barely softened. Cut this butter into the sugar/flour mixture until it creates coarse crumbs. Set aside.

In a large bowl, Mix together the flour, sugar, baking powder and salt. Add the oil, eggs and milk. Whisk the ingredients until just combined. Do not overmix. Gently fold in the 1 cup of chopped strawberries.

Heat a griddle to 300-325 degrees. Spray the griddle with cooking spray.

Ladle the pancake batter onto the pan and let it cook for 1 minute. Sprinkle about 2 tablespoons of streusel on the top of each pancake while it is cooking.

Once you see bubbles on top of the pancake, flip it and allow it to cook for an additional 2 minutes, or until the pancake is cooked through.

Remove the pancakes to a plate and repeat until all of the batter is used.

Serve with the macerated strawberries and whipped cream, if desired.
Nutrition
Calories:
288
kcal
|
Carbohydrates:
41
g
|
Protein:
3
g
|
Fat:
13
g
|
Saturated Fat:
6
g
|
Cholesterol:
23
mg
|
Sodium:
23
mg
|
Potassium:
251
mg
|
Fiber:
2
g
|
Sugar:
22
g
|
Vitamin A:
90
IU
|
Vitamin C:
16.9
mg
|
Calcium:
67
mg
|
Iron:
1.8
mg