Tastes of Lizzy T participates in affiliate advertising programs. We may earn a commission when you make a purchase through links on our site.
Discover our Angel Food Cake recipe – a heavenly, light dessert that's easy to make at home. Includes baking tips and ingredient substitutions.
Are you tired of store-bought desserts that promise delight but deliver disappointment? Or perhaps you're tired of complex recipes that require a long list of ingredients and the skill of a pastry chef? If so, then our Angel Food Cake recipe is just what you need.
This traditional cake recipe is more than just a light, low fat dessert; it's a solution to your baking woes. This foolproof treat is a sweet, light bite that doesn't leave you feeling overly full. Follow our instructions step by step and the end result will be an airy, melt-in-your-mouth delight that is sure to become a family favorite.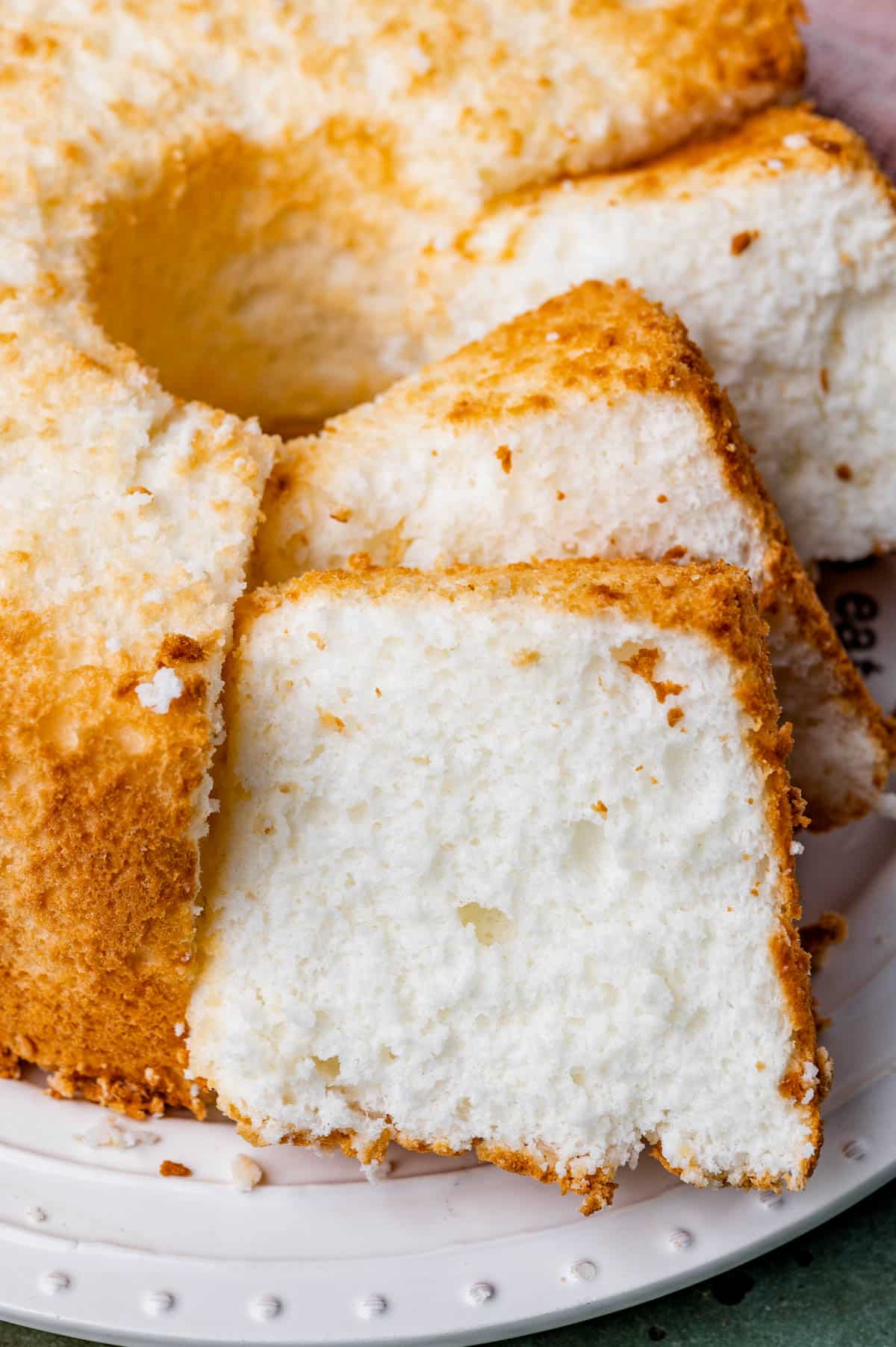 About this Angel Food Cake Recipe:
Flavor: This angel cake has a subtly sweet and mildly almond flavor that's perfectly balanced. It is not overly rich, making every bite light and delicate.
Texture: It boasts an exceptionally light and airy texture that melts in your mouth. It has a delicate crust on the outside that can often have a subtle "crunch" thanks to the sugar.
Method: Making this cake involves carefully folding flour and sugar into whipped egg whites, then baking in an angel food cake pan. This pan is important for the success and traditional look of the cake.
Ingredients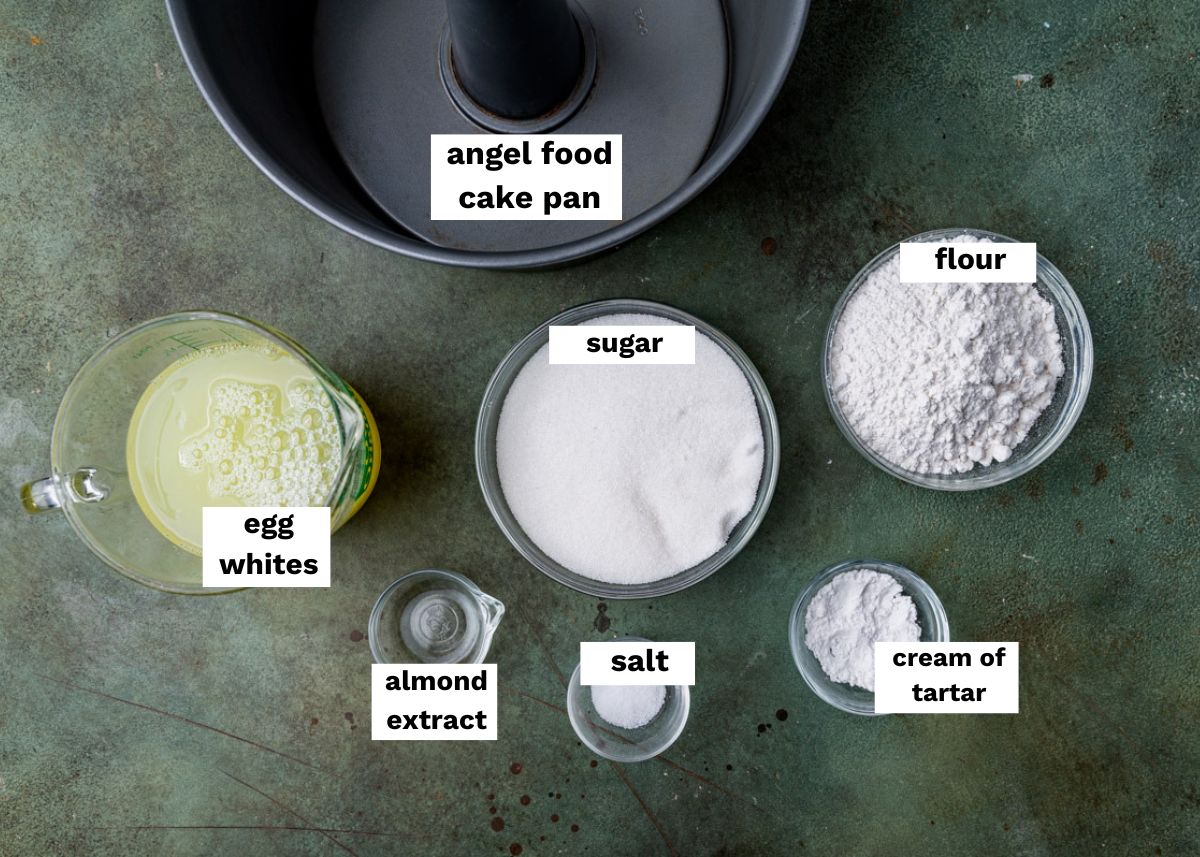 There are only 6 ingredients and one pan that you'll need to make this recipe:
Egg whites. For this recipe, I buy egg whites in a cardboard carton at the grocery store. That way I don't end up with 11 or 12 leftover egg yolks to use in some other way.
Cake flour. Cake flour is important for the delicate texture of the angel food cake.
Cream of tartar. This helps to stabilize the egg whites so that they don't fall.
Almond extract. I prefer almond extract because it has such a light flavor, but you can use vanilla if you'd like.
These simple ingredients make it a great low fat cake recipe.
What can I use if I don't have an angel food cake pan?
While an angel food cake pan, or tube pan, is the traditional choice due to its design that helps the cake rise and cook evenly, you can attempt to make this without one. However, there are challenges with substitutions.
One option is to use a bundt pan, but the cake may not rise as high and the heat may not distribute as evenly. Another option is to use a springform pan with a makeshift tube in the center (like an empty, clean aluminum can) to mimic a tube pan.
There are a couple of key things to consider when choosing a different pan.
The pan should not be non-stick. The batter needs to 'climb' the sides of the pan to achieve its signature height and lightness.
The pan should have high sides. This cake almost doubles in height during baking, so make sure the pan has high enough sides that it doesn't not spill over.
Please note that these substitutions may not yield the same results as using an actual angel food cake pan.
5 Tips for the Best Angel Food Cake
Use egg whites: The key ingredient is egg whites, and fresh eggs will whip up better than older ones. If you use whole eggs, remember to separate the whites from the yolks carefully. Any trace of yolk can prevent the whites from whipping to their fullest.
Beat the egg whites correctly: You want to beat your egg whites to stiff peaks using a high powered hand mixer. But be careful not to overbeat them. Overbeaten egg whites can cause the cake to rise excessively and then collapse. Overbeaten eggs will start to separate and lose volume in the bowl. They can start to look liquidy, too.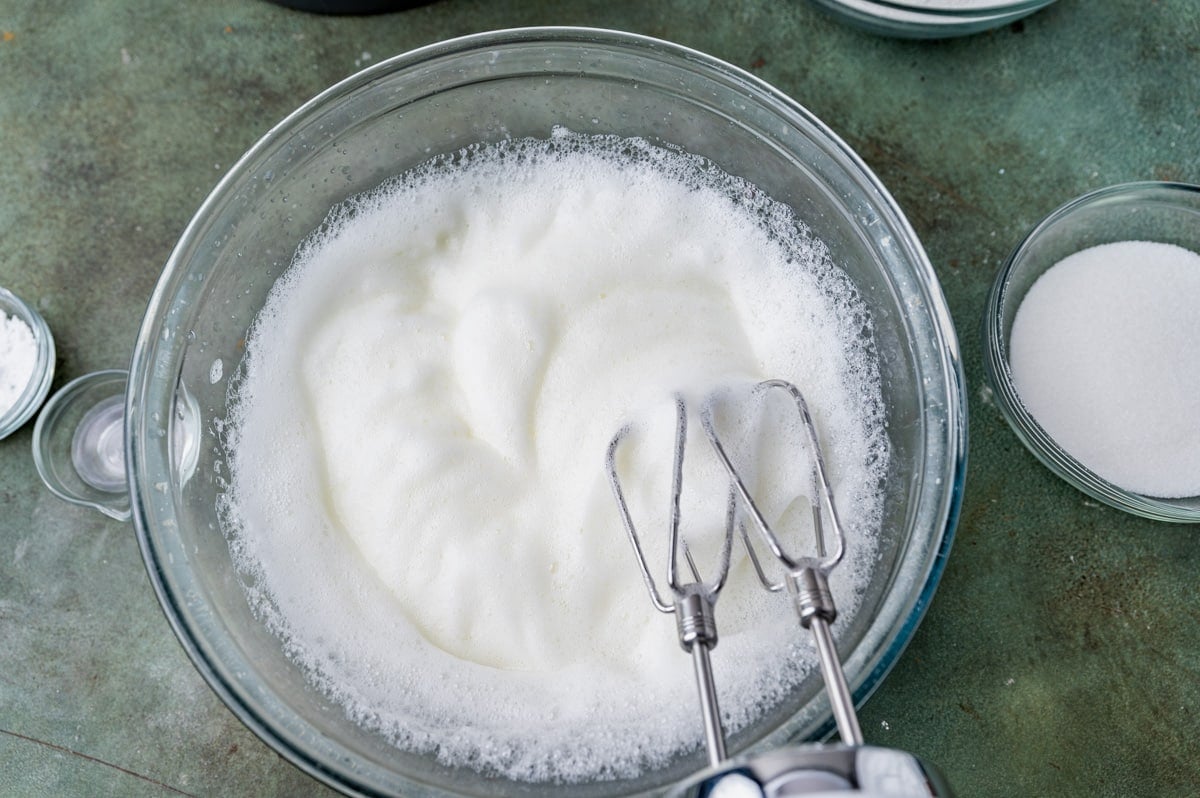 Sift the dry ingredients: To achieve the light, airy texture that's characteristic of angel cake sift your flour and sugar multiple times before adding it to the egg whites.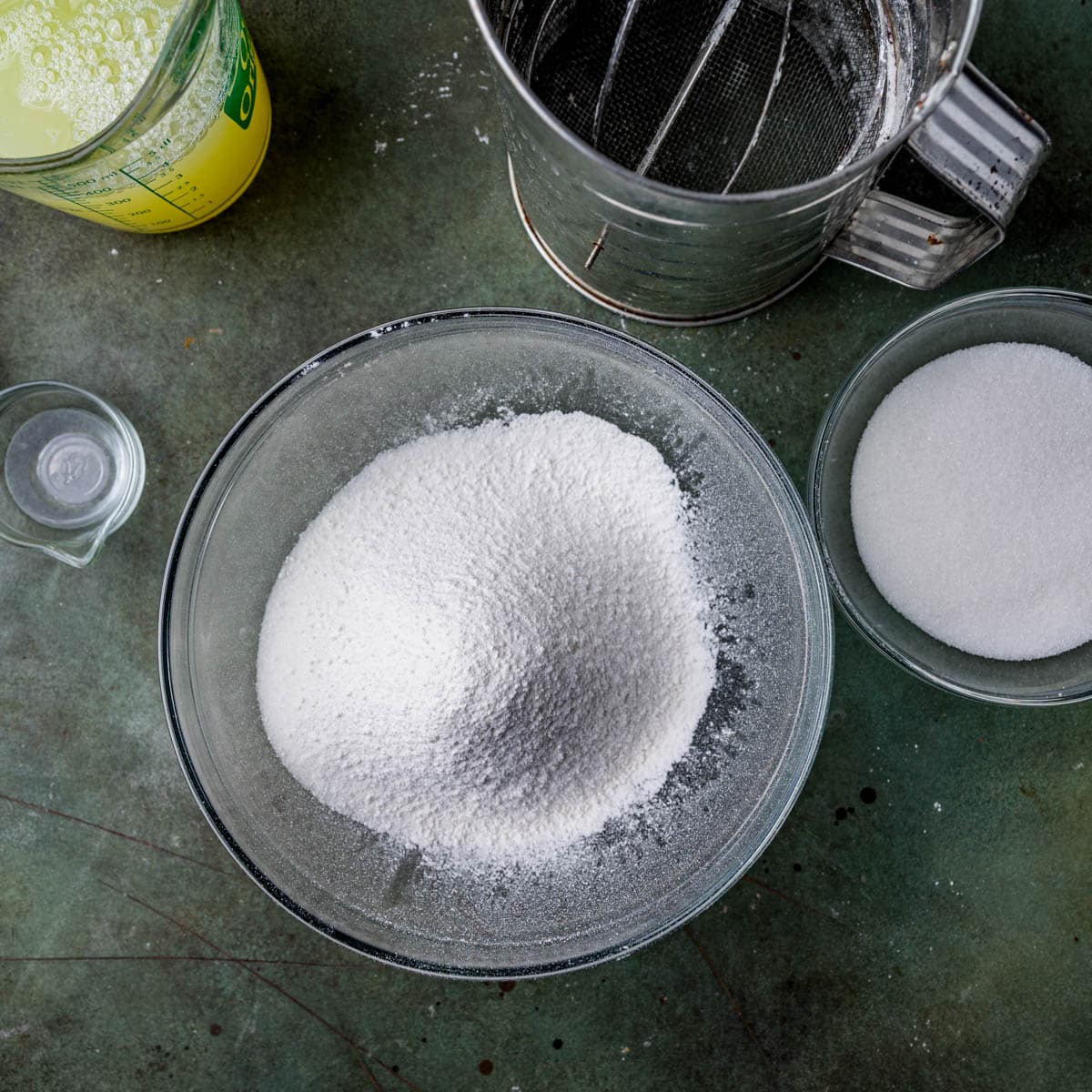 Don't grease the pan: Unlike most other cakes, this cake needs to "climb" up the sides of the pan as it bakes. A greased pan will make this impossible. Don't grease the pan or use a non-stick pan.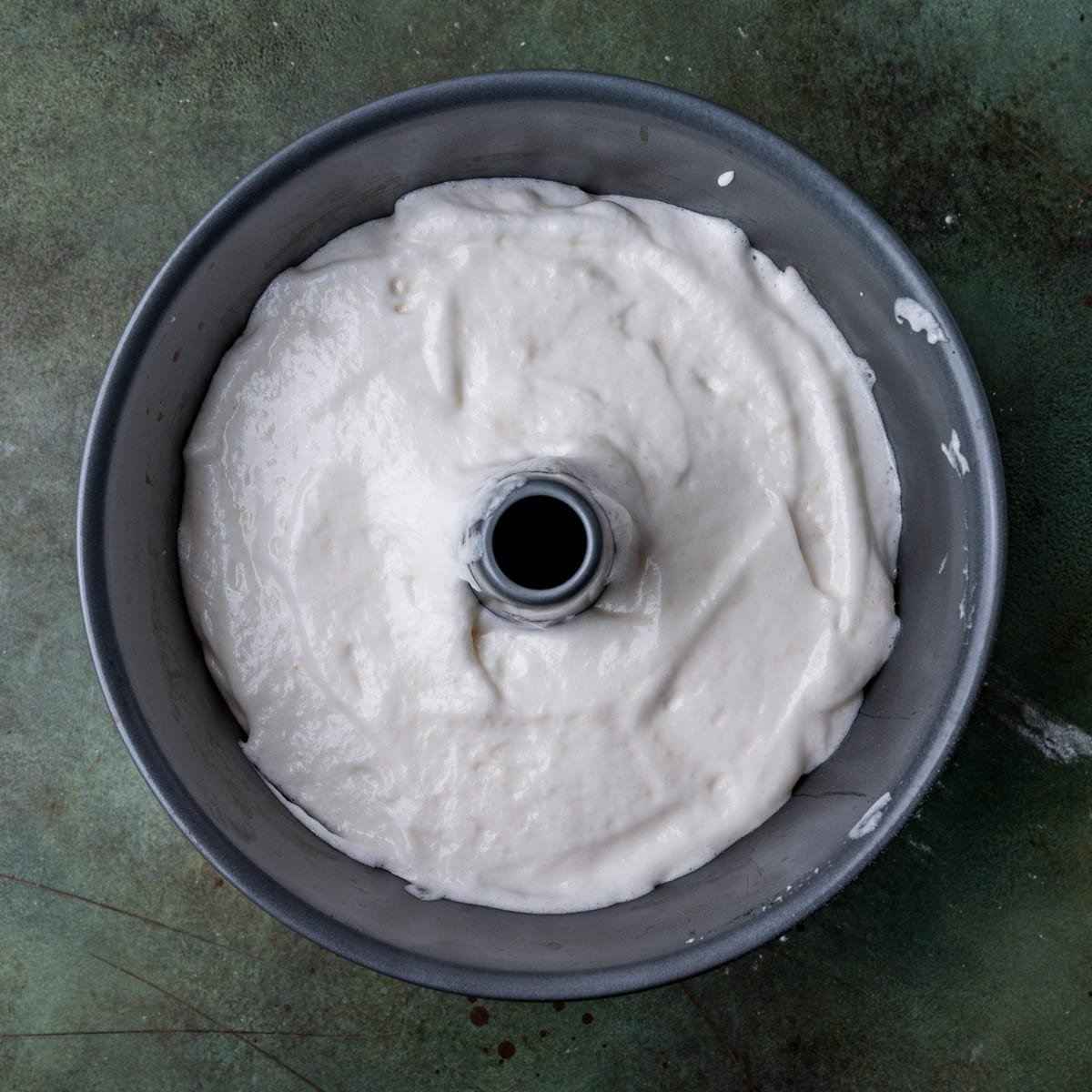 Cool the cake upside-down: This might sound unusual, but it's a crucial step. Cooling the cake upside-down helps it maintain its height and keeps it from collapsing under its own weight as it cools. If your pan doesn't have legs for this purpose, you can fit the tube over a bottle neck to hold it up. Once it is at room temperature you can remove the cake from the pan.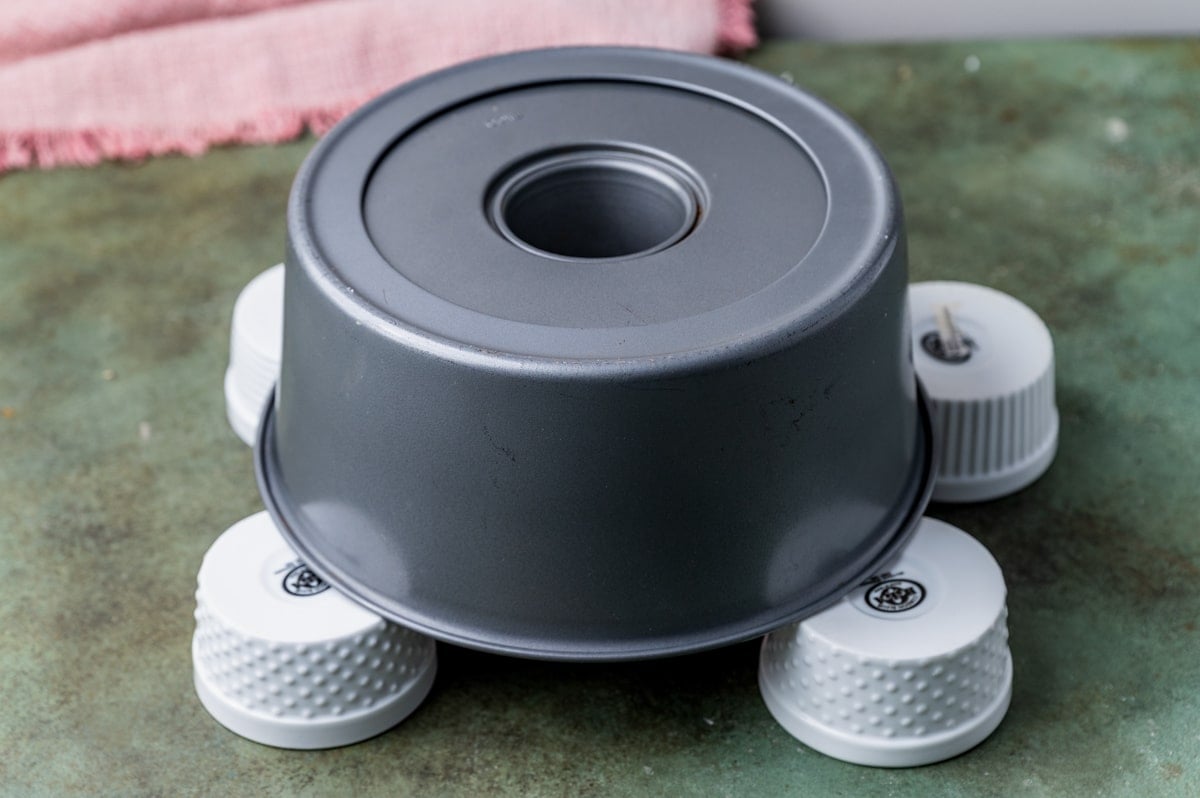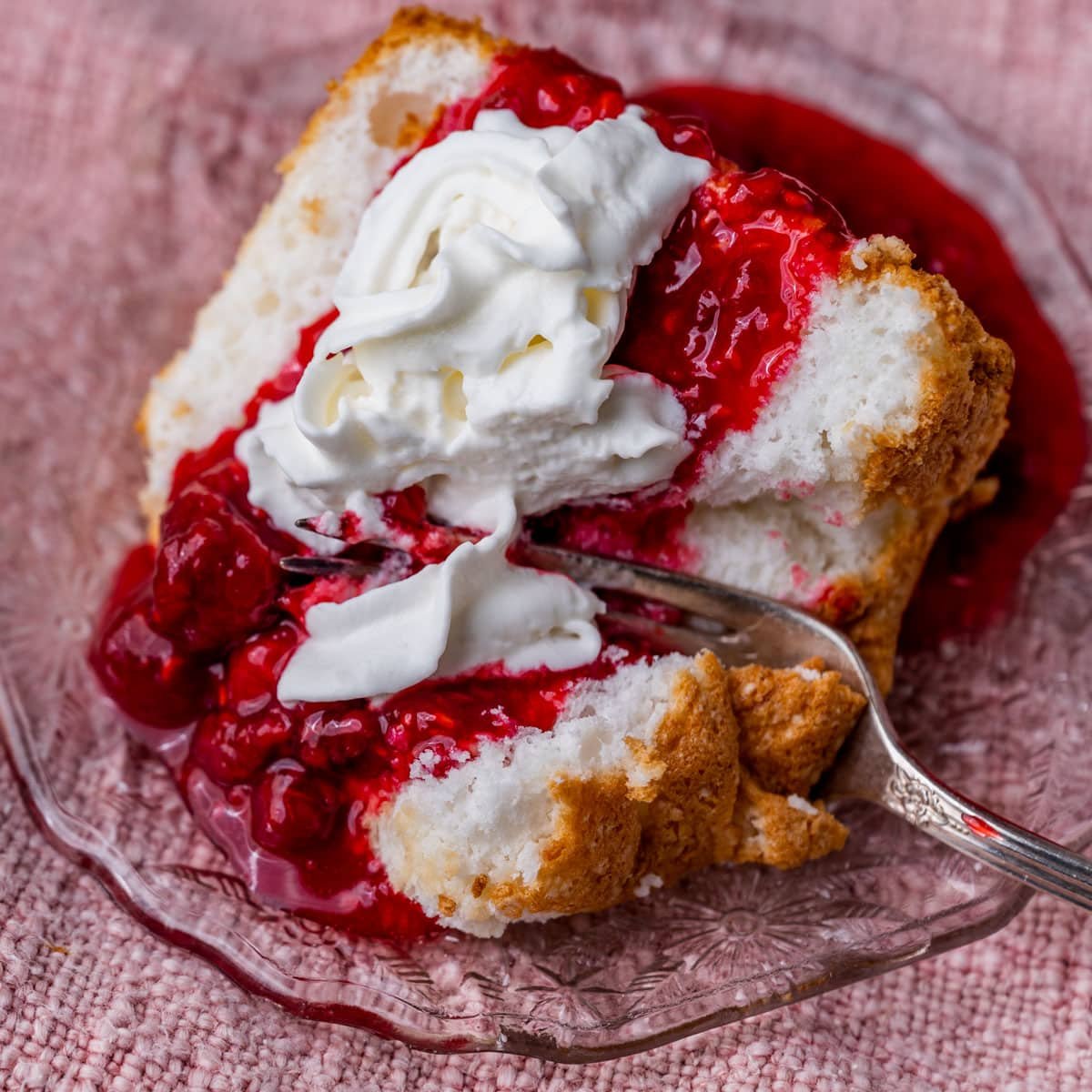 Storage Instructions
Store the cake in an airtight container for up to 4 days. You can also freeze leftover angel food cake. Wrap each piece in plastic wrap, then place in another airtight container and freeze for up to 3 months.
To thaw the cake, let it defrost fully before opening the container. This will help prevent the cake from drying out.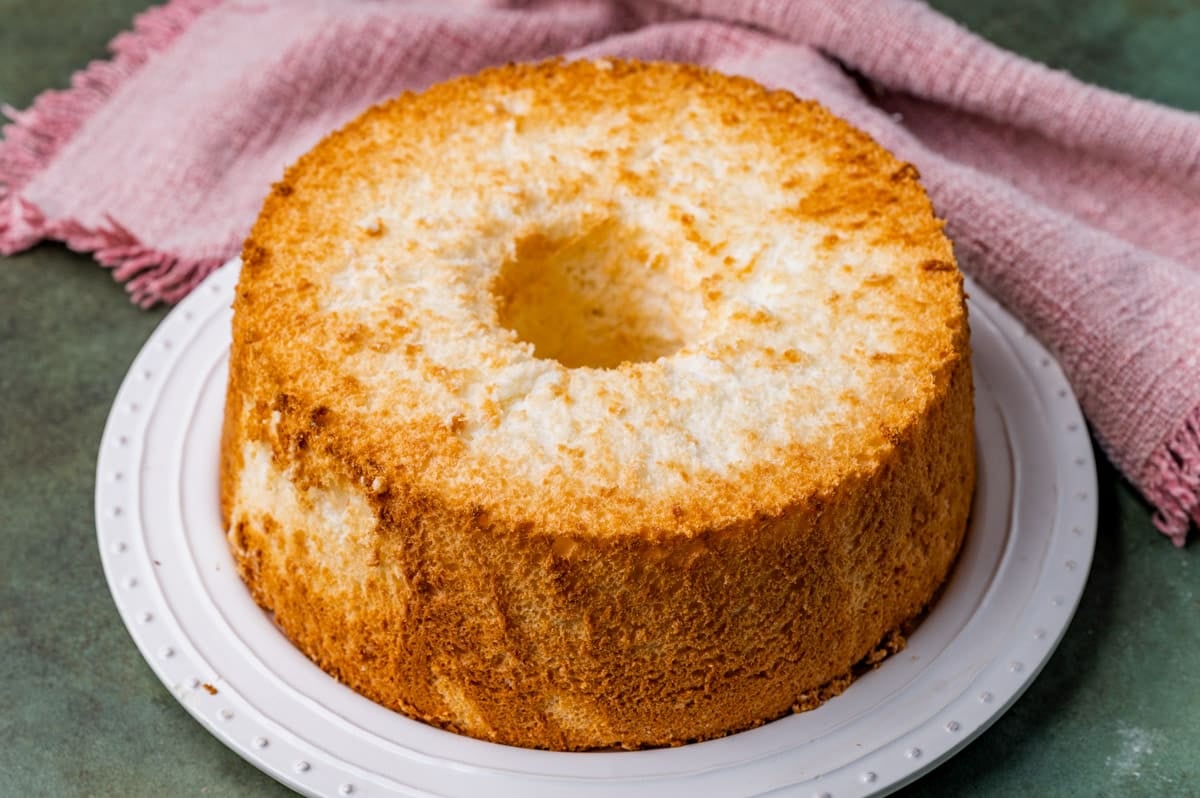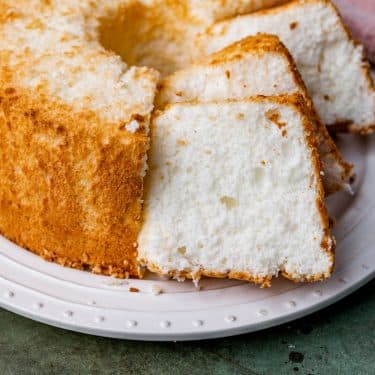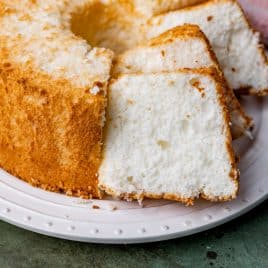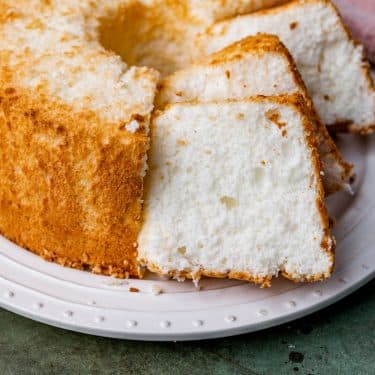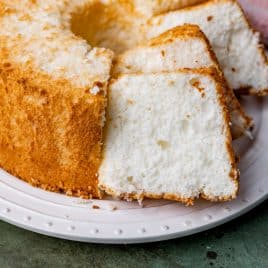 Angel Food Cake
Discover our Angel Food Cake recipe – a heavenly, light dessert that's easy to make at home. Includes baking tips and ingredient substitutions.
---
Ingredients
1 1/2

cups

granulated sugar

300 grams

1

cup

cake flour

130 grams

1 1/2

cups

egg whites

11-12 large eggs

1/2

teaspoon

salt

3 grams

1 1/2

teaspoons

cream of tartar

5 grams

1

teaspoon

almond extract

5 grams*
Instructions
Preheat the oven to 325ºF.

Sift together ¾ cup of sugar and the flour three times. Set it aside.

In a clean, grease-free bowl, beat the egg whites until they are frothy .

Add the salt and cream of tartar, then beat until the eggs hold stiff peaks.

Add the remaining sugar, three tablespoons at a time, beating well after each addition.

Fold in the flour mixture about ½ a cup at a time, then fold in the almond flavoring.

Spoon the batter into an ungreased angel food cake tube pan.

Bake on the lowest oven rack for 45 minutes or until the top is lightly browned and looks dry.

Remove the pan from the oven and immediately invert the pan, standing it upside down on 3-4 glasses that are equal in height for support.

Allow the cake to cool upside down completely, then slide a knife around the sides and center of the pan to loosen the cake.

Remove the cake to a plate and serve with your favorite fresh fruits or syrups.
Notes
*Use vanilla extract if you'd like.
*You can also whip the egg whites in the bowl of a stand mixer with the whisk attachment.
Refer to the article above for more tips and tricks.
The calories shown are based on the cake being cut into 12 pieces, with 1 serving being 1 slice of cake. Since different brands of ingredients have different nutritional information, the calories shown are just an estimate. **We are not dietitians and recommend you seek a nutritionist for exact nutritional information. The information in the nutrition box are calculated through a program and there is room for error. If you need an accurate count, I recommend running the ingredients through your favorite nutrition calculator.**
Nutrition
Calories:
151
kcal
|
Carbohydrates:
33
g
|
Protein:
5
g
|
Fat:
0.3
g
|
Saturated Fat:
0.03
g
|
Polyunsaturated Fat:
0.1
g
|
Monounsaturated Fat:
0.01
g
|
Sodium:
148
mg
|
Potassium:
122
mg
|
Fiber:
0.3
g
|
Sugar:
25
g
|
Vitamin A:
0.2
IU
|
Calcium:
4
mg
|
Iron:
0.1
mg
Other Angel Food Cake Recipes