Grilled Garlic Mustard Chicken is an easy chicken marinade recipe made with garlic, mustard and olive oil. A healthy Whole30 and low carb dinner recipe!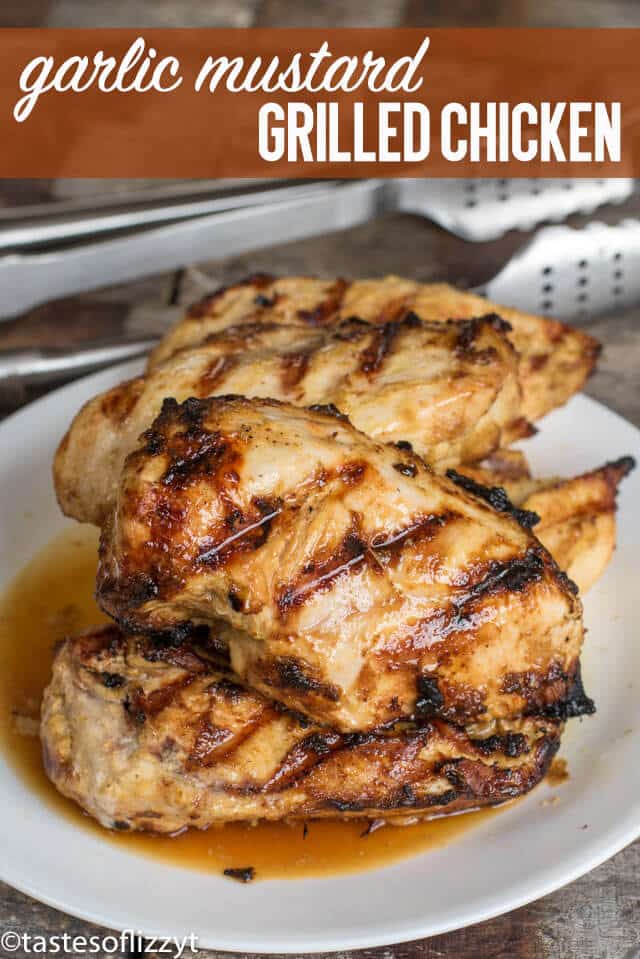 Garlic Mustard Chicken
If there is one thing I never get tired of, it is grilled chicken. And with busy summer schedules, chicken on the grill is a quick way to serve up a healthy dinner to your family. Today I have a super easy chicken marinade for you. This Garlic Mustard Chicken is one of our new favorites. It's delicious served with a side of corn and fresh salad…but you can also slice up the leftover chicken to serve on top of a tossed salad for lunch the next day.
Easy Chicken Marinade
Summer is an easy time to eat a little healthier because it is so easy to throw meat on the grill. When a family friend told me in passing about an easy marinade that their family liked, my ears perked up. They mentioned only three ingredients.
Spicy Brown Mustard
Olive Oil
Garlic
No sugar. Quick to make. I could hardly wait to try this simple chicken marinade!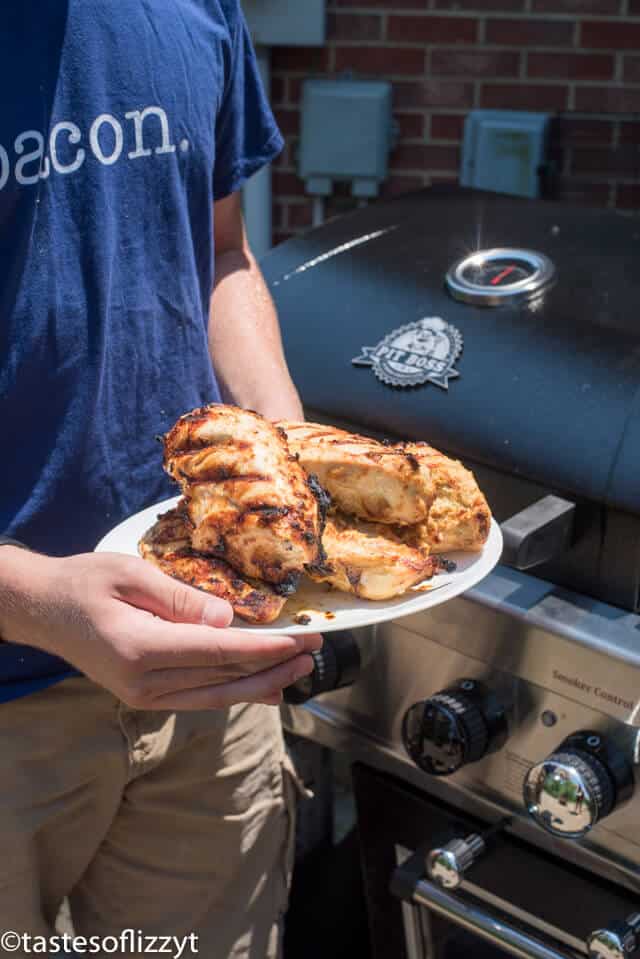 All In One Grill
We are often asked whether we prefer gas grills or charcoal grills. And with smoking meats currently becoming very popular, we've got the perfect solution to all of your grilling needs! Walmart's Pit Boss Memphis Wood Pellet Grill is an all-in-one gas grill, charcoal grill, and electric smoker. Wood pellet grills are one of the hottest trends this summer. So how do they work? Pellet grills work like a convection oven which means even cooking for perfectly grilled meats.
You don't have to wait long for this grill to heat up. It heats quickly to a wide variety of temperatures which allows you to roast, grill, bake, braise, BBQ, chargrill, sear and smoke.
Here is what we love about the Pit Boss Memphis Wood Pellet Grill:
Flavored

Pit Boss Wood Pellets

come in Apple, Hickory and Fruit flavors. These add AMAZING flavor to your already delicious grilled foods.

Gas Grill. Cooking with gas is convenient and easy. you'll love the temperature controls that give you exactly what you need for any type of grilling. It's heats quickly and you'll have dinner in no time.
Charcoal Grill. Because sometimes it's all about the method! Charcoal grilling results in a different flavor than gas grilling, so with this grill, you can experience the benefits of both.
Smoker. We've so enjoyed learning how to smoke meats. Ribs, pork shoulder, brisket…you name it, this smoker will do it.
The Pit Boss Memphis Wood Pellet Grill will make your summer picnics, family dinners, reunions and backyard parties the best they can be. Find this grill only at Walmart!
And while you're at Walmart, pick up their Pit Boss 3 Piece BBQ Grill Tool Set. They are stainless steel with long, rosewood handles. You'll get a large spatula (think BIG burgers!), tongs perfect for turning this garlic mustard chicken and a fork. These are tools that not only look pretty, but are strong. The Pit Boss Memphis Wood Pellet Grill has hooks to display these beautiful grilling tools proudly.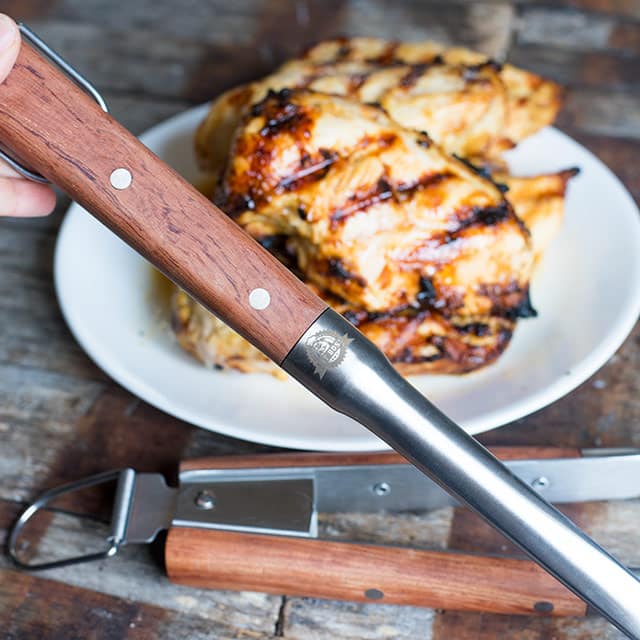 **We LOVE our Thermoworks ThermaPen to quickly test meat temperatures. This probe thermometer is AMAZING. Get it here.**
Garlic Mustard Chicken
An easy chicken marinade recipe made with garlic, mustard and olive oil. Whole30 and Paleo Dinner Idea.
Ingredients
2

pounds

boneless skinless chicken breasts

1/2

cup

spicy brown mustard

1/2

cup

olive oil

2

teaspoons

minced garlic
Instructions
In a small bowl, mix the mustard, oil and garlic together.

Place the chicken in a Ziploc bag, or a plastic container with a lid. Pour the mustard marinade over the chicken and let it marinate in the fridge overnight, or at least for 6 hours.

Preheat the the grill to 400 degrees Fahrenheit. Place chicken on on the grill and cook for about 6-10 minutes on each side, or until the internal temperature reaches 165 degrees F.

Serve the chicken alongside vegetables.
Nutrition
Calories:
374
kcal
|
Carbohydrates:
1
g
|
Protein:
34
g
|
Fat:
24
g
|
Saturated Fat:
4
g
|
Cholesterol:
95
mg
|
Sodium:
310
mg
|
Potassium:
594
mg
|
Vitamin A:
15
IU
|
Vitamin C:
0.7
mg
|
Calcium:
21
mg
|
Iron:
1.2
mg
How long to marinate chicken?
Let this marinate at least for 6 hours, but it is best if you marinate it overnight. The olive oil makes the chicken tender, and the mustard gives it the perfect flavor.
Spicy Brown Mustard Vs Yellow Mustard
Spicy brown mustard is made from a brown mustard seed with the bran left on the seed. This leads to a coarser texture than yellow mustard. It has a robust, hearty, earthy flavor and is often known as "deli mustard" because it can hold up to stronger deli meat flavor. We tried both regular yellow mustard and spicy brown mustard, and definitely preferred the spicy brown mustard. It was amazing on the chicken.
What to Serve with Grilled Chicken
We serve this chicken with grilled vegetables such as corn on the cob, potatoes or peppers. And if there are leftovers? Slice it up and put it on a tossed salad the next day. It really is the perfect lunch.