Tastes of Lizzy T participates in affiliate advertising programs. We may earn a commission when you make a purchase through links on our site.
Grilled Garlic Mustard Chicken is an easy chicken marinade recipe made with garlic, mustard and olive oil. A healthy Whole30 and low carb dinner recipe!
There is one condiment that all of our family can agree on: Mustard.
All of the others are touch and go. BBQ sauce: It's a second favorite. Ketchup? Eh…most of us can leave it.
But mustard, whether it is dijon, honey mustard or spicy brown mustard, we are all usually a fan.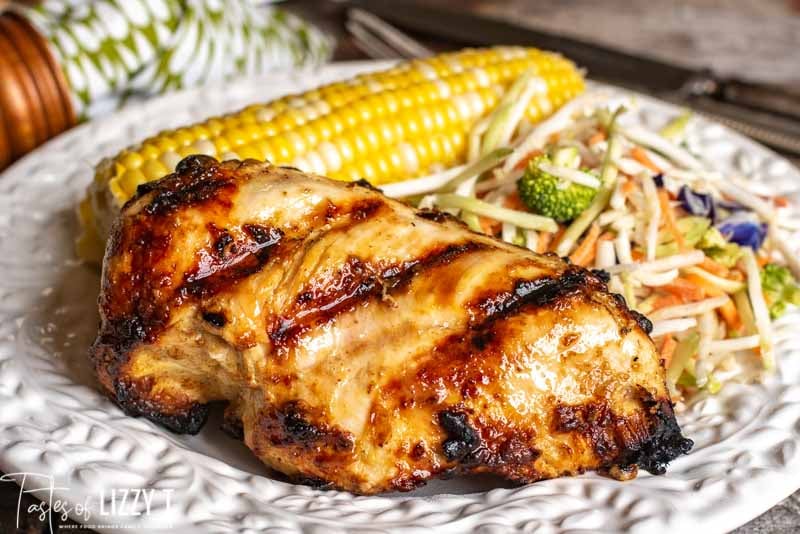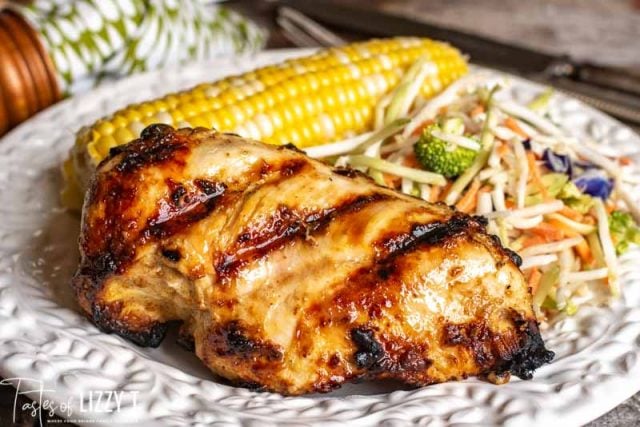 Garlic Mustard Chicken
If there is one thing I never get tired of, it is grilled chicken. And with busy school schedules, chicken on the grill is a quick way to serve up a healthy dinner to your family.
Today I have a super easy chicken marinade for you. This Garlic Mustard Chicken is one of our new favorites. It's delicious served with a side of grilled corn and fresh salad (like our broccoli slaw) …but you can also slice up the leftover chicken to serve on top of a tossed salad for lunch the next day.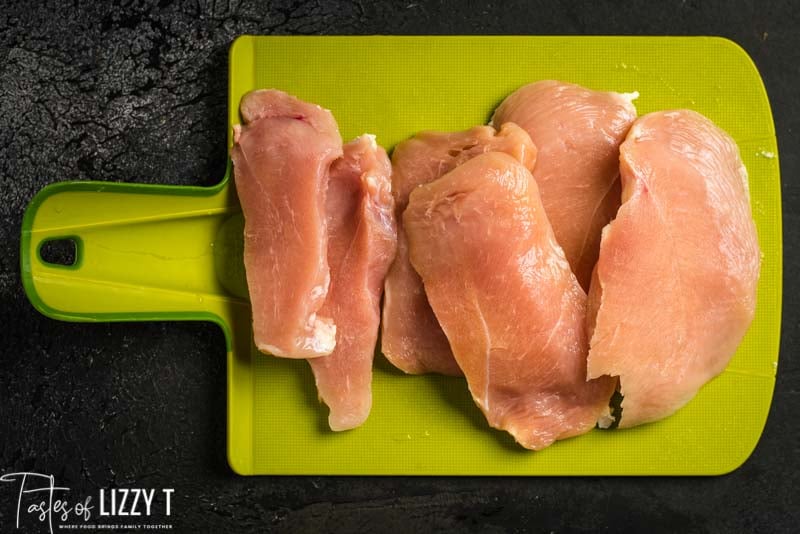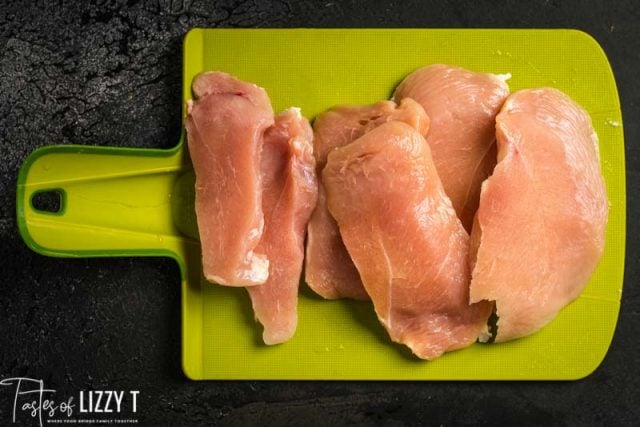 Healthy Chicken Marinade
Summer is an easy time to eat a little healthier because it is so easy to throw meat on the grill. When a family friend told me in passing about an easy marinade for chicken that their family liked, my ears perked up. They mentioned only three ingredients:
Spicy Brown Mustard
Olive Oil
Garlic
No sugar. That made this a Whole30 chicken marinade. Quick to make. Easy for busy weeknights. I could hardly wait to try this simple chicken marinade!
Spicy Brown Mustard Vs Yellow Mustard
Do you have to use spicy brown mustard or can you use regular? Spicy brown mustard is made from a brown mustard seed with the bran left on the seed. This leads to a coarser texture than yellow mustard. It has a robust, hearty, earthy flavor and is often known as "deli mustard" because it can hold up to stronger deli meat flavor.
We tried both regular yellow mustard and spicy brown mustard, and definitely preferred the spicy brown mustard. It was amazing on the chicken.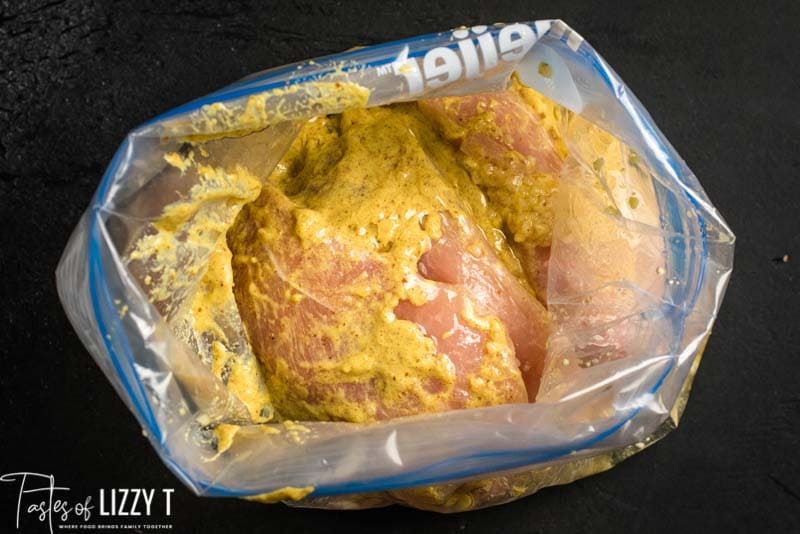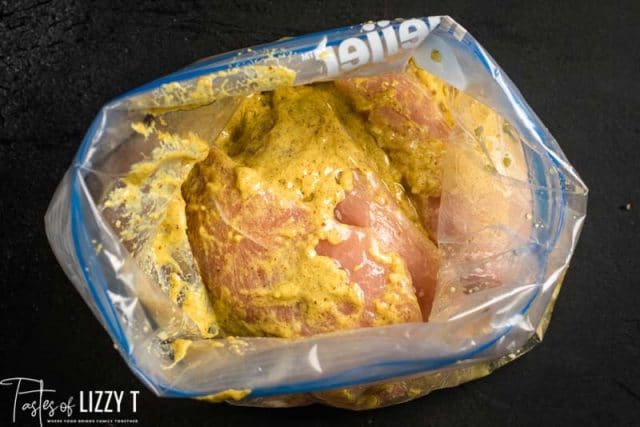 Does marinating chicken make a difference?
This recipe calls for at least 6 hours of marinating time. Is that really necessary? The true honest answer is most likely no.
Marinating chicken can add a touch of flavor, but honestly most of the marinade drips off when you go to cook it. If you are going to marinate chicken, it's important to use strong flavors, which is why we choose olive oil and a spicy brown mustard, along with garlic. If there are milder flavors, you will most likely just not taste it very much.
**Pro Tip: It is often thought that marinating meat can tenderize it. This is not often the case. In fact, marinating meat can often toughen it up. Read up on the science behind this fact here.)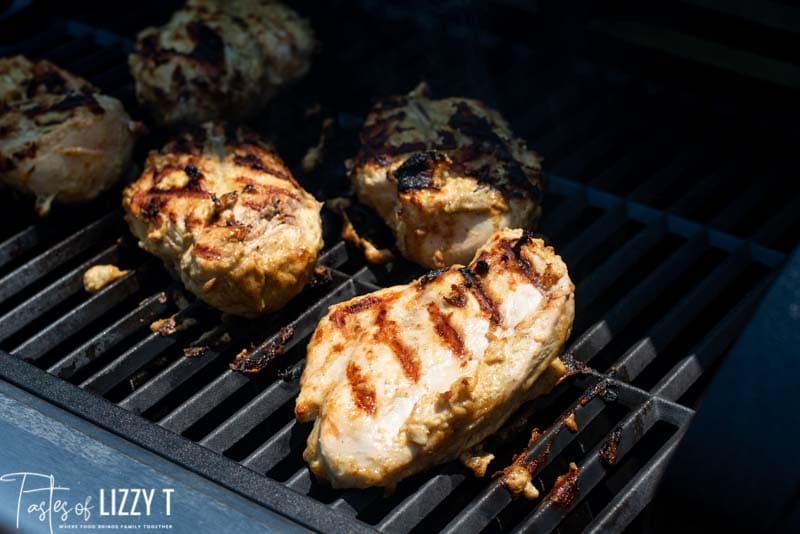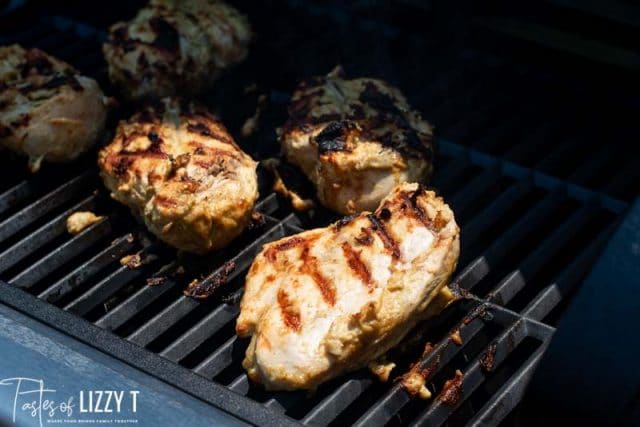 Tips for Grilling Chicken
A serving of chicken is about 4 ounces. Store-bought chicken breasts can be over 10 ounces at times. If the chicken breasts are really large, slice them in half lengthwise to make two thin breasts instead of one large one.
Make sure the grill is preheated to at least 400º Fahrenheit before you put the chicken on to cook. This will prevent it from sticking.
Keep a thermometer close by. The key to tender chicken is to not overcook it! **We LOVE our Thermoworks ThermaPen to quickly test meat temperatures. This probe thermometer is AMAZING.  Get it here.**
Remove the meat from the grill and cover with aluminum foil. Allow the chicken to rest for 3-5 minutes before cutting. Why do you let the chicken rest? It redistributes the juices throughout the chicken so that is the juiciest that it can be.

What to Serve with Grilled Chicken
We serve this chicken with grilled vegetables such as corn on the cob, potatoes or peppers. And if there are leftovers? Slice it up and put it on a tossed salad the next day. It really is the perfect lunch.
Here are a few favorite picnic side dishes: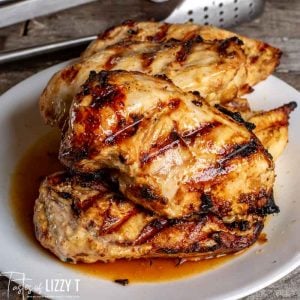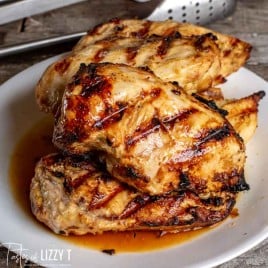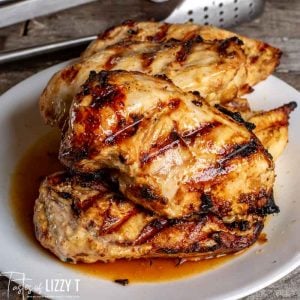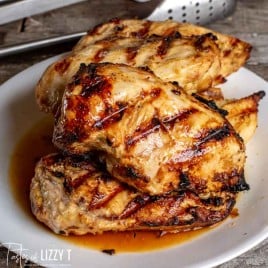 Garlic Mustard Chicken
An easy chicken marinade recipe made with garlic, mustard and olive oil. Whole30 and Paleo Dinner Idea.
---
Ingredients
2

pounds

boneless skinless chicken breasts

1/2

cup

spicy brown mustard

1/2

cup

olive oil

2

teaspoons

minced garlic
Instructions
In a small bowl, mix the mustard, oil and garlic together.

Place the chicken in a Ziploc bag, or a plastic container with a lid. Pour the mustard marinade over the chicken and let it marinate in the fridge overnight, or at least for 6 hours.

Preheat the the grill to 400 degrees Fahrenheit. Place chicken on on the grill and cook for about 6-10 minutes on each side, or until the internal temperature reaches 165 degrees F.

Serve the chicken alongside vegetables.
Nutrition
Calories:
374
kcal
|
Carbohydrates:
1
g
|
Protein:
34
g
|
Fat:
24
g
|
Saturated Fat:
4
g
|
Cholesterol:
95
mg
|
Sodium:
310
mg
|
Potassium:
594
mg
|
Vitamin A:
15
IU
|
Vitamin C:
0.7
mg
|
Calcium:
21
mg
|
Iron:
1.2
mg