Learn about common types of potatoes and get our best potato recipes! Baked potato recipes, potato main dish recipes, potato side dishes, crispy roasted potatoes and even more tasty potato recipe ideas!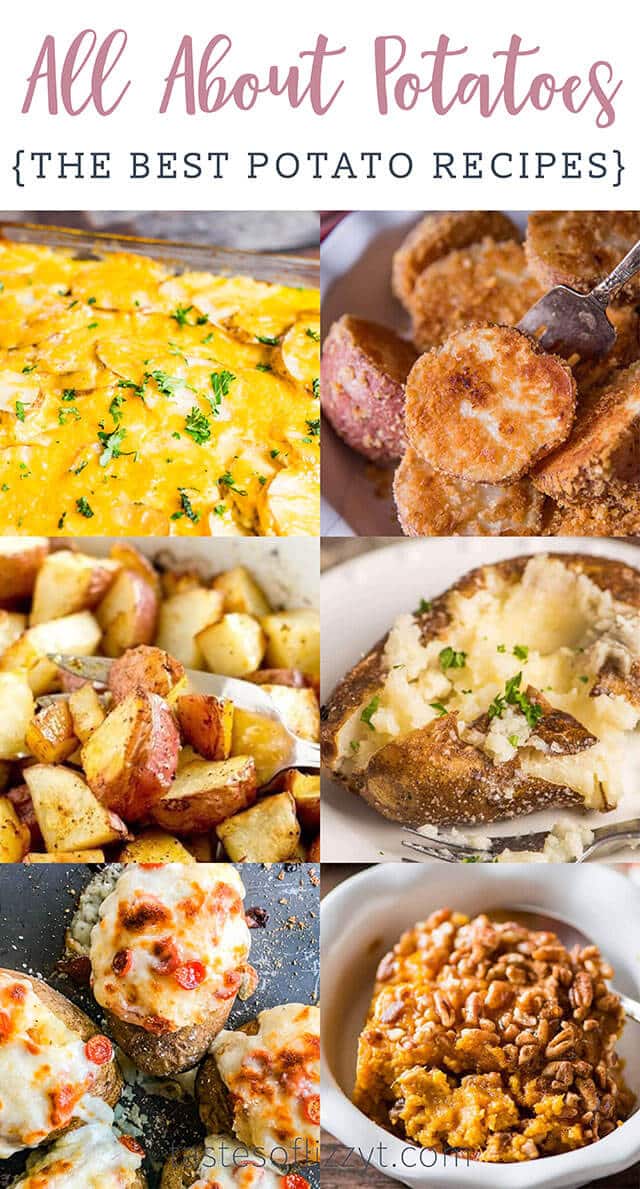 Types of Potatoes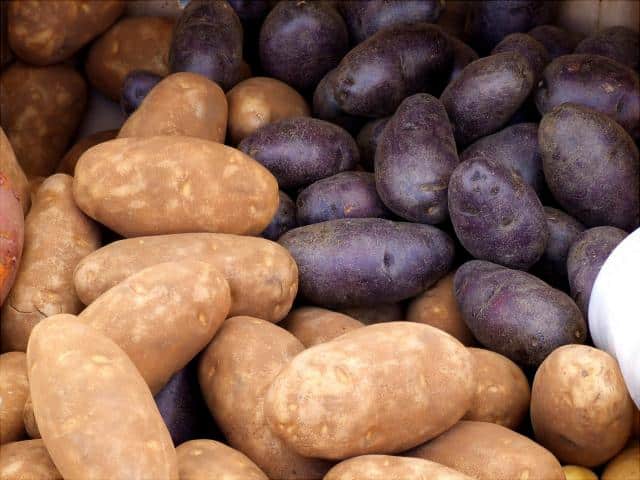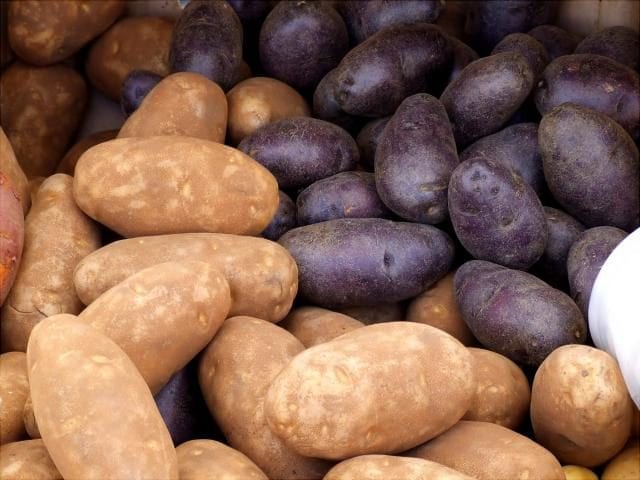 There are more than 200 types of potatoes sold in the United States, but they all fall into one of seven main categories:
russet
red
white
yellow
blue/ purple
fingerling, and
petite
Each type of potato is ideal for a certain method of preparation and delicious in its own way.
The two major distinctions made between types of potatoes are starchy versus waxy.
Starchy Potatoes
Like the name implies, these potatoes are high in starch and low in moisture content. They don't hold their shape well during cooking, but their fluffy texture is ideal for boiling, baking and frying. Idaho and Russet potatoes are starchy.
Waxy Potatoes
Waxy potatoes have a lower starch content and are creamy and firm, with a much thinner skin than starchy potatoes. They are wonderful roasted and maintain their shape enough for potato casseroles and potato salads. Red and new potatoes are waxy.
Some potatoes are labeled as all-purpose. These fall mid-way between starchy and waxy extremes. Yukon Gold potatoes are all-purpose and are delicious used in almost any potato recipe.
Make sure you use the right kind of potatoes for all of your dishes by following my guidelines here in Which Potatoes Are Best? Find out which potatoes I prefer for mashed potatoes, potato salad, boiling, french fries and more.
What About Sweet Potatoes?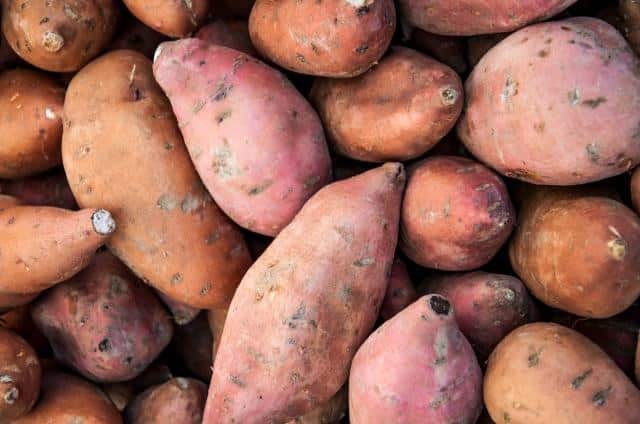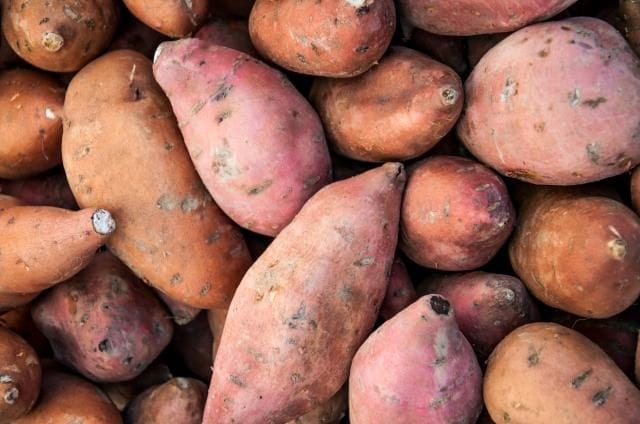 Potatoes belong to the nightshade plant family. Sweet potatoes are a different species. They belong to the morning glory family, which means the leaves on a sweet potato plant can be consumed.
However, don't forget about this nutritional superstar when shopping the produce department. Sweet potatoes are high in fiber, vitamins A and C and manganese. Their bright orange color indicates a high level of beta-carotene as well as anthocyanin, an anti-inflammatory nutrient.
Sweet potatoes are one of the oldest known vegetables that are still available today. They grew first in Central and South America and were quickly adopted around the world upon being distributed by explorers. Today, China is the largest producer of sweet potatoes.
Are Sweet Potatoes Healthier than Regular Potatoes?
Sweet potatoes are enjoying a moment to shine. They have been touted as much healthier than traditional potatoes. However, this is not as simple a question as it may seem. Both potatoes and sweet potatoes have unique nutritional benefits.
In recent years, there has been a backlash against the potato for being high in carbohydrates. While both regular and sweet potatoes have high levels of carbs, it is not the same kind of hard-to-digest carbs found in processed foods. The "resistant starch" of potatoes is a great source of energy and leaves the consumer feeling satiated for a long time.
While sweet potatoes are much higher in vitamins A and C, potatoes outpace their orange counterparts in folate (B9) and potassium. An even greater difference can be measured based on the way potatoes and sweet potatoes are prepared. Baking versus boiling and cutting verses cooking them whole both result in very different nutritional results.
Simple Sweet Potato Recipes
To gain some of the nutritional benefits of this superfood, try these simple sweet potato recipes:
Sweet Potato Bread -This classic recipe can be used with either canned or fresh sweet potatoes.
Sweet Potato Pie– No list would be complete without a sweet potato pie! With added vanilla pudding, this has the best flavor and texture.
Spicy Baked Sweet Potato Fries– Lightly baked to a crispy brown, even kids love this healthy fry. The spicy mayonnaise dip will show up plain ketchup any day.
Twice Baked Sweet Potato Puffs– Often called Duchess Potatoes, savory mashed sweet potato puffs make a healthy and elegant side dish.
Sweet Potato Spinach Bacon Burgers– Grain free, gluten free, sugar free and dairy free! This amazing burger of ground turkey, bacon, sweet potatoes, spinach and seasoning is both sweet and savory.
Potato Bread Recipes
Our potato bread recipes are unique because we use mashed potatoes as the base for both the rolls and the bread. These are some of the best potato recipes to make with leftover mashed potatoes!
Is There Potato in Potato Bread?
Potato bread has a texture that is very similar to traditional wheat bread. It is commonly made with a combination of wheat and potato flours. Some potato bread recipes use mashed potatoes or dehydrated potato flakes.
Potato bread is a great source of dietary fiber, which wheat bread is usually lacking. The flavor does change some, but the starchy taste pairs well with meats and makes a hearty grilled cheese sandwich.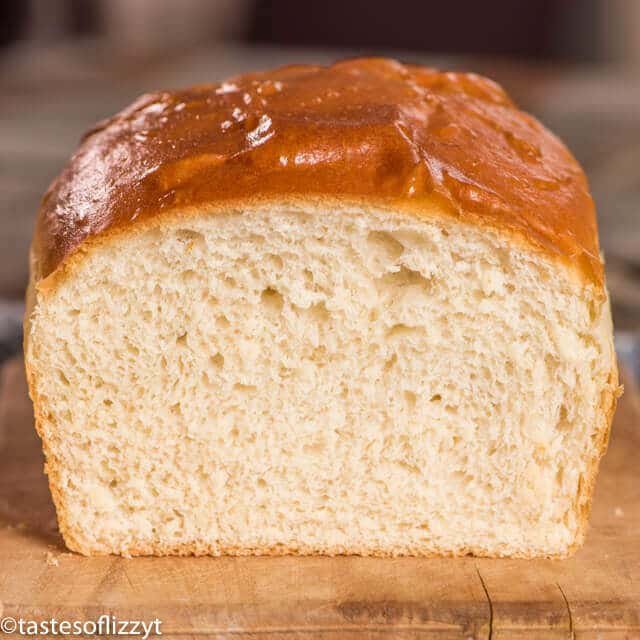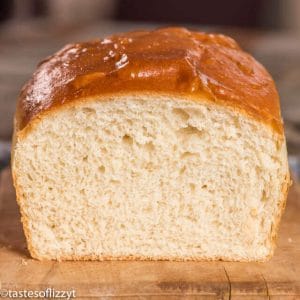 Potato Bread– Created from a recipe I found in my grandma's old cookbooks, this homemade fluffy white potato bread is perfect for sandwiches.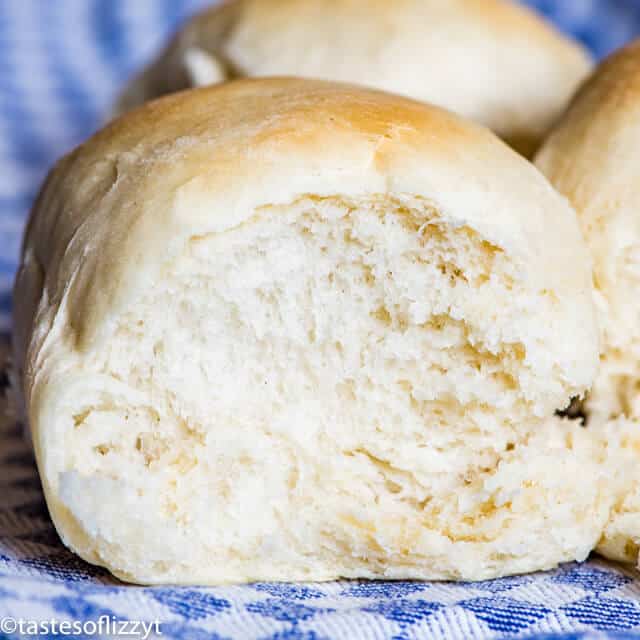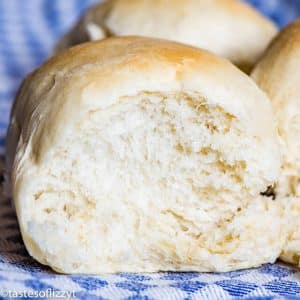 Potato Rolls– A great way to use leftover mashed potatoes, these fluffy rolls will stay soft for days, thanks to the potatoes.
The Perfect Baked Potato Recipes
Sometimes called "jacket potatoes" because they are cooked whole, the best baked potato has a fluffy interior and a crisp skin. Eaten with a dab of butter or loaded with cheese, sour cream, veggies and more, baked potatoes are a popular side dish.
Russet potatoes are the best for using in these baked potato recipes because their flavor pairs well with the other ingredients. They are also typically large and make a hardy compliment to the main dish. Try some of these unique takes on the traditional baked potato.
Pizza Twice Baked Potatoes– A gluten free pizza flavor, these baked potatoes are loaded with two kind of cheese, pepperoni, garlic and Italian seasoning.
Oven Baked Potatoes– Make baked potatoes just like a restaurant! This recipe produces a salty, crisp outside skin and a fluffy inside.
Grilled Baked Potatoes with Onions– These Hasselback Italian-style potatoes can be grilled with hamburgers. Only three ingredients make them perfect picnic sides.
Buttery Crusted Baked Potatoes– Cracker crumbs give these 4-ingredient buttery crusted baked potatoes and savory, lightly crisp coating. They make a great side dish for meatloaf, hamburgers or fried chicken.
Potato Side Dishes
Potatoes compliment any variety of main dishes. Meat, vegetables and seafood are all more satisfying with a side of potatoes.
Because of the large variety in types of potatoes, they can be used for creamy mashed styles to salads with staying power. Try some of our potato side dishes for hearty, satisfying meals.
Potatoes Au Gratin– Our easy version of this classic side dish features a creamy homemade white sauce and melted cheddar cheese. Use either a Russet or Yukon Gold so thinly sliced potatoes will hold their shape through cooking. This is truly one of the best potato recipes for a crowd.
Scalloped Potatoes– This basic old-fashioned recipe can easily turn elegant by adding onions, ham, cheese, mushrooms or whatever toppings your family loves. It can be prepared with or without the skin.
Rich and Creamy Mashed Potatoes– Up your mashed potato game with this recipe. Slow cooker adaptation included! Using a starchy Russet or Idaho potato will create fluffy mashed potatoes that absorb the rich milk and butter.
Oven Baked Cheesy Potatoes– These quick and easy potatoes will become a dinner staple. Made with red potatoes, they look as good as they taste.
Spinach Mashed Potatoes– This casserole combines the hearty starch of potatoes with the extra vitamins of spinach for a healthy side dish option.
Cheesy Ranch Potatoes– Great as a side dish or appetizer, these potatoes are covered in Cheez-It cracker crumbs and baked to a golden brown.
Crispy Roasted Potatoes
The perfect roasted potatoes are easy to spot. They have a crispy outer skin that just begs to be savored. Red potatoes are fantastic for roasting. They are waxy and hold their shape well, plus the red color looks great on a plate. Yukon Gold and white potatoes are also great for roasting. Baking at a high temperature sizzles the potatoes to the perfect brown color.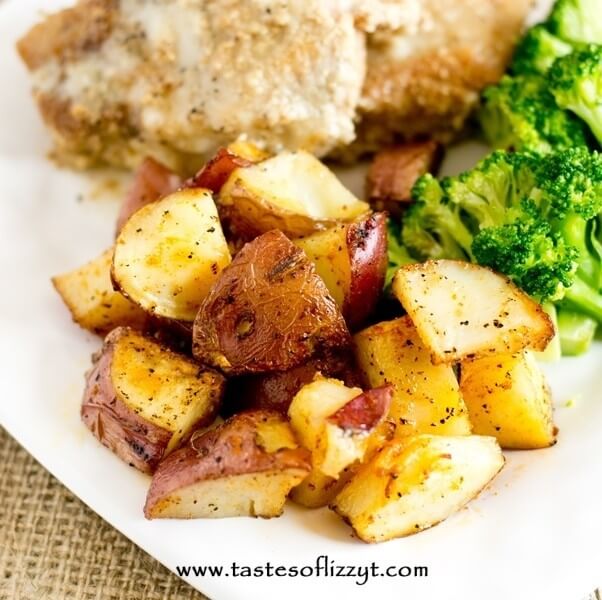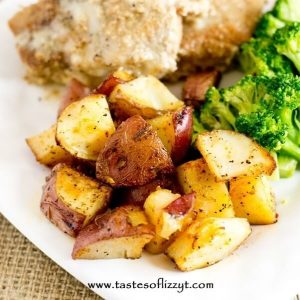 Easy Oven Roasted Potatoes– This basic recipe give the exact step-by-step instructions to making the perfect crispy roasted potatoes every time.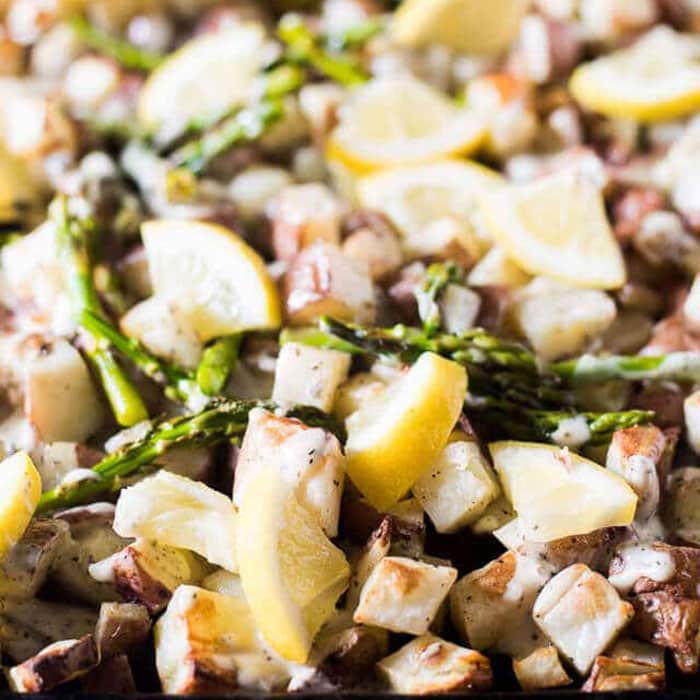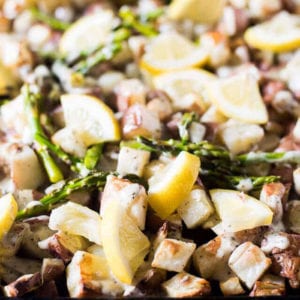 Roasted Lemon Basil Potatoes– Using Marzetti Veggie Drizzle Finishing Sauce on potatoes creates a unique flavor. Feel free to add veggie to the pan too. We liked asparagus.
Potato Main Dish Recipes
Combine potatoes with veggie and protein to get a complete meal in one dish. These potato main dish recipes contain everything necessary to satisfy a family. Some of the best potato recipes are those that make a complete meal, like these do.
Skillet Mexican Potatoes– A gluten free skillet dinner, this taco inspired dish starts with frying Russet potatoes since they hold up well in this hearty dish.
Chicken Nacho Cheesy Potatoes– The basic cheesy potato casserole get a serious upgrade with shredded chicken, nacho cheese and crushed tortilla chips. Use frozen cubed potatoes to cut down on prep time.
Buffalo Chicken Smashed Potatoes– Crispy oven roasted round red potatoes are topped with a creamy, cheesy buffalo chicken sauce.
Skillet Pizza Potatoes– Golden fried, skillet pizza potatoes topped with pizza sauce, gooey cheese and the pizza toppings of your choice. This grain free and gluten free pizza option still has all the goodness of pizza.
Tuna Cheddar Stuffed Potatoes– This recipe is only five ingredients and takes less than 30 minutes so it's perfect for busy weeknights.
Paleo Sweet Potato Chili– Spicy and full of beef, this chili is thick, rich and slightly sweet while being grain free, sugar free and dairy free. A quick recipe for homemade chili seasoning is included to eliminate any lurking sugars in prepared seasoning blends.
Best Potato Recipes for Holidays
Any time families gather around a table, potatoes are part of the meal. Sweet potatoes are a staple on Thanksgiving tables and creamy mashed potatoes are nearly required for special holiday meals. Make your dishes stand out with the best potato recipes for the holidays.