Potatoes Au Gratin are a classic potato side dish that you can make more easily than you may think! Creamy homemade white sauce with melted cheddar make these cheesy potatoes a recipe the family will love.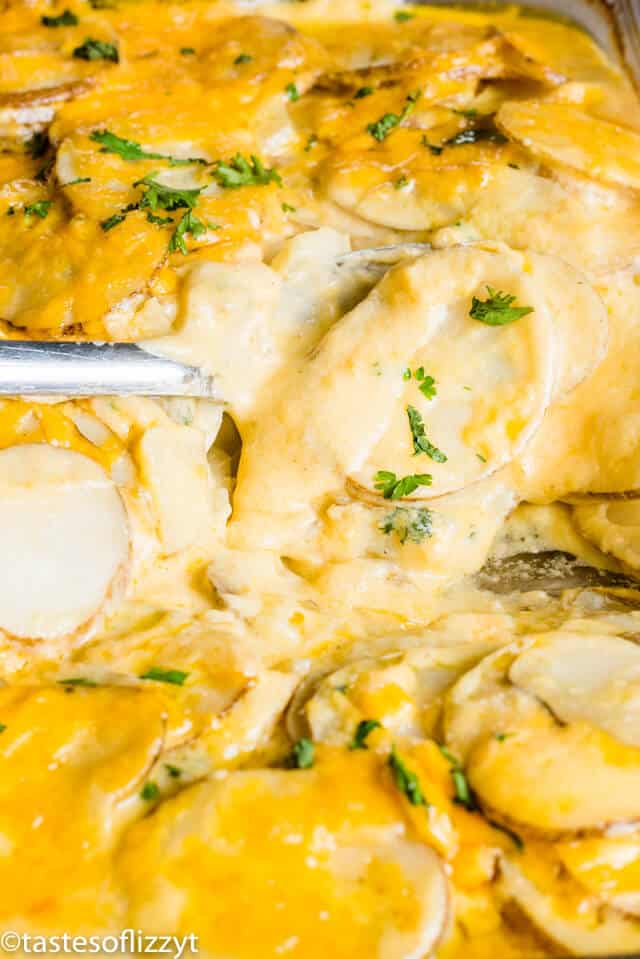 Au Gratin Potatoes
Cheesy potatoes are one of those comforting side dishes that I could eat just about every day. I always think they take longer than they actually do to make. I mean, they do take an hour to bake, but that is hands off time. I can normally have this cheesy potato recipe in the oven with only a 20 minute prep.
Potatoes Au Gratin go with just about any main dish that you can imagine, making them extremely versatile.
What is the difference between potatoes au gratin and scalloped potatoes?
The main difference between au gratin potatoes and scalloped potatoes are the addition of cheese. Potatoes au gratin usually have Gruyere cheese. This cheese can sometimes be expensive and hard to find, so we often use cheddar cheese as a substitute. Sometimes au gratin potatoes are topped with bread crumbs, but the key is that lightly browned cheese that tops them.
You can also make "au gratin" recipes with vegetables other than potatoes. Think broccoli au gratin, carrots au gratin….you get it. Just add cheese and breadcrumbs if you'd like.
How do you make potatoes au gratin?
Potatoes au gratin are easier than you think!
Prepare the white sauce. This is a basic homemade white sauce of butter, flour and milk. You can use a lower fat milk if you'd like, but whole milk or half and half will produce the creamiest, richest results. Add in the cheese after the sauce has thickened. Turn off the stove heat and simply stir it in. It won't take long at all for it to melt!
Slice the potatoes. Au Gratin potatoes are generally thinly sliced. You can peel the potatoes, or if you're lazy like I am, leave them on.
Layer half of the potatoes, chopped onion and half of the cheese sauce in a baking dish. Then add the rest of the potatoes and cheese sauce.
Cover the dish and bake it for 40 minutes. Then remove the cover, sprinkle with remaining cheese and bake again until the potatoes are soft and the top is golden brown. It will take about 15 minutes or so.
What is the best type of potato to use for au gratin potatoes?
Use Russets or Yukon Gold potatoes for au gratin or scalloped potatoes. They are both a high-starch potato and will hold their shape well while cooking.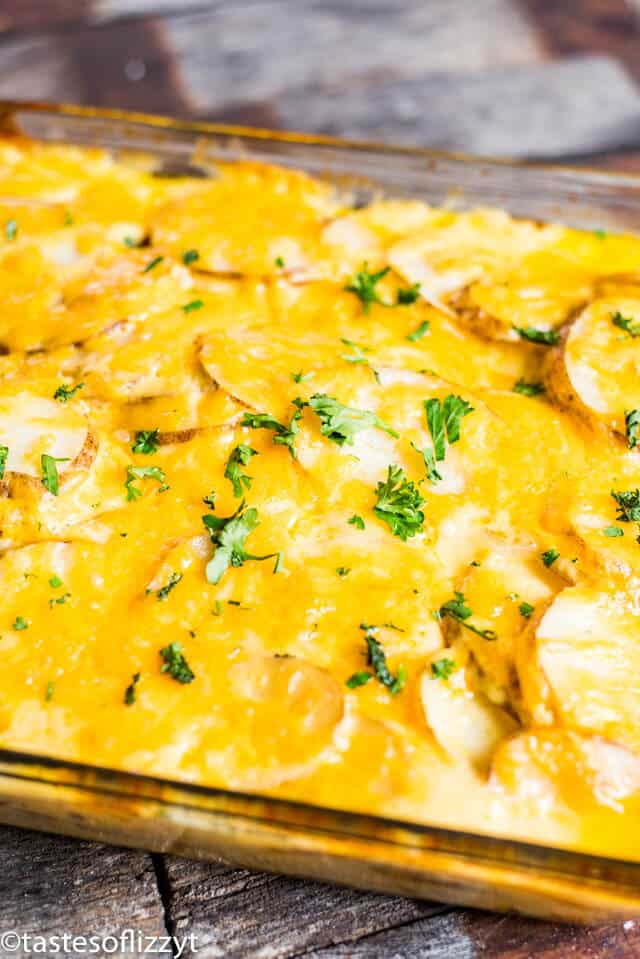 Other Potato Recipes
Tool for Making This Recipe
Mandolin Slicer: Make potato chips, scalloped potatoes, julienned vegetables and more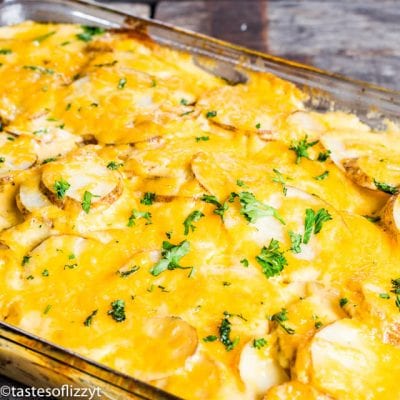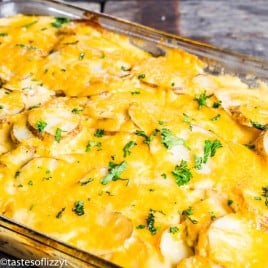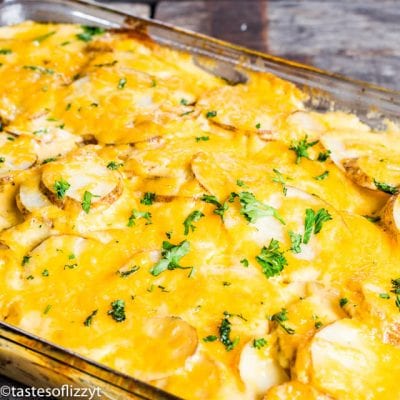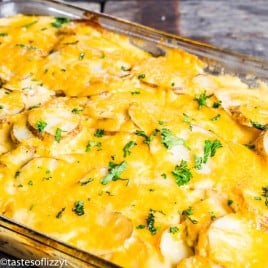 Potatoes Au Gratin
Potatoes Au Gratin are a classic potato side dish that you can make more easily than you may think! Creamy homemade white sauce with melted cheddar make these cheesy potatoes a recipe the family will love.
Total Time
1

hour
20

minutes
---
Ingredients
3

tablespoons

butter

2

tablespoons

all-purpose flour

3

cups

half and half cream

(or whole milk)

1

teaspoon

salt

1/2

teaspoon

ground black pepper

3

cups

cheddar cheese, divided

(or Gruyere cheese)

6

cups

thinly sliced potatoes

(about 2 ½ pounds)

1/4

cup

diced onion

1

tablespoon

freshly snipped parsley
Instructions
Melt the butter in a saucepan over medium heat.

Add the flour and whisk until combined.

Slowly stir in 1 cup of cream (or milk) and whisk until smooth.

Stir in the remaining cream, salt and pepper. Whisk constantly until the mixture starts to thicken. This will take 3-5 minutes.

Add in 2 cups of the shredded cheddar cheese and stir until smooth. Remove the white sauce from the stove.

Preheat the oven to 400 degrees Fahrenheit.

Spray a 9×13 pan with cooking spray.

Place half of the potatoes in the greased pan. Cover them with the onions and half of the sauce.

Place the remaining potatoes in the pan and then pour the remaining sauce overtop.

Cover the pan with foil and bake for 40 minutes.

Uncover the pan, sprinkle the remaining cup of shredded cheddar over the top and bake uncovered for an additional 15-20 minutes or until the top of the potatoes are lightly browned, the cheese is metled and the potatoes are tender. The exact timing will depend on how thick you have cut the potatoes.

Top with fresh parsley, if desired. Serve warm.
Notes
The calories shown are based on the recipe serving 8 people, with 1 serving being about 1 cup of potatoes. Since different brands of ingredients have different nutritional information, the calories shown are just an estimate.
Nutrition
Calories:
426
kcal
|
Carbohydrates:
26
g
|
Protein:
17
g
|
Fat:
28
g
|
Saturated Fat:
18
g
|
Cholesterol:
89
mg
|
Sodium:
644
mg
|
Potassium:
817
mg
|
Fiber:
4
g
|
Vitamin A:
875
IU
|
Vitamin C:
19.1
mg
|
Calcium:
449
mg
|
Iron:
5.5
mg