Crock pot French Dip Sandwiches make an easy dinner idea! Get this roast recipe in the slow cooker in 5 minutes and it'll be ready when dinner time comes.
It's no secret that roast beef is my all-time favorite comfort dinner. The dinner I always requested anytime I was asked. So it makes sense that French Dip Sandwiches with shredded roast beef would be my #1 sandwich of choice!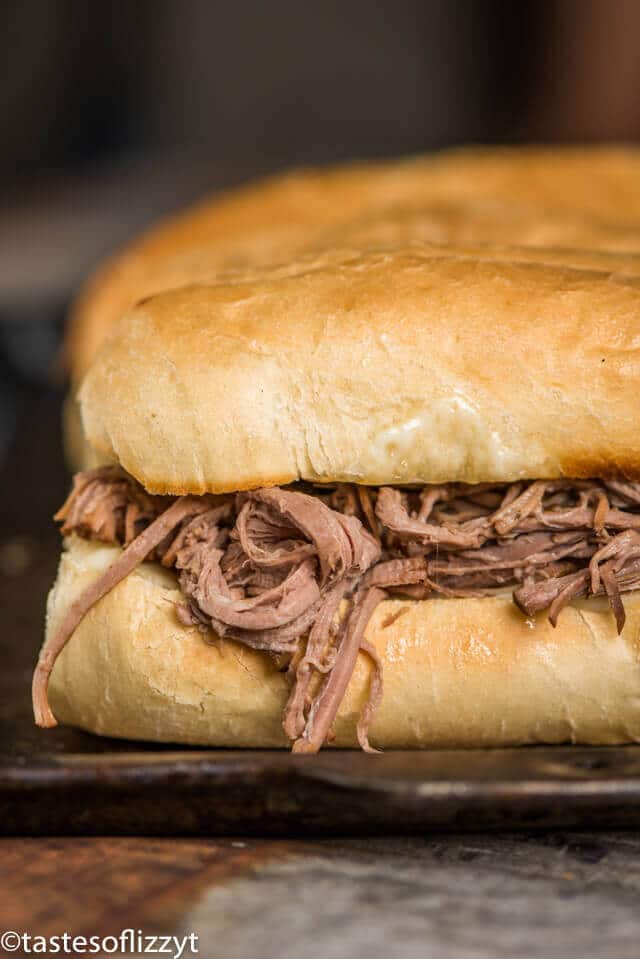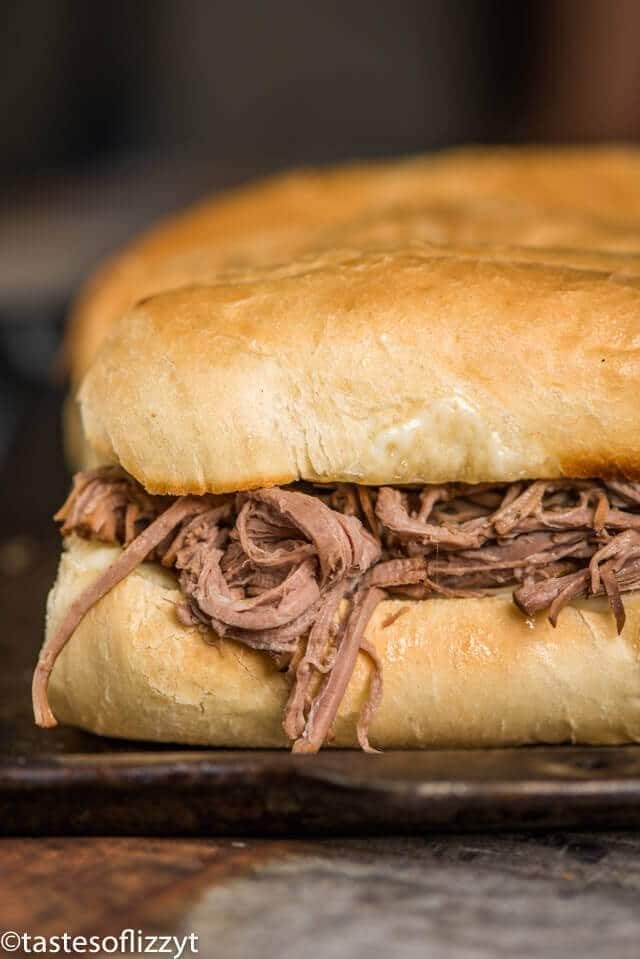 Thanks to the Ohio Beef Council for sponsoring this post.
I can remember going to Arby's when I was younger and choosing the French Dip Sandwich off the menu every.single.time. I honestly don't remember know what that sandwich tasted like and how good it actually was, but I 100% believe that these homemade slow cooker roast beef sandwiches are 10x better. Because…homemade…and shredded roast beef!
Why do they call it French Dip?
French Dip Sandwiches may sound fancy, but they are one of the easiest dinners to make. Perfect for game day. For company. Or the ideal sandwich to have ready when you get home from a long day of work.
But how did they get their name? They are served with "Au Jus" which is a French term for "with juice" or "with broth". Dip the sandwiches in the broth and that's how it got its name!
Let's chat about how to make the best French Dip Sandwiches!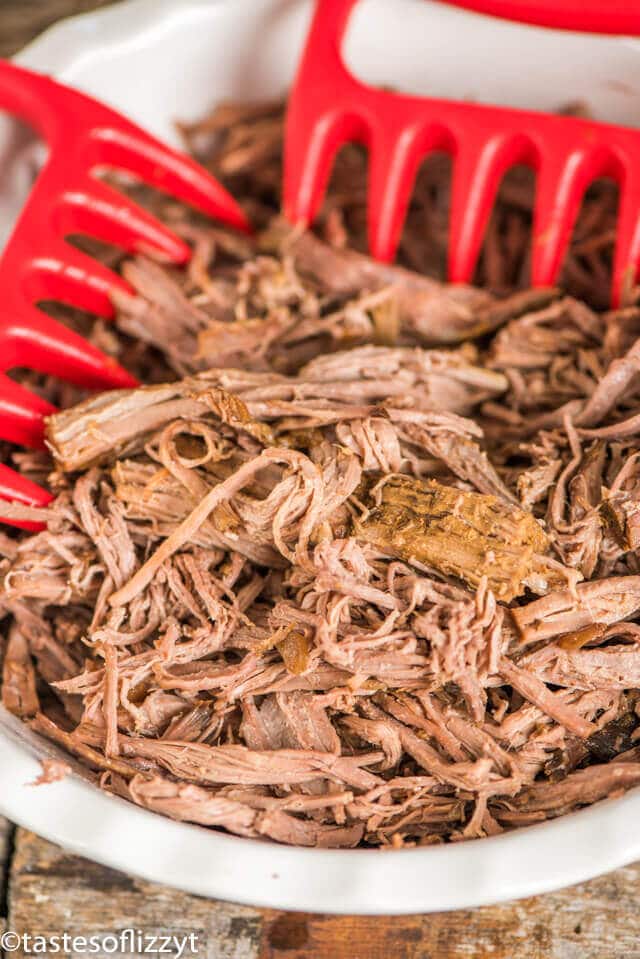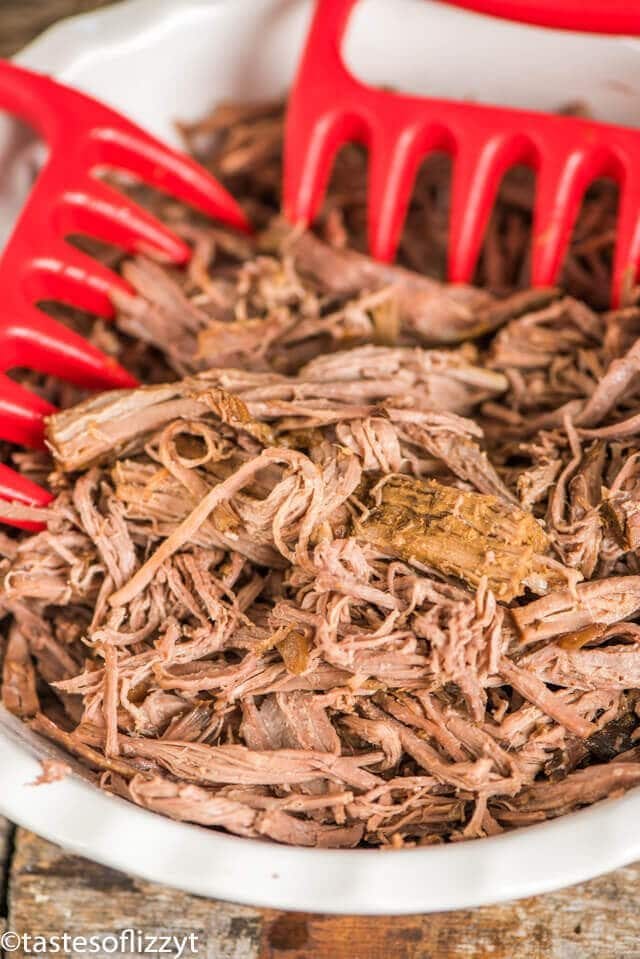 What Type of Beef Should You Use for French Dip Sandwiches?
Choose a well-marbled cut of beef such as chuck roast. This cut of meat has amazing flavor and will shred easily. I like to trim the roast before I put it in the slow cooker, but definitely leave some fat on the roast because that is what gives it such a good taste!
How Do You Make French Dip Au Jus?
This is easier than it may sound! I use a combination of canned French onion soup, beef consomme, and beef broth. Throw in a beef boillon cube and let that roast simmer in those juices all day. When the roast is fork-tender…Boom. You have au jus! Easy as that.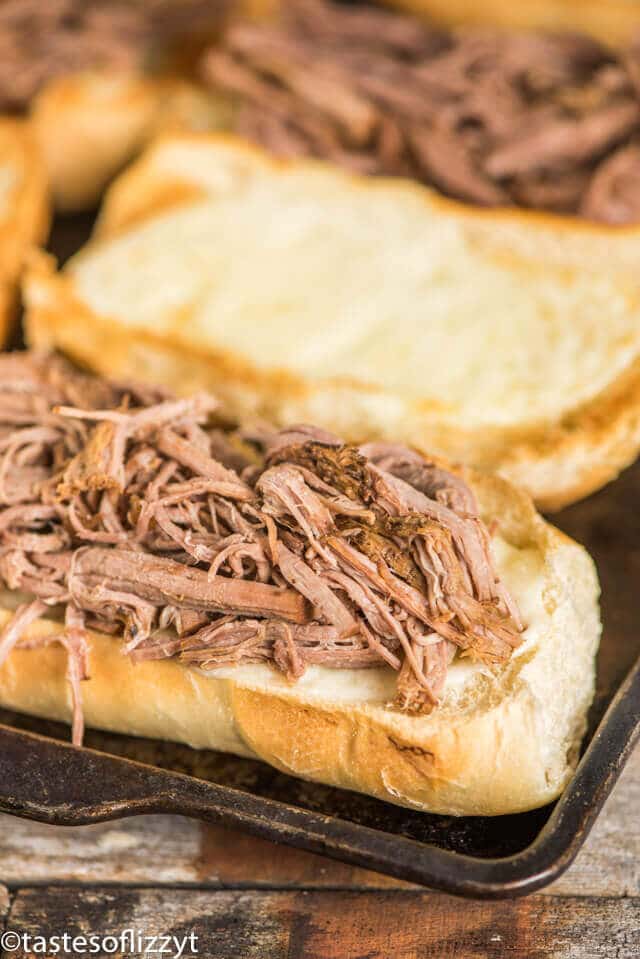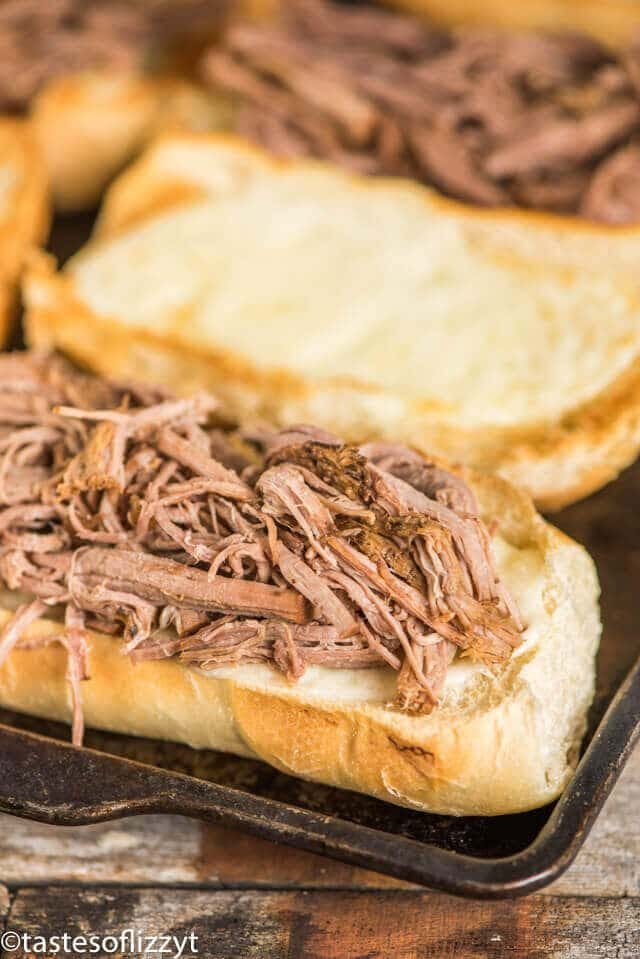 What Type of Bread to Use for French Dip Sandwiches?
To be an official French dip sandwich, you should use French bread. This sandwich did not originate in France, but gets its name from the type of bread it is served on. You can use whatever type of bread you like, but I like to use a crusty, hearty bread that will hold up when you dip the sandwich in the au jus.
I also like to add slices of provolone cheese to the bread and toast it under the broiler for a few minutes to melt the cheese and lightly brown the bread. At times when we don't have cheese, we spread the bread with a bit of garlic butter before broiling. Just delicious!
What Can I Do With Leftover Au Jus?
I always end up with leftover au jus. If you do too, you can use it to make French onion soup, a delicious gravy, add it to beef stew or even to soup. You can easily freeze the au jus until I time when you need it!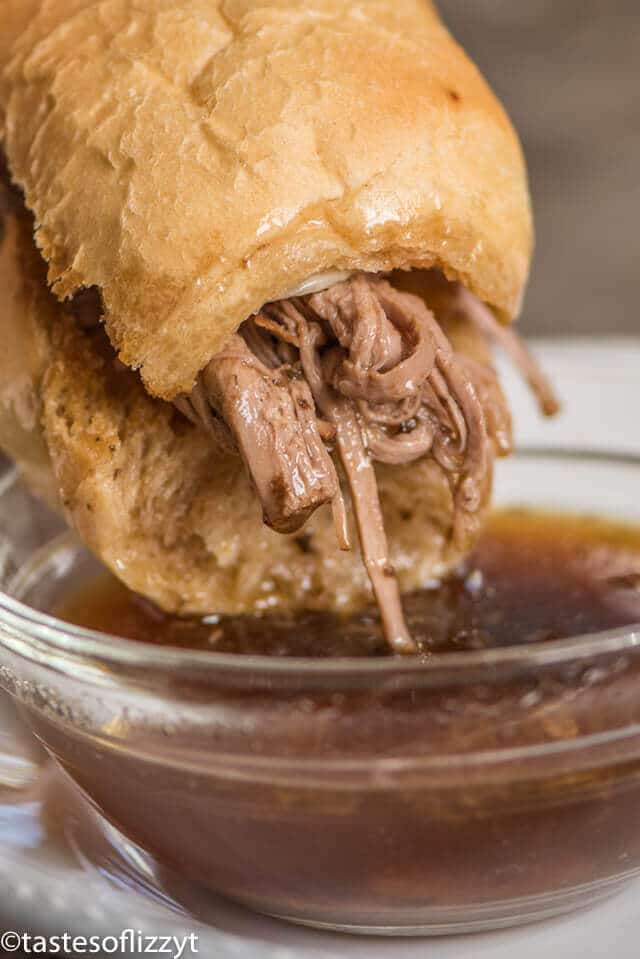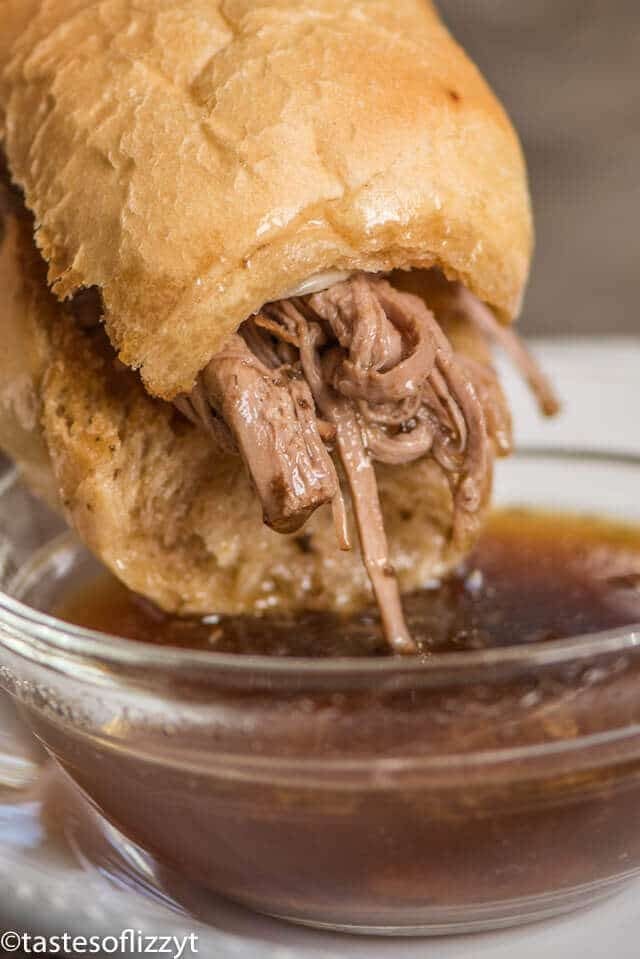 We're celebrating Crocktober with the Ohio Beef Council this year, sharing the importance of adding lean beef to your diet to make exercise more effective and even lower cholesterol. Lean beef builds strong bodies! There over 17,000 beef farming families in Ohio that are committed to providing you with safe, healthy beef. Find a beef farmer near you, search for a delicious new beef recipe and find resources with facts on nutrition all at OhioBeef.org.
Follow the Ohio Beef Council on Facebook, Twitter and Instagram.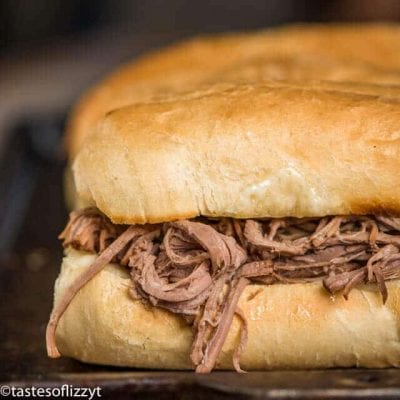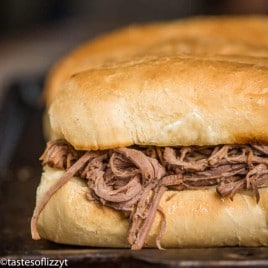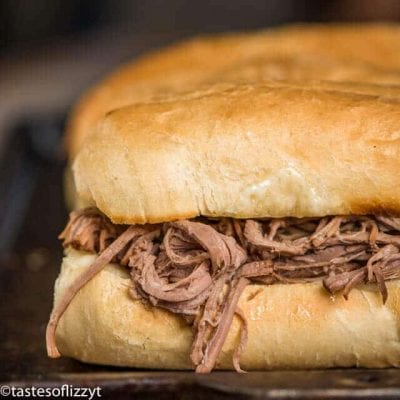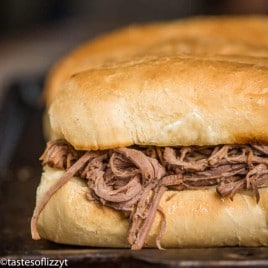 French Dip Sandwiches
Crock pot French Dip Sandwiches make an easy dinner idea! Get this roast recipe in the slow cooker in 5 minutes and it'll be ready when dinnertime comes.
Total Time
7

hours
10

minutes
---
Ingredients
3

pounds

beef chuck roast

10.5

ounces

French onion soup

(1 can)

10.5

ounces

beef consomme

(1 can)

10.5

ounces

beef broth

(1 can)

1

beef bouillon cube

8

hoagie rolls

16

slices

provolone cheese
Instructions
Place the roast in the slow cooker.

Pour the soup, consomme and broth overtop the roast.

Add the beef bouillon cube.

Cover and cook on low for 7-8 hours or until the roast is fork-tender.

Remove the beef to a plate a shred using forks.

Cut open the hoagie rolls and place them on a baking sheet. Top each roll with slices of provolone cheese.

To melt the cheese, place the baking sheet in the oven under the broiler on high for 3-4 minutes until the cheese starts to bubble. Watch this closely!

Place shredded beef on top of one half of the hoagie rolls, then top with the other half of the roll.

Serve the sandwiches warm alongside the juices from the beef for dipping.
Nutrition
Calories:
695
kcal
|
Carbohydrates:
35
g
|
Protein:
53
g
|
Fat:
37
g
|
Saturated Fat:
18
g
|
Cholesterol:
157
mg
|
Sodium:
1509
mg
|
Potassium:
847
mg
|
Fiber:
1
g
|
Sugar:
5
g
|
Vitamin A:
515
IU
|
Calcium:
469
mg
|
Iron:
14.6
mg