Fresh sprigs of sage, rosemary and thyme flavor the homemade cream sauce for theses potatoes au gratin. This comforting cheesy potatoes casserole is perfect with ham, turkey or roast beef.
Cheesy potatoes are versatile. You can make them in a casserole, in the slow cooker or even in the Instant Pot. But there is something classic and comforting about scalloped style potatoes au gratin with shredded cheese and creamy sauce. This recipe uses fresh herbs such as rosemary to deepen the flavor and make them unique.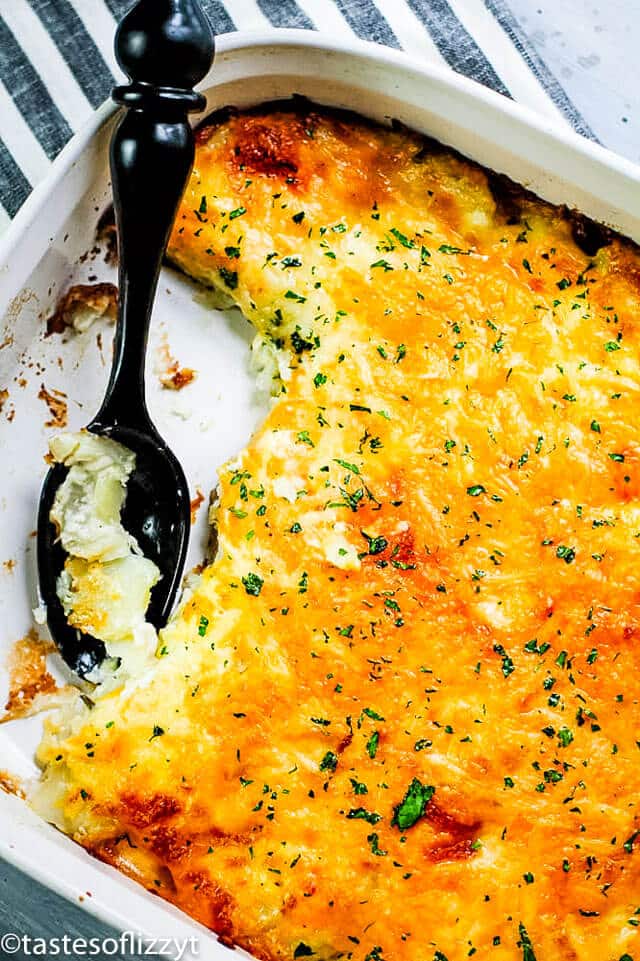 Sage Rosemary Thyme Potatoes Au Gratin Recipe
We've shared so many of our best potato recipes, but these savory potatoes au gratin take traditional potatoes to a new level. I LOVE fresh herbs…and sage, rosemary and thyme are three of my favorites (I even love the dried version of these!). They add such a mouthwatering richness to recipes. So why not infuse the white cream sauce with these fresh herbs? These would be great for your holiday dinners and are sure to impress.
What is the difference between scalloped potatoes and au gratin potatoes?
Scalloped potatoes both start with potato slices and a white cream sauce. The difference comes in that au gratin potatoes also have shredded cheese between the layers of potatoes. Au gratin potatoes will also often have a layer of bread crumbs baked on top. Our recipe skips that step, but feel free to add it if you'd like.
What kind of potatoes do you use for au gratin potatoes?
The type of potatoes you use will depend on the type of casserole you are after. If you like a creamier casserole, use Russet potatoes. They are high in starch and will break apart slightly causing the sauce to be creamy.
If you'd like the potatoes to hold their shape, use red potatoes or Yukon gold potatoes. They are low starch and hold up to baking.
How to easily cut potato slices?
If you want to quickly and easily make perfectly sliced au gratin potatoes, there is one tool you need: a mandolin slicer. This tool has an adjustable blade that you push a potato back and forth on to cut slices. It works beautifully and easily. It is so much quicker than using a knife and you just the thickness of slices that you want!
**Need a mandolin slicer? This is the one we have. It's also great for other vegetables.**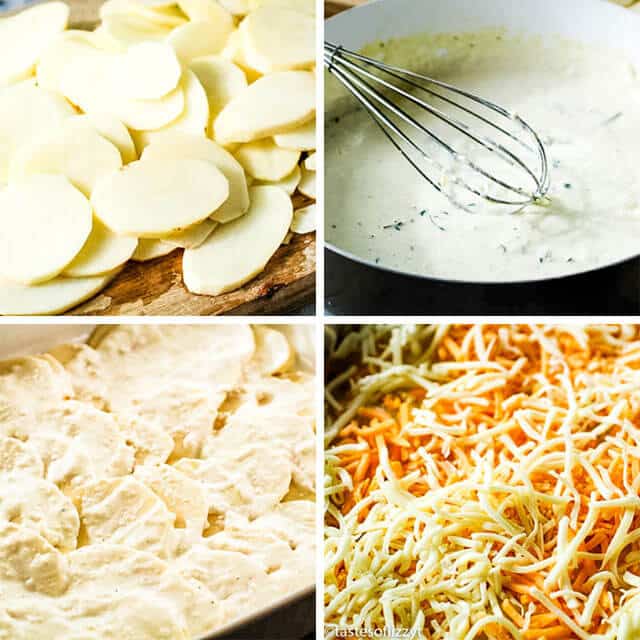 How thin should au gratin potatoes be?
Potatoes au gratin should be sliced very thin, about 1/8″. Sometimes we make ours 1/4″ thick. The thickness of the potato slices will affect the baking time, so it is best to slice them thin.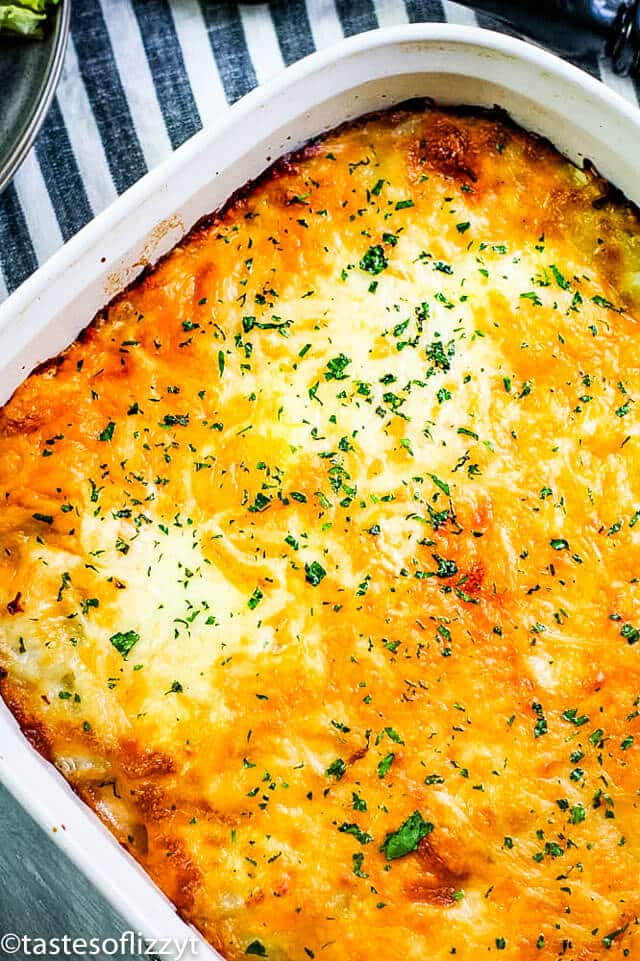 Why do my au gratin potatoes curdle?
Sometimes high heat can make the cheesy sauce look curdled. Although it doesn't look pretty, the potatoes are safe to eat. For best results, prepare the smooth sauce as directed in this recipe, then drizzle it over the potatoes and cover to bake.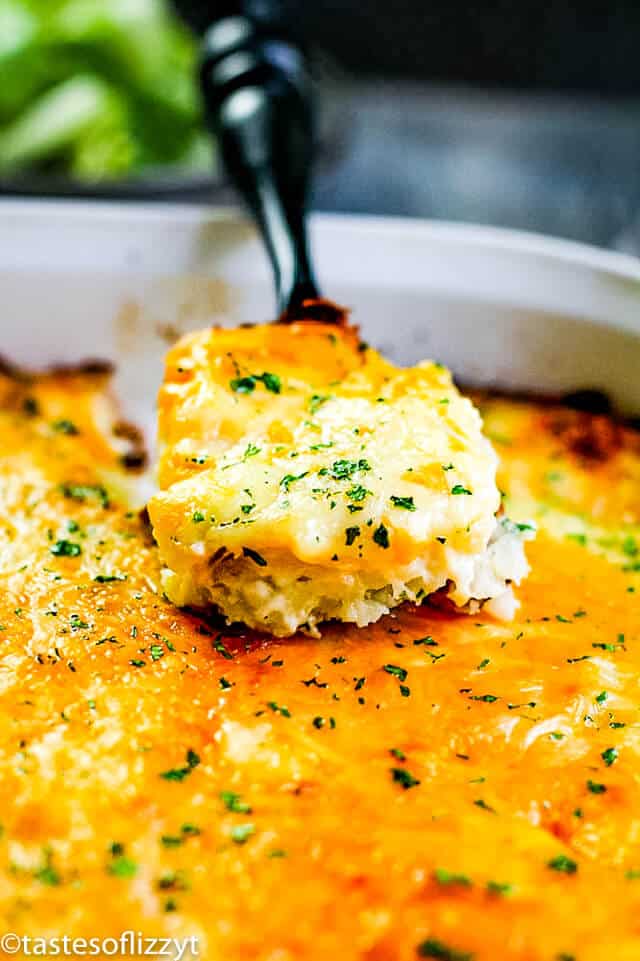 Can you make au gratin potatoes ahead of time?
Yes! There are 2 ways to do this. One way is to just slice the potatoes in advance. After you've sliced the potatoes, cover them completely with water so that they don't turn brown overnight. Drain off the potatoes before continuing with the casserole the next day.
If you need to completely make it in advance, it is best to bake the potatoes as the recipe states, then allow them to cool completely. Cover with foil and refrigerate overnight.
To reheat, bake the covered casserole for 20-30 minutes in a 350 degree F oven.
How do you reheat potatoes au gratin?
Heat the oven to 350 degrees Fahrenheit. Cover the casserole dish with foil and heat for about 20-25 minutes (the exact timing will depend on the dish you are using and how many potatoes there are).
The potatoes should be bubbling around the edges and heated through.
What to serve with au gratin potatoes?
Sage Rosemary Thyme Potatoes Au Gratin
Fresh sprigs of sage, rosemary and thyme flavor the homemade cream sauce for theses potatoes au gratin. This comforting cheesy potatoes casserole is perfect with ham, turkey or roast beef.
Ingredients
5

cups

thinly sliced potatoes

about 4 large and long russets

3

tablespoons

salted butter

3

tablespoons

flour

1

teaspoon

salt

¼

teaspoon

black pepper

1/8

teaspoon

nutmeg

1

teaspoon

garlic powder

1

teaspoon

onion powder

½

teaspoon

ground sage

2 ½

cups

half and half

3

stems of fresh sage

(about 1 teaspoon dried ground sage)

3

stems of fresh rosemary

(about 1 teaspoon dried rosemary)

3

stems of fresh thyme

(about 3/4 teaspoon dried ground thyme)

½

cup

shredded cheddar cheese

½

cup

shredded mozzarella cheese
Instructions
Preheat oven to 375 degrees Fahrenheit.

Grease a 9x13 casserole pan and set to the side.

In a large pan over medium high heat melt butter.

Once butter has melted add in flour and cook while stirring for a minute or two.

Gently add in half and half, slowly, mixing while adding to ensure there are no lumps.

Once half and half has been added and it's smooth, lower heat to medium and add in remaining seasonings and fresh herbs. Stir together and allow fresh herbs to infuse for 2-3 minutes.

After 2-3 minutes, remove pan from heat and remove fresh herbs. Taste and add more seasonings if desired.

Spray the bottom of a 9x13 pan with cooking spray.

Add in a layer of potatoes, one at a time to cover the bottom on the pan.

Pour half of the cream mixture over the potatoes

. Do another final layer of potatoes and cover with the remaining cream mixture.

Cover pan with aluminum foil and bake for 45 minutes.After 45 minutes, remove the foil and top potatoes with cheeses.

Return to the oven and bake an additional 15 minutes or until cheese has melted and starts to lightly brown on edges.
Notes
The calories shown are based on the recipe being divided 9 ways, with 1 serving being a little over 1/2 cup. Since different brands of ingredients have different nutritional information, the calories shown are just an estimate. **We are not dietitians and recommend you seek a nutritionist for exact nutritional information.**
Nutrition
Calories:
219
kcal
|
Carbohydrates:
18
g
|
Protein:
7
g
|
Fat:
13
g
|
Saturated Fat:
8
g
|
Cholesterol:
41
mg
|
Sodium:
368
mg
|
Potassium:
525
mg
|
Fiber:
2
g
|
Vitamin A:
415
IU
|
Vitamin C:
12.5
mg
|
Calcium:
165
mg
|
Iron:
3.6
mg