Brown Butter Mashed Potatoes
Tastes of Lizzy T participates in affiliate advertising programs. We may earn a commission when you make a purchase through links on our site.
Fresh sage takes these Brown Butter Mashed Potatoes to a whole new level. Butter, cream, Parmesan and Gruyere cheese help this potato side dish be extra creamy. 
Potatoes and cheese go together. Au gratin potatoes, cheesy hashbrowns and twice baked potatoes are all fun ways to pair cheese and potatoes. But don't forget classic mashed potatoes!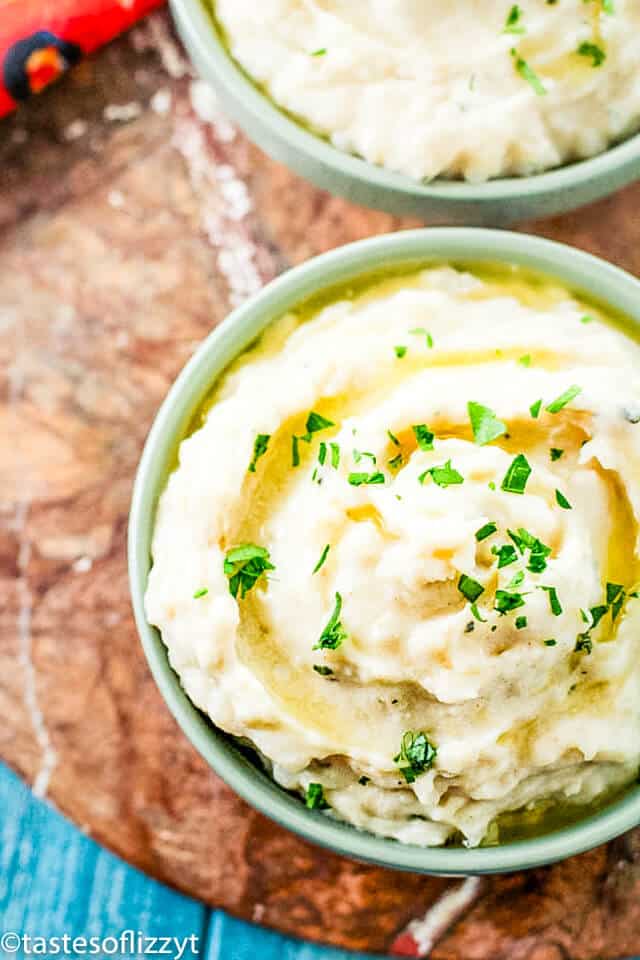 Brown Butter Mashed Potatoes Recipe
I always love trying new flavor combinations in traditional recipes. Potatoes are a great base for so many different flavors. Brown Butter and fresh sage (which just happens to be one of my favorite herbs) pair beautifully in these seasoned mashed potatoes. They are great to pair with ham, chicken or turkey.
What does brown butter taste like?
Brown butter adds a nutty flavor to baked goods, both sweet and savory. The butter keeps all the same qualities it has, but when you brown butter it does change the color and taste. Browned butter deepens the flavor of foods when you add it to a recipe.
How do I make brown butter?
Place the butter (real butter….not margarine!) in a saucepan over medium heat. Allow the butter to melt, then after it melts, continue to stir the butter until it turns clear and brown. Be careful not to let it get too hot or cook it too long….the milk solids may turn black. If this happens, start over. The butter has burned and it won't taste good in your recipe.
Read our Brown Butter Guide here.
What kind of potatoes are best for mashed potatoes?
High starch potatoes such as Russets are the perfect potato for mashing. This will give you fluffy potatoes. You can also use a yellow potato, which is a medium starch potato. Yellow potatoes have great flavor. You can even use a mixture of both Russet and Yukon Gold.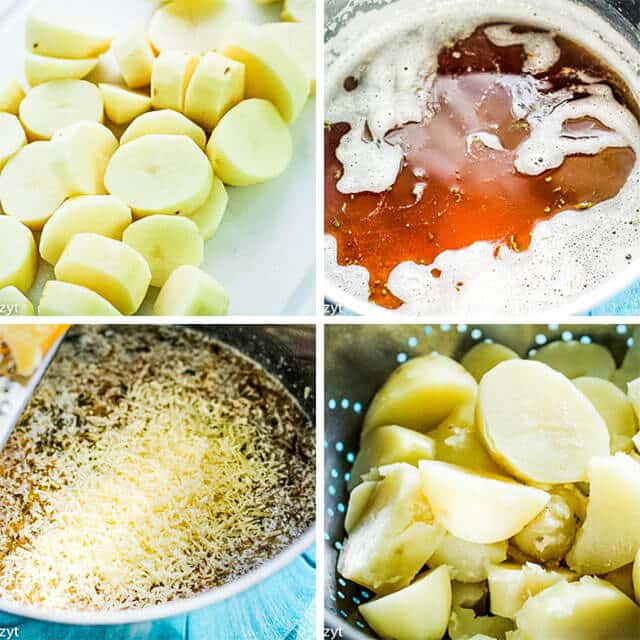 How to Mash Potatoes
There are several different ways to mash potatoes:
Potato Masher. This is a tool that I often pull out to mash potatoes. It's hard to get super creamy mashed potatoes with this tool, but if you don't mind a few chunks of potatoes in your mashed potatoes, it's easy to use and cleanup is quick.
Hand Mixer. We used to always use a hand mixer to mix potatoes. A few years ago a chef told us not to use a hand mixer because although it makes the potatoes really creamy, it can also make them gummy. I'll still use it every now and then, but if you want fluffy, don't use a hand mixer.
Potato Ricer. The best way to get fluffy potatoes is to use a potato ricer or food mill. This will mash up the potatoes, but also keep them light and airy. If you choose this route, be sure to fold in the cream very carefully so the potatoes stay fluffy.
How many potatoes should you make per person for mashed potatoes?
Ideally, you should plan for ½ pound of mashed potatoes per person if you're serving the potatoes as a side dish. It may sound like a lot, but they'll mash down. If your mashed potatoes are a main dish, you'll want to plan for a little bit more per person.

Can I substitute rubbed dried sage for fresh sage?
I highly recommend fresh sage in this recipe, but if you'd like, you can use dried rubbed sage. Use about ½ to ¾ teaspoon of dried sage…or add more to taste if you'd like.
What to Serve with Mashed Potatoes
Mashed potatoes go well with our baked ham, electric roaster turkey, baked chicken, roast beef and buttery soft rolls. Serve with the vegetable of your choice (or our favorites…Italian green beans!).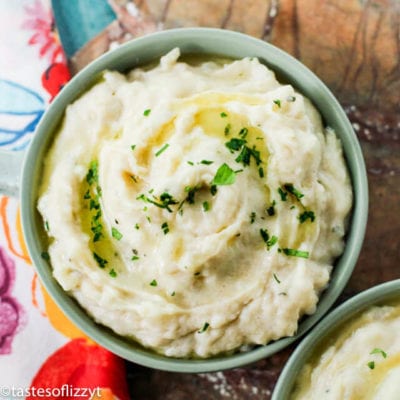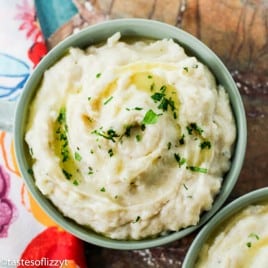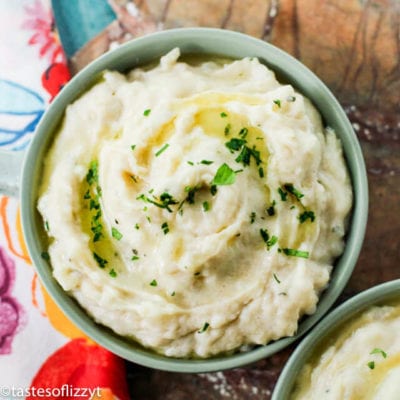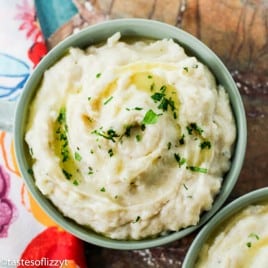 Brown Butter Mashed Potatoes
Fresh sage takes these Brown Butter Mashed Potatoes to a whole new level. Butter, cream, Parmesan and Gruyere cheese help this potato side dish be extra creamy.
---
Ingredients
5

large whole russet potatoes

(peeled and cut into large chunks)

1 - 1 1/2

cups

half and half

1 1/2

teaspoons

minced garlic

(or 3 whole cloves, chopped)

15

leaves

fresh sage

(finely chopped)

1/2

cup

salted butter

2

tablespoons

Parmesan cheese

(freshly grated)

2

tablespoons

Grueyre cheese

(freshly grated)

1/2

teaspoon

garlic powder

1/2

teaspoon

salt

additional salt and pepper to taste
Instructions
In a large pot add in potatoes, garlic cloves, salt to taste, and enough water to cover over an inch over the potatoes. Bring water to a boil and lower heat to a slow boil and allow to cook for 25-30 minutes, or until potatoes are fork tender.

Once potatoes are fork tender, drain potatoes and garlic and place in a very large mixing bowl.

In a medium saucepan, over medium high heat add in butter and allow butter to melt.

Once butter has melted, add in sage leaves. Cook together while mixing occasionally until butter turns into a nice golden brown.

Once butter has browned, remove from heat and allow butter to cool slightly before slowly adding in half and half. Stir gently and add in cheeses. Stir to incorporate together.

Using a potato masher (or a hand mixer) mash potatoes, adding in milk mixture little by little until as creamy as desired. Once potatoes are creamed add garlic powder and salt, then taste for seasonings. If desired, add in more salt and pepper.
Notes
*The exact amount of milk you will need depends on the size of the potatoes. Mix it in slowly so that the potatoes do not become too runny.
The calories shown are based on the recipe serving 6 people, with 1 serving being about 1 cup of mashed potatoes, depending on the size of the potatoes. Since different brands of ingredients have different nutritional information, the calories shown are just an estimate. **We are not dietitians and recommend you seek a nutritionist for exact nutritional information.**
Nutrition
Calories:
305
kcal
|
Carbohydrates:
32
g
|
Protein:
6
g
|
Fat:
17
g
|
Saturated Fat:
10
g
|
Cholesterol:
47
mg
|
Sodium:
381
mg
|
Potassium:
740
mg
|
Fiber:
2
g
|
Sugar:
1
g
|
Vitamin A:
545
IU
|
Vitamin C:
10.3
mg
|
Calcium:
101
mg
|
Iron:
1.6
mg
Other Mashed Potato Recipes
Love potatoes? We do, too! Try one of our mashed potato recipes: