Eat a comforting but healthy dinner with this Paleo Shepherd's Pie. Fill with your favorite veggies and top with white or sweet potatoes.

Paleo Shepherd's Pie Recipe
I generally like to spend Saturdays out of the kitchen. If I have to be in the kitchen, I like to be baking, not making dinner. That means in order to have food for meals on the weekends, I have to plan ahead to have leftovers from the week that we can eat.
A few Saturdays ago, I woke up craving some good comfort food. I knew we didn't have much of any leftovers in the fridge and I knew that if I had any hope of eating healthy during the weekend, I needed to make a hearty meal that would give us a dinner on Saturday and lunch leftovers for Sunday.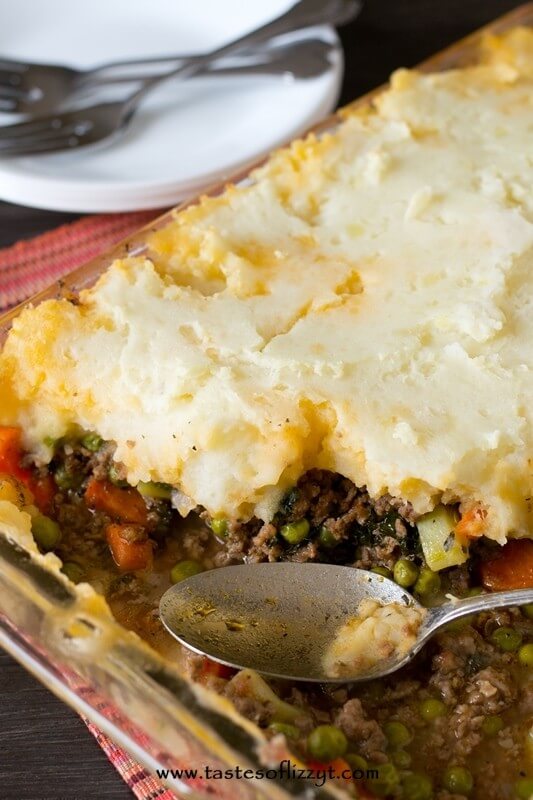 One of Matt's favorite meals is shepherd's pie. I guess I didn't realize this was such a comfort meal for him. When I told him I was going to create a paleo shepherd's pie, he got excited. Really excited. The way to a man's heart is definitely through their stomachs, ladies.
Shepherd's pie was never on our weekly menu much. I can probably count on one hand the number of times I've made it since we've been married.
That's all changing now. I created a healthy shepherd's pie that fits into our paleo eating plan that we try to stick to for meals. It's ground beef packed with veggies on the bottom and a layer of of mashed potatoes on top. Pure comfort food. And I'd like to say the kids were all over this meal. I mean, fighting-over-the-leftovers loving it. That makes me happy.
No one seemed to mind that this was filled garden-fresh zucchini, carrots, onions, peas and kale. I was really shocked there was no complaining over the fact that there was green color found underneath the pillowy layer of fluffy mashed potatoes. You can add whatever veggies you happen to have on hand to this shepherd's pie. This combination was easy for us, but I'd try like to try adding in some celery or turnips. You can use fresh veggies or use frozen veggies. if that's easier for you.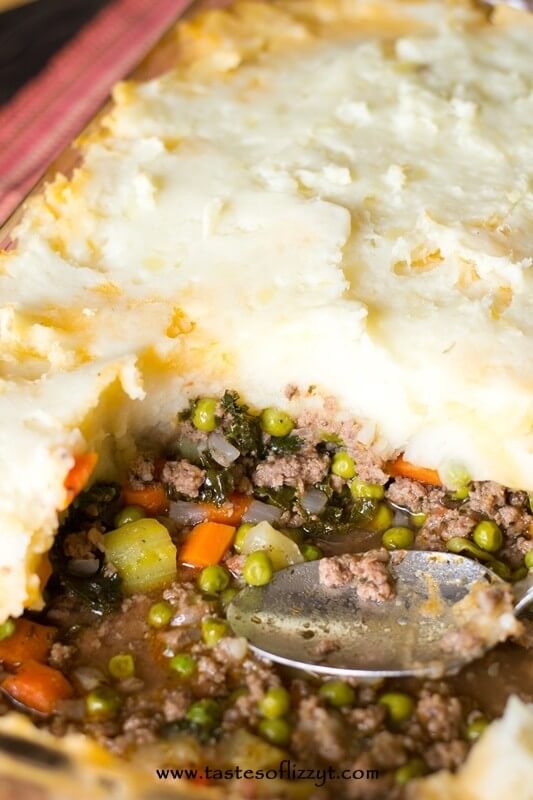 Although we normally eat sweet potatoes, we do allow ourselves white potatoes every now and then. This meal could easily be made with sweet potatoes if you prefer to steer clear of white potatoes. Using sweet potatoes would also make this a great Whole30 recipe. It's sugar free, grain free, gluten free and dairy free!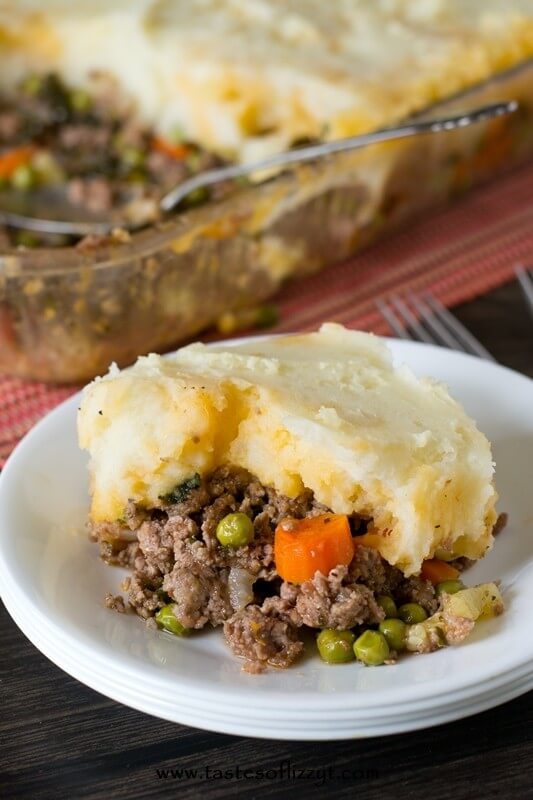 Enjoy this Paleo Shepherd's Pie dinner. The recipe made enough to feed our family of five for two meals, plus a few leftovers. Recipes that make enough for two meals score big in my book. And if you are a busy family trying your best to eat healthy, I think you'll be happy with this meal, too!
Looking for more paleo recipes?
Try our Paleo Italian Chicken Fingers, Zuppa Toscana, Slow Cooker Coconut Ginger Chicken, Stuffed Peppers and more!
Buy our downloadable Healthy Dinner Recipes Cookbook with 22 of our most popular healthy main dish recipes including Paleo, Whole30, gluten free and sugar free options!

Only $4.99!
Paleo Shepherd's Pie
Eat a comforting but healthy dinner with this Paleo Shepherd's Pie. Fill with your favorite veggies and top with white or sweet potatoes.
Ingredients
5

large

potatoes

peeled and quartered

1/4

cup

butter

ghee or coconut oil

1/4

cup

almond milk

salt and pepper

to taste
Sauce:
1

cup

petite diced tomatoes

1 1/2

cup

beef stock

1

teaspoon

basil

2

teaspoons

minced garlic

1

teaspoon

Italian seasoning

1

teaspoon

salt

2

teaspoons

tapioca starch
Filling:
2

pounds

ground beef

1

small

onion

chopped

2

cups

chopped carrots

2

cups

zucchini

peeled and chopped

2

cups

peas

2

cups

finely chopped kale
Instructions
In a large saucepan, boil the potatoes until they are tender (about 10 minutes). Mash the potatoes and cream them together with the butter, milk, salt and pepper until they are fluffy. Set aside.

Place all of the sauce ingredients into a blender and blend until smooth. Set aside.

Brown the ground beef and onions in a large skillet or saucepan. Drain the fat off the meat. Add the sauce and chopped vegetables to the skillet. Cover the skillet and allow the meat and veggies to simmer for 10-15 minutes until the veggies start getting tender. Don't allow them to cook all the way through since they will continue to cook in the oven.

Preheat the oven to 350 degrees. Transfer the meat and veggies to a 9x13 pan. Top the meat mixture with the mashed potatoes and spread it out evenly. Bake for 30 minutes at 350 degrees.
Nutrition
Calories:
335
kcal
|
Carbohydrates:
12
g
|
Protein:
19
g
|
Fat:
23
g
|
Saturated Fat:
9
g
|
Cholesterol:
76
mg
|
Sodium:
471
mg
|
Potassium:
675
mg
|
Fiber:
3
g
|
Sugar:
5
g
|
Vitamin A:
6080
IU
|
Vitamin C:
36.5
mg
|
Calcium:
82
mg
|
Iron:
3
mg