These healthy, kid-friendly Italian Paleo Chicken Fingers are grain free, gluten free, dairy free and sugar-free. Lightly breaded and pan fried in coconut oil to a golden brown.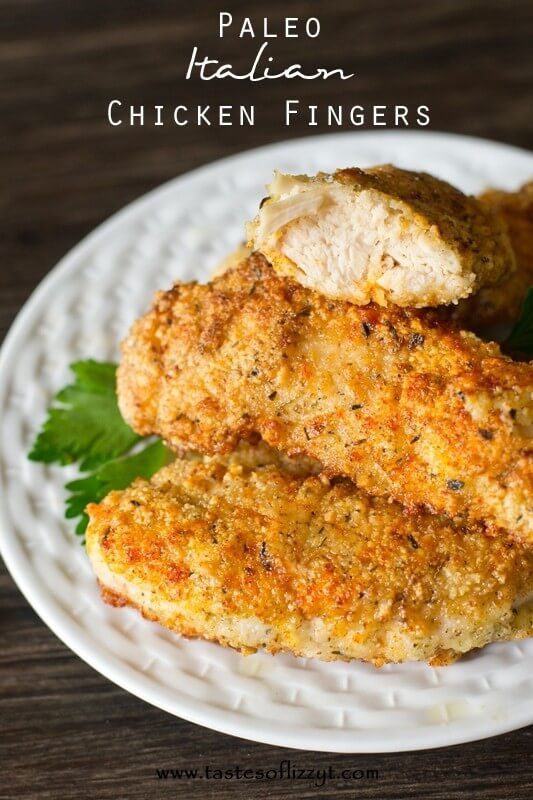 I'm super excited about this little recipe I'm sharing with you today.  If your family is anything like ours, you are busy. Running to soccer practices, cross country practices, ballet, piano…by the time dinner comes and it's nearing time to plop down at the table, I like something fast. And healthy. And easy. And tasty… my dinner has to be good! What makes a dinnertime recipe really stand out is when I see smiles on my kids' faces (and my hubby's, too!) and statements of "Now THIS is GOOD!". These Paleo Italian Chicken Fingers hit every single one of those requirements.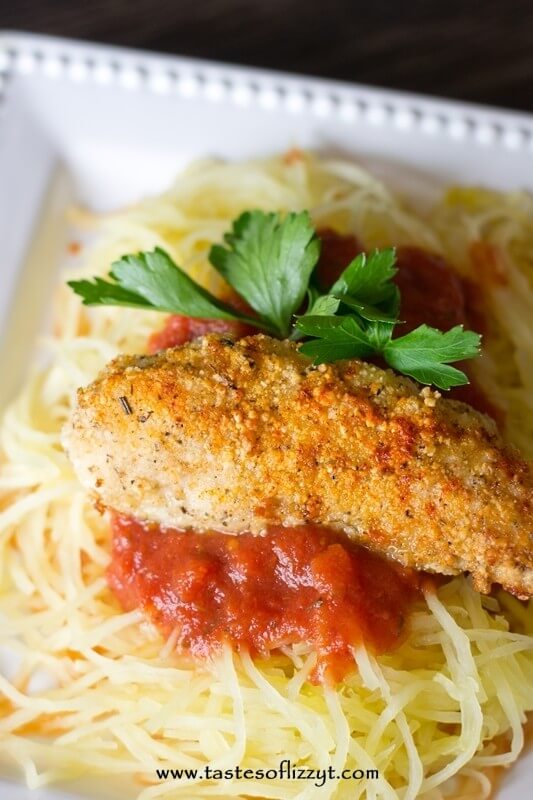 Fast: To make these quick to cook, I used the chicken breast tenderloins that are already trimmed and ready. I know I'm not the only one out there that isn't a huge fan of handling raw chicken.  The fact that this comes trimmed and ready to cook is genius!
Easy: To make this, you'll dip each chicken tenderloin in egg first, and then in a mixture of almond flour, tapioca starch, Italian seasoning, garlic, salt and pepper. Then you place it in hot coconut oil and let them pan fry for about 5-6 minutes on each side. This is so easy, friends. There's no real way you can mess this one up.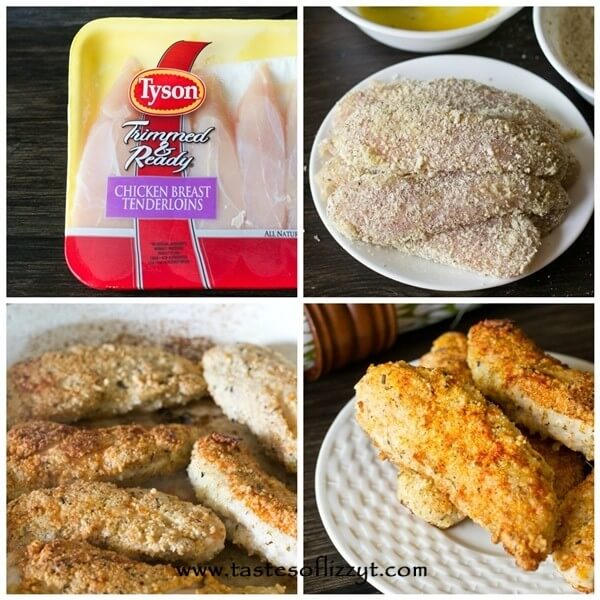 The flavor you end up with?  Out of this world, finger-lickin' good. I served this to my family two days in a row.  Once we ate the Italian Paleo Chicken Fingers on their own. The kids dipped theirs in honey mustard or buffalo sauce.  The second day we served it with spaghetti sauce over spaghetti squash: it's your very own paleo chicken parmigiana!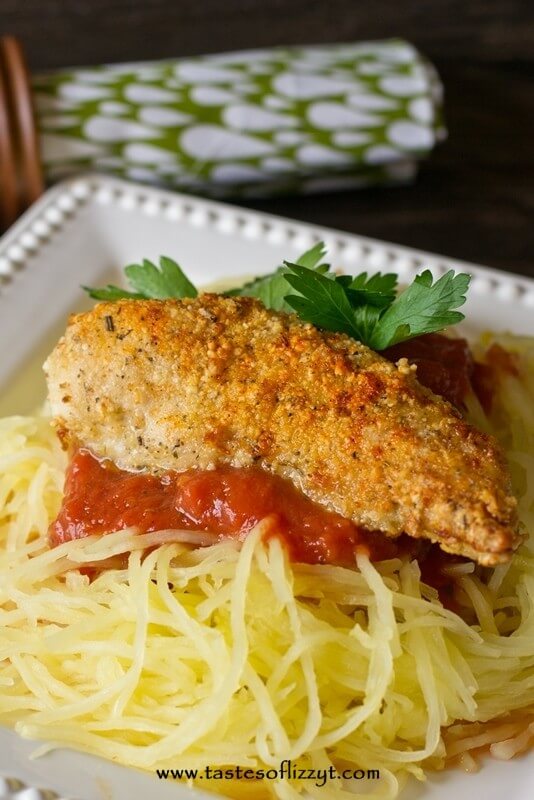 I loved how crispy this chicken turned out. The key to getting this chicken crispy is to heat the coconut oil for about 5 minutes before placing the chicken in.  Gently place the chicken in and let it sizzle.  You'll get a beautiful golden brown color. Because these chicken fingers have a light, gluten free "breading", that crispy coating may come off if you are not careful. We used a spatula (instead of a fork) to turn the chicken fingers and remove them from the pan when they were done. Our crispy coating stayed perfectly on the chicken.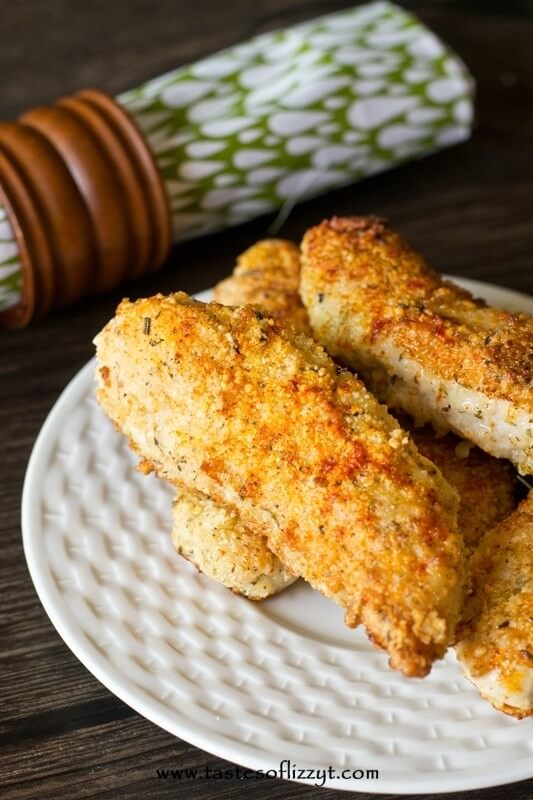 Your family is going to love this healthy recipe. Perfect for game day, birthdays or any day!

Julie
Italian Paleo Chicken Fingers
These healthy, kid-friendly Paleo Italian Chicken Fingers are grain free, gluten free, dairy-free and sugar-free Lightly breaded and pan fried in coconut oil to a golden brown.
Ingredients
2 lbs Tyson Fresh Chicken Tenderloins
1 cup almond flour
3 tablespoons tapioca starch
11/2 teaspoons garlic salt
1 teaspoon salt
2 teaspoons Italian seasoning
1/4 teaspoon black pepper
2 eggs, whisked
1/4 cup coconut oil, for frying
1/2 teaspoon paprika
Instructions
Heat 1/4 cup coconut oil in a skillet over medium-high heat for 5 minutes. While the oil is heating, prepare the chicken. Place almond flour, tapioca starch, garlic salt, salt, Italian seasoning and pepper in a bowl and mix. Put the whisked eggs in a separate bowl. Dip each chicken tenderloin into the egg and then coat each with the almond flour mixture. Place the prepared chicken into the hot oil and fry it for 5 minutes. Once the first side is browned, turn the chicken and fry the other side for another 5 minutes, or until the chicken is golden brown and shows no pink in the middle. During the last minute of frying, sprinkle paprika over the chicken. Serve with your favorite dipping sauce or with spaghetti sauce over spaghetti squash.
6.8
https://www.tastesoflizzyt.com/paleo-italian-chicken-fingers-2/
Paleo Antipasto Salad