Tastes of Lizzy T participates in affiliate advertising programs. We may earn a commission when you make a purchase through links on our site.
Here is how to make buttermilk fried chicken! Soak chicken breasts in buttermilk, dip in flour coating and then fry in a pan for tender, juicy chicken with amazing flavor.
Table of Contents
Kinslee loves chicken. Ok…I should clarify that. She loves fried chicken from restaurants, but turns her nose up to chicken I cook at home.
Because I knew she wasn't crazy about chicken, I had gotten away from making it too much. I worked on several chicken recipes this spring and totally won her over with this buttermilk fried chicken. She felt like she was eating her favorite restaurant chicken and I had one happy girl.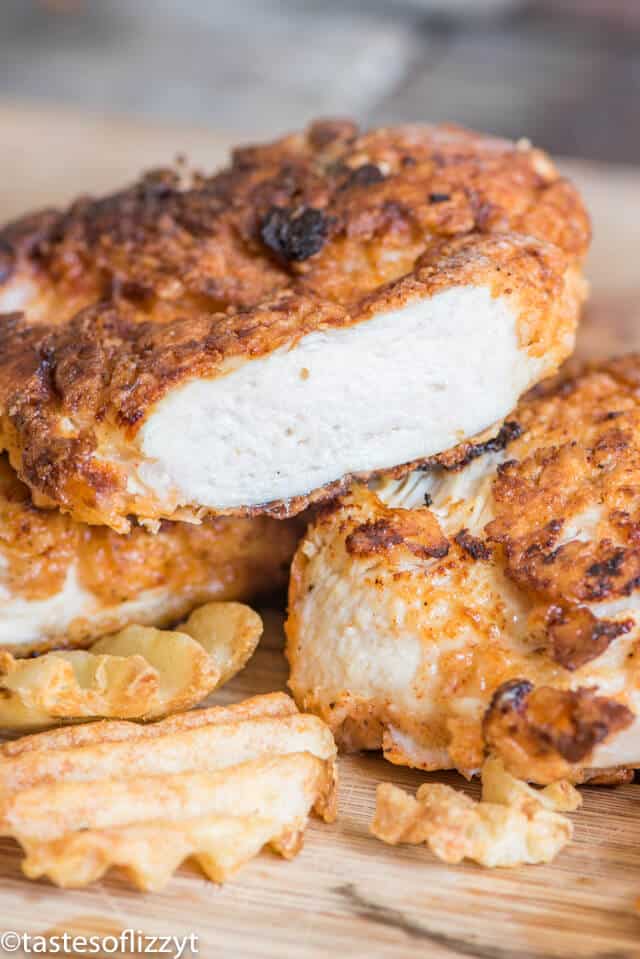 If you're looking for a traditional fried chicken recipe, here's our favorite.
The Best Fried Chicken
First, let's walk through the steps to making buttermilk chicken:
Pound the chicken to an even thickness.
Soak the chicken in buttermilk marinade.
Let it drip a second and coat it with flour.
Dip it back in the buttermilk.
Then coat it again with flour.
Fry it!
And those are the 5 steps. Although this is a "quick" recipe, you do have to plan ahead to give the chicken time to soak in buttermilk. This is a key step to delicious chicken that you don't want to skip.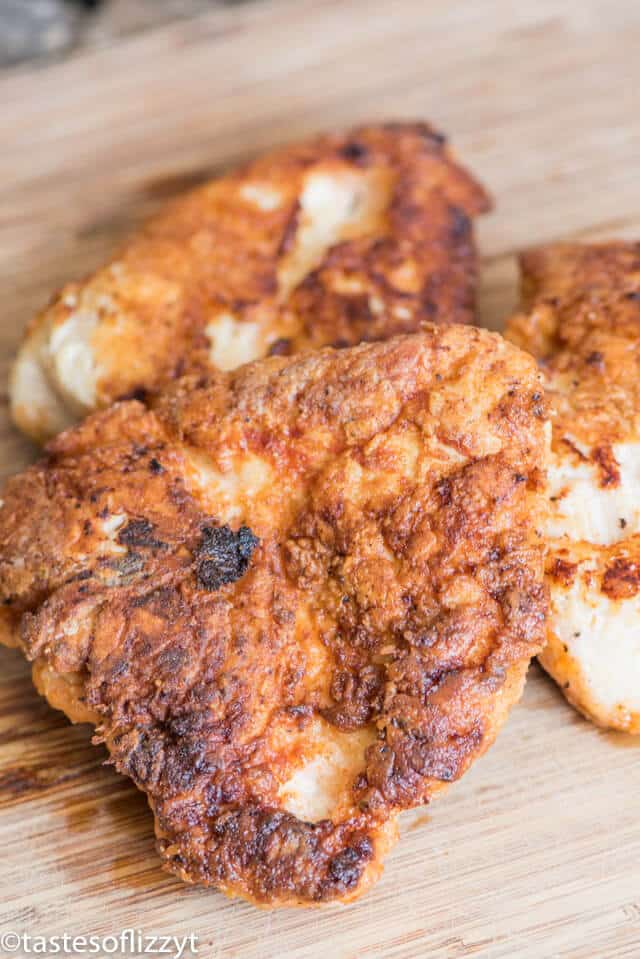 What cut of chicken is best?
I typically use boneless, skinless chicken breasts, but you can use drumsticks, wings, thighs or really any cut of bone-in chicken.
What does buttermilk do to the meat?
Soaking chicken pieces or other meats in buttermilk make the meat tender. While harsher acids like lemon juice or vinegar can tenderize, they can also dry out the meat. But soaking chicken in buttermilk helps the chicken stay juicy while tenderizing the meat.
Can you use milk instead of buttermilk to make fried chicken?
If you don't have buttermilk on hand, use milk and add 1 teaspoon of lemon juice or vinegar per cup of milk. This is a great substitute for buttermilk.
How long do you put chicken in buttermilk?
You'll want to soak the chicken in buttermilk for a minimum of 8 hours, but you can soak the chicken for up to 24 hours. Be sure the chicken is in a glass large bowl, rather than a plastic bag, and is covered. Then allow the chicken to marinate in the refrigerator.
Fried Chicken Coating
After you've soaked the chicken, you'll mix up the quick flour coating for the chicken. You'll notice it has corn starch in it. Why use cornstarch in fried chicken? Corn starch is a thickening agent. It will soak up that buttermilk and really give you a nice crunchy coating on your fried chicken. You can also use tapioca starch if you'd like.
We do a simple spice combination of paprika, dry mustard, salt and pepper. You can switch it up a little if you'd like. Add garlic powder, onion powder or a teaspoon cayenne pepper to add a little heat.
How to Make Buttermilk Fried Chicken
There's one key thing to remember when you make homemade fried chicken. You're going to get messy. You'll dip the soaked chicken in flour, then buttermilk, then flour again. This will help the batter stick to the chicken. But it will also stick to your fingers! It's ok. Embrace it. And now that you know that, here's some other hints:
After you dip the chicken in buttermilk and flour, allow it to rest 20 minutes before frying it. This will allow that "batter" to thicken up and stick on your chicken. Allowing it to come to room temperature will also help the chicken to cook better. If the chicken is too cold it will cool down the hot oil.
What type of oil is best for frying? Vegetable oil, canola oil or peanut oil is best. Olive oil has a low smoke point and may make the chicken taste bitter.
Heat the oil to about 375 degrees Fahrenheit before adding the chicken. The chicken will drop the temperature down to about 325 degrees Fahrenheit, which is where you'll want to keep it while the chicken is cooking.
Don't crowd the chicken. Give the chicken space to have the oil boiling all around it. Fry the chicken in batches if needed.
Cook the chicken for about 6 minutes before carefully flipping it. We like to use long tongs to flip the chicken. A spatula works great too!
Finish cooking the chicken until the internal temperature is 165 degrees F and is no longer pink.
**We LOVE our Thermoworks ThermaPen to quickly test meat temperatures. This probe thermometer is AMAZING. You can also use this as a deep-fry thermometer to test the oil temperature. Get it here.**
Buttermilk Fried Chicken Tenders
If your kids like chicken tenders as much as mine do, buy chicken tenders from the fresh meat case and use them instead of chicken breasts. Better than a restaurant!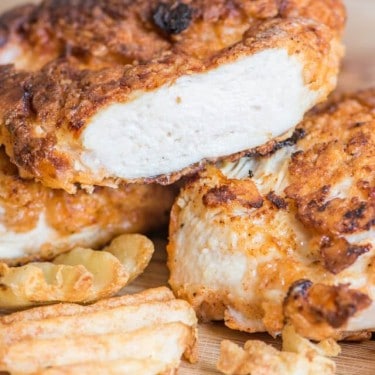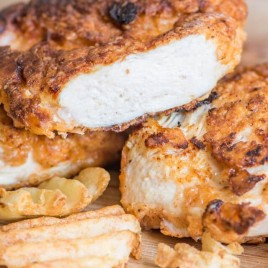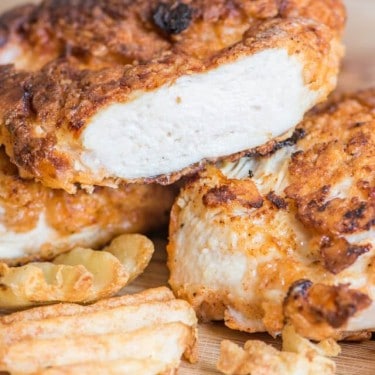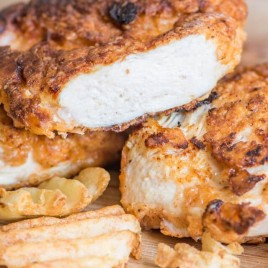 Crispy Buttermilk Fried Chicken
Here is how to make buttermilk fried chicken! Soak chicken breasts in buttermilk, dip in flour coating and then fry in a pan for tender, juicy chicken.
Resting Time
5

hours
40

minutes
---
Ingredients
Buttermilk Soak
2 1/3

pounds

boneless, skinless chicken breasts

2-3

cups

buttermilk
Flour Coating
1

cup

all-purpose flour

130 grams

1/4

cup

cornstarch

30 grams

2

teaspoons

paprika

4 grams

1

teaspoon

black pepper

2 grams

2

teaspoons

salt

(or less, to taste) 10 grams

1/2

teaspoon

dry mustard

1 gram
For Frying
1/4

cup

canola oil

(or your favorite oil)
Instructions
Prepare the Chicken
The chicken breasts we used were large (3 chicken breasts = 2 ⅓ pounds). If the chicken breasts you are using are also large cut them in half to get 6 pieces.

Place the chicken breasts in a zippered bag. Use the side of a meat tenderizer to pound the chicken breasts to 1/2″ thickness throughout so they cook evenly.
To Soak the Chicken
Plan for at least 8 hours of marinating the chicken.

Place the chicken in a glass bowl and pour enough buttermilk over them to just cover them. We used about 2-3 cups of buttermilk.

Cover the bowl with plastic wrap and place it in the fridge for at least 8 hours up to 24 hours.
For the Flour Coating
In a bowl, mix together the flour, cornstarch and spices. Mix well.
Coat the Chicken
Pour 1 cup of buttermilk into a bowl.

Take a piece of chicken from the buttermilk soak and allow it to drip for a few seconds.

Place the chicken in the flour mixture and turn to coat.

Dip the chicken in the bowl of buttermilk.

Coat one last time with flour.

Place the chicken on a plate to rest. The chicken should rest for 20 minutes before frying.
Fry the Chicken
In a deep skillet, heat ¼ cup oil over medium-high heat.

When the oil is hot, place the chicken in the frying pan and allow it to cook for 6 minutes.

Turn the chicken to cook on the other side and cook until the chicken is no longer pink inside, about another 4-6 minutes (depending on thickness). When the internal temperature of the chicken reaches 165 degrees Fahrenheit, the chicken is done.

Remove the chicken to a wire rack with paper towels underneath to catch any excess drips. This will help that chicken keep its crunch rather than getting soggy. Allow the chicken to sit for 5 minutes before serving because it will be very hot inside!
Notes
The calories shown are based on the recipe making 6 pieces of chicken, with 1 serving being 1 piece of chicken. Since different brands of ingredients have different nutritional information, the calories shown are just an estimate.
Nutrition
Calories:
382
kcal
|
Carbohydrates:
21
g
|
Protein:
39
g
|
Fat:
14
g
|
Saturated Fat:
1
g
|
Cholesterol:
112
mg
|
Sodium:
981
mg
|
Potassium:
690
mg
|
Vitamin A:
380
IU
|
Vitamin C:
2.1
mg
|
Calcium:
12
mg
|
Iron:
1.8
mg
Other Chicken Dinner Recipes
Try one of these chicken dinner ideas.