Chick-fil-A Nuggets Recipe
Chick-fil-A has quite the following…and now you can make their nuggets at home. This copycat Chick-fil-A nuggets recipe is perfectly seasoned.
Table of Contents
When my kids were younger, there was one thing they craved. Chick-fil-A. We didn't have a restaurant nearby, so those crispy chicken sandwiches were a special treat when we were traveling, either in airports or on the road.
A few years ago, a Chick-fil-A restaurant went in about 25 minutes from us, so we got to enjoy it more. Maddie and Braden have it weekly since it sits on their college campus. It's no longer a special treat, but we all still love it.
Now you can make those much loved, perfectly seasoned bite size Chick-fil-A nuggets at home. No one knows the exact recipe, but this one comes pretty close and tastes just as good.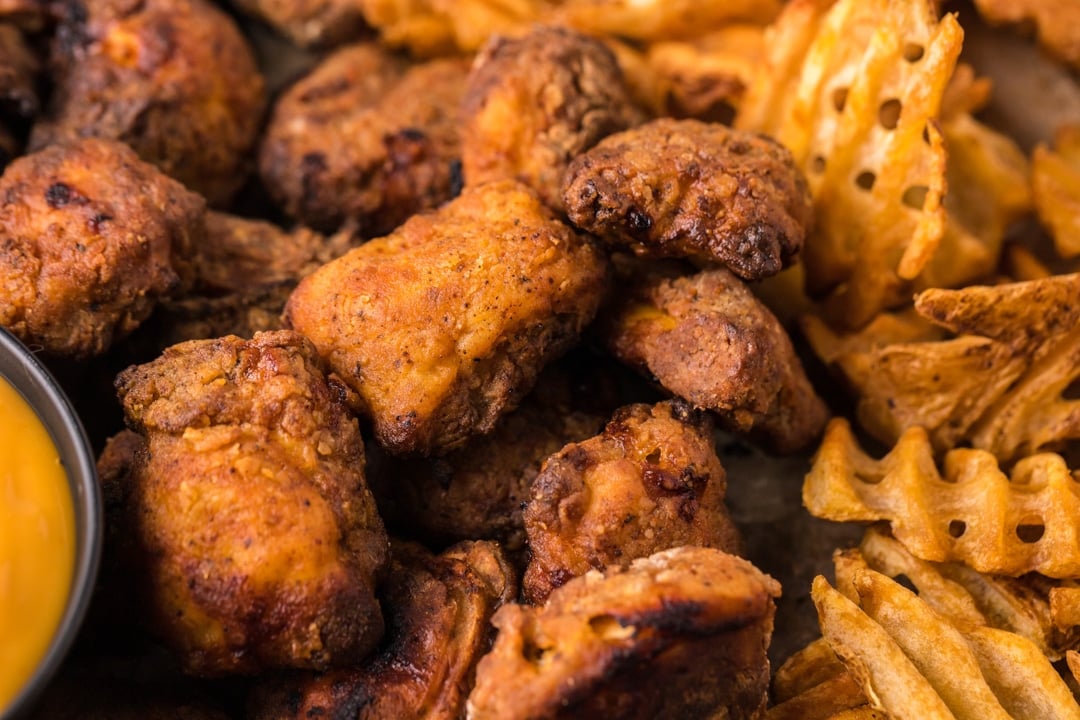 About Chick-fil-A Nuggets:
Flavor: Chick-fil-A fried chicken has a savory flavor with just a hint of sweet. I used powdered sugar in the flour mixture to add that touch of sweetness. Otherwise you'll taste the dill from the brine (which is optional) and the light seasonings.
Texture: I'll give you tips below on how to keep the chicken nuggets crispy to perfection. Because soggy chicken nuggets are no good! These homemade nuggets are crispy on the outside, but tender and juicy on the inside.
Dill Pickle Brine
There's been a hot debate over the years as to whether Chick-fil-A soaks their pieces of boneless chicken breast in dill pickle juice before frying. There are reputable sources that say this not true; the dill flavor comes from the pickle on the sandwich.
Since this recipe is for nuggets, you can skip the dill pickle brine if you'd like, which makes this recipe much quicker. My family, however, LOVES the pickle flavor that Chick-fil-A has, so we choose to brine the chicken first, then fry. It gives a unique flavor that isn't found in our other fried chicken recipes.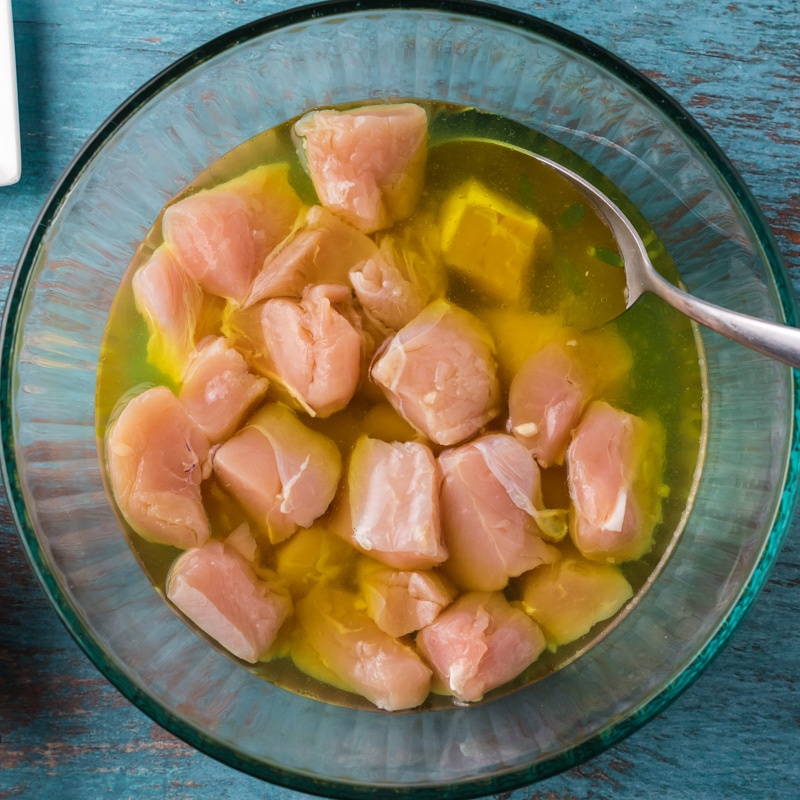 Does Chick-fil-A use MSG?
MSG is a flavor enhancer in many fast foods and packaged foods. You can buy it at the grocery store under the name of Accent. Most people like to steer clear of this ingredient, but it is listed on Chick-fil-A's nugget ingredient list (monosodium glutamate) on the restaurant's menu. It does enhance flavor so without it you won't get a true copycat recipe.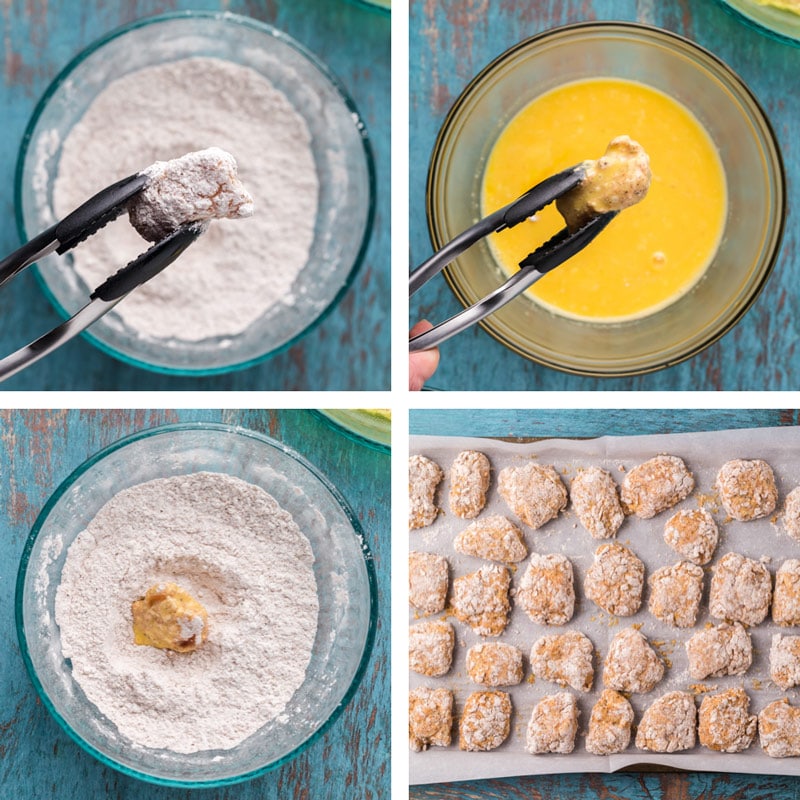 Tips for Making Copycat Chick fil A Chicken Nuggets
Use cornstarch in the flour mixture. You may use cornstarch to thicken puddings and gravies, but because it absorbs moisture so well, it is great for crispy chicken as well. Use one cup of flour and ¼ cup cornstarch for a fantastic crunch.
Double coat the chicken. Coat each piece of chicken piece with flour, then dunk it in the milk mixture, then coat it again in flour. This will help the chicken be nice and crispy.
Fry the chicken in peanut oil. According to the Chick-fil-A website, they fry their chicken in peanut oil.
Use an internal probe thermometer to check the oil temperature. What temperature do you fry chicken at? 350ºF. You want to keep the oil as close to that temperature as possible during the frying process. That means you'll have to test the temperature of the hot oil often and adjust the heat as needed.
Use an internal probe thermometer to check the chicken. You can remove it from the butter to the wire rack when it is 165º Fahrenheit inside.
Place fried chicken nuggets on a wire rack to cool. If you put the chicken on a flat plate or surface, it can sit in any excess butter, making the breading soggy. Instead, when you take the chicken from the frying pan, place it on a wire rack with a pan, paper towels or parchment underneath to catch any drips. This will help keep the underside of the fried chicken crispy.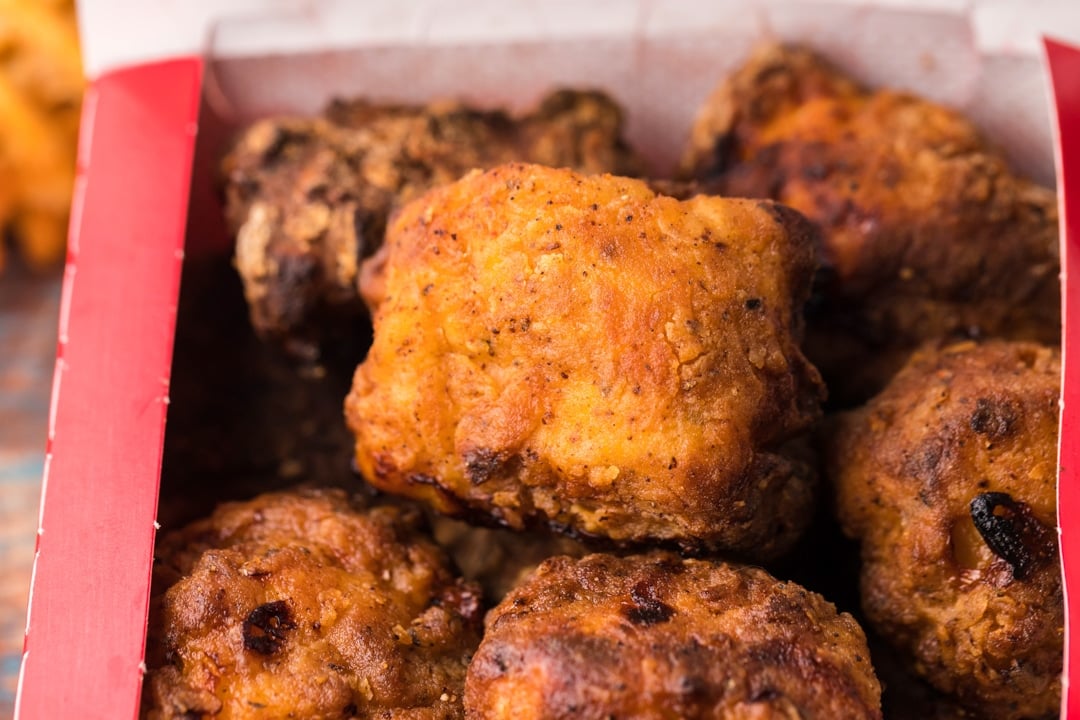 Dipping Sauces
Try dipping these homemade nuggets in:
Chick-fil-A sauce
ranch dip
honey mustard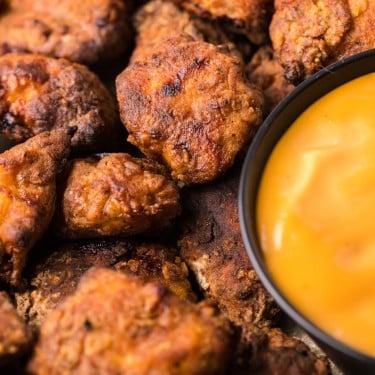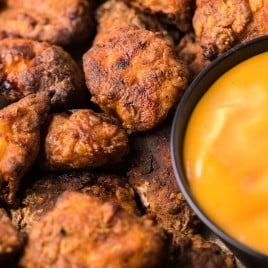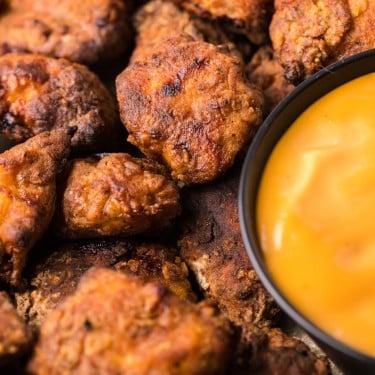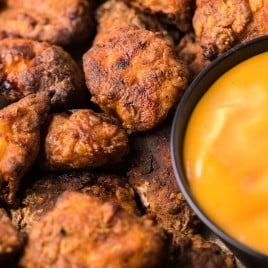 Copycat Chick-fil-A Nuggets Recipe
Chick-fil-A has a huge following…and now you can make their nuggets at home. This copycat Chick-fil-A nuggets recipe is perfectly seasoned.
---
Ingredients
For the brine:
1

pound

boneless, skinless chicken breast

cut into 1" cubes

1

cup

dill pickle juice
For the flour coating:
1

cup

all purpose flour

130 grams

1/4

cup

cornstarch

33 grams

1

tablespoon

powdered sugar

12 grams

1

teaspoon

smoked paprika

2 grams

1

teaspoon

coarse black pepper

3 grams

1

teaspoon

salt

6 grams

1/2

teaspoon

garlic powder

1/2

teaspoon

onion powder

dash

ancho chili powder

dash

white pepper
For the milk mixture:
1

large

egg

whisked

½

cup

2% milk

1

tablespoon

garlic paste
Instructions
Cut chicken into 1 inch cubes. Place into a bowl with pickle juice and brine for one hour.

Prepare a dredging station. Combine ingredients for the flour mixture in a medium mixing bowl. In a separate bowl, whisk together the egg, milk, and garlic paste.

Drain the pickle juice from the chicken (discard the juice).

Coat each of the nuggets in the flour mixture, then dredge in the milk mixture. Allow excess milk to drip off and coat in the flour mixture one more time. Place the floured chicken pieces on a plate or cutting board and let them rest while the oil heats in the skillet.

Pour peanut oil into a large skillet until the oil is about 1/2" deep. Turn to medium-high heat and warm the oil until it gets to 350ºF. You want to keep the oil as close to 350ºF as possible so check it often and turn the heat up/down as needed.

Place the floured chicken in the oil and cook for about 2-4 minutes (depending on how big the chicken pieces are). Then turn the chicken pieces and cook again for an additional 2-4 minutes, or until the nuggets test done (internal temperature of 165ºF).

Remove the nuggets to a wire rack to cool (have paper towels under the wire rack to catch any oil drips). The wire rack will help the nuggets stay crispy.

Serve with chick fil a sauce.

Store any leftovers in the refrigerator in an airtight container. Reheat in the microwave or in the air fryer.
Notes
Refer to the article above for more tips and tricks.
The calories shown are based on the recipe serving 4, with 1 serving being ¼ of the nuggets. Since different brands of ingredients have different nutritional information, the calories shown are just an estimate. **We are not dietitians and recommend you seek a nutritionist for exact nutritional information. The information in the nutrition box are calculated through a program and there is room for error. If you need an accurate count, I recommend running the ingredients through your favorite nutrition calculator.**
Nutrition
Calories:
588
kcal
|
Carbohydrates:
42
g
|
Protein:
30
g
|
Fat:
33
g
|
Saturated Fat:
6
g
|
Polyunsaturated Fat:
10
g
|
Monounsaturated Fat:
14
g
|
Trans Fat:
1
g
|
Cholesterol:
122
mg
|
Sodium:
1364
mg
|
Potassium:
550
mg
|
Fiber:
1
g
|
Sugar:
5
g
|
Vitamin A:
435
IU
|
Vitamin C:
3
mg
|
Calcium:
64
mg
|
Iron:
2
mg
Air Fryer Instructions
You can make nuggets in the airfryer. They will turn out a little differently, but if you are used to the air fryer, they are definitely worth trying to save a few calories.
Preheat the air fryer to 390ºF.
Spray the air fryer pan or grates with peanut oil. The air fryer I have is a mesh grate and the breading did stick slightly. Greasing the grates will help that slightly.
Place the floured chicken pieces in the air fryer basket in a single layer. Spray the nuggets with peanut oil.
Cook for about 3 minutes, then flip and spray again with oil. Cook for an additional 3-4 minutes or until the nuggets test done (internal temperature of 165ºF).