Honey Butter Fried Chicken
Tastes of Lizzy T participates in affiliate advertising programs. We may earn a commission when you make a purchase through links on our site.
Honey Butter Fried Chicken is an easy dinner recipe that your family will fall in love with. Lightly sweet and savory, this chicken is delicious served over mashed potatoes.
Confession time: There are weeks that I have a hard time getting dinner on the table. Meetings pile up, friends and neighbors need help and unexpected appointments take the place of any free time I have. I like to leave my schedule flexible for events like this, but serving dinner to the family is a must. I need quick freezer meals and recipes to prepare in advance. Anyone with me?
This Honey Butter Fried Chicken is one of those meals that comes to my rescue often. Crispy, buttermilk fried chicken with a lightly sweet honey butter brushed on top? Who doesn't crave that?
By preparing the chicken and the honey butter the night before, this is nearly a 30 minute dinner. And it's a bonus that everyone LOVES it.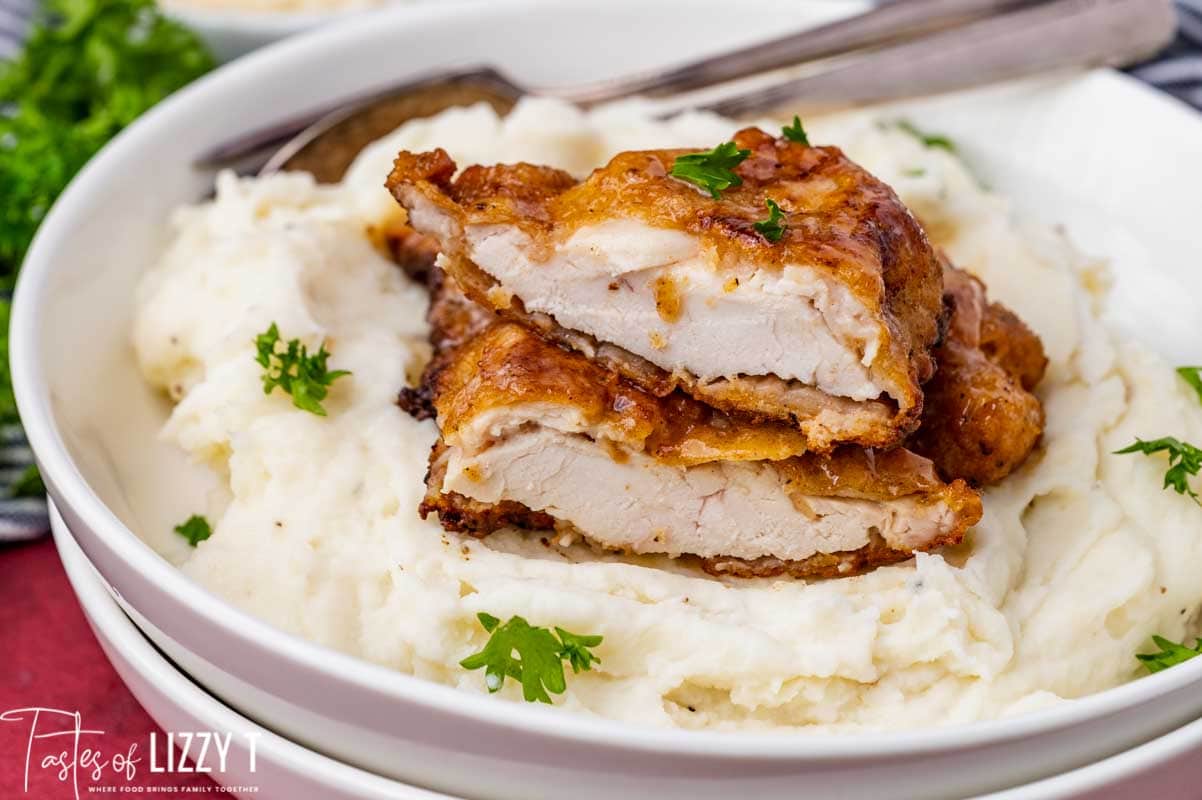 A special thank you to Challenge Butter for sponsoring this post. As always, all opinions are my own.
Why you'll love this recipe:
Traditional buttermilk fried chicken, fried in butter.
Easy whipped honey butter that gives a sweet flavor to every bite.
Delicious served on mashed potatoes…or served on a sandwich.
Makes 4 servings.
Can you use butter instead of oil for frying?
Yes. And it's amazing. Butter does have a lower smoke point than frying oil, so you'll have to fry the chicken at a low temperature. If the butter gets too hot, it will start smoking and breaking down. This will affect the flavor of chicken so you definitely want to avoid this. Since the smoke point of butter is 350º Fahrenheit, I chose to keep the butter temperature at around 300º F.
Two Secrets for Crispy Fried Chicken
There are two secrets we have that keep our fried chicken the crispiest chicken ever.
Use cornstarch in the flour mixture. You may use cornstarch to thicken puddings and gravies, but because it absorbs moisture so well, it is great for crispy chicken as well. Use one cup of flour and ¼ cup cornstarch for a fantastic crunch.
Place fried chicken on a wire rack to cool. If you put the chicken on a flat plate or surface, it can sit in any excess butter, making the breading soggy. Instead, when you take the chicken from the frying pan, place it on a wire rack with a pan, paper towels or parchment underneath to catch any drips. This will help keep the underside of the fried chicken crispy.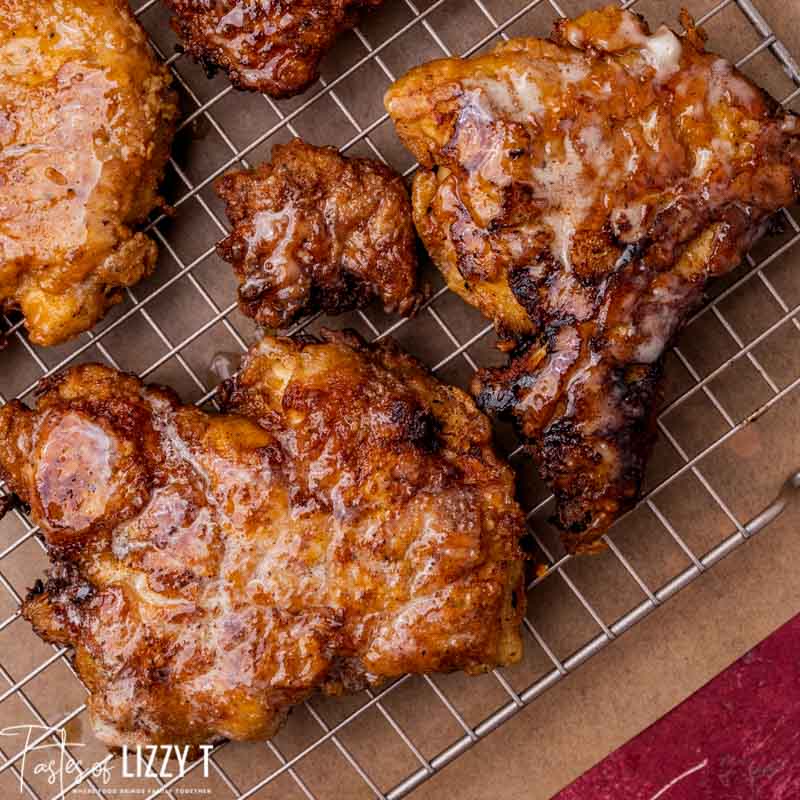 Prepping Ahead
In order to keep this recipe quick and easy for busy evenings, there are three things you can do:
Prepare the chicken the night before. Place the trimmed and flattened chicken in a bowl with buttermilk and allow it to tenderize overnight. If you'd like, you can use chicken thighs, chicken wings, drumsticks or use chicken tenderloins for fried chicken strips.
Whip up the honey butter in advance. Whether it is the night before or a couple days in advance, you can mix up honey butter ahead of time so it is ready to quickly brush on chicken. Just make sure you keep your eye on it because it's amazing on biscuits, toast and pancakes. It can disappear quickly!
Mix up the dry ingredients. Again, you can mix these dry ingredients for the flour coating several days in advance. Store in an airtight container at room temperature and pull it out when you need ready to dredge the chicken.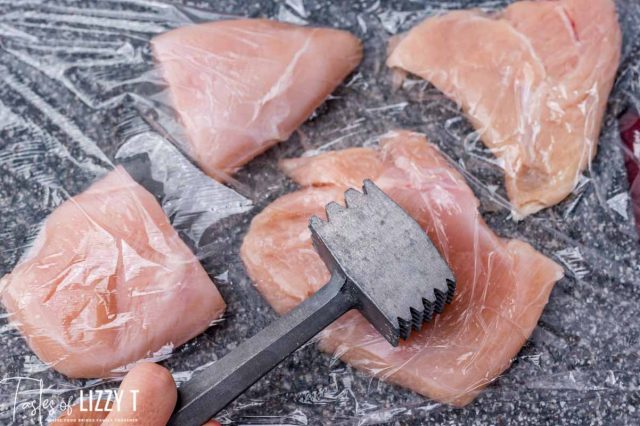 Tips for Making Honey Butter Chicken
We pound the chicken breasts to an even thickness so that they cook quickly and evenly. Store bought chicken breasts can be large, so this helps to keep the recipe quick.
What does buttermilk do for chicken? It tenderizes the chicken and keeps it juicy. You'll need to plan at least 8 hours to soak the chicken, but no more than 24 hours.
Coat the chicken in the flour mixture, then buttermilk, then the flour mixture again. Then let the chicken rest for 20 minutes. This will allow that "batter" to thicken up and stick on your chicken instead of falling off in the pan.
Use an internal probe thermometer to check the chicken. You can remove it from the butter to the wire rack when it is 165º Fahrenheit inside.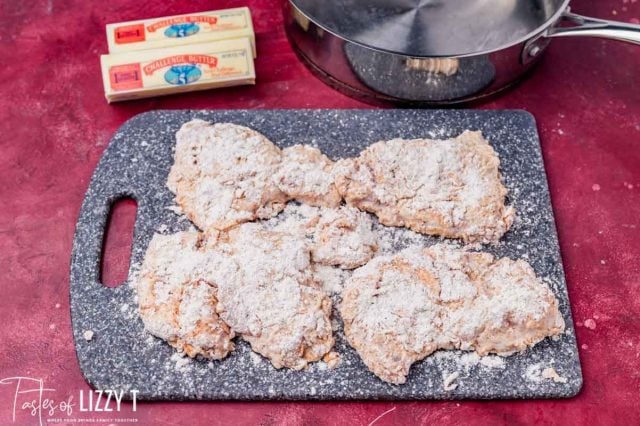 Honey Butter Glaze for Chicken
You'll find many different recipes out there for honey butter, but I found only two ingredients were needed: honey and butter. Brilliant, right? I use an equal amount of honey and butter for this whipped butter glaze. If you'd like it less sweet, add about ½ the honey.
Use Challenge Butter salted butter for the honey butter. The small amount of salt in the butter enhances the flavor.
Once the chicken comes out of the frying pan, brush the honey butter over top the chicken for an unbeatable sweet & savory flavor.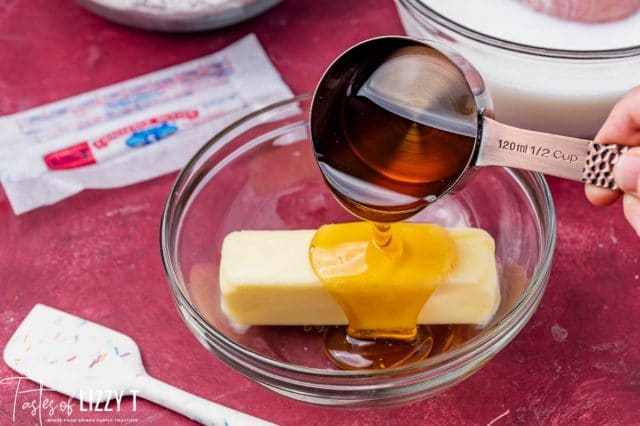 Serving Suggestions
I serve this honey butter fried chicken to my family over a bed of mashed potatoes. As that butter soaks down from the chicken, it will hit the potatoes and trust me. It's SO good.
You could also serve the hot fried chicken on a biscuit as a sandwich or with a side of asparagus, or baked potatoes. Bake dinner rolls or a corn muffin go well with that extra honey butter, too.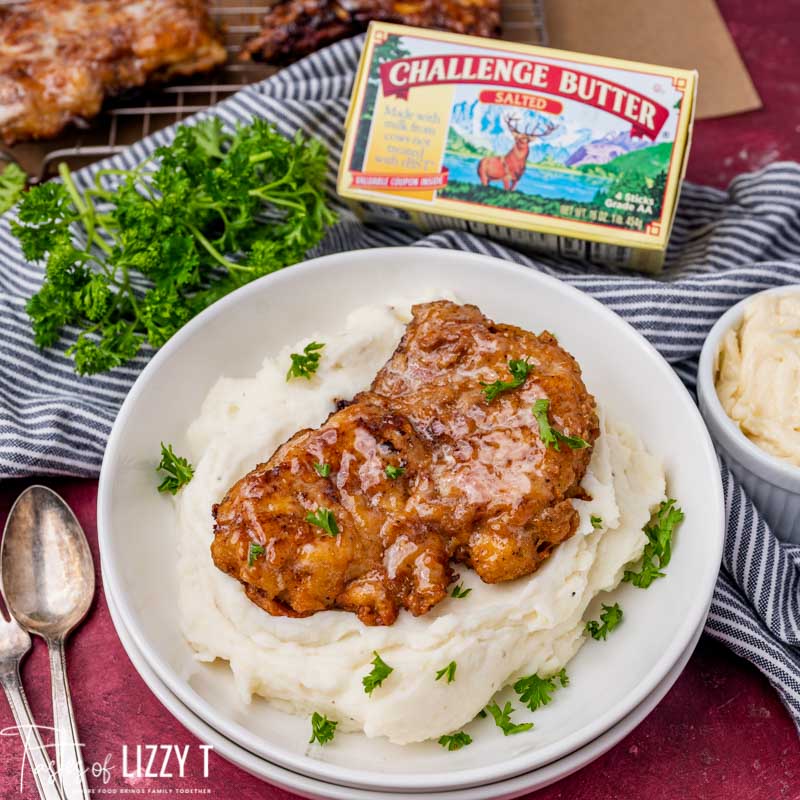 Reheating Instructions
There are two different options:
Air fryer. If you have an air fryer, it is easy to reheat chicken in that. It should only take about 5 minutes to heat it through and get that breading crisp again. This is how my son does it.
Oven. Preheat the oven to 400º Fahrenheit. Allow the chicken to rest at room temperature while the oven heats. Place a wire rack on a baking sheet and put the chicken on top. Then heat for about 10-15 minutes, depending on how large the chicken pieces are.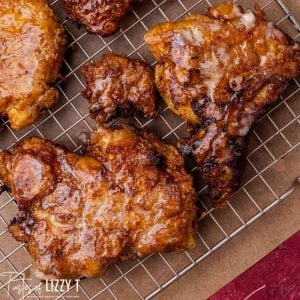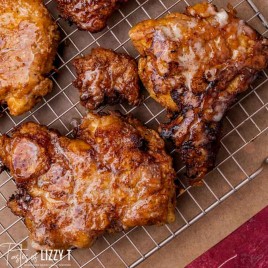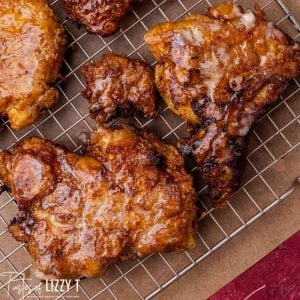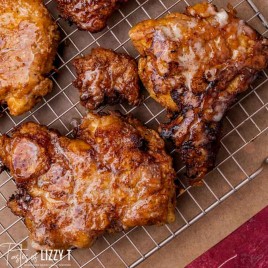 Honey Butter Fried Chicken
Honey Butter Fried Chicken is an easy dinner recipe that your family will fall in love with. Lightly sweet and savory, this chicken is delicious served over mashed potatoes.
---
Ingredients
For the buttermilk soak:
1 1/4

pounds

boneless skinless chicken breasts

2

cups

buttermilk

16 ounces
For the flour coating:
1

cup

all-purpose flour

130 grams

1/4

cup

cornstarch

30 grams

2

teaspoons

paprika

4 grams

1

teaspoon

black pepper

2 grams

1 ½

teaspoons

salt

or less, to taste – 10 grams

1/2

teaspoon

dry mustard

1 gram
For the buttermilk dip:
1

cup

buttermilk

8 ounces
Instructions
Prepare the chicken:
The chicken breasts we used were large (2 chicken breasts = 1 ¼ pounds). If the chicken breasts you are using are also large, cut them in half to get 4 pieces.

Place the chicken breasts on a cutting board and put a piece of plastic wrap over them. Use the side of a meat tenderizer to pound the chicken breasts to be the same thickness throughout so they cook evenly.
Soak the chicken:
Plan for at least 8 hours of marinating the chicken in buttermilk.

Place the chicken in a glass bowl and pour enough buttermilk over them to just cover them. (about 2 cups of buttermilk).

Cover the bowl with plastic wrap and place it in the fridge for at least 8 hours up to 24 hours.
For the flour coating:
In a bowl, mix together the flour, cornstarch and spices. Mix well.
Coat the chicken:
Pour 1 cup of buttermilk into a bowl.

Take a piece of chicken from the buttermilk soak and allow it to drip for a few seconds.

Place the chicken in the flour mixture and turn to coat.

Dip the chicken in the bowl of buttermilk.

Then coat one last time with flour.

Place the chicken on a plate to rest. The chicken should rest for 20 minutes before frying.

Continue with the rest of the chicken pieces.
Make the honey butter:
While the chicken is resting, mix together the honey butter. Place the room temperature salted Challenge Butter and ½ cup honey in a small mixing bowl. Mix well until the butter and honey are completely creamed together. Set aside.
Fry the chicken:
In a large pan or cast iron skillet, melt 16 tablespoons of Challenge Butter. (If your skillet is small, you can use 8 tablespoons.) Heat the butter on medium low heat. When the butter is melted and hot, place the chicken in the frying pan and allow it to cook for 6 minutes.

Use tongs to turn the chicken to cook on the other side and cook until the chicken is no longer pink inside, about another 4-6 minutes (depending on thickness). When the internal temperature of the chicken reaches 165 degrees Fahrenheit, the chicken is done.

Remove the chicken to a wire rack with paper towels or a baking sheet underneath so excess butter can drip off. This will help the chicken stay crispy.

Use a pastry brush to brush honey butter over the top of the hot chicken. Be as generous as you'd like!

Serve immediately with a side of mashed potatoes.
Notes
The calories shown are based on the recipe making 4 fried chicken breasts, with 1 serving being 1 piece of fried chicken with honey butter topping. Since different brands of ingredients have different nutritional information, the calories shown are just an estimate. **We are not dietitians and recommend you seek a nutritionist for exact nutritional information. The information in the nutrition box are calculated through a program and there is room for error. If you need an accurate count, I recommend running the ingredients through your favorite nutrition calculator.**
Nutrition
Calories:
764
kcal
|
Carbohydrates:
56
g
|
Protein:
38
g
|
Fat:
43
g
|
Saturated Fat:
25
g
|
Polyunsaturated Fat:
2
g
|
Monounsaturated Fat:
11
g
|
Trans Fat:
1
g
|
Cholesterol:
197
mg
|
Sodium:
1485
mg
|
Potassium:
793
mg
|
Fiber:
1
g
|
Sugar:
24
g
|
Vitamin A:
1823
IU
|
Vitamin C:
2
mg
|
Calcium:
184
mg
|
Iron:
2
mg
Other Chicken Dinner Recipes
Try one of these chicken dinner ideas.