Sweet Potato Spinach Bacon Burgers
Tastes of Lizzy T participates in affiliate advertising programs. We may earn a commission when you make a purchase through links on our site.
Ground turkey is mixed with sweet potato, spinach, bacon and seasonings to make these savory sweet potato burgers. They're one of our favorite healthy meals that are grain free, gluten free, sugar free and dairy free!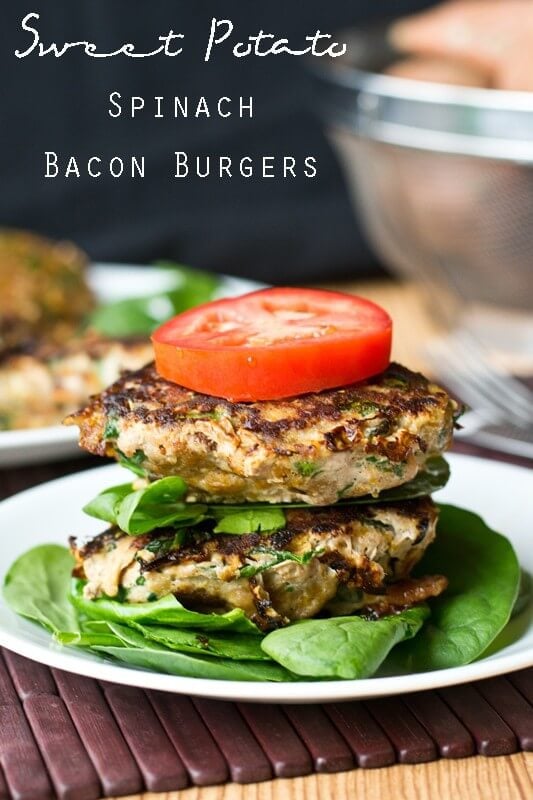 OK, all of you out there who have a hard time eating your veggies.  I've got recipe for you that will change the way you think about a healthy meal.  It wasn't long ago that I would have a looked at a burger recipe that had spinach and sweet potato in it and said, "Thanks, but I'll pass!"
These little Sweet Potato Burgers have won me over.  As I worked to make them the first time, I was a little unsure of even serving them to my family.  You see, as much as we like to try to eat healthy at mealtimes, I am cautious and still desire to make meals that taste good. If Matt sees veggies hiding in something, he'll give me a look that says, "What did you try to sneak in here?"  And the kids? If they think there are veggies hiding in food, that clouds their judgment right from the start and suddenly they are no longer hungry.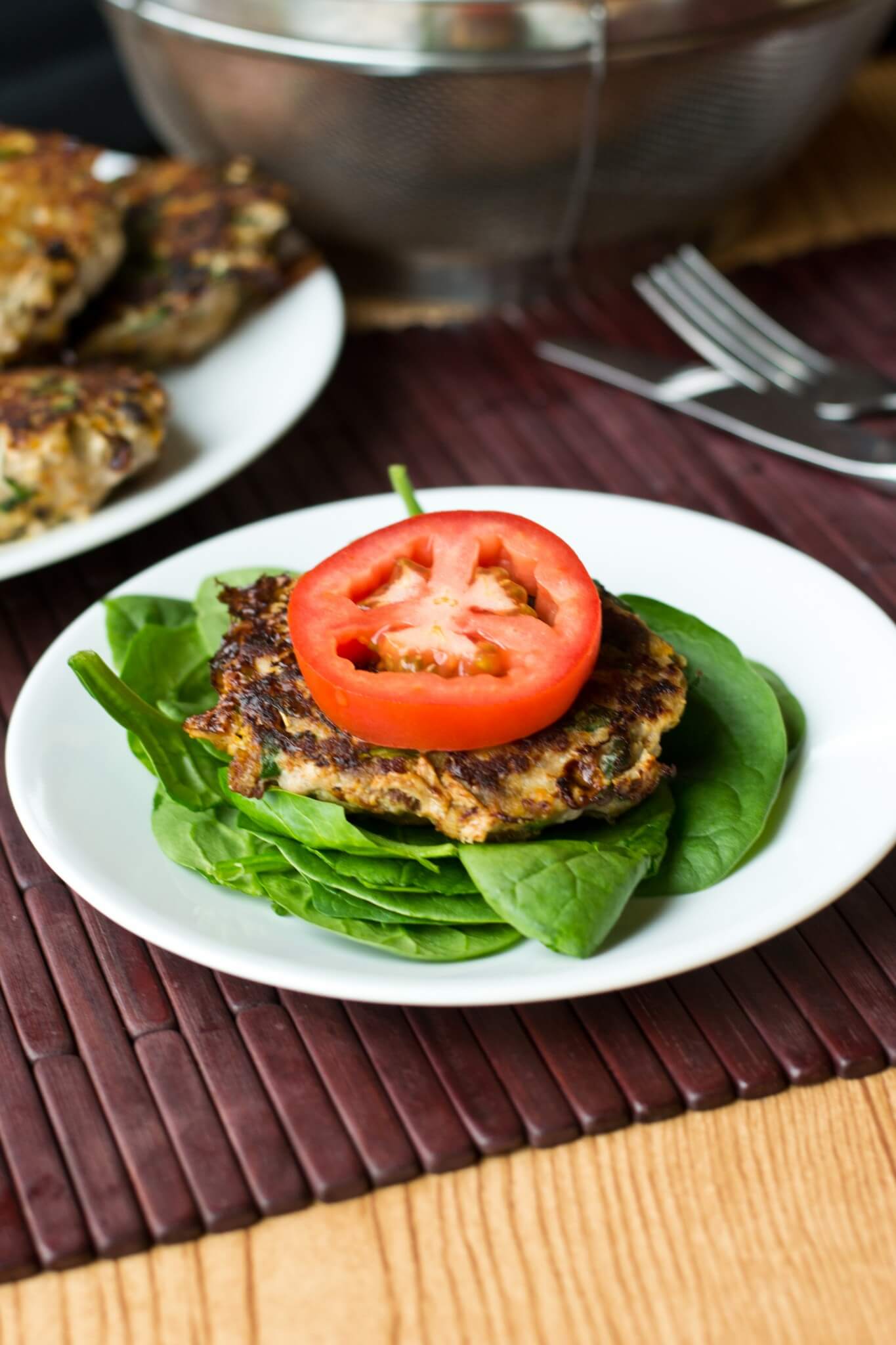 What makes these sweet potato burgers extra special and oh, so fantastic is the fact that they have bacon in them. That bacon flavor completely drowns out any "veggie"taste.  And that is what won my family over.  They saw the little green spinach pieces in there and before they could say a word, I shouted, "There's BACON in there!" After all, bacon makes everything better, right?
There is also a good amount of rosemary in these burgers that give them such a savory flavor.  If you know you don't like the rosemary spice, you can try leaving it out.  We don't use rosemary a lot in our meals, but in this recipe, it is what makes the burgers.
I'm happy to say that my hubby and three kids love these burgers.  These take just a little bit longer to make than your average "just-meat" burger. Because of this, I make up a double recipe right from the start so we can have them two evenings in a row, or for lunches the next day. You can freeze the sweet potato burgers, either before or after baking if you don't need so many right from the start.  Or you can cut the recipe in half!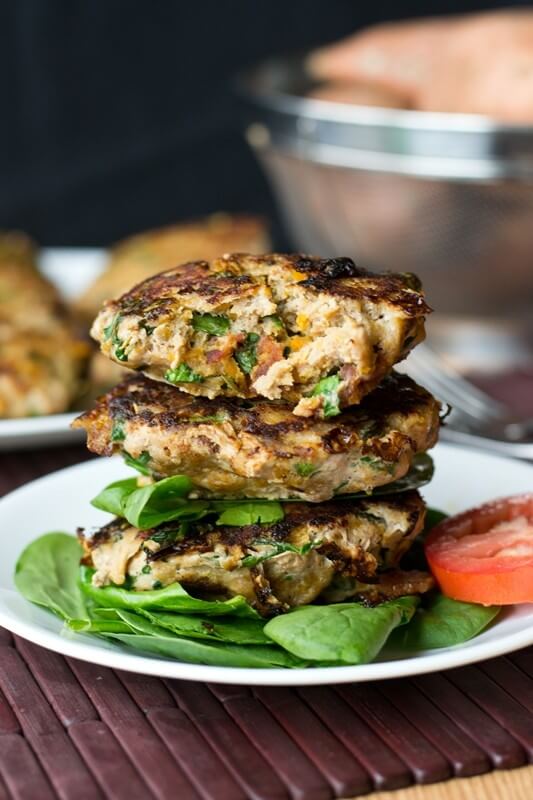 Here's the steps for making these Sweet Potato Burgers:
1. Cook a package of bacon until it is crispy. We love Hormel Natural Choice Bacon. It is uncured and is free of preservatives.  Once the bacon is cooked, crumble it.
2. Use your food processor to finely dice up two medium sweet potatoes.  You want little tiny pieces. We love our Ninja Express Chopper for jobs such as this
.  That little machine is my favorite kitchen tool!
3.  Use your food processor to finely chop two cups of spinach.
4. Add all of the above ingredients in a bowl with two pounds of ground turkey.  Then add in the rest of the ingredients and seasonings as shown in the recipe.
5. Mix it up and form patties.  I got about 14 patties from a little bit more than two pounds of meat.  You could freeze the patties before or after cooking, if desired. We cook all of ours up, and they never last longer than two days!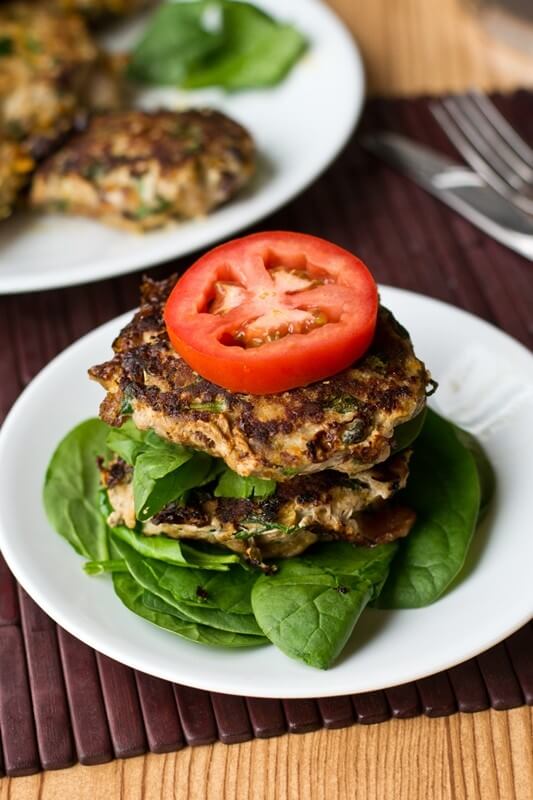 Try out this recipe.  Trust me. If you're trying to eat a little healthier, your taste buds will thank you.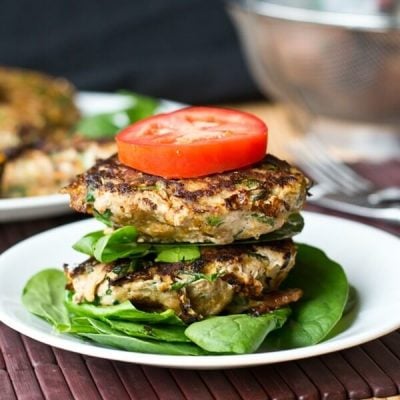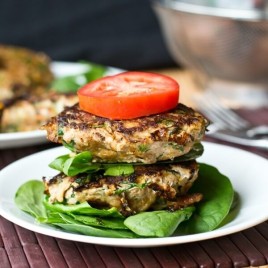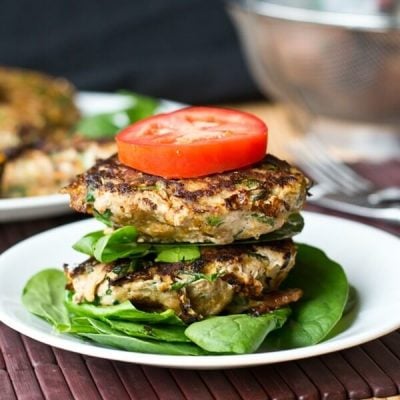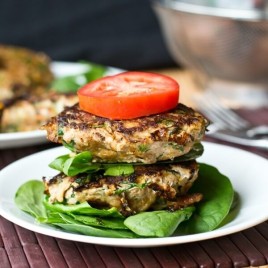 Sweet Potato Burgers
Ground turkey is mixed with sweet potato, spinach, bacon and seasonings to make these savory burgers.
---
Ingredients
1

package

bacon

(12 ounces)

2

medium

sweet potatoes

rinsed, peeled and finely diced

1/2

cup

onion

finely chopped

2

cups

finely chopped spinach

1

teaspoon

salt

1

teaspoon

minced garlic

1

teaspoon

paprika

2

teaspoons

spicy brown mustard

4

teaspoons

dried rosemary

2

large

eggs

4

tablespoons

coconut flour

2

pounds

ground turkey

(our turkey packages were actually 19.2 ounces each so a little over two pounds)
Instructions
Cook the bacon over a hot griddle until it is crispy. Put it on plate covered with paper towels to soak up the extra fat. Once the bacon is cool, crumble it into small pieces.

While the bacon is cooking, use your food processor to finely chop/dice the sweet potatoes, onion and spinach. You want small, tiny pieces.

In a large bowl, combine the bacon, sweet potato, onion and spinach. Add the rest of the ingredients, including the ground turkey and mix until all of the spices and ingredients are well incorporated.

Form the mixture into 12-14 patties.

Grill them on a hot frying pan that has been sprayed with cooking spray. Cook them for about 5 minutes on one side, then flip them. Allow them to cook until they are no longer pink inside.

Notes
The packages of ground turkey that I used were 19.2 ounces each, which means I used closer to 2 ½ pounds of ground turkey.
Nutrition
Serving:
126
g
|
Calories:
297
kcal
|
Carbohydrates:
7
g
|
Protein:
28
g
|
Fat:
18
g
Bacon Wrapped Barbecue Chicken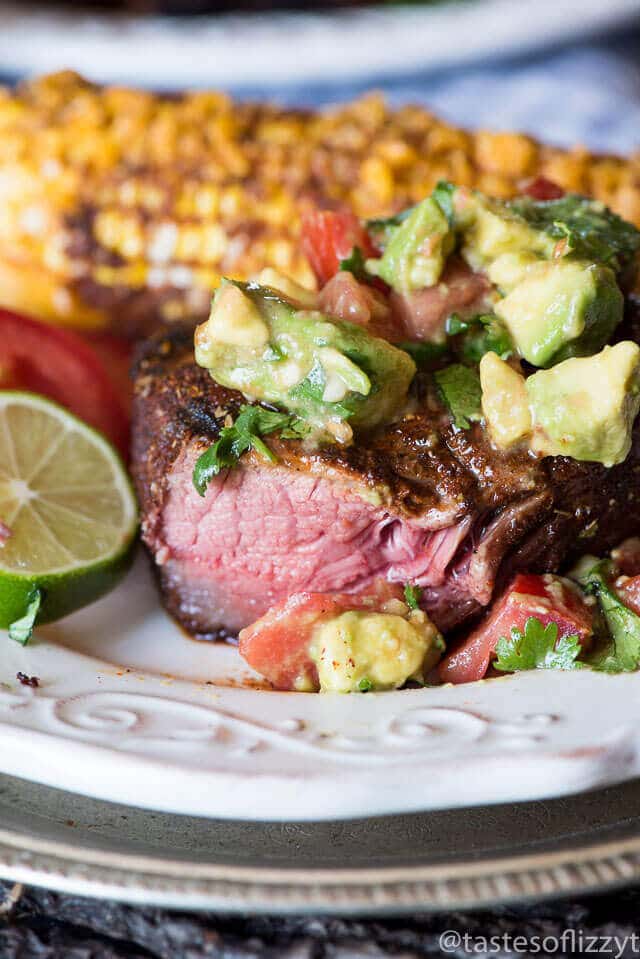 Sugar Free Homemade Barbecued Pulled Pork