Tastes of Lizzy T participates in affiliate advertising programs. We may earn a commission when you make a purchase through links on our site.
Soft, chewy, with hints of cinnamon, brown sugar, and coffee in every bite, this coffee monkey bread recipe will perk up your morning!
Pillsbury monkey bread is by far one of the best easy dessert recipes for kids to make. This coffee monkey bread is a delicious twist on a classic!
Snow days call for a mug filled with hot cocoa and a session of baking!
Kids love making monkey bread with unique flavors. Strawberry monkey bread, eggnog monkey bread, and for a super quick and easy monkey bread recipe, a classic cinnamon roll monkey bread!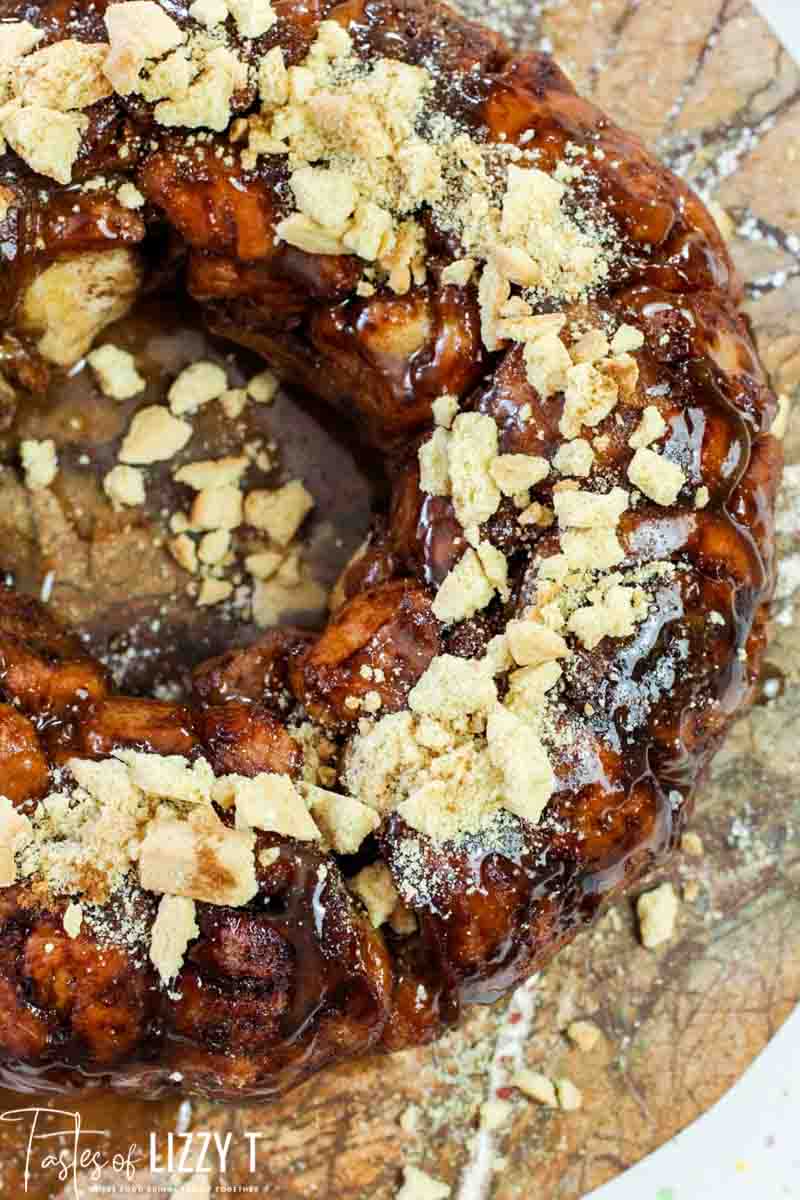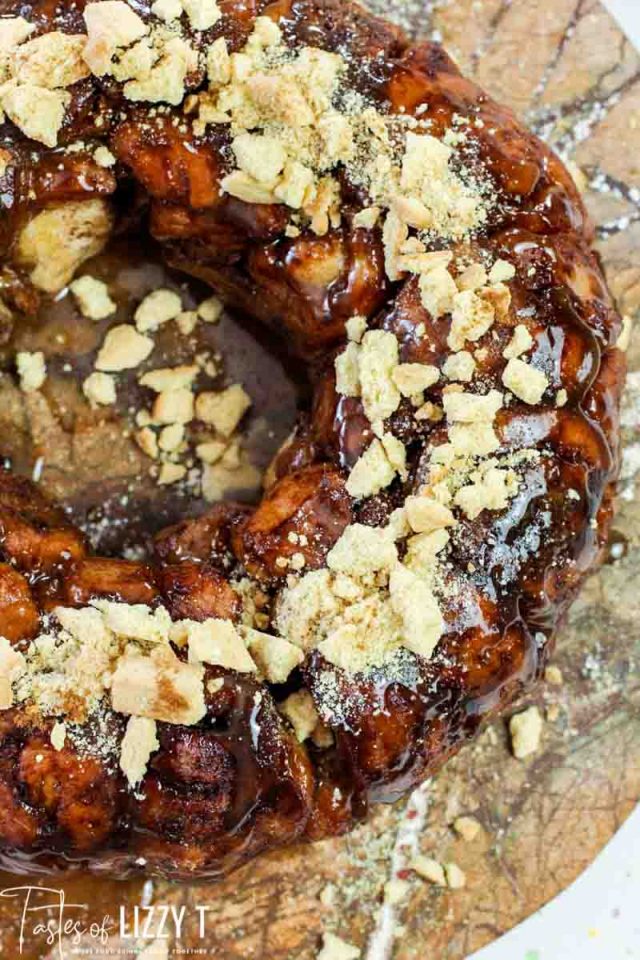 What is monkey bread?
Typically served at brunch during holidays, monkey bread is a pull apart pastry dish that is made of biscuit dough that is rolled into small balls, dipped into butter, and then coated with an unhealthy amount of brown sugar and cinnamon.
Once baked, monkey bread will have a sticky caramel sauce that sticks the bread together. Typically glaze or a special caramel sauce will also be poured over the monkey bread.
For this monkey bread recipe, we're adding hints of coffee!
Why is monkey bread called monkey bread?
Where the name monkey bread comes from is not completely clear.
Many suggest ZaSu Pitts, a popular American actress and baker during the 1960's coined it, with the term being first mentioned in her cookbook "Candy Hits". (source)
Others speculate that monkey bread is in reference to the pull apart method used to eat this yummy treat. That pulling the bread resembles how monkeys eat. (I can see why people could say this.)
Nevertheless, monkey bread started as a savory treat in the 1960's and with time, adapted the brown sugar mixture that is inspired by Hungarian coffee cake.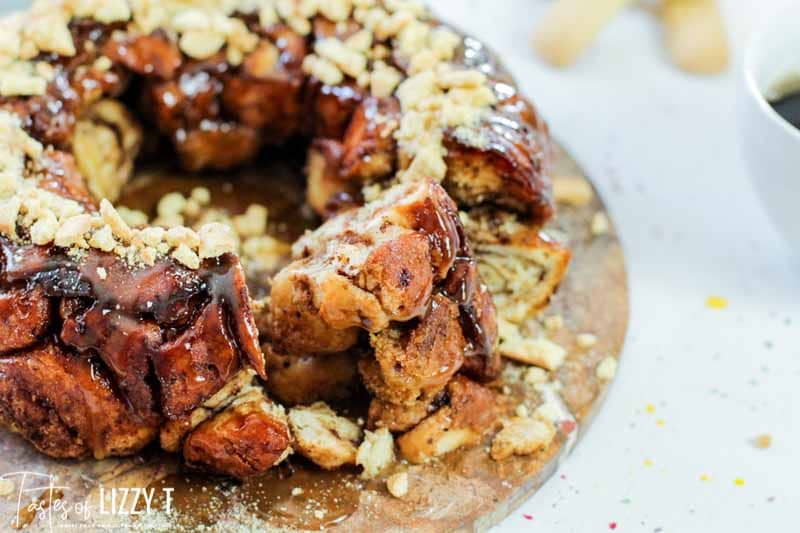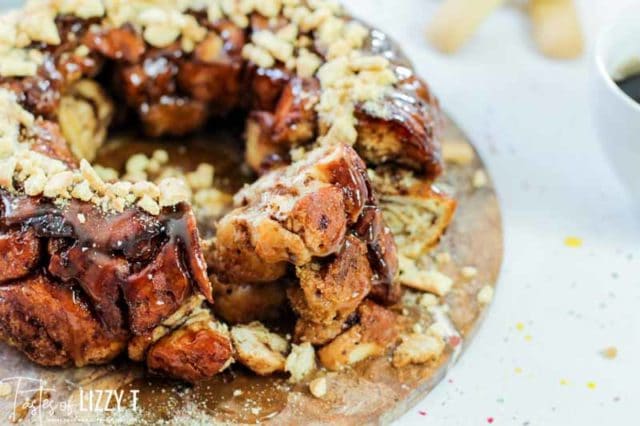 Ingredients In Coffee Monkey Bread
This easy monkey bread recipe calls for Pillsbury Grands Cinnamon Roll biscuits. If you want to use homemade monkey bread dough, add some cinnamon to the dough.
Pillsbury Cinnamon Roll Dough– Three cans is ideal.
Butter– Melted butter, your choice of salted or unsalted. Our butter of choice is almost always salted.
Instant Coffee Granules– Add the coffee granules to the butter while it's hot so it can break down. (Or add it to the brown sugar mixture.)
Brown Sugar– Light or dark brown sugar can be used, your preference. Dark brown sugar gives a deeper flavor.
Ingredients for caramel sauce:
Butter– Salted is preferred.
Brown Sugar- What's on hand works.
Coffee– Make sure it's cool, and not hot.
Heavy Whipping Cream- Makes the caramel creamy! Do not leave out.
Cornstarch– Simple thickening agent.
Coffee Cookies– This is optional. Amaretto or your favorite coffee cookie crushed can be topped over the monkey bread as a garnish.
How To Make Coffee Monkey Bread
Unroll the Pillsbury Cinnamon Bun biscuit can. (Watch out for that "pop"!)
Each biscuit can either be halved or quartered, depending on how large you want your monkey bread rolls to be.
Roll cut biscuit dough into balls and set to the side.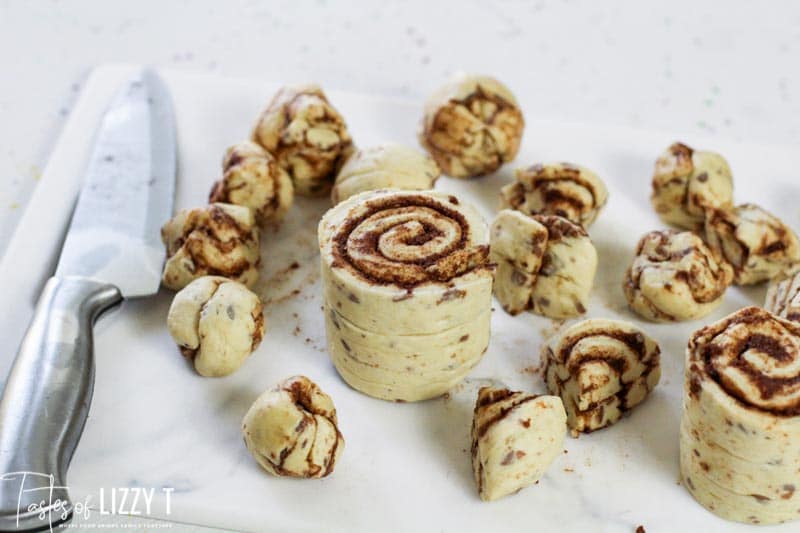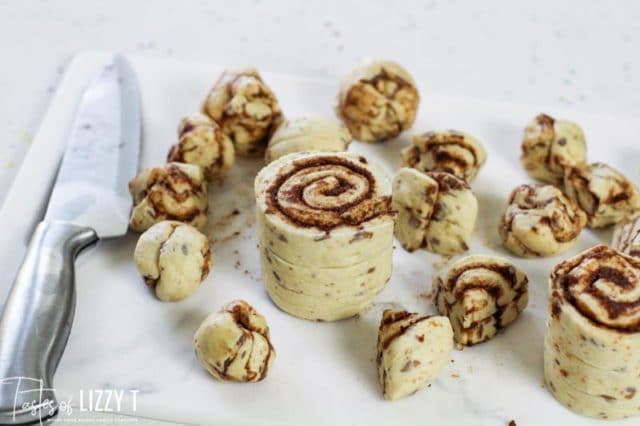 Dip the rolled dough into melted butter.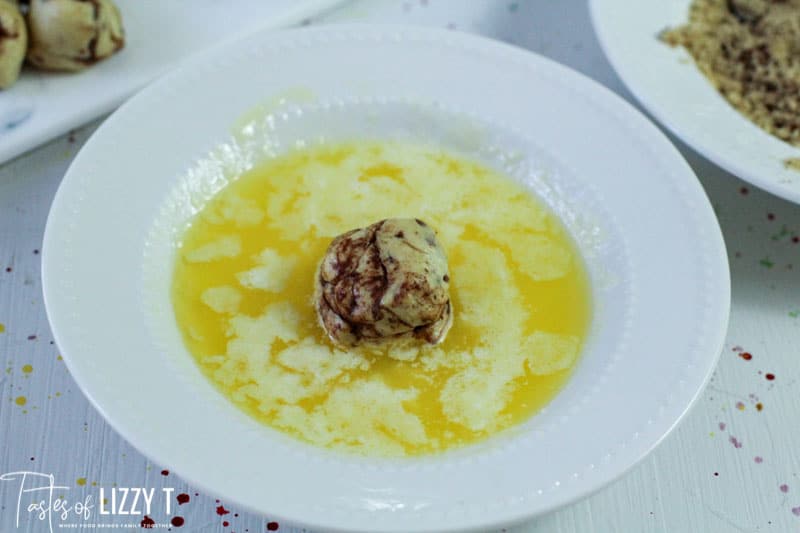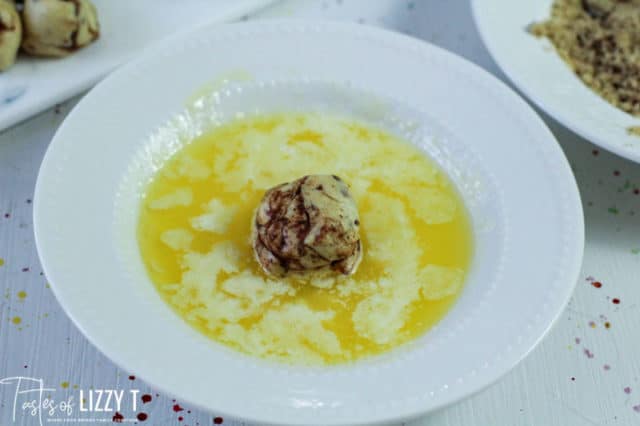 Toss into the brown sugar mixture. (Or add brown sugar mixture into a Ziploc bag, throw in a couple of balls of dough, seal bag and shake for a complete coating.)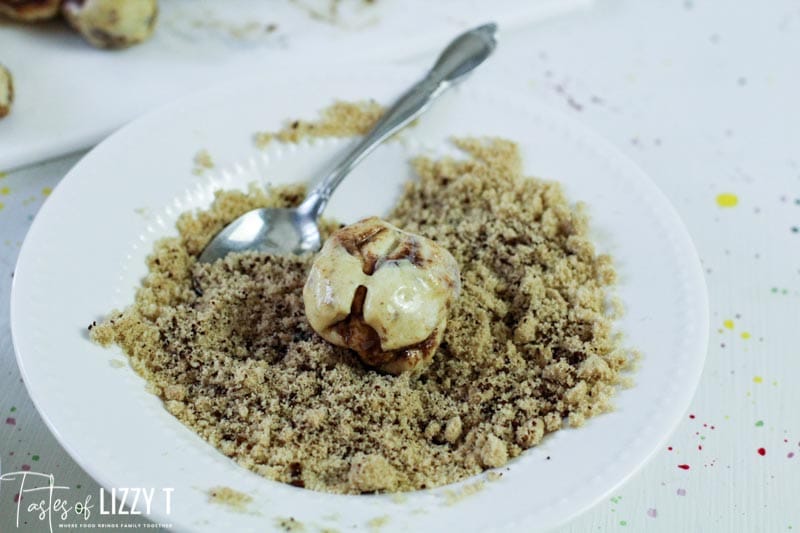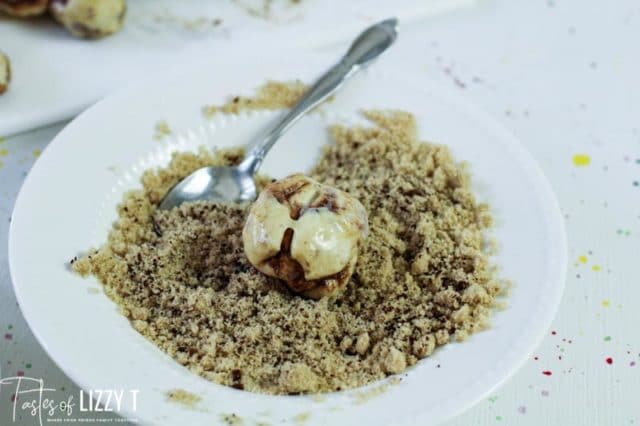 Into a very well-greased bundt pan, add the sugar coated balls, and add each side by side, and then layer it.
You can add nuts or dried fruit to your coffee monkey bread during this process, if desired. I think tart dried cherries would be an excellent addition!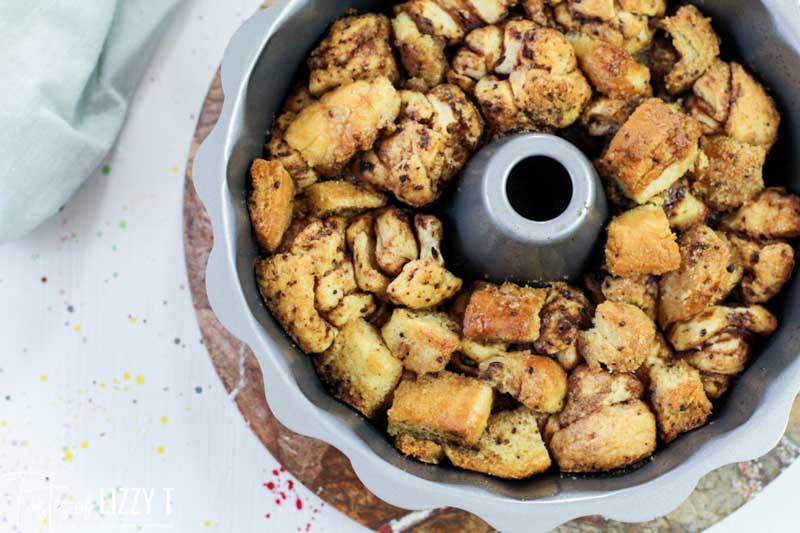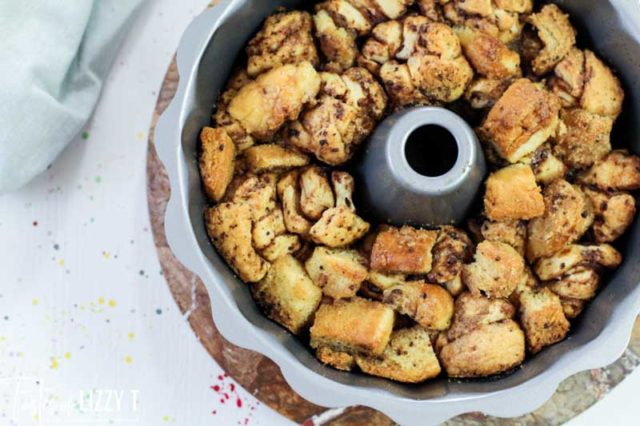 Bake this easy monkey bread until the dough has cooked through.
Once the coffee monkey bread has baked, remove from oven and let monkey bread rest for ten minutes.
After ten minutes, carefully invert bundt pan over a large flat serving plate. Don't wait too long or that caramel sauce will stick!
How To Make Coffee Caramel Sauce
While the monkey bread is resting, this is the perfect time to make the caramel sauce.
Creamy coffee caramel sauce:
Melt butter and sugar over medium heat in a medium sauce pan.
Stir occasionally, and let caramel mixture cook for 4-5 minutes or until the sauce has turned a beautiful amber color.
Lower heat to medium low and pour in espresso and heavy cream, and whip for 1-2 minutes, or until creamy.
Depending on the thickness of the caramel, you can make a slurry out of cornstarch and whipping cream in a small bowl (whisk until smooth), and pour it into the caramel sauce to thicken.
Once the sauce is made, pour over the inverted monkey bread.
Garnish with crushed cookies, if desired.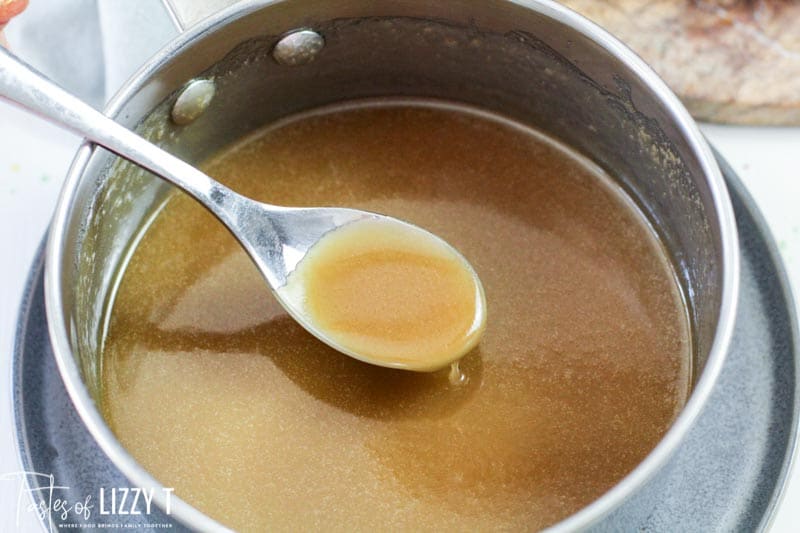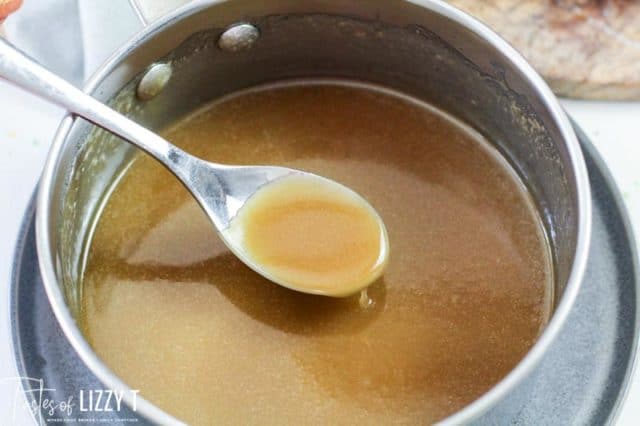 How do I store monkey bread?
In order to keep the monkey bread soft, you should not refrigerate any leftovers.
Store leftover monkey bread at room temperature in a pastry dish with a lid.
How long does monkey bread last?
Fresh monkey bread lasts 2-3 days, with the freshness leaving after 24 hours.
Can I freeze monkey bread?
This coffee monkey bread can be frozen, if it's cut into portions, and wrapped tightly in plastic wrap. For good measure, place it into a freezer bag after!
Frozen monkey bread should last about a month.
Can you reheat monkey bread?
To reheat your monkey bread, place it in the microwave, and cook for 15 second increments, or until warmed through. You can also place it into the oven on low heat for 15-20 minutes, or until warmed through.
Should monkey bread be served hot or cold?
Warm caramel sauce on monkey bread tastes a million times better than cold!
Monkey bread should be eaten warm. Just like a cinnamon bun!
Oh also, don't discard the icing that comes in the Pillsbury containers. You can also drizzle it over the monkey bread once the caramel sauce has been poured on!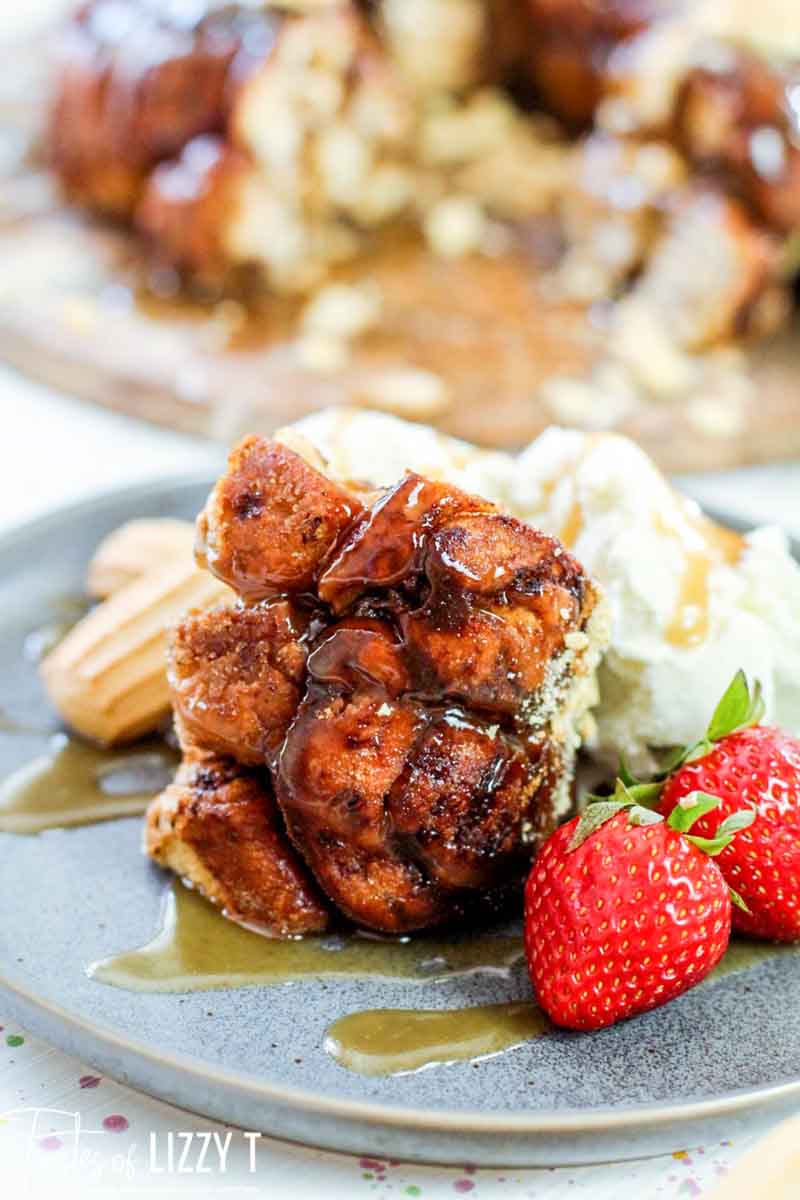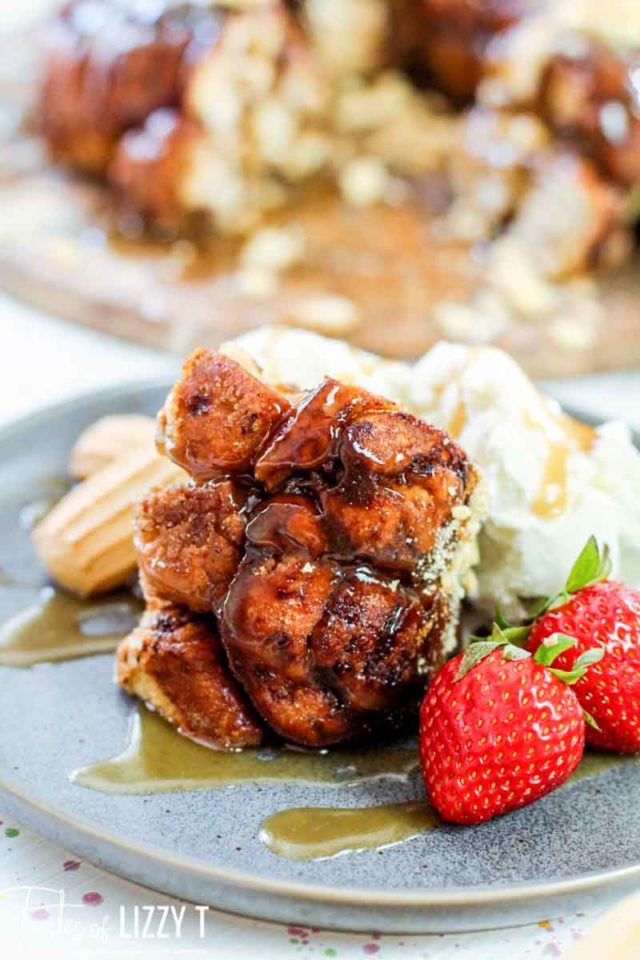 Coffee Cake Recipes To Make: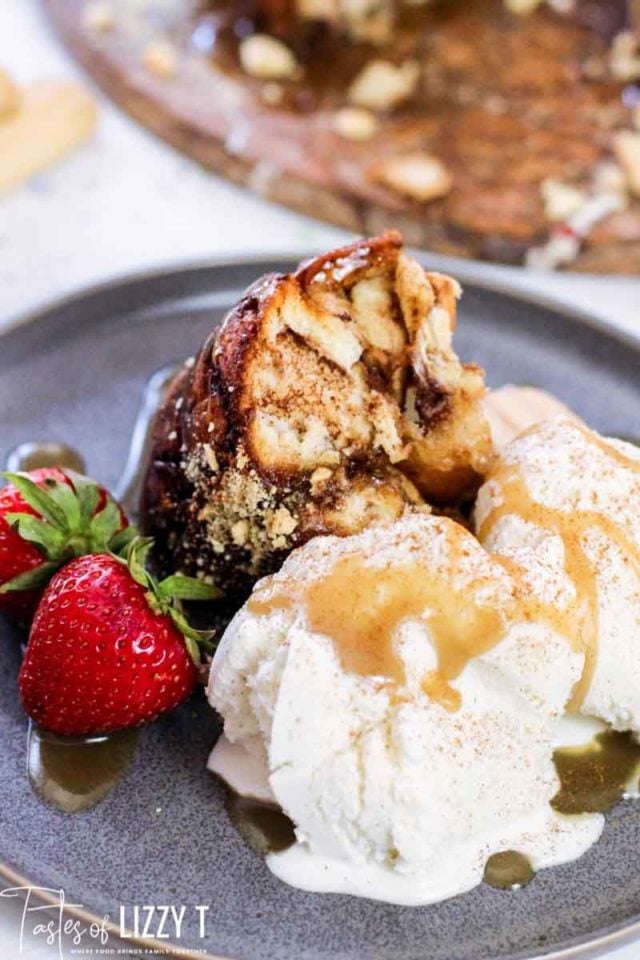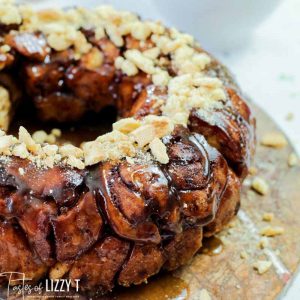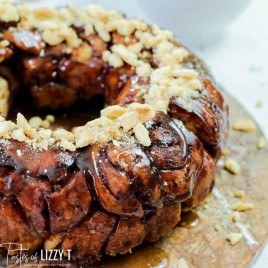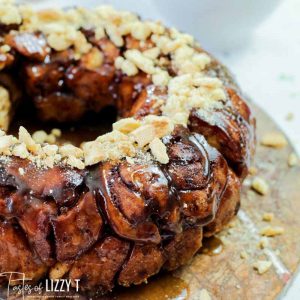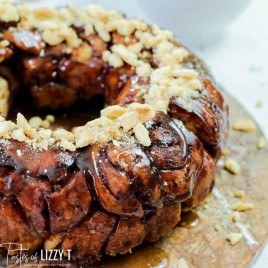 Coffee Monkey Bread
Soft, chewy, with hints of cinnamon, brown sugar, and coffee in every bite, this coffee monkey bread recipe will perk up your morning!
---
Ingredients
3

cans of Pillsbury Grands Cinnamon Rolls

(17.5ounces each)

2

cups

brown sugar

1 ½

tablespoons

instant coffee granules

¾

cup

butter

(melted)
For the sauce:
3/4

cup

salted butter

1

cup

brown sugar

2

tablespoons

cold espresso or coffee

1

tablespoon

heavy whipping cream

1

tablespoon

cornstarch*

½

cup

crushed coffee cookies
Instructions
Preheat oven to 350 degrees Fahrenheit.

Remove biscuits from can. Separate each biscuit, and quarter the roll. Repeat with remaining biscuits. Once biscuits have been quartered, roll each quarter into a ball. Set to the side.

In a large Ziploc bag, add brown sugar and instant coffee granules. Set to the side.

Roll each biscuit ball through a bowl filled with melted butter, shake off excess, and add to the Ziploc bag. Once 5-8 balls have been buttered and added to the Ziploc bag shake to coat well.

Add sugar coated biscuits to a well-greased bundt pan and repeat with remaining biscuits.

Once biscuits have been added to the bundt pan, let pan sit for ten minutes before adding to the oven.

Bake 30-35 minutes, or until biscuits have cooked through. Remove from oven and set to the side.

While the monkey bread cools, add butter and sugar to a medium pot over medium heat. Stirring occasionally, let mixture cook for 4-5 minutes, or until sugar has melted and the sauce is simmering.

Add in espresso and heavy cream, whip an additional 1-2 minutes until it is creamy. If the sauce is too thin to your liking, add a tablespoon of cornstarch and a tablespoon of heavy cream into a small bowl and mix to remove any lumps. Add cornstarch slurry to the pan and whisk to create a thicker caramel sauce.

Flip over monkey bread and immediately pour caramel sauce over it. Serve with ice cream and top with crushed coffee cookies, such as amaretto or anisette sponge cookies, or biscotti!
Notes
The calories shown are based on the recipe being cut into 12 pieces, with 1 serving being 1 slice of bread with sauce. Since different brands of ingredients have different nutritional information, the calories shown are just an estimate. **We are not dietitians and recommend you seek a nutritionist for exact nutritional information.**
Nutrition
Calories:
627
kcal
|
Carbohydrates:
85
g
|
Protein:
3
g
|
Fat:
32
g
|
Saturated Fat:
19
g
|
Cholesterol:
63
mg
|
Sodium:
642
mg
|
Potassium:
102
mg
|
Sugar:
66
g
|
Vitamin A:
727
IU
|
Calcium:
53
mg
|
Iron:
1
mg