This soft yeast dough makes the best homemade donuts ever! Everything you need to know about how to make donuts from scratch, plus 6 mouthwatering toppings.
National Donut Day is June 5, but really…when isn't a good day for donuts? Especially donuts made at home that you can eat warm and fresh.
Today we're talking all about how to make donuts from scratch. And here's what is special about these homemade pastries: we use our famous cinnamon roll dough. That's right…the dough you know and love working is turning into something new!
Table of Contents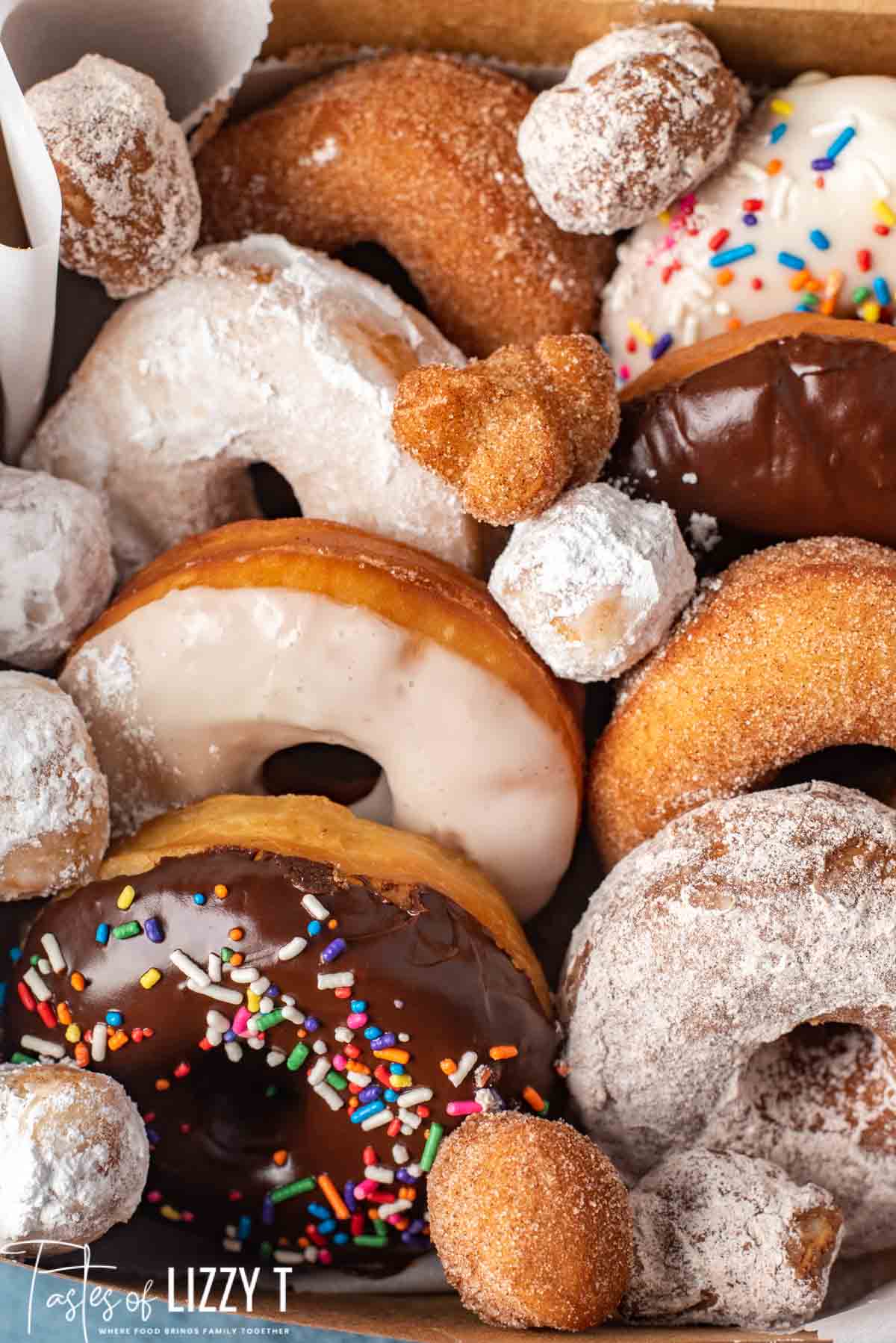 Consider this your ultimate guide. Everything you need to know for how to make donuts at home.
⭐️ ⭐️ ⭐️ ⭐️ ⭐️ Reader, Laura, says, "I made these last night as an anniversary gift for my boyfriend! (happy ½ dozen) for 6 years! I have never made doughnuts before so I bought a donut cutter from amazon and used my stand mixer! These turned out so amazing! They were tasty, light, soft just overall very delicious and simple to make! Will be using this recipe again!"
What you'll love about this recipe:
easy to work with sweet dough
overnight rising option
fries on the stovetop in just a few minutes
various toppings to smiles on the faces of all of your loved ones
Who invented donuts?
Donuts are fried pastries that come in just about any size and shape. They can be filled, leavened with yeast, cake-like and topped with anything you can imagine. So when were they invented?
They are thought to date back to the early third century, but became popular in Europe in the 14th century. The earliest recipe was published in 1802. They were rolled into small circles ("nuts") and fried.
Hanson Gregory in 1847 claimed he created the doughnut with the hole as we know today.
Although doughnut was the original spelling, the Americanized version of "donut" is also widely used.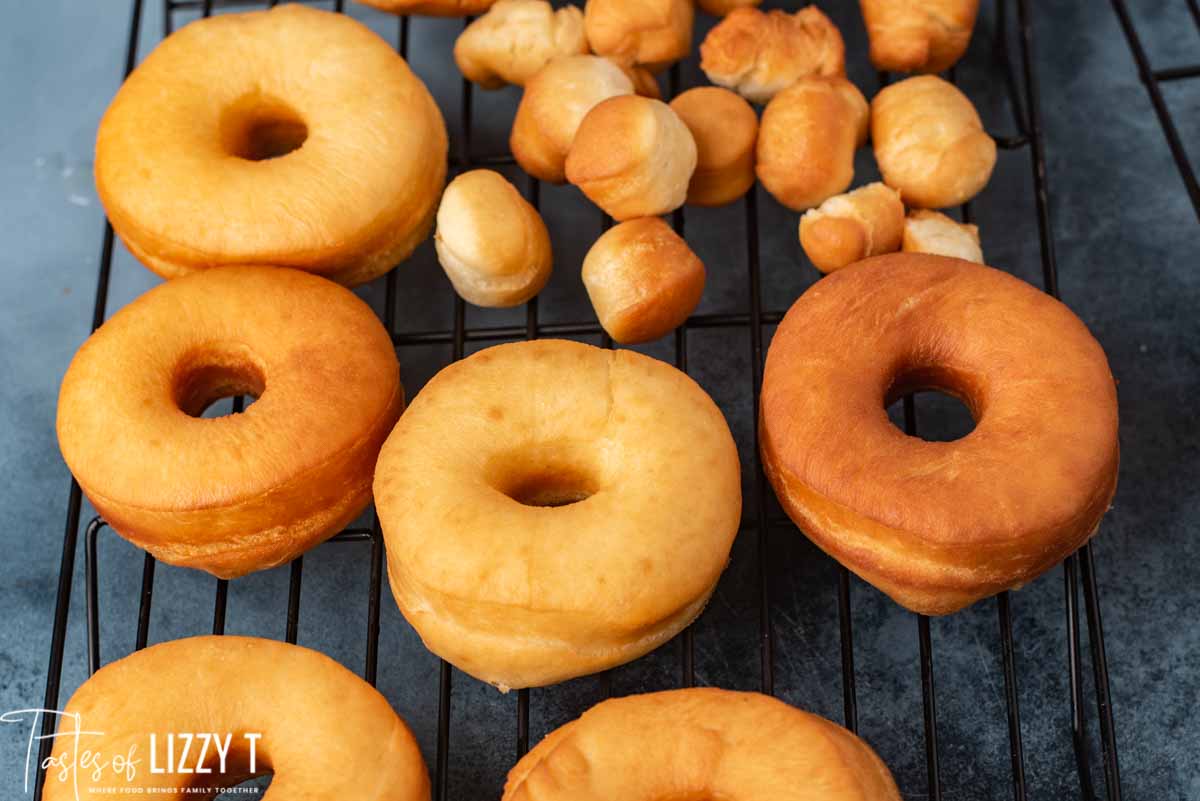 What tools do you need?
There are a few key things you need. I'll split them into "Essential Tools" and "Nice to Have Tools".
Essential Tools:
Donut Cutter. You can get these just about anywhere, but we bought ours on Amazon. This set has two different sizes…and you get the holes too!
Thermapen Thermometer. The key to good homemade doughnuts is to make sure the oil is at the correct temperature. We love our Thermoworks ThermaPen that instantly reads oil. Get one here. It's amazing and perfect for grilling too!
Nice to Have Tools: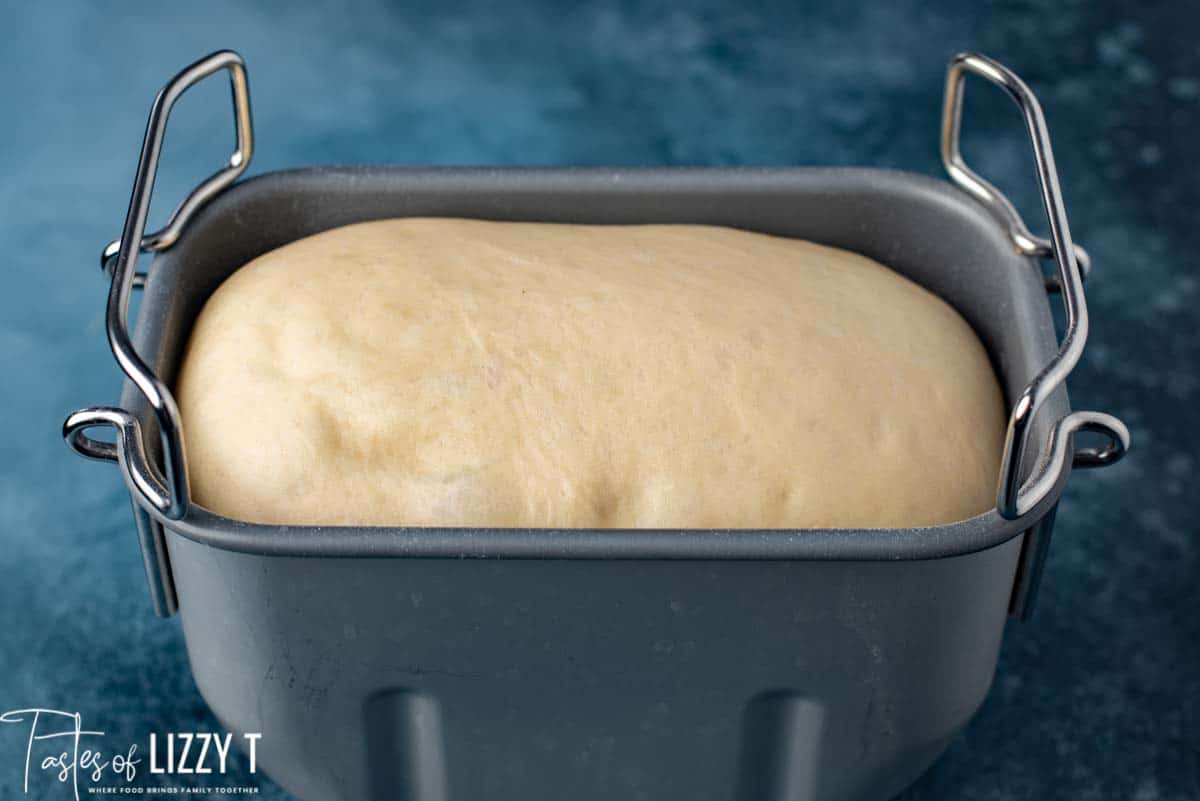 How to Make Donuts from Scratch
There are two methods you can use:
Make during the day which will take about 2.5 hours from start to finish with rising time and glazing time.
Allow the dough to rise overnight. Make the dough in the evening. Let it rise in the fridge overnight, then cut and fry them in the morning.
The donut dough is a basic yeast dough that you'll need to knead and allow to rise. There are three ways to mix this dough:
Mix by hand. It's important that you don't add too much flour when mixing and kneading by hand. The dough should be tacky. You'll knead the dough for about 10 minutes.
Mix with a stand mixer. You can use the dough hook to knead the dough while you clean up the kitchen. So easy! Do NOT use a hand mixer. Most are not powerful enough to knead dough.
Use the dough setting on a bread machine. This is our favorite method…and the easiest! Add the ingredients in the order that your bread maker suggests. About two hours later you'll have beautifully risen dough. Remove the dough and roll out to cut the shapes you'd like.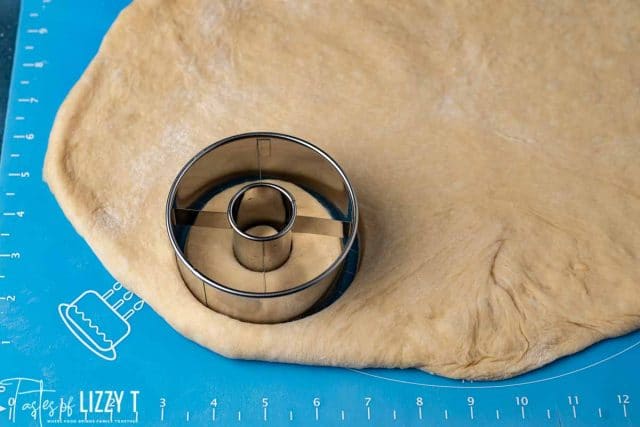 **Note: If you roll the dough thicker (more than 1/2″), it will still work, but they might fry up much taller and thicker. They may take a few more seconds to fry also.**
Important Tips for Frying Donuts
Fry in a deep fryer or a large skillet. If you have a deep fryer at home, use it! The benefits of using a small, at-home deep fryer are that it will be easier to control the temperature of the oil and deep fryers usually come with a basket that is handy for safely lowering the the dough into the oil and lifting them back out. If you do not have a deep fryer (It's ok! We don't currently have one either.), you can use a large, heavy skillet or Dutch oven on your stove top.
Watch the temperature! Maintaining the correct frying temperature is one of the most important elements of making homemade donuts.
Use the right tool. A heat-resistant tongs, slotted spoon or spatula for flipping them and placing them in the oil.
Drain well. As you lift them out of the oil, be sure to allow all excess oil to drip off of the donut, then place them on a wire cooling rack. The wire rack ensures they don't hold onto extra oil and end up greasy.
Be careful! Deep frying requires extreme caution. This is not a job for children and small ones should probably not be in the kitchen while you fry.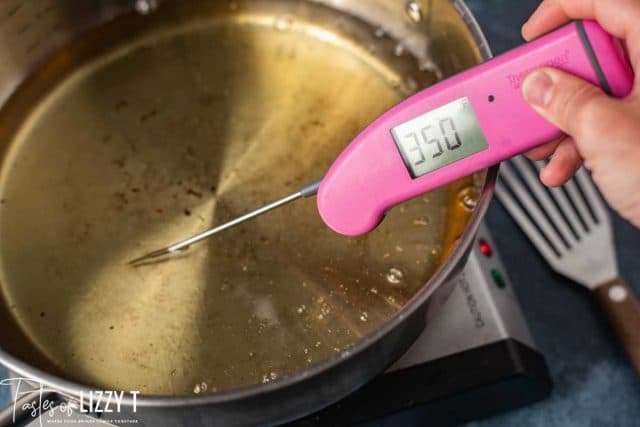 How to Make Donut Glazes
Here are 6 different toppings for your homemade doughnuts:
granulated sugar and cinnamon
powdered sugar
powdered sugar and cinnamon
honey glaze: ⅓ cup powdered sugar and ¼ cup honey
vanilla glaze: powdered sugar, cream, corn syrup, vanilla and salt
chocolate glaze: chocolate chips, butter, corn syrup and vanilla
What does the corn syrup do? It helps the glazes stay shiny and soft. Don't skip it!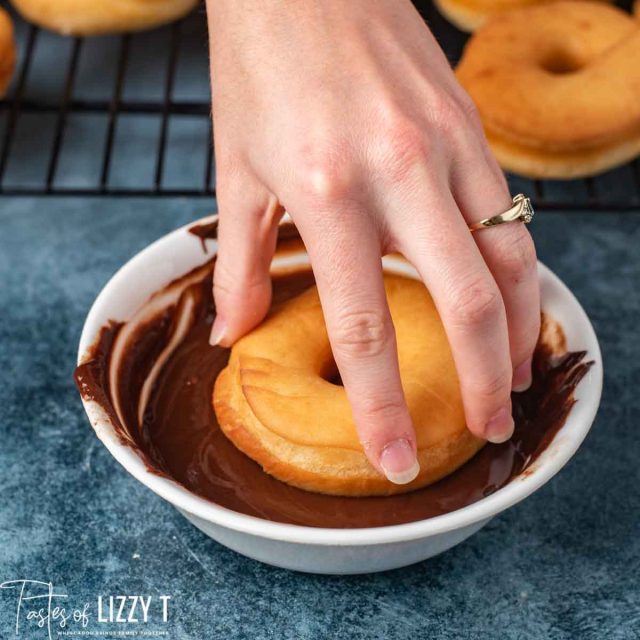 Can you freeze donuts?
Although we prefer them fresh, yes you can! Tightly seal them in a plastic bag or other airtight container. Freeze for up to 3 months.
How to Keep Donuts Fresh
Keep them in an airtight container at room temperature for 1-2 days. You can keep them in a fridge for up to a week. We recommend heating the donut in the microwave for 10-15 seconds before serving. This will soften them right up!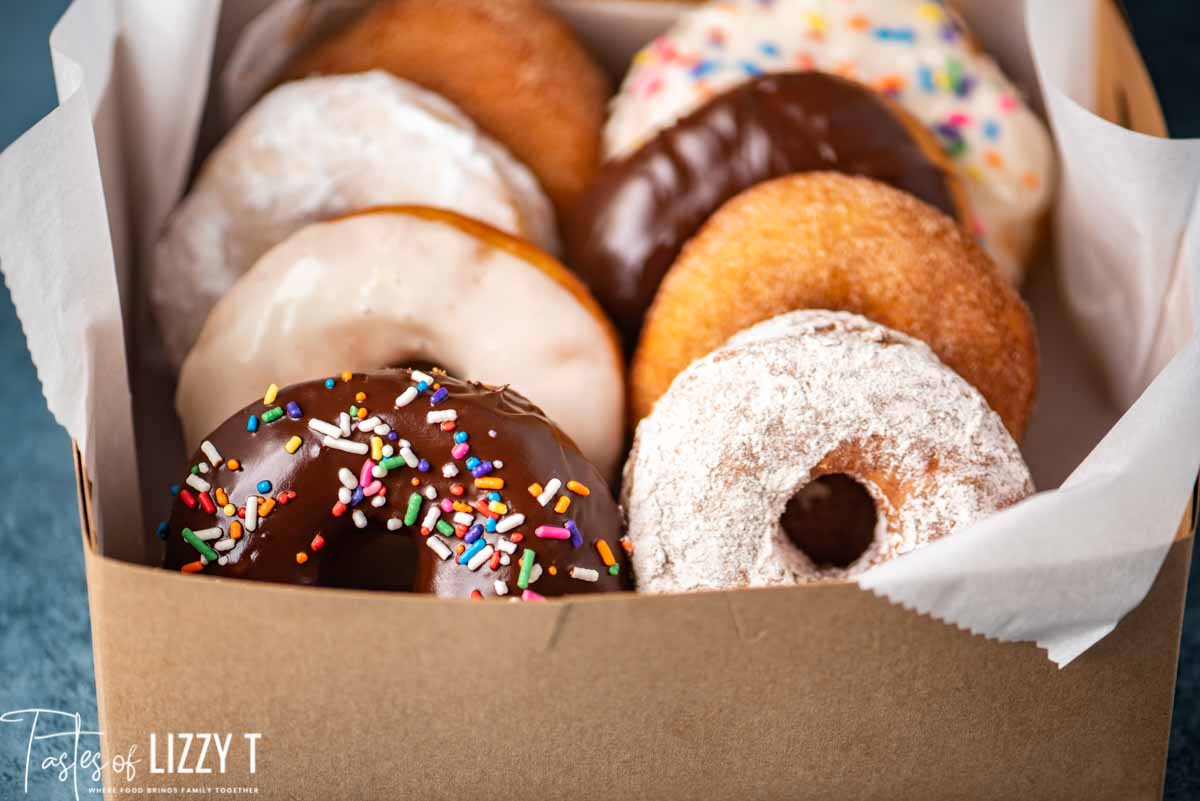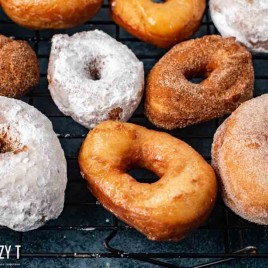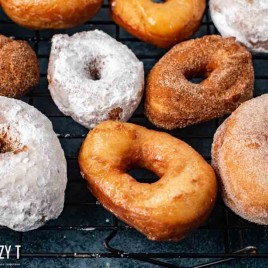 How to Make Donuts at Home
These soft yeast donuts are the best homemade donuts ever! Everything you need to know about how to make donuts from scratch.
Rise Time
1

hour
20

minutes
Total Time
2

hours
10

minutes
---
Ingredients
For the Dough:
1

cup

warm milk

(about 115 degrees F)

2 1/2

teaspoons

instant dry yeast*

(I like Red Star Platinum Baking Yeast)

2

large

eggs

(at room temperature)

1/2

cup

salted butter

(Melted, but make sure it isn't super hot. Just barely melted, or even softened, is fine.)

4 1/2

cups

all-purpose flour

(divided)

1

teaspoon

salt

1/2

cup

granulated sugar
Cinnamon Powdered Sugar Topping:
1/2

cup

powdered sugar

1

tablespoon

cinnamon
Cinnamon Sugar Topping:
1/2

cup

granulated sugar

1

tablespoon

cinnamon
Chocolate Glaze:
3/4

cup

chocolate chips

3

tablespoons

salted butter

1

tablespoon

light corn syrup

1/4

teaspoon

vanilla extract
Vanilla Glaze:
3/4

cup

powdered sugar

2

tablespoons

heavy cream

1/2

tablespoon

corn syrup

1/4

teaspoon

vanilla extract

dash

salt
Honey Glaze:
1/3

cup

powdered sugar

1/4

cup

honey
Instructions
Pour the warm milk in the bowl of a stand mixer and sprinkle the yeast overtop.

Add the eggs, butter, salt and sugar.

Add in 4 cups (save the other ½ cup and add only if you need it) of flour and mix using the beater blade just until the ingredients are barely combined. Allow the mixture to rest for 5 minutes so the flour has time to soak up the liquids.

Scrape the dough off the beater blade and remove it. Attach the dough hook.

Beat the dough on medium speed, adding in up to ½ cup more flour if needed to form a dough. Knead for 5-7 minutes or until the dough is elastic and smooth. **The dough should be tacky and will still be sticking to the sides of the bowl. That's ok! Don't be tempted to add more flour at this point. We generally add about 4 ½ cups, but start with 4 cups.

Spray a large bowl with cooking spray.

Use a rubber spatula to remove the dough from the mixer bowl and place it in the greased large bowl.

Cover the bowl with a towel or wax paper.

Set the bowl in a warm place and allow the dough to rise until double. I like to turn on the oven to the lowest setting for 1-2 minutes. Then turn off the oven and place the dough to rise in there. It normally takes about 30 minutes for the dough to rise. Do not allow the dough to rise too much or your donuts will be airy.

Sprinkle a pastry mat generously with flour. Turn out the dough onto the pastry mat and sprinkle the top of the dough with additional flour.

Flour a rolling pin and roll the dough to about 1/2" thickness. You can roll thinner if you'd like. That just means the donuts will be smaller.

Use the donut cutter to cut as many donuts as you can in the initial roll. You can re roll, but the donuts may not fry up as evenly. They'll still be good though!

Place the donuts on a baking sheet lined with parchment paper or on a silicone baking mat.

Allow the donuts to sit for about 15-20 minutes before frying. You can heat the oil while they are resting.

In a large skillet (at least 12"), add about an inch of vegetable oil. Heat over medium heat and watch for the oil to hit 350º Fahrenheit. It needs to stay as close to this temperature as possible. If the oil is too hot the donuts will get too brown. If the oil is not hot enough the donuts will absorb too much oil during cooking. Keep a thermometer in it and watch it closely, pausing on cooking as needed.

Once the oil is at the correct temperature, place donuts into the hot oil. Don't overcrowd. We can fit about 5 donuts in our large skillet.

Fry the donuts for about 45 seconds, then flip and fry for an additional 30 seconds to 1 minute or until the donut are completely golden brown and cooked through.

Place the fried donuts on a wire rack (place paper towels underneath the rack to catch any drips).

Continue frying until all of the donuts (and holes if you choose to make them) are cooked through.

Place the powdered sugar, cinnamon sugar, cinnamon powdered sugar in 3 separate bowls. Whisk each well. Please note that you should wait until the donuts are cooled to coat in the powdered sugar mixes. Otherwise the sugar will melt into the donuts and be really mess. You can do the cinnamon sugar mix right away.

Make the three glazes. For the honey glaze, just whisk the two ingredients in a bowl. For the vanilla glaze, whisk the ingredients in a bowl, adding more milk if desired to get a thinner consistency.

For the chocolate glaze, melt the chocolate chips and butter in a microwave safe bowl in short 30 second increments, stirring in between each interval. Once they are completely melted, add in the corn syrup and vanilla. Mix until smooth.

Turn a donut upside down and dip the tops into the vanilla and chocolate glazes right after mixing them. Add sprinkles nuts or other toppings while the glaze is still wet.

Allow the glazed donuts to set for about 30 minutes before storing.

Store the donuts in an airtight container.
Notes
The calories shown are based on the recipe making about 21 donuts about 3.75″ wide, with 1 serving being 1 donut with no topping. Since different brands of ingredients have different nutritional information, the calories shown are just an estimate. **We are not dietitians and recommend you seek a nutritionist for exact nutritional information.**
About the yeast:
*Different yeast calls for slightly different proofing methods. We follow Red Star Platinum's temperature guidelines. Please check your yeast packet to see what temperature the milk should be at.
Overnight Donuts:
We often make the donut dough and at the time to rise the dough, place the covered bowl in the refrigerator. Allow the dough to rise overnight. P

ull them out of the refrigerator in the morning. The dough should have doubled in size in the fridge. Roll the dough out and continue with the recipe as described above.
Nutrition
Calories:
169
kcal
|
Carbohydrates:
26
g
|
Protein:
4
g
|
Fat:
5
g
|
Saturated Fat:
3
g
|
Cholesterol:
30
mg
|
Sodium:
162
mg
|
Potassium:
51
mg
|
Fiber:
1
g
|
Sugar:
5
g
|
Vitamin A:
180
IU
|
Calcium:
21
mg
|
Iron:
1
mg