Double Chocolate Caramel Cookies
Chocolate cookie dough full of chocolate chips wrapped around a Milky Way Simply Caramel Bar. Drizzle with melted caramel and sprinkle with sea salt for the fudgiest, gooeyist chocolate caramel cookie yet!

Have you ever had braces?  They're  not that fun. My  mom always tells me how beautiful my teeth will be when they come off, but I really miss eating some of my favorite chewy snacks.  Caramel is one of those things that are probably not very good for my braces, and when I got them on, I figured that was ok. No caramel for 16 months or so didn't seem that bad to me. I've never really cared for caramel that much.
That is, until we made these Double Chocolate Caramel Cookies.  Pure, simple, chocolate salted caramel. Caramel oozing from the middle and on the top. The caramel oozing from the middle of the cookie is actually a Milky Way Simply Caramel Bar.  Have you tried them?  They're just caramel and chocolate.  You're going to use the bite-size ones to make these cookies. They'll melt perfectly in the center of the cookie.
Chocolate, chocolate, and more chocolate with every bite. I couldn't get away from them. I never knew caramel could be this good- especially when stuffed in the middle of a cookie.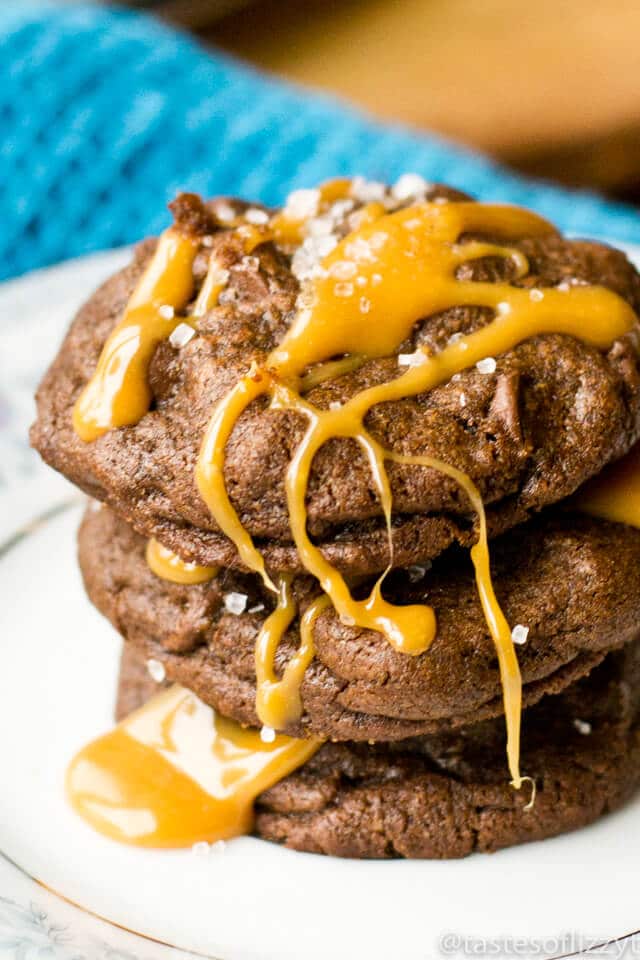 But these aren't just any chocolate caramel cookies. These are pretty much the softest, chewiest, chocolatiest, gooeyiest, best cookies I've ever had. Want to know a secret? How do we get our cookies so thick and fudgy?
Well, there are a few things you need to know:
-Brown sugar makes all cookies chewier and thicker. We used half brown and half white for this.
-Refrigerate the dough before you bake it. Why? Because it makes the dough stiffer, so it won't melt too fast and spread all over the pan.
-Never melt the butter. Soften it in the microwave or let it sit out for a while before mixing it into your cookies. Melting the butter can make the cookies spread a lot and sometimes burn on the sides. If your butter accidently gets too melty, that makes the refrigeration step all the more important. It will firm that butter back up!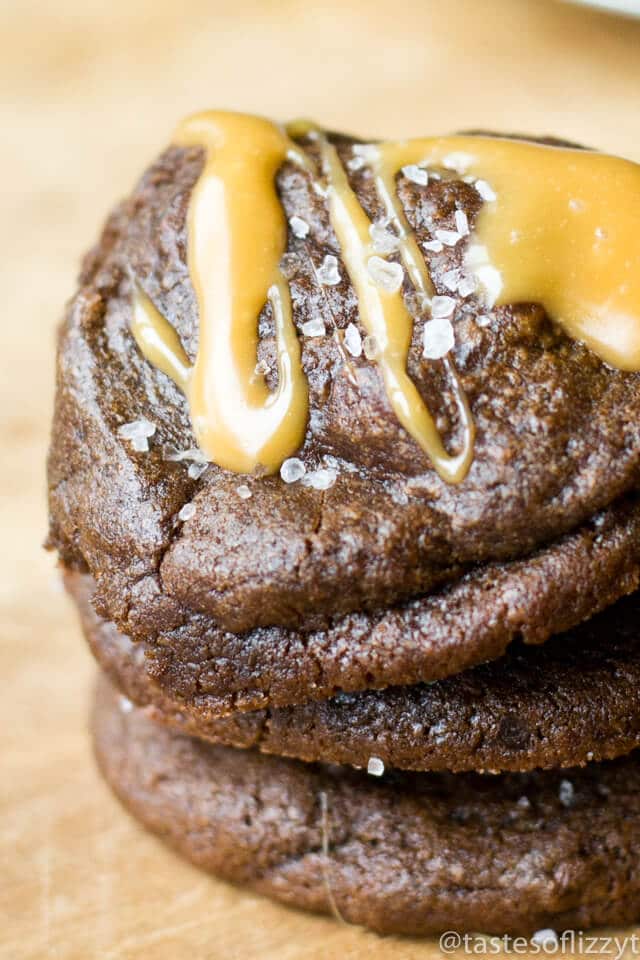 Oh, and one more thing…. if you like your cookies gooey, which we do, underbake them just a tiny bit. If a recipe says bake for 8 to 10 minutes, start with 8, and if you need more time, add a little more until they are just right. You can always add more time,  but if they're overcooked, you can't undo it. We usually always take our cookies when they still very soft and not at all brown.
The best thing about the cookies is that the caramel stays soft inside, even after a few days. Although I do admit I was afraid to eat them thinking my braces would break. Thank goodness it didn't. And I still got to enjoy quite a few of these chocolate caramel cookies.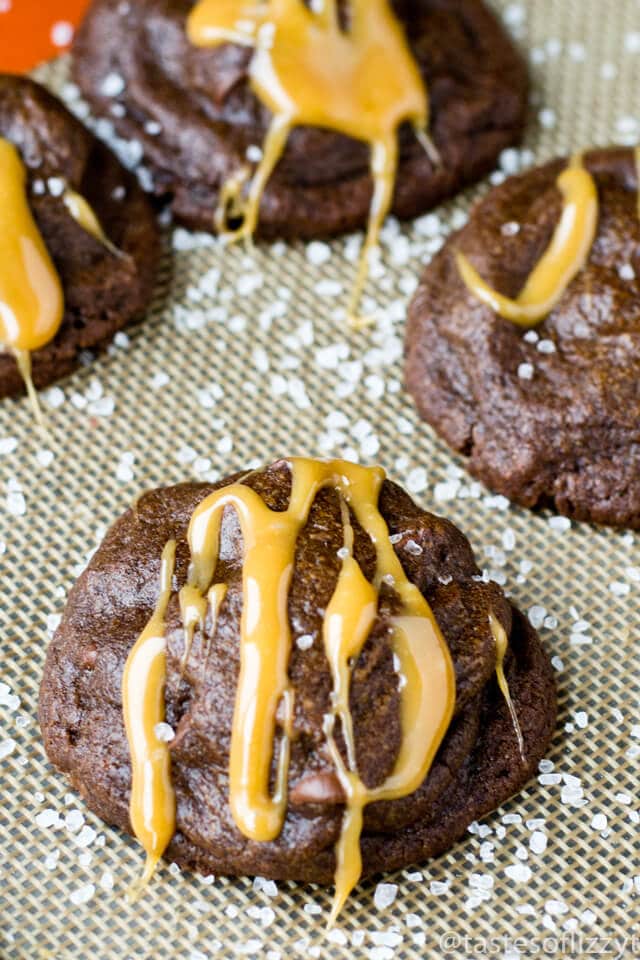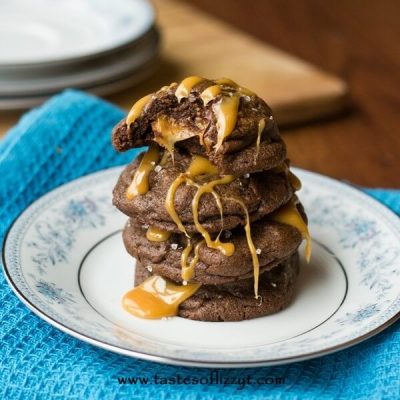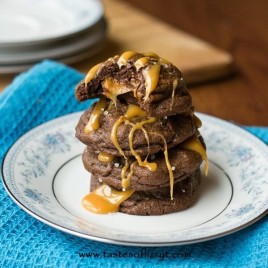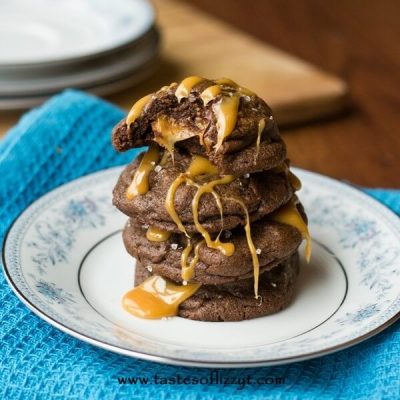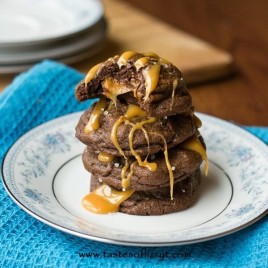 Double Chocolate Caramel Cookies
Chocolate cookie dough full of chocolate chips wrapped around a Milky Way Simply Caramel Bar. Drizzle with melted caramel and sprinkle with sea salt for the fudgiest, gooeyist cookie yet!

---
Ingredients
1

cup

butter

softened

3/4

cup

granulated sugar

3/4

cup

brown sugar

2

eggs

2

teaspoons

vanilla extract

2

cups

all-purpose flour

2/3

cup

cocoa powder

3/4

teaspoon

baking soda

1/4

teaspoon

salt

2

cups

semi-sweet chocolate chips

30

Milky Way Simply Caramel bite-size candy bars
Caramel Drizzle:
20

Kraft caramels

2

tablespoons

sweetened condensed milk

Sea salt

for sprinkling, if desired
Instructions
Using a stand mixer, beat together the butter, sugar, eggs and vanilla until the mixture is light and fluffy. Add in the flour, cocoa, baking soda and salt. Stir the mixture until it is well blended. Add in the chocolate chips and mix until combined. Refrigerate the cookie dough for 30 minutes.

Preheat the oven to 350 degrees. Scoop the cookie dough by teaspoons and flatten with the palm of your hand. Wrap the cookie dough around the Milky Way Simply Caramel bar so the candy is completely covered. Place on a baking sheet. Repeat this until all of the cookie dough is gone. Bake the cookies in a 350-degree oven for 10 minutes. Do not overbake.

In a small microwaveable bowl, melt the Kraft caramels for 40 seconds. Stir in the sweetened condensed milk. Continue to melt the caramels at 10-15-second intervals until they are completely melted and able to be drizzled over the cookies.

Drizzle the caramel over top the cookies, then immediately sprinkle with sea salt, if desired. The caramel will harden quickly, so do a few cookies at a time, then sprinkle the salt on top so it is sure to stick. If the caramel in the bowl gets too hard, return it to the microwave for another 10-15 seconds to remelt it and continue to drizzle.

Allow the cookies to cool completely and store them in an airtight container. These do not stack on top of each other well, since the caramel on top will stick to the bottom of another cookie. Store them in single layers.
Nutrition