Tastes of Lizzy T participates in affiliate advertising programs. We may earn a commission when you make a purchase through links on our site.
Easy Chicken Marinade has just two ingredients! This Italian barbecue sauce gives this chicken an award-winning flavor.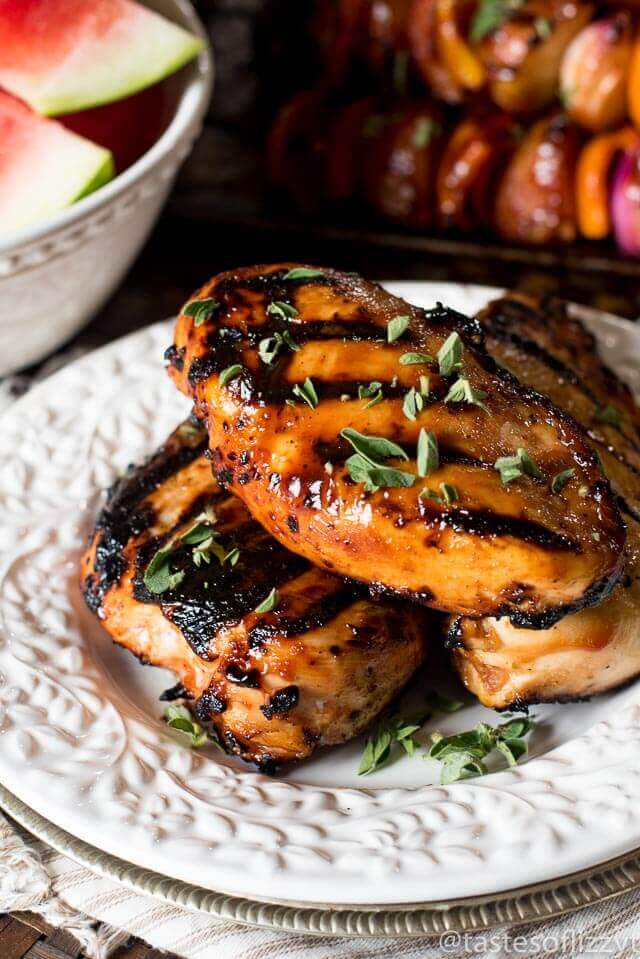 I have a fun recipe for you today! Ok, the easy chicken marinade might not be fun, but it is one of our favorite family recipes. It was originally called Bald Guy Chicken. I can hear you now….What?! Don't worry, there is a fun story behind it! Grab yourself a glass of lemonade and get ready for a short story time.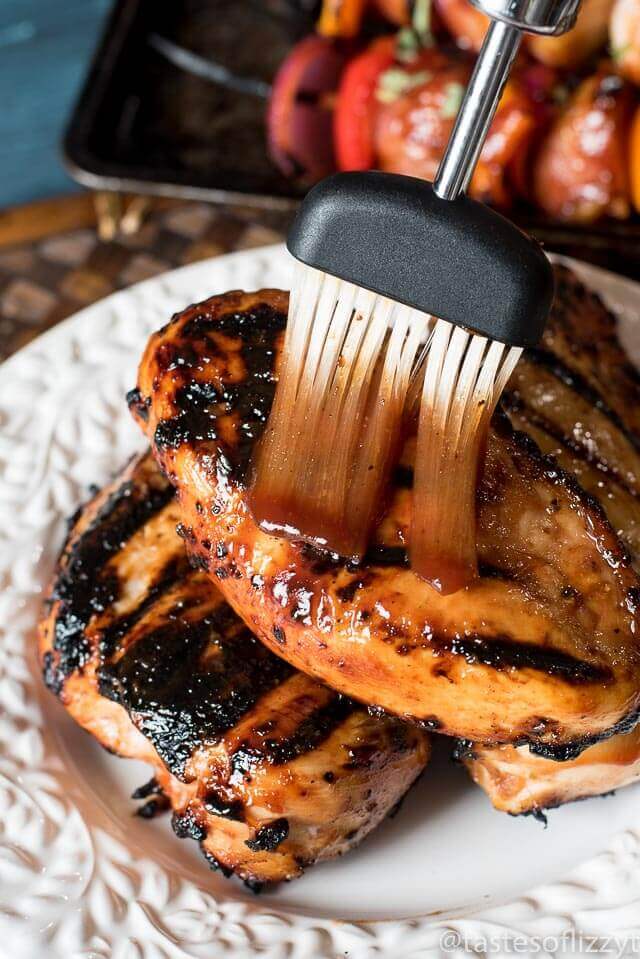 One day early last summer, I was shopping in the grocery store, looking to buy some chicken.  A man (enter: bald guy) came up and asked, "Excuse me, what kind of chicken are you going to make?"
I really had no idea what I was going to make at that point. I was simply stocking up on chicken breasts that were on sale. He proceeded to tell me that he had the best easy chicken marinade ….and that I should definitely make it.
I don't always listen to random strangers that give recipes in grocery store aisles, but this man was so passionate about his easy chicken marinade recipe. He claimed to be a caterer and this marinade recipe had won awards!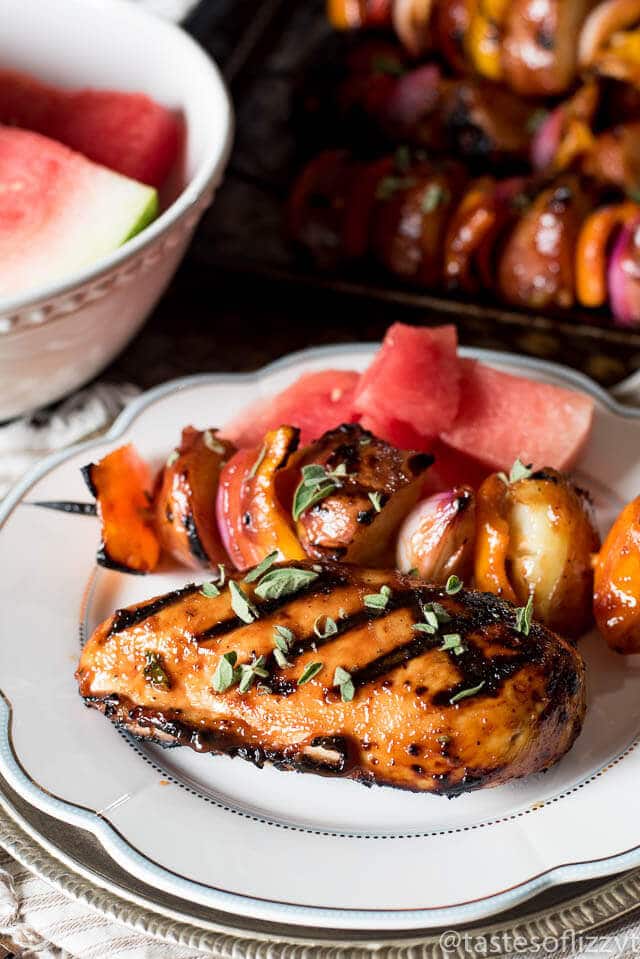 Now here's the simple recipe: Mix together equal parts of barbecue sauce and an Italian dressing with olive oil in it. Cut a slit or two in chicken breasts, then marinate them overnight in this Italian-barbecue goodness.  The olive oil in the salad dressing soaks into the chicken breasts overnight, making them so tender, even after spending some time on the grill.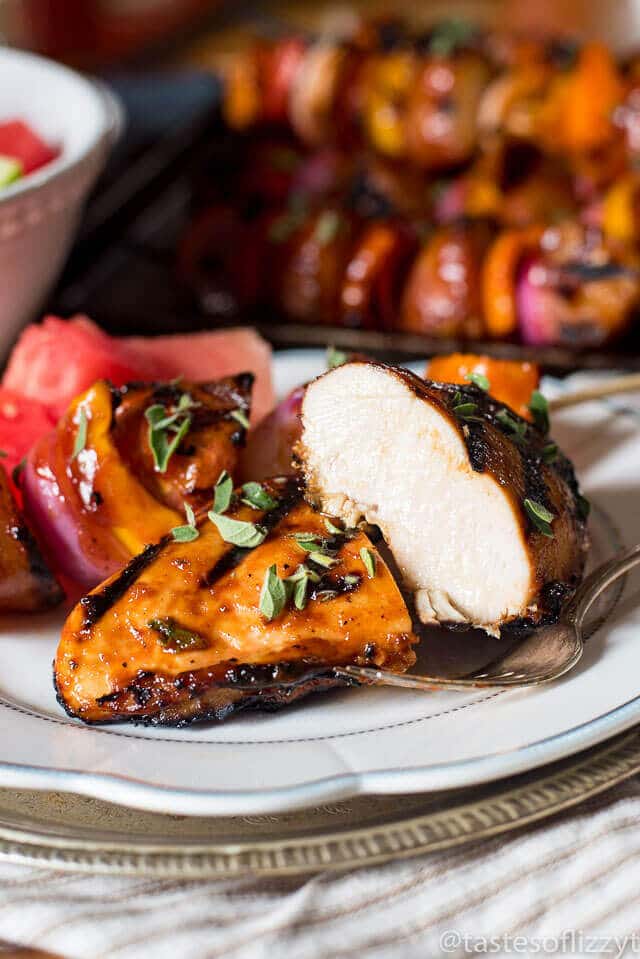 And that's it!
Simple, right?
I went home that day with the ingredients to make this chicken, and it quickly became one  of our favorites.  And since we had no name for the recipe, we called it Bald Guy Chicken and the name stuck.
If you love Italian and barbecue, you'll love this marinade. We've since made it for much of our summer dinner guests and I can say that the grocery store stranger was right…everyone loves it.
I do hope you'll try this.
And thank you, Mr. Stranger Bald Guy From The Grocery Store, for sharing your recipe!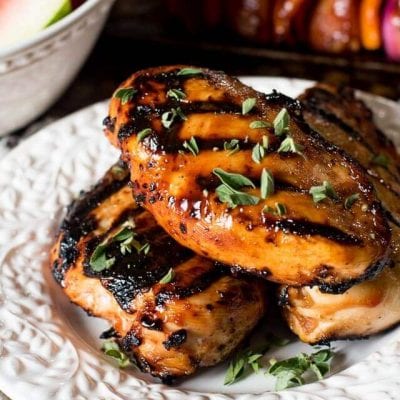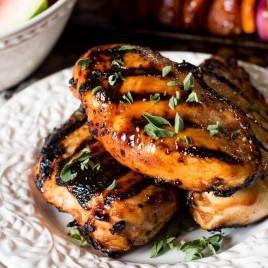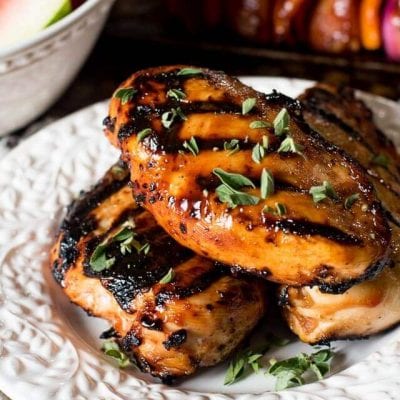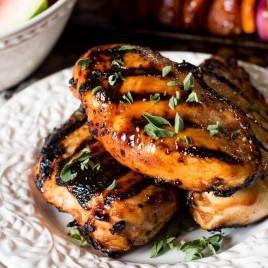 Easy Chicken Marinade
Easy Chicken Marinade has just two ingredients! This Italian barbecue sauce gives this chicken an award-winning flavor.
Total Time
8

hours
15

minutes
---
Ingredients
4

boneless, skinless chicken breasts

1/2

cup

barbecue sauce

1/2

cup

Italian dressing

(with olive oil)
Instructions
Trim the chicken breasts and pierce them 2 or three times with a fork or sharp knife.

Place the chicken breasts in a Ziploc bag.

Pour the barbecue sauce and Italian dressing over the chicken breats.

Seal the bag and mix it together by kneading the chicken with your hands for 1 minute.

Marinate the chicken in the refrigerator overnight or for at least 6 hours.

Heat a grill to 400 degrees.

Place the chicken on the grill and close the lid. (Discard the bag with the marinade in it.)

Cook the chicken for 4 minutes, then flip the chicken and grill it on the other side until the internal temperature reaches 160 degrees.

Serve immediately.
Nutrition
Calories:
300
kcal
|
Carbohydrates:
18
g
|
Protein:
31
g
|
Fat:
10
g
|
Saturated Fat:
1
g
|
Cholesterol:
94
mg
|
Sodium:
829
mg
|
Potassium:
653
mg
|
Sugar:
15
g
|
Vitamin A:
125
IU
|
Vitamin C:
2
mg
|
Calcium:
23
mg
|
Iron:
0.8
mg
Some of our other favorite chicken recipes!
Grilled Lemon-Lime Pepper Chicken