Tastes of Lizzy T participates in affiliate advertising programs. We may earn a commission when you make a purchase through links on our site.
Looking for a cute breakfast idea? Make these mini Donut burgers out of glazed and chocolate covered donut holes. They're great for a themed party, school treat or edible craft!

Donut Burgers
How do you spend Labor Day in your house? It is the last big blowout of summer, after all. I imagine a good handful of people are doing a party, or little family dinner over the fire. That's usually our family, but this Monday we're just going to spend the day relaxing and enjoying dad being home. I mean, if a party is the best way to celebrate Labor Day, then I'd have to say vegging out at home is the next best thing! Plus, if you can bake something cute and easy for breakfast too……
That's the ultimate day for me!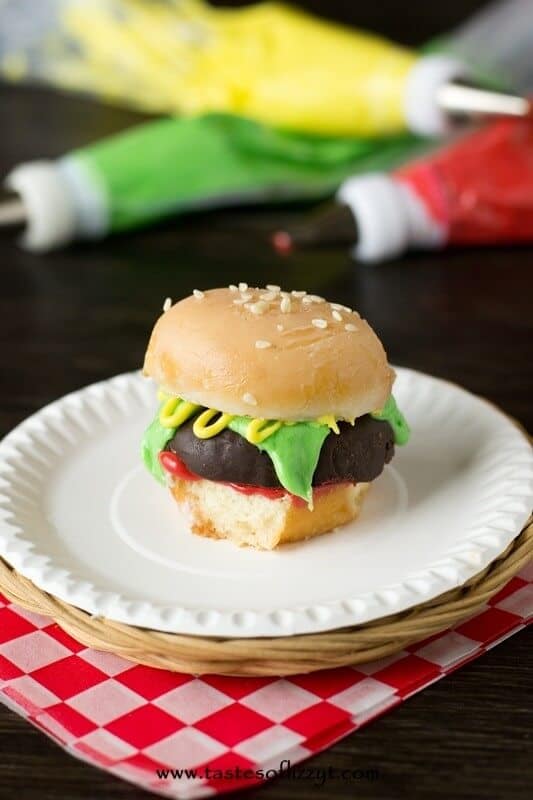 If I had not just given away what these are with the title, would you be able to tell? To be honest, the more I stare at them, the more confused I get. Are those donuts, or burgers? When I think about how easy and adorable they were, my mind opens up to all the other possibilities for donut fun! I said were in that sentence because they didn't last more than a day!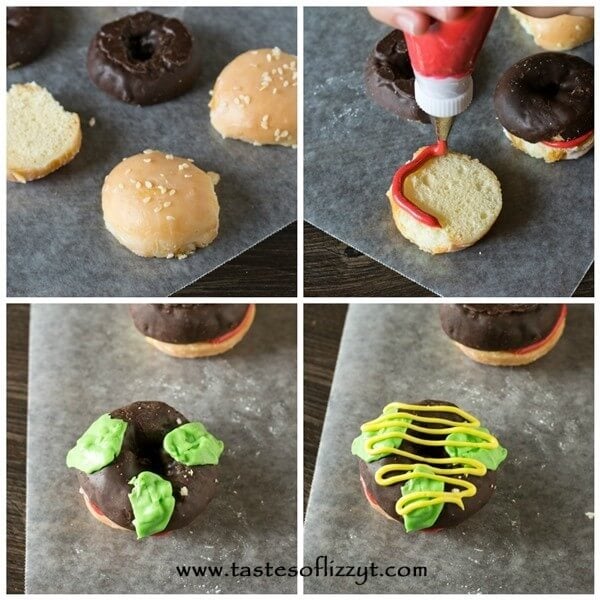 There are a few things you'll need to know before making these cute Donut Burgers:
We froze the glazed donut holes before cutting them in half which made them easier to handle. You don't want all that glaze coming off on your fingers. You'll cut the donut holes in half and place them on a place, cut side down.  Then microwave them for a teensy bit, maybe 8-10 seconds. Why do this? It's so the sesame seeds can stick on that now sticky, sweet, donut glaze. I think the sesame seeds make that hamburger bun look tons more real, because my hamburger just isn't complete without sesame seeds on top!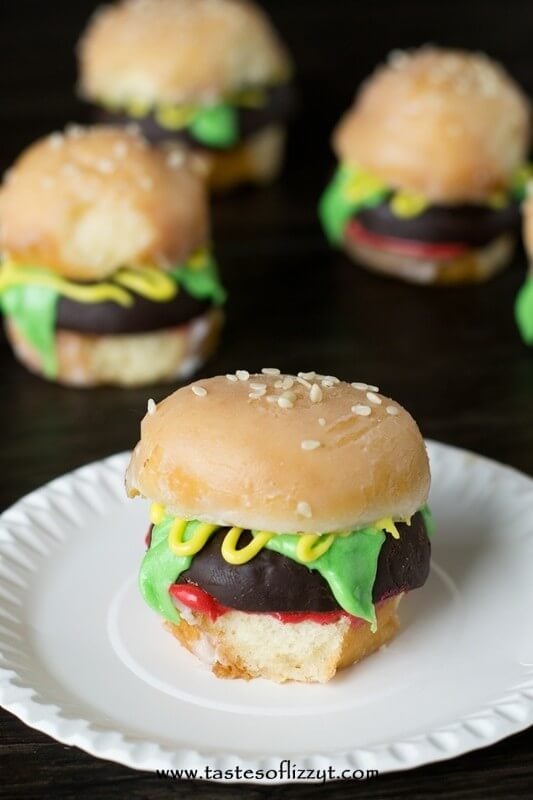 Next you'll cut your chocolate frosted mini-donuts in half.  Any brand will do…Entenmann's, Hostess, or your local store's bakery section.  Just make sure they are mini donuts with the holes in the midle to get that perfect burger shape.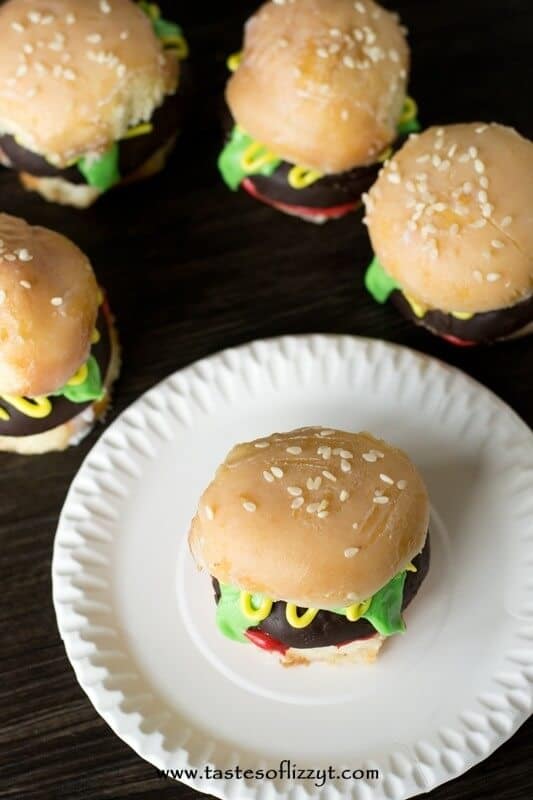 Lastly, you get to assemble and decorate your burger! The three icing colors we used were obviously red, yellow, and green, but did you know how hard it is to get icing to look really, really red? Well, it will take a lot of red food coloring, so don't be shy about putting in as much as you need. I was having trouble getting the icing to look darker and less pink.  I finally just tried a tiny amount of blue, which made it look tons better. To get the ketchup, mustard, and lettuce decorations,  we used decorating bags and Wilton tip 7 for red, 97 for green, and 3 for yellow. Its really not hard to do, even if you have no cake decorating skills.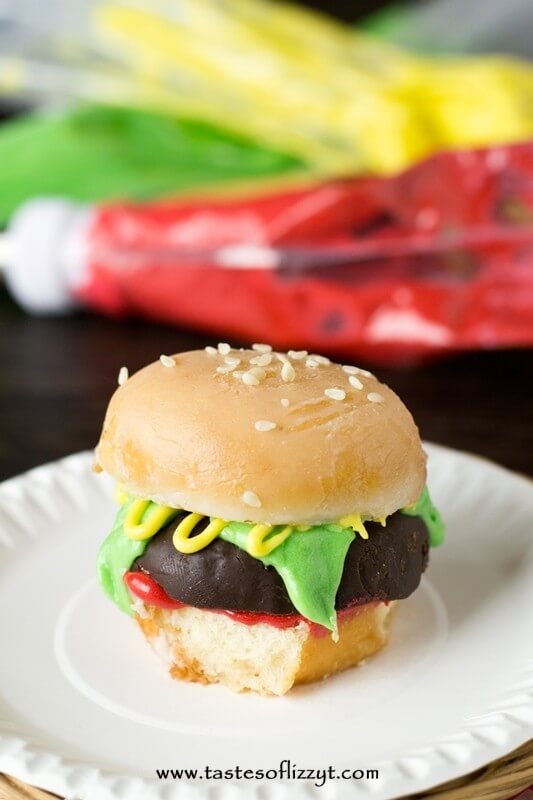 Donuts are the best way to start a day a lazy day, especially if you have donuts in the shape of a hamburger!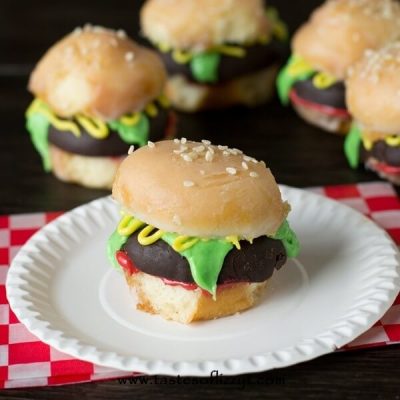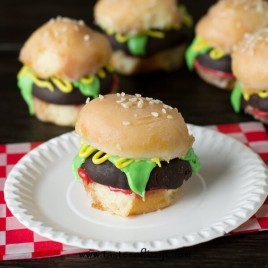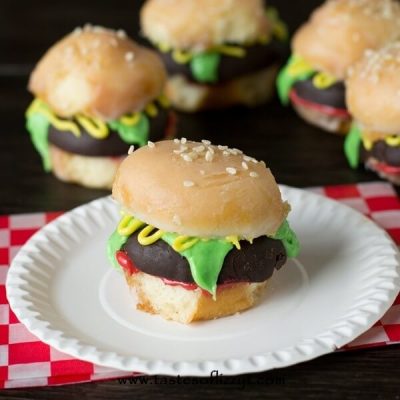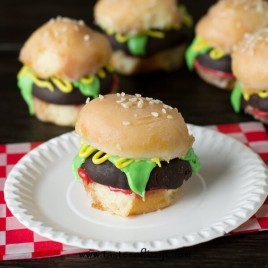 Donut Burgers
Looking for a cute breakfast idea? Make these mini Donut burgers out of glazed and chocolate covered donut holes. Great for a themed party or edible craft!
---
Ingredients
Glazed donut holes

Chocolate covered mini donuts

Sesame seeds

Red frosting

Green frosting

Yellow frosting

Wilton decorating bags

Wilton tips 3, 7 and 97
Instructions
Freeze the glazed donut holes for about 30 minutes. Cut the donut holes in half. Place the top of the donut hole cut-side down on a plate. Microwave the halves for about 8-10 seconds, just enough to get the glaze a little sticky, but be careful to not let the glaze melt. While the glaze is sticky, sprinkle some sesame seeds on top of the "buns".

Fill a decorating bag with about ½ a cup of red frosting. Using Wilton tip 7, make a circle of red icing around the outside top of edge of the bottom bun.

Cut the chocolate covered mini donuts in half. Place half of the chocolate donut on top of one of the bottom pieces of glazed donut, like a placing a burger on a bun.

Use a decorating bag with green frosting and Wilton tip 97 to make a few lettuce leaves. Don't worry too much about what your leaves look like. Just make sure they hang down a bit so you can see the lettuce leaves once you get your donut burger together.

Use a decorating bag with yellow frosting and Wilton tip 3 to make a drizzle of "mustard" on top of the lettuce leaves.

Finally, top your burger with the donut hole halves that have sesame seeds on them.

Store in an airtight container.