You'll love this tornado of cream cheese, Nutter Butter cookies and Butterfinger candy bars rolled up and covered in chocolate.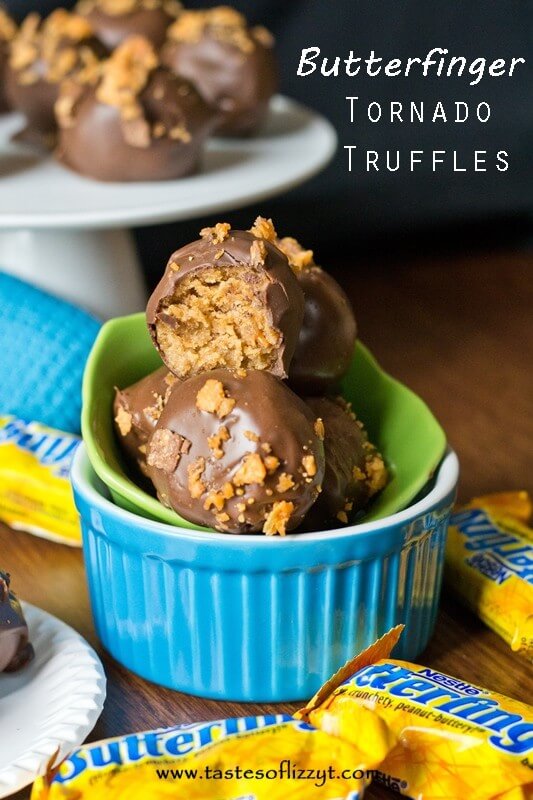 Here it is: another tornado truffle. 
Butterfingers are one of my favorite candies (besides all of the other candy at the cash register!).  I used to love eating them- that is, until I got braces.  I was really sad that I couldn't eat all of my favorite candies, like Skittles, Butterfingers, and bubble gum.  When we made these truffles, obviously I was excited. Truffle has a one meaning for me- and that is soft, sweet, and chocolate covered goodness.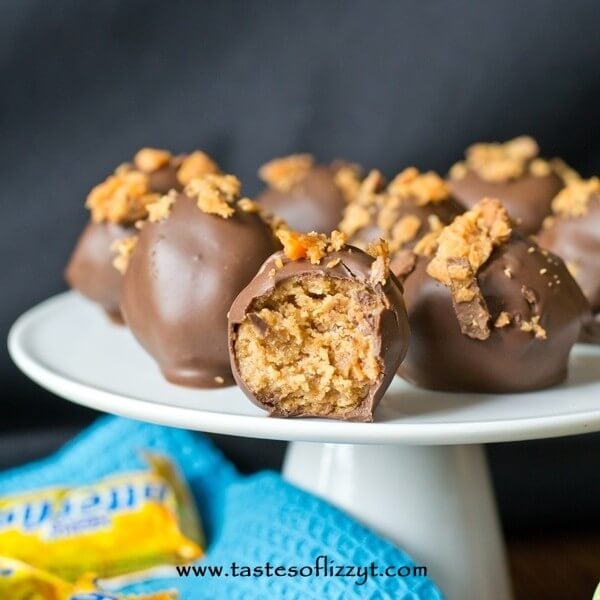 You might have an empty spot on your Christmas cookie plate and it could be one of two things- someone ate them, or you might need more cookies!!!! But, with Christmas ahead, who has time to make a whole batch of cookies?  I'd certantly love to. But sometimes we can make something a little easier- nothing that needs to bake, or broil, or anything like that.
 These Butterfinger Tornado Truffles might have to be on your cookie plate this year.
The ingredients?
Simple.
Butterfinger candy bars, Nutter-Butters, and cream cheese. Oh, and Candiquik dipping chocolate.  That part is crucial.  Other than that, you're set! Easy and delicous- how's that for a fast tray filler?
Out of all of the truffles left, I like these almost best. It's a close tie between these and the Reese's truffles. That's how good they taste. Mmmm.
Do you see how soft and decadent these truffles are? I'm really excited for you to try them!
Peppermint Patty Tornado Truffles