Tastes of Lizzy T participates in affiliate advertising programs. We may earn a commission when you make a purchase through links on our site.
Looking for a new way to make chicken that fits the Paleo diet? This tender, Paleo Baked Chicken is covered with savory spices and drizzled with butter. You'll never know it's good for you!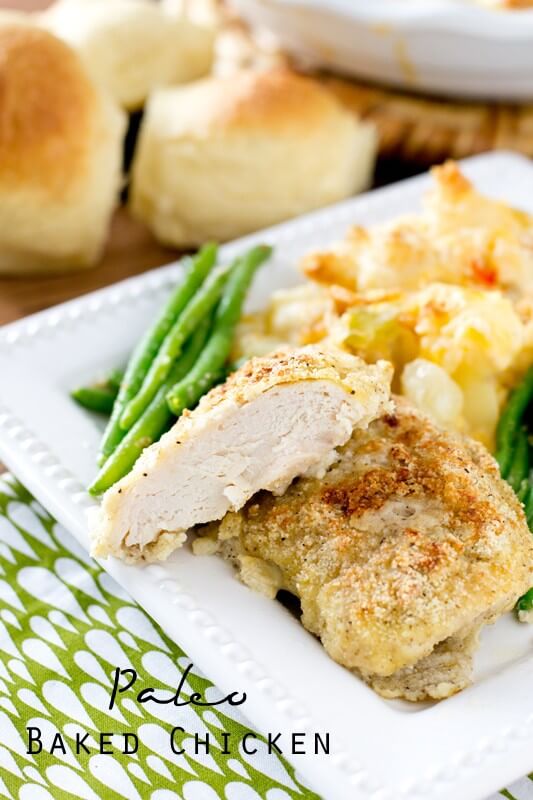 Paleo Baked Chicken Recipe
A healthy, comforting, full-of-flavor chicken that is gluten free, grain free and sugar free. That's what I'm sharing with you today! Yes, I'm stepping away from the rich holiday foods. I'm giving something to you all who have much more willpower than me and are craving something healthy. Or maybe you're in the middle of a Whole30 and are desperate for a new recipe. This is a new Paleo Baked Chicken that I created from some of my favorite flavors of Thanksgiving. It's heart-warming, it's delicious and you're going to love it!
November has been a terrible month for our desire to eat healthy, paleo style meals. It's partly because of our schedule. We had a trip the beginning of the month so I never did a "big" grocery shopping trip to stock up on healthy food. We were training for a 15K and needed to up our carbs during that week. And let's face it. It's Thanksgiving week and I'd really rather be indulging in the soothing casseroles and pumpkin-laden desserts than eating a plate of veggies and meat.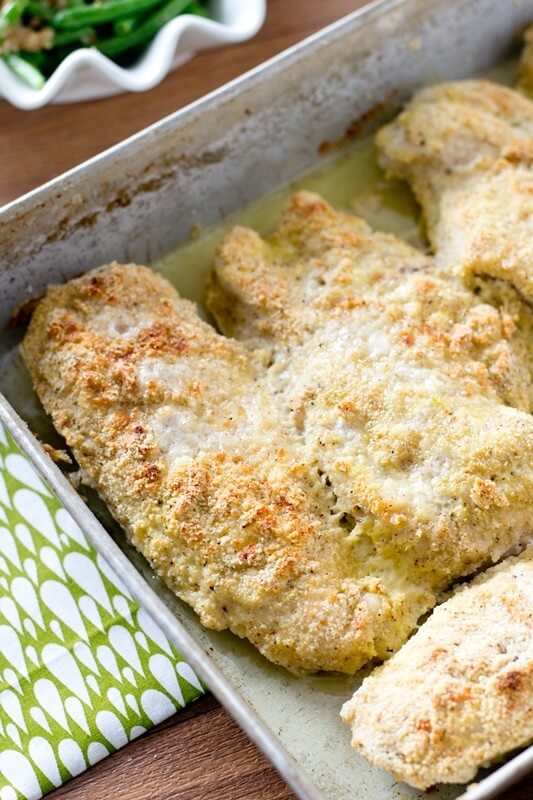 That's where this Paleo Baked Chicken can make it's grand entrance.  One of my favorite side dishes at Thanksgiving is stuffing.  My grandma's Thanksgiving turkey stuffing to be exact. I took the flavors that are in that mouth-watering, classic, Thanksgiving recipe, mixed it with some almond flour and tapioca starch, and used it as a breading for chicken breasts.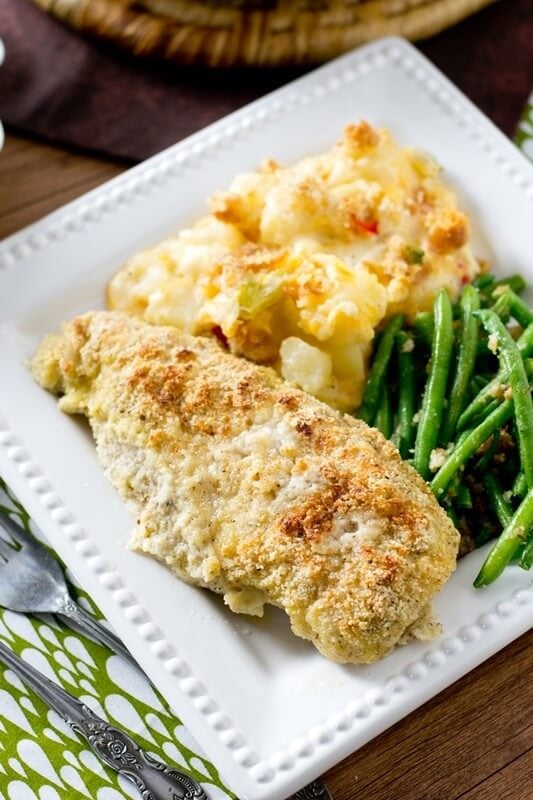 How to Make Gluten Free Baked Chicken
1. The chicken breasts I buy in the store are huge. In order make them cook faster, I cut the chicken breasts in half length-wise to make them thinner. Think of filleting the chicken breasts into two thick fillets. You can leave the chicken breasts whole if you'd like, but it will take longer to cook. I don't want to risk my chicken drying out, which is another reason I fillet the chicken. For this recipe, I used about 2 ½ pounds of chicken.
2. Prepare a 9×13 pan by spraying it with cooking spray. Then take two bowls. Put the eggs in one bowl and whisk them together. In the other bowl mix together the almond flour, tapioca starch and seasonings. The poultry seasoning is key here. Just like my grandma's stuffing, remember.
3. Dip the chicken in the egg, then coat it in the dry crumb mixture.
4. Place the coated chicken in the prepared baking pan. Drizzle the top of the chicken with melted butter (or ghee if you'd like). This is going to bake into the chicken making it so tender and juicy!
5. Bake the chicken at 350 degrees for about 30 minutes. The exact cooking time will depend on how thick your chicken breasts are. If they are thin or if you use tenderloins, check them at 25 minutes. If they're thicker, they may take 35-40 minutes.
6. Lastly, I placed my chicken under the broiler for about 3 minutes to give it just a little bit of a golden color. This is completely optional, but if your chicken isn't as brown as you'd like, this is a little trick you can use. Just be careful as it will cook quickly under the broiler.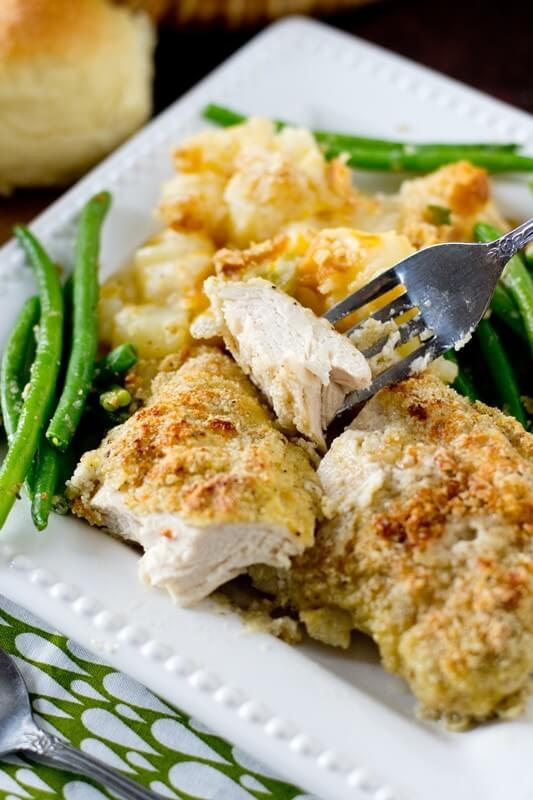 My family loved this chicken. And I love that it had all the flavors of my favorite stuffing. I didn't even miss the bread. Enjoy this family-friendly, paleo chicken dinner!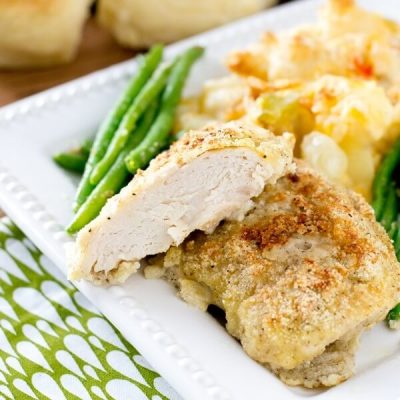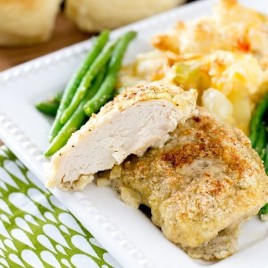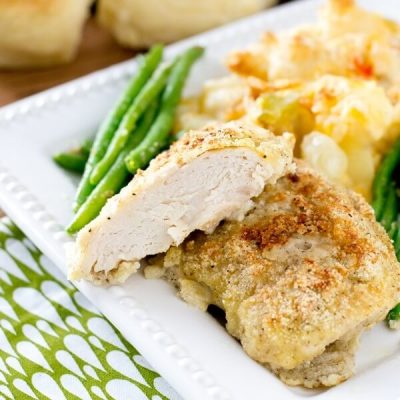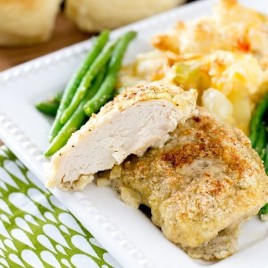 Paleo Baked Chicken
Looking for a new way to make chicken that fits the Paleo diet? This tender, Paleo Baked Chicken is covered with savory spices and drizzled with butter. You'll never know it's good for you!
---
Ingredients
2 1/2

pounds

boneless

skinless chicken breasts

2

large

eggs

1

cup

almond flour

3

tablespoons

tapioca starch

1

teaspoon

salt

1/4

teaspoon

onion powder

1 1/2

teaspoons

poultry seasoning

1/2

teaspoon

pepper

1/4

cup

butter

melted
Instructions
Preheat the oven to 350 degrees.

Trim the chicken breasts and fillet them lengthwise so you have two thin pieces of chicken from each chicken breast.

Spray a 9x13 pan with cooking spray.

Place the eggs in a bowl and whisk them together. Set aside

Place the dry ingredients and seasonings in another bowl and mix together.

Dip each piece of chicken in the egg, then coat them in the dry crumb mixture. Place the chicken breasts in the prepared pan.

Drizzle the melted butter overtop the prepared chicken.

Bake for 30-40 minutes until the chicken is no longer pink inside.

If you'd like the chicken to be more golden brown, you can place it under the broiler for 3-5 minutes, watching it carefully so it doesn't burn.

Serve immediately.
Nutrition
Calories:
346
kcal
|
Carbohydrates:
6
g
|
Protein:
36
g
|
Fat:
19
g
|
Saturated Fat:
6
g
|
Cholesterol:
151
mg
|
Sodium:
428
mg
|
Potassium:
547
mg
|
Fiber:
1
g
|
Vitamin A:
255
IU
|
Calcium:
49
mg
|
Iron:
1.7
mg