Peanut Butter Oatmeal Bars
Tastes of Lizzy T participates in affiliate advertising programs. We may earn a commission when you make a purchase through links on our site.
Thick oatmeal bars with peanut butter streusel and a creamy, peanut butter frosting drizzle. These hearty peanut butter oatmeal bars will satisfy your hunger cravings and your sweet tooth.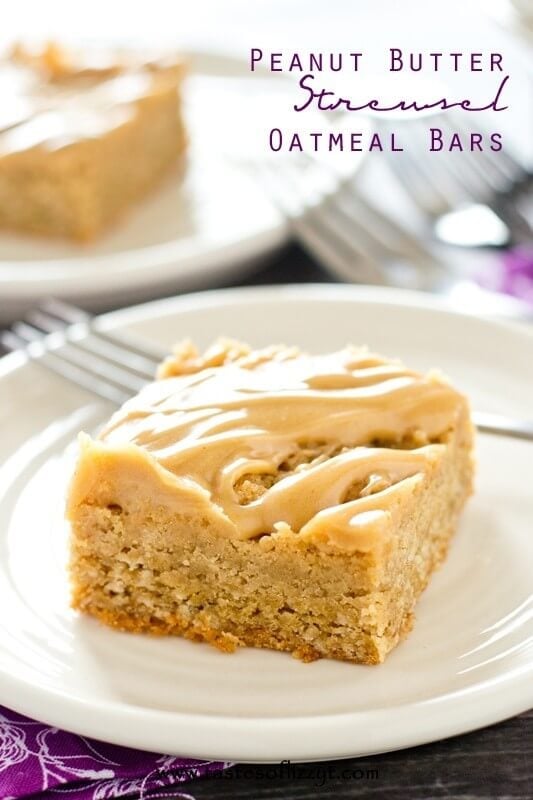 Do you guys know how Tastes of Lizzy T got started? It all began as a school project during Maddie's 6th grade year. She was barely 12 at the time, but she loved baking and writing, so we thought it would be fun if she started a food blog. After all, lots of other people were food blogging and it didn't look that hard.
She started by having a free little site on Blogger.  She made the recipes, she did the writing, and I took most of the pictures. We quickly realized a few things:
1. Food blogging was fun. To create a recipe, share it on social media (even if our Facebook following was only 10 at the time) and have people actually tell us that it looked delicious pretty much made our day!
2. Food blogging was a lot of work. For a newly 12-year old to keep up with the demands of blogging and learning everything that it takes to grow a blog, I knew I was going to have to make a commitment to help.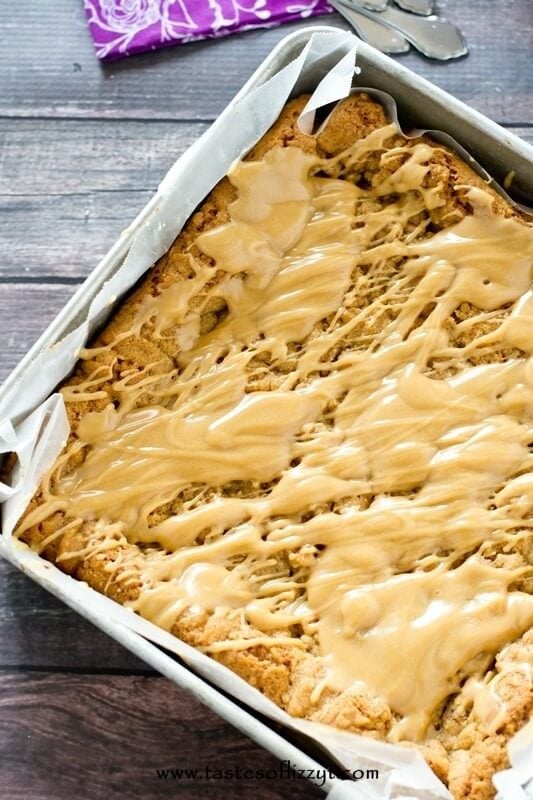 Fast forward two years later. Maddie is now a teenager who still loves to bake, write and is developing her photography skills.  But she's also busy with school, sports, church and friends. Which leaves little ol' me to be taking over much of the work that blogging requires. Busy-ness to a certain extent is good for me, though. When my mind is idle and bored, I tend to get myself in trouble. So having an on-the-side hobby that has quickly turned into a mostly-full-time job is necessary and good for me.
I try to still have Maddie write one post a week so she continues to develop her blog-writing skills. But what she is truly passionate about is baking. Most of the baked goods you see on our site have been baked by Maddie.
That includes these beautiful little Peanut Butter Oatmeal Bars.
Maddie comes up with her own ideas to try at times, but the majority of the time, I tell her what she needs to bake for the day. And when it includes peanut butter and oatmeal, two of her favorite things, she is more than happy to oblige. I love to see her face light up as I explain to her layer-by-layer the recipe that has developed in my mind.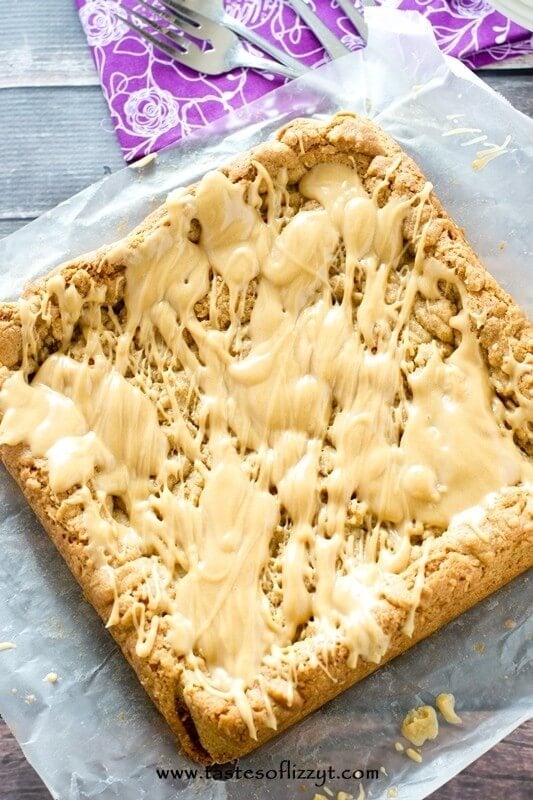 These baked peanut butter oatmeal bars have a thick, hearty oatmeal cookie texture. I had plans to call them "blondies", but once I tasted them, I knew they were more of a hearty oatmeal bar instead of a soft, chewy blondie.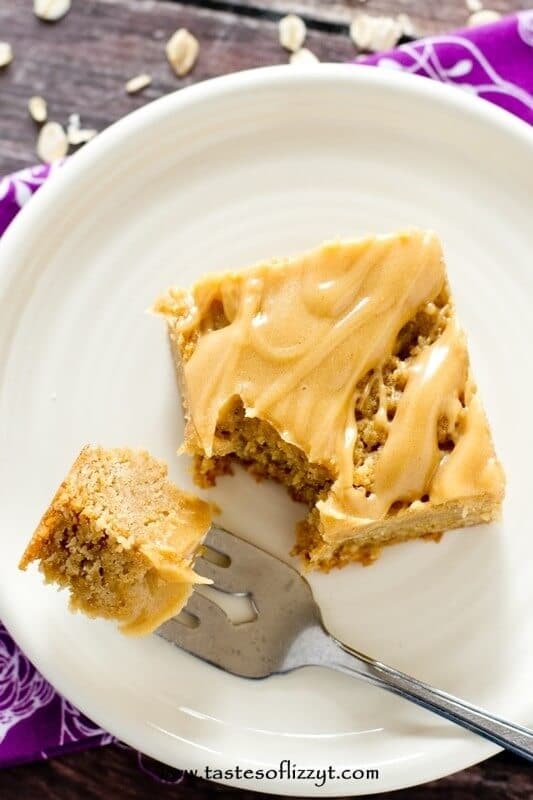 Peanut butter streusel and a peanut butter glaze top these bars. Yes, you could serve just the bars, or just the bars with the streusel, but when you add all three layers, you get a deliciously sweet topping that pairs so nicely with the oatmeal cookie bars on the bottom.
I like to use my stand mixer because it takes virtually no arm-power, but as long as your butter is soft enough, you can make the batter with just a bowl and a spoon.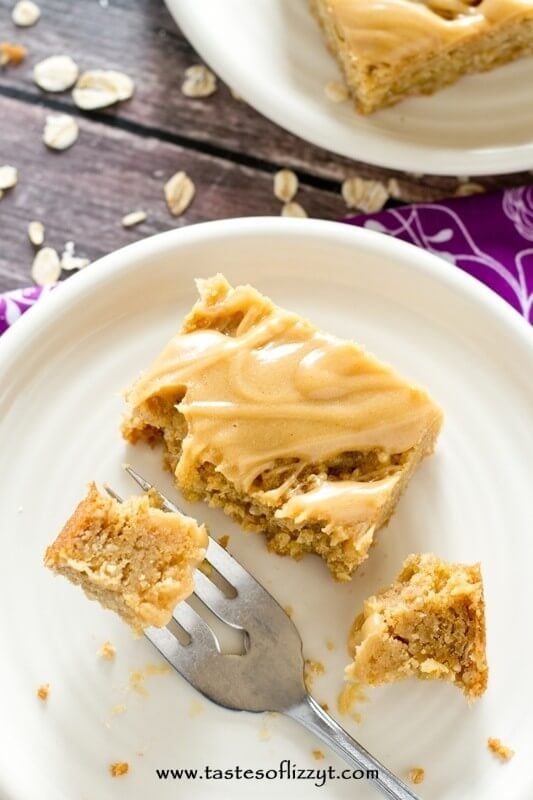 If you love peanut butter, cookies and all things oatmeal-y, this recipe is for you!
Q: How old were you when you started baking?
Q: Is baking something you enjoy?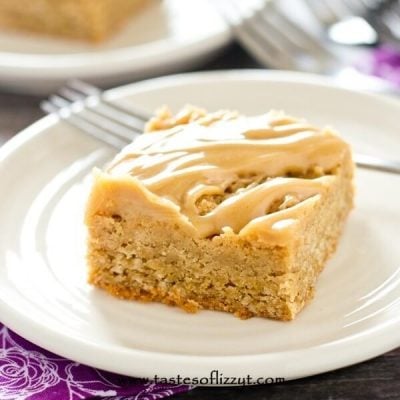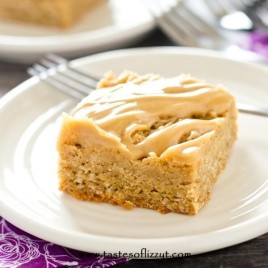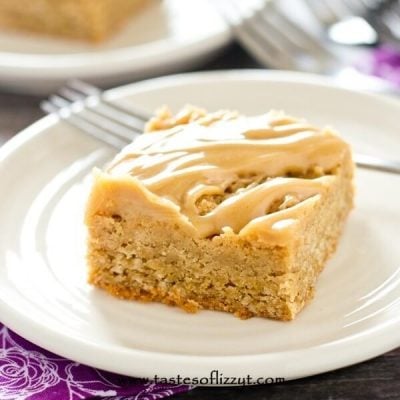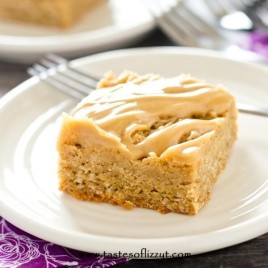 Peanut Butter Oatmeal Bars
Thick oatmeal bars with peanut butter streusel and a creamy, peanut butter frosting drizzle.
---
Ingredients
1/2

cup

butter

softened

1/2

cup

white sugar

1/2

cup

packed brown sugar

1

large

egg

1/3

cup

creamy peanut butter

1/2

teaspoon

baking soda

1/4

teaspoon

salt

1/2

teaspoon

vanilla

1

cup

all-purpose flour

1

cup

quick cook oats
Peanut Butter Streusel:
1/2

cup

plus 1 tablespoon all-purpose flour

1/2

cup

packed brown sugar

1/4

cup

butter

softened

3

tablespoons

creamy peanut butter
Peanut Butter Drizzle:
1/2

cup

powdered sugar

1/4

cup

peanut butter

2-4

teaspoons

milk
Instructions
Preheat the oven to 350 degrees.

In the bowl of a stand mixer, cream together the butter and sugars. Add the egg, peanut butter, baking soda, salt and vanilla. Mix well. Stir in the flour and oats. Mix just until combined. Spread in an 8x8 pan that has been sprayed with cooking spray.

In a small bowl, combine the ingredients for the streusel. Mix until the mixture is crumbly. Sprinkle over the top of the batter. Bake at 350 degrees for 25-28 minutes.

Once the bars have cooled to room temperature, mix the powdered sugar and peanut butter in a small bowl. Add the milk, a teaspoon at a time, until the mixture becomes a drizzling consistency.

Pour the peanut butter drizzle over the oatmeal bars. Allow the drizzle to set for 10 minutes, then serve.

Store any leftovers in an airtight container.
Notes
If you want the bars to come out cleanly for easy and neat cutting, line the baking pan with parchment paper before pressing the batter into the pan.
Nutrition
Serving:
77
g
|
Calories:
361
kcal
|
Carbohydrates:
41
g
|
Protein:
6.5
g
|
Fat:
20
g
Is peanut butter one of your favorite things? Try one of these favorites!
Find more peanut butter recipes here.
Find more bar recipes here.