Sweetheart Chicken Hand Pies
Tastes of Lizzy T participates in affiliate advertising programs. We may earn a commission when you make a purchase through links on our site.
Tender, flaky pie crust covering comforting chicken and veggies. Serve these kid-friendly Sweetheart Chicken Hand Pies to your loves this Valentine's Day!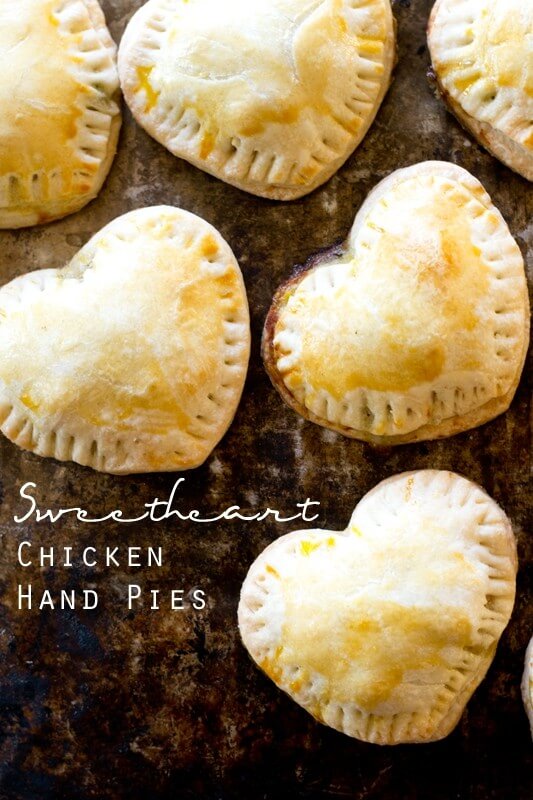 Today I'm going to  share with you a simple, delicious, Valentine's Day treat. It starts with a warm, flaky pie crust. What could be better than a warm, flaky, homemade pie crust? I'm not really sure. All I know is that the pie crust recipe we use is probably the thing I crave the most. In fact, I have a special pie dough recipe baking in the oven right now, and I can smell it wafting down to the basement all the way from upstairs.
Pie crust isn't just for sweet pies, ya know. My favorite savory use for our pie crust are these sweetheart chicken hand pies. Because, if you can get away with having pie crust for lunch or dinner, then I say let's do it!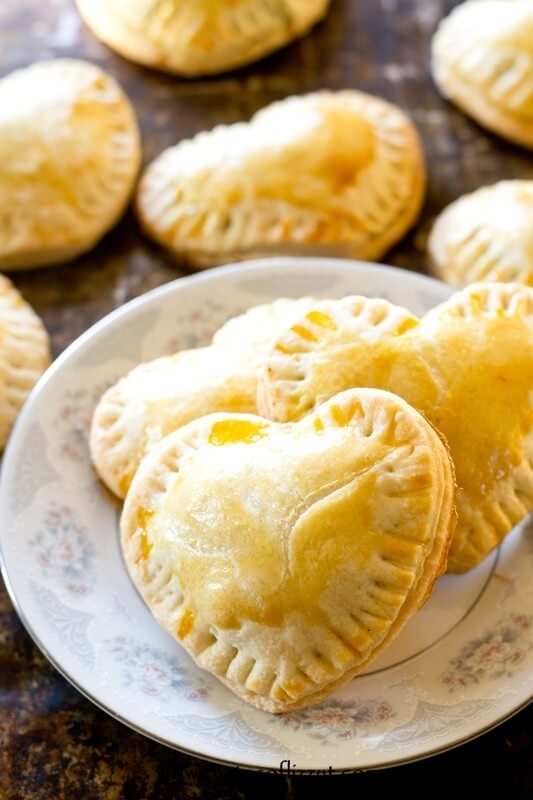 This chicken hand pies recipe is a perfect way to celebrate the upcoming holiday, and also provides a comforting meal for the upcoming storms we're supposed to get in February. Around where we live, they say that February is going to be the worst of this year's winter. I don't think anybody really knows when the snowstorms are coming, if they come at all, but I know that a comforting meal in the wintertime is one of my favorite things.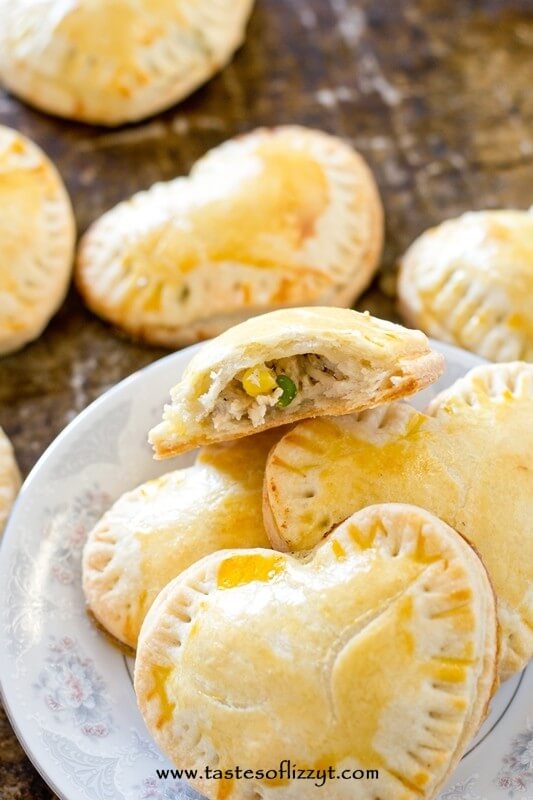 The hearts are really quite simple. If you'd like, you can make them even simpler by using store-bought pie crust. In our minds, homemade pie crust is totally worth the extra few minutes, but everybody needs a shortcut every now and then.
The filling is mostly veggies and chicken. Just use some mixed frozen veggies. Little carrots, peas and corn work the best.  For the chicken, you can cook a piece or two of chicken specifically for this purpose, or you can use leftover roasted chicken, which is what we did. It only calls for just under a cup of chicken, so it won't take much. Just make sure the chicken is in small pieces.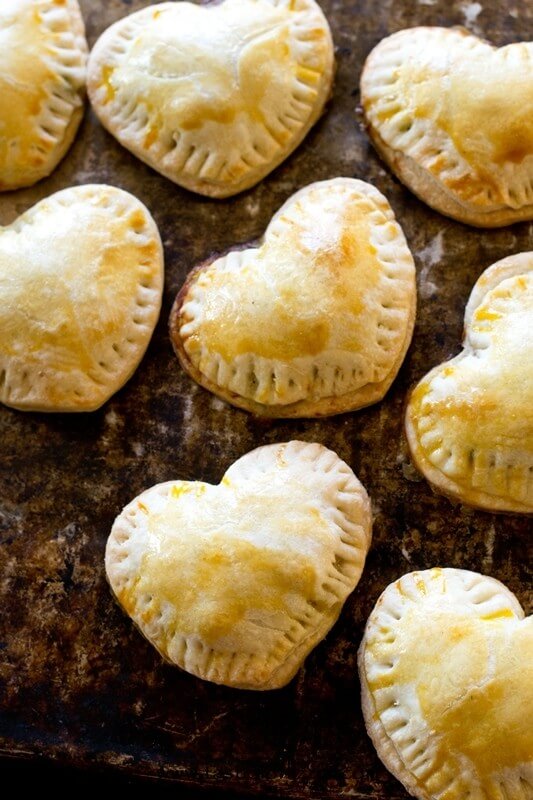 The key to making the chicken hand pies stay together is to do one simple thing. Cut out the hearts with a cookie cutter and put a tablespoon of the meat and vegetables on one heart, then place another heart on top. Use the tins of a fork to seal the edges together in a heart shape. That's really all it is. The filling won't seep out of your heart as long as you press your fork down firmly on the edges of the heart. You don't have to completely flatten the edges, though. Just press the edges together and trust the pie crust to stay together.
The number of chicken hand pies you get with this recipe really varies on how big your cookie cutters are and if you use homemade pie dough or store-bought crust.  We used our homemade pie dough recipe and got 12 hand pies that were about 3-4″ in diameter.  We had a bit of filling leftover, which the kids ate for lunch the next day.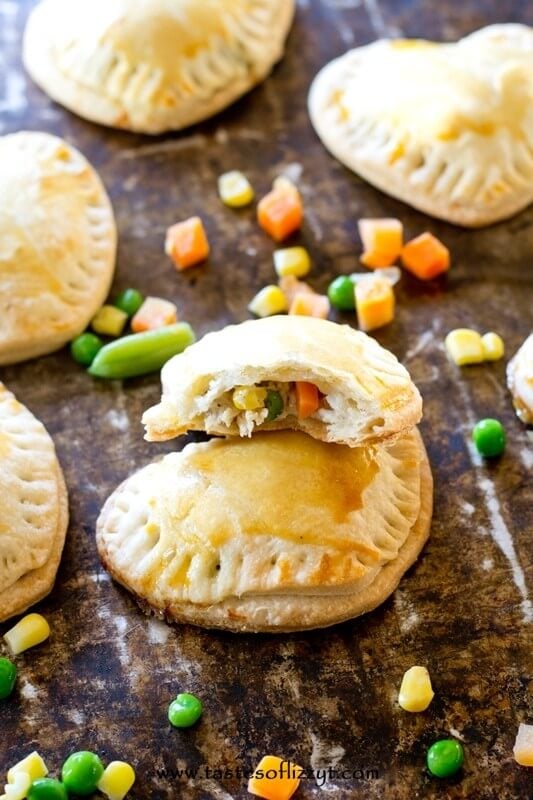 Since I've completely convinced you to make these special hearts for you and a loved one for Valentine's Day, now I have to convince you to make a delicious and chocolaty dessert, also. What I would suggest? Maybe snack cakes or homemade candy bars. Or, if you're a cherry lover, you would love these!
Whatever you choose, remember these chicken hand pie heart, as well. They are simply perfect for your special Valentine's Day meal!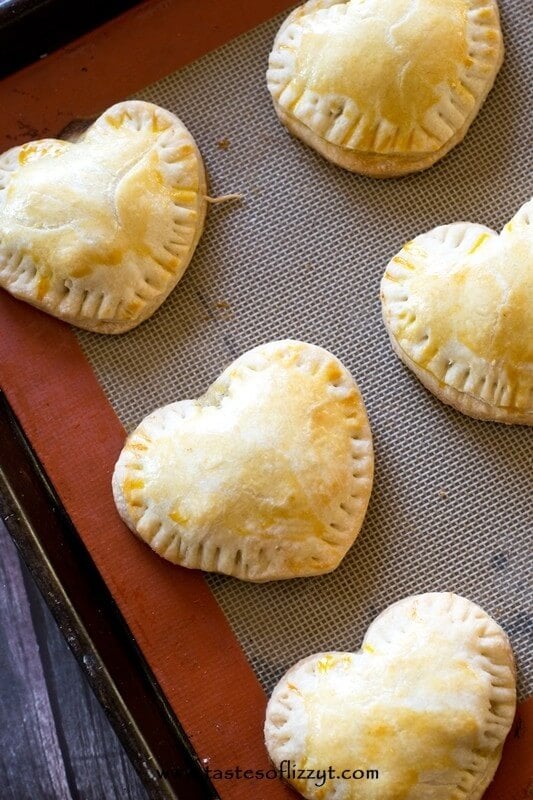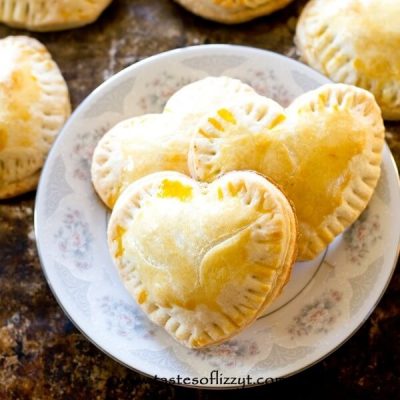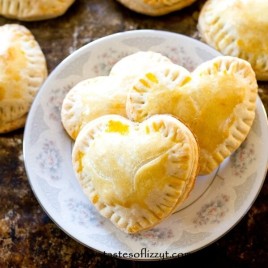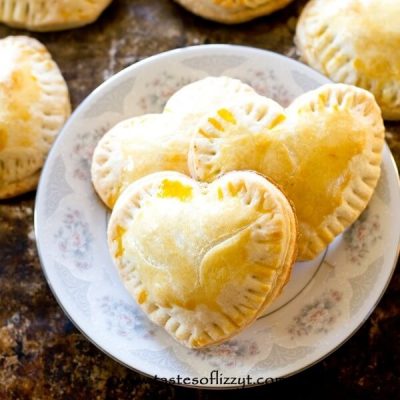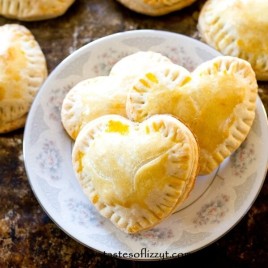 Sweetheart Chicken Hand Pies
Tender, flaky pie crust covering comforting chicken and veggies. Serve these kid-friendly Sweetheart Chicken Hand Pies to your loves this Valentine's Day!
---
Ingredients
2

tablespoons

butter

2

tablespoons

all-purpose flour

1

teaspoon

sage

1/4

teaspoon

salt

1/4

teaspoon

pepper

3/4

cup

cooked chicken

chopped in very small pieces

3/4

cup

chicken stock

3/4

cup

frozen mixed vegetables

thawed
Pie Crust:
3

cups

pastry flour

1

teapsoon salt

1/2

cup

shortening

1/2

cup

cold butter

1/2

cup

ice cold water

1

tablespoon

vinegar
Topping:
1

large

egg yolk

1

teaspoon

water
Instructions
Preheat the oven to 400 degrees. Lightly grease a baking sheet.

In a saucepan, melt the butter over medium-low heat. Add the flour, sage, salt and pepper and whisk until smooth. Stir in the chicken, chicken stock and vegetables. Cook and stir until the mixture is simmering. Reduce the heat to low and allow the mixture to simmer for 5.

For the pie dough, sift the flour and salt into a large bowl. Cut in the shortening and the butter until the mixture resembles coarse crumbs. Mix the water and vinegar together in a cup. Add the mixture to the crumbs. Mix together just until the dough is combined and handles well.

Sprinkle flour on the counter before rolling out the dough. Roll out the dough on a floured surface. Use a heart cookie cutter that is at least 3" in diameter. Make about 24 hearts, or as many as you can get from the dough.

Place half of the hearts on prepared baking sheets. Top each heart with a heaping tablespoon of chicken mixture. Cover with the remaining pie dough hearts.

Using the tins of a fork, press the edges together to seal.

In a small bowl, blend the egg yolk and water together. Use a pastry brush to brush the egg wash on the hearts.

Bake for 17-18 minutes, or until the hearts are golden brown.
Nutrition
Serving:
85
g
|
Calories:
267
kcal