Discover our family-friendly Chicken Romano recipe inspired by The Cheesecake Factory's favorite. Golden brown, crispy crusted chicken, perfect with spaghetti.
Our family loves to eat out. Reading dinner descriptions on menus has given me much inspiration for the kitchen. One such restaurant is The Cheesecake Factory. Their menu is massive (so many pages!) and this Crusted Chicken Romano is one that I can never turn down.
Dinner out prices have gone up, but you can recreate that same magic right in your home kitchen, just as we did when we started Tastes of Lizzy T. This Chicken Romano is simple enough for weeknight dinners, yet sophisticated enough to impress guests.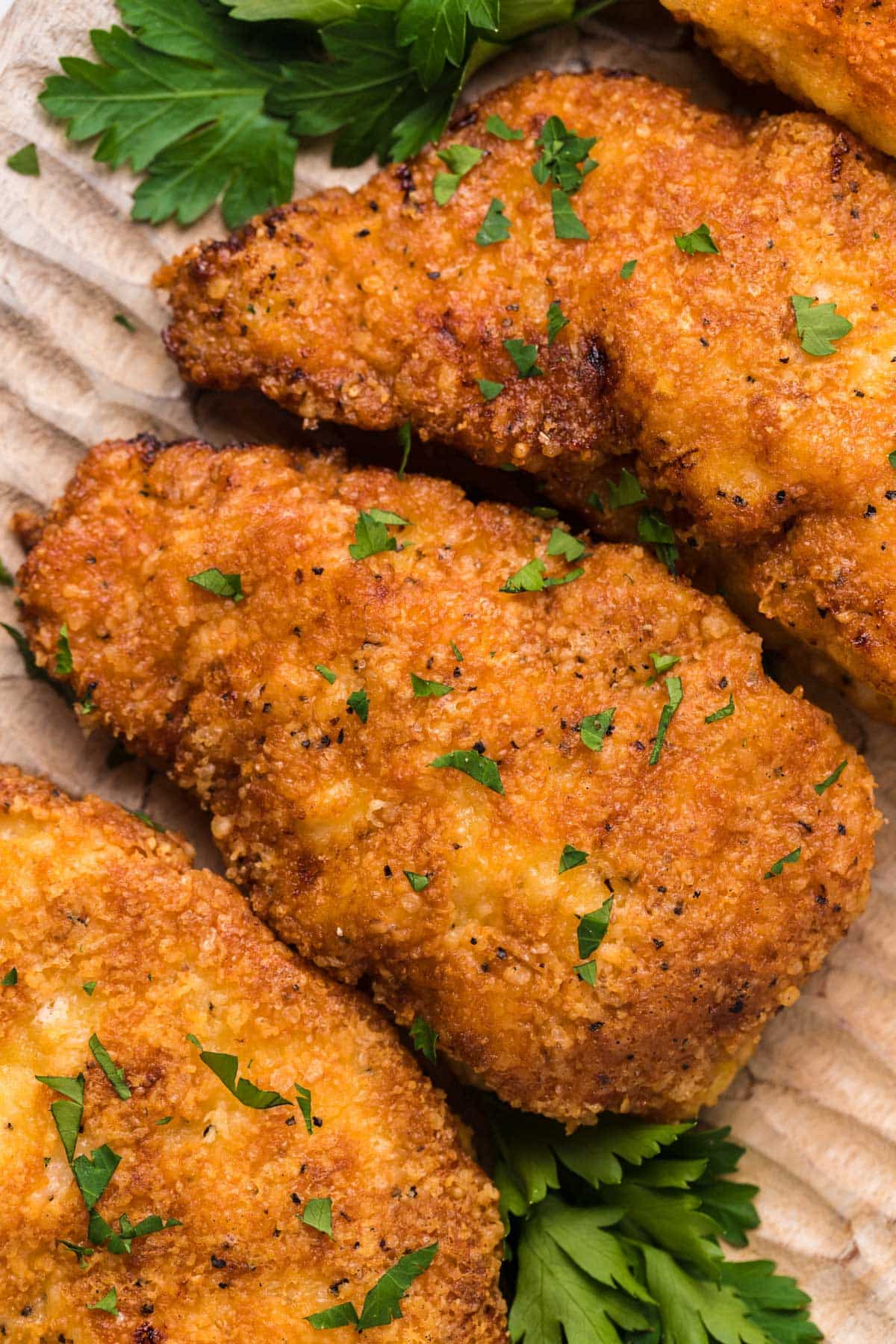 About this Chicken Romano Recipe:
Flavor: If you've ever had chicken parmesan, this recipe is similar. You'll get a savory cheesy flavor in every bite of this fried chicken.
Texture: This recipe is a wonderful mix of crispy Romano cheese crust combined with tender, juicy chicken.
Method: This chicken takes at least 2 hours to marinade, but by using thin-sliced chicken then cooks quickly in a skillet on the stovetop.
Choosing the Right Ingredients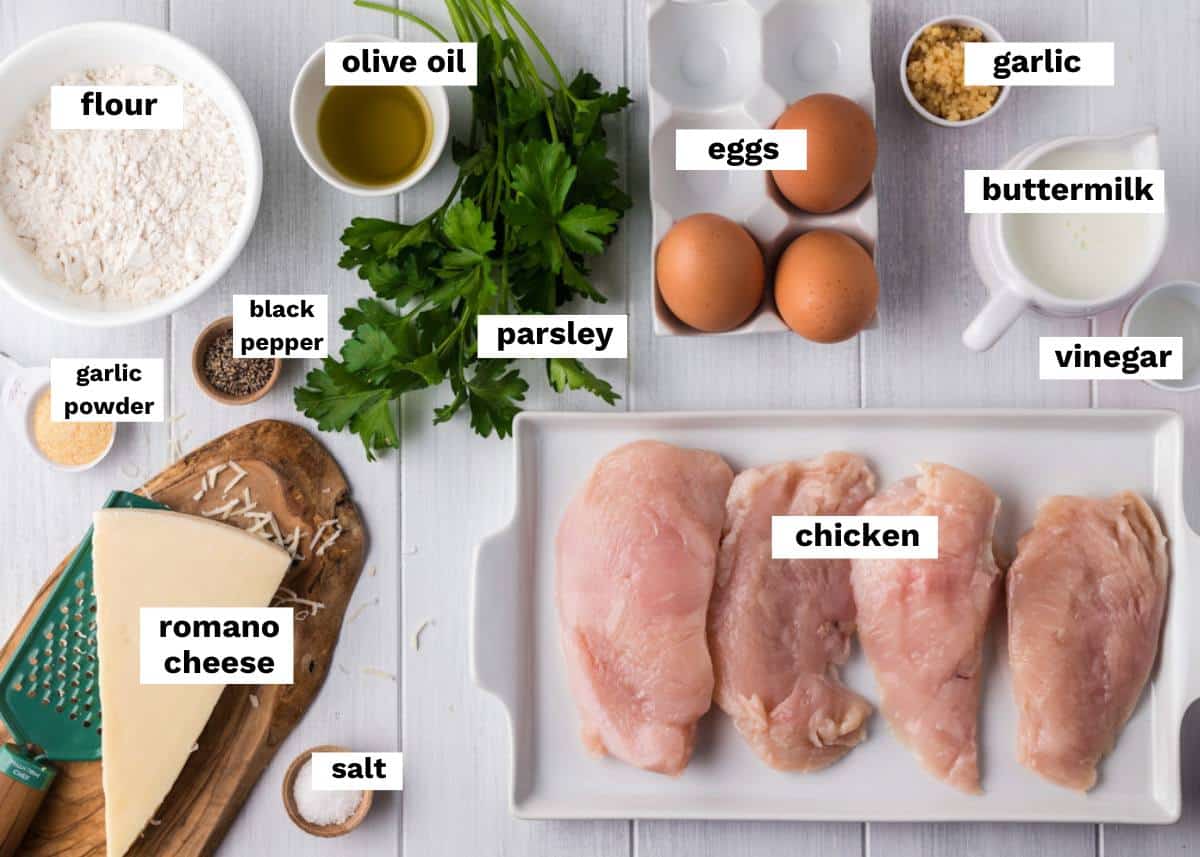 Fresh Chicken Breasts: Start with fresh, boneless, and skinless chicken breasts that are thin cut. Thin cut chicken will cut down on cooking time and also help you to not overcook the chicken which would make it dry. Use a different chicken cutlet if you'd like.
Pecorino Romano Cheese: The Italian Romano cheese, with its sharp and tangy taste, is what sets this dish apart. When choosing Romano, buy an 8-ounce block of cheese and grate it yourself rather than a packaged grated cheese. Freshly grated will get the best crust on the chicken and have mouthwatering flavor.
Role of Buttermilk: Buttermilk acts as a tenderizer. Its slight acidity breaks down the protein in chicken, making it softer and more flavorful.
Garlic: Fresh garlic in the buttermilk marinade and powdered garlic in the flour mix ensures that familiar garlic zest in every bite.
What is the difference between parmesan and romano cheese?
They are both hard cheeses, but parmesan cheese is made from cow's milk and Romano cheese is made from sheep's milk. Romano has a sharper flavor than Parmesan.
The Art of Dredging: Tips and Tricks
After marinating the chicken, the first step is to create a dredging station. Before beginning, have all your bowls and ingredients in line. This 'assembly line' setup ensures a smooth and efficient dredging process, reducing mess and cross-contamination.
The first bowl is a flour mix, then egg mixture, then the Romano cheese topping. Each one of these steps is important for creating a crispy crust.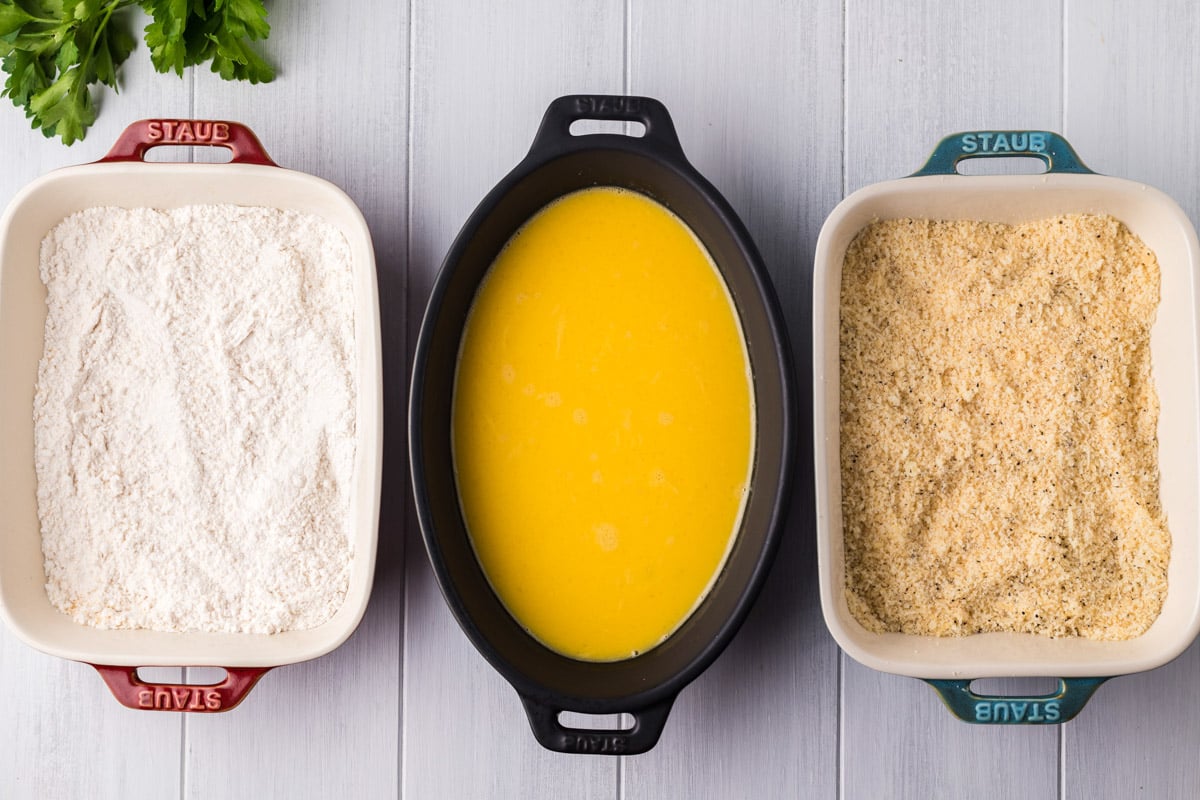 Perfect Crust Tips:
Flour Coating: Ensure chicken pieces are completely coated in the flour mixture. This dry layer helps the wet egg mixture adhere better.
Egg Dip: After the flour, ensure the chicken has a thorough egg bath. This acts as the glue for the cheese mixture.
Romano Crust: After the egg, press the chicken firmly into the Romano cheese mix, ensuring a thick, even coating. This gives that crispy, flavorful crust we crave.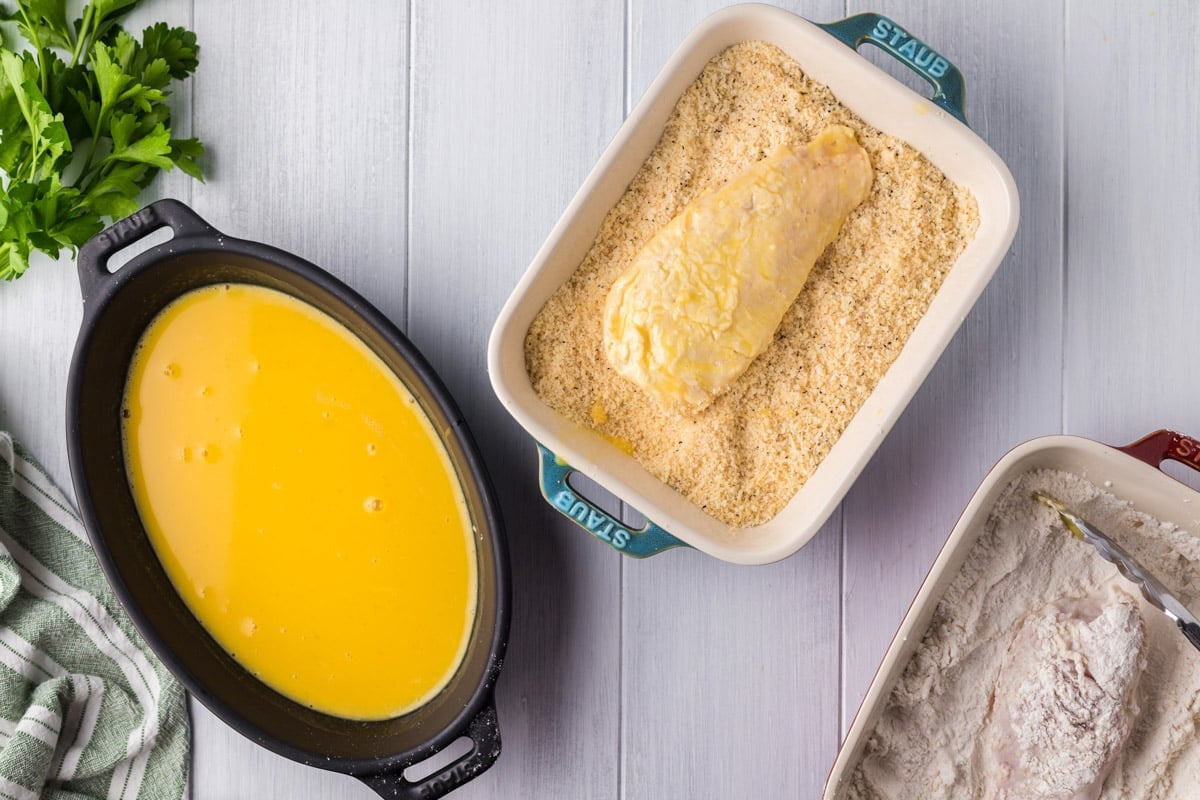 Keep it Crispy
The most important tip for keeping chicken crispy after it's fried is this:
When you take the chicken from the frying pan, place it on a wire rack with a pan, paper towels or parchment underneath to catch any drips. This will help keep the underside of the fried chicken crispy.
If you put the chicken on a flat plate or surface, it can sit in any excess butter, making the breading soggy.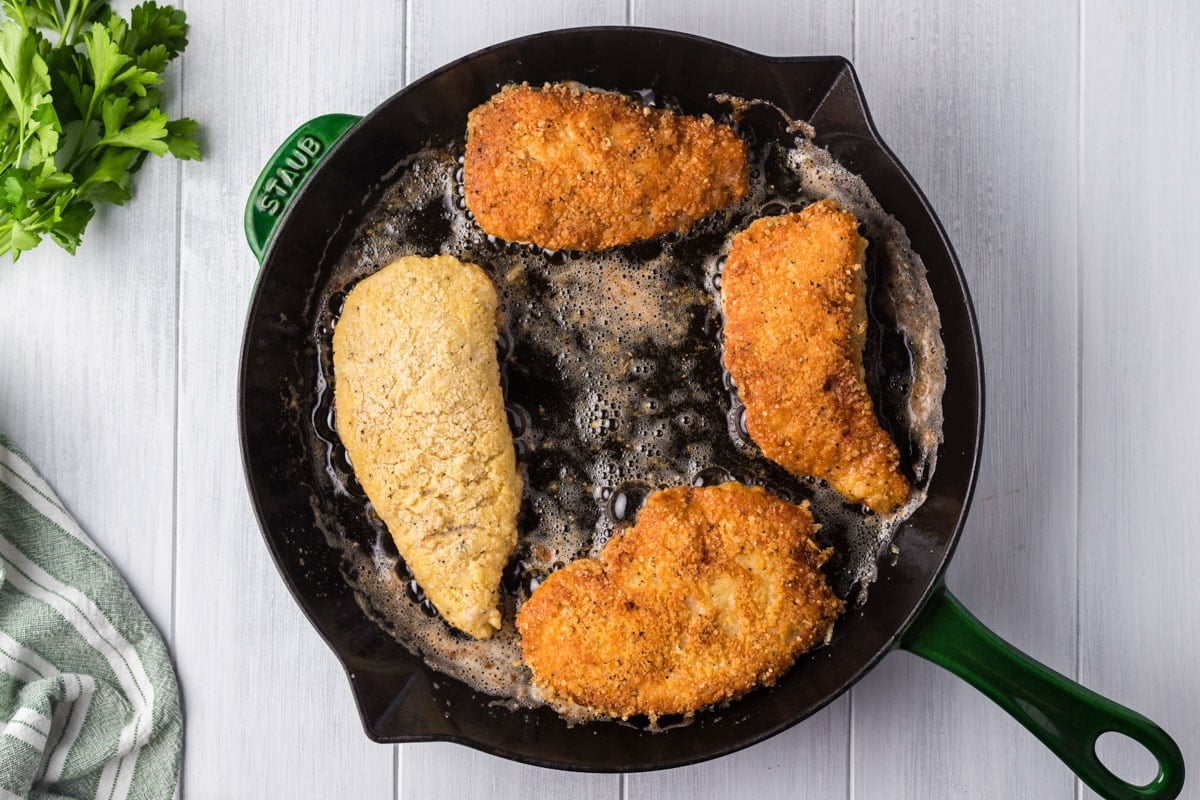 Love lemon? Try this unique twist.
Another of my favorite copycat dinners is our Margherita Chicken. This chicken has a lemon butter sauce that you drizzle over the chicken after it's cooked. If you love lemon, head over and grab that drizzle recipe and serve it on this chicken alongside some lemon wedges. You won't be disappointed!
Make it a meal.
Spaghetti with tomato sauce is the perfect complement to Chicken Romano. The neutral taste of pasta goes well with rich and tangy Chicken Romano. Choose spaghetti or your favorite pasta shape and a simple marinara sauce.
Here are a few other side dish options:
Garlic Bread: This buttery delight is perfect for mopping up any leftover sauce on the plate.
Steamed Veggies: Lightly steamed vegetables like broccoli or asparagus provide a fresh, crunchy contrast.
Caesar Salad: A light salad with creamy Caesar dressing can complement the dish's Italian vibes.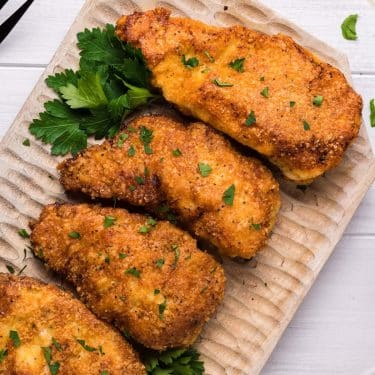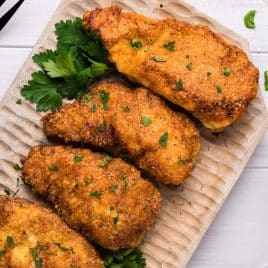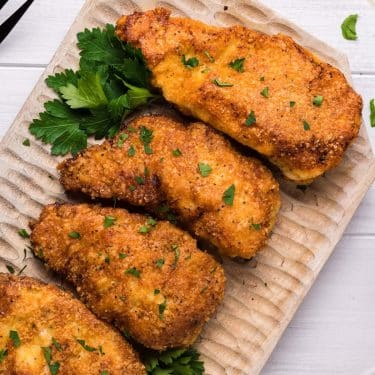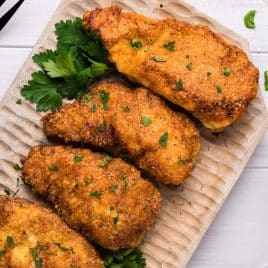 Chicken Romano
Discover our family-friendly Chicken Romano recipe inspired by The Cheesecake Factory's favorite. Golden brown, crispy crusted chicken, perfect with spaghetti.
Total Time
2

hours
30

minutes
---
Ingredients
For the chicken:
1 1/4

pounds

boneless skinless chicken breasts

thin sliced

1

cup

buttermilk

1

tablespoon

white wine vinegar

or lemon juice

2

tablespoons

minced garlic

1 ½

cups

all purpose flour

1

tablespoon

garlic powder

3

large

eggs

beaten

8

ounces

Romano cheese

grated

1

teaspoon

sea salt

1

teaspoon

coarse black pepper

1

tablespoon

freshly snipped parsley

for garnishing
Instructions
In a Ziplock bag or pan, whisk together the buttermilk, vinegar and garlic. Add the chicken and turn to coat, then marinate in the refrigerator for 2 hours.

1 ¼ pounds boneless skinless chicken breasts

,

1 cup buttermilk

,

1 tablespoon white wine vinegar

,

2 tablespoons minced garlic

Heat a large skillet with olive oil over medium high heat.

2 tablespoons olive oil

Next, create a dredging station. Combine flour and garlic powder in a shallow bowl.

1 ½ cups all purpose flour

,

1 tablespoon garlic powder

In a second bowl, whisk the eggs and 2 tablespoons of buttermilk from marinade.

3 large eggs

In a third bowl, add the grated Romano, salt, and pepper.

8 ounces Romano cheese

,

1 teaspoon sea salt

,

1 teaspoon coarse black pepper

Remove chicken from marinade and allow excess to drip off. Dredge the chicken in the flour, thoroughly coating. Then, dip the chicken in the eggs. Next, coat the chicken in Romano cheese. Press cheese into the chicken to adhere.

Work in batches and pan fry the chicken until golden brown, about 2 minutes per side. The timing will depend on the thickness of the chicken. The internal temperature of the chicken should be 165ºF.

Remove the chicken and place onto a wire rack lined baking sheet until ready to serve. The wire rack allows any excess oil to drop off, keeping the chicken crispy until you're ready to serve it.

Garnish with fresh parsley and serve with a side of spaghetti.

1 tablespoon freshly snipped parsley
Notes
Make this recipe gluten-free by using all-purpose gluten free flour. 
If you don't have buttermilk on hand, use cream and add 1 teaspoon of lemon juice or vinegar per cup of cream. This is a great substitute for buttermilk.
Refer to the article above for more tips and tricks.
Please note: The calories will be lower than what is shown, since much of the dredging station and buttermilk from marinating will be thrown away.
The calories shown are based on the recipe making 4 pieces of chicken, with 1 serving being 1 piece of chicken. Since different brands of ingredients have different nutritional information, the calories shown are just an estimate. **We are not dietitians and recommend you seek a nutritionist for exact nutritional information. The information in the nutrition box are calculated through a program and there is room for error. If you need an accurate count, I recommend running the ingredients through your favorite nutrition calculator.**
Nutrition
Calories:
718
kcal
|
Carbohydrates:
44
g
|
Protein:
60
g
|
Fat:
32
g
|
Saturated Fat:
14
g
|
Polyunsaturated Fat:
3
g
|
Monounsaturated Fat:
13
g
|
Trans Fat:
0.03
g
|
Cholesterol:
296
mg
|
Sodium:
1546
mg
|
Potassium:
798
mg
|
Fiber:
2
g
|
Sugar:
4
g
|
Vitamin A:
580
IU
|
Vitamin C:
3
mg
|
Calcium:
717
mg
|
Iron:
4
mg