Iced Chocolate Shortbread Cookies
Tastes of Lizzy T participates in affiliate advertising programs. We may earn a commission when you make a purchase through links on our site.
Chocolate lovers will flip for these 6-ingredient, egg-free, chocolate shortbread cookies with a melted chocolate topping. Sprinkle with holiday sprinkles!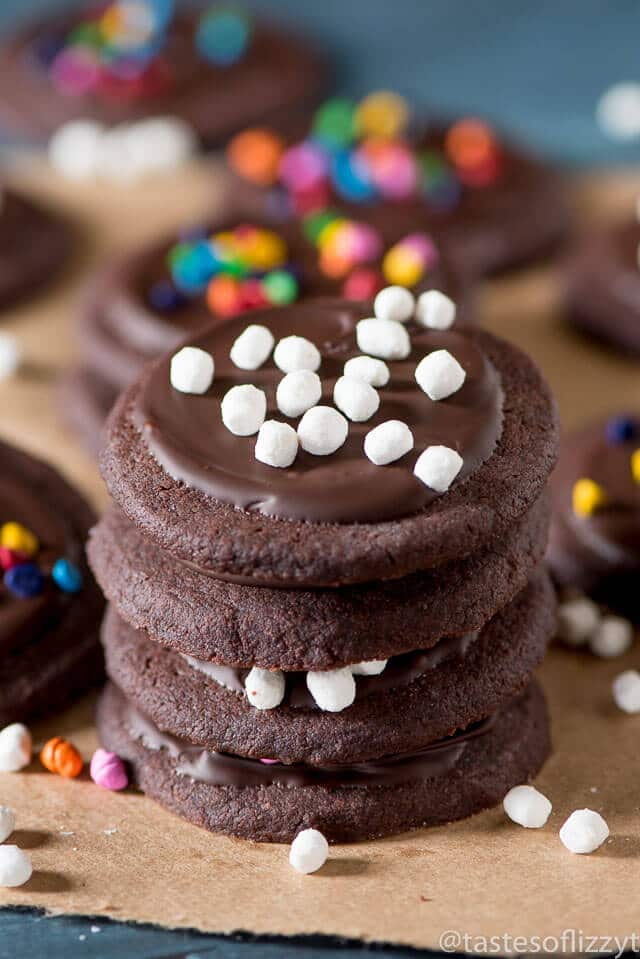 When the cookie craving hits, it hits hard.
Normally I'm all about thick, chewy cookies. It's my goal to make share with you our tricks for getting our cookies just that way. Whether it is butter or oatmeal or chilling the dough, many factors can go into getting the best cookie.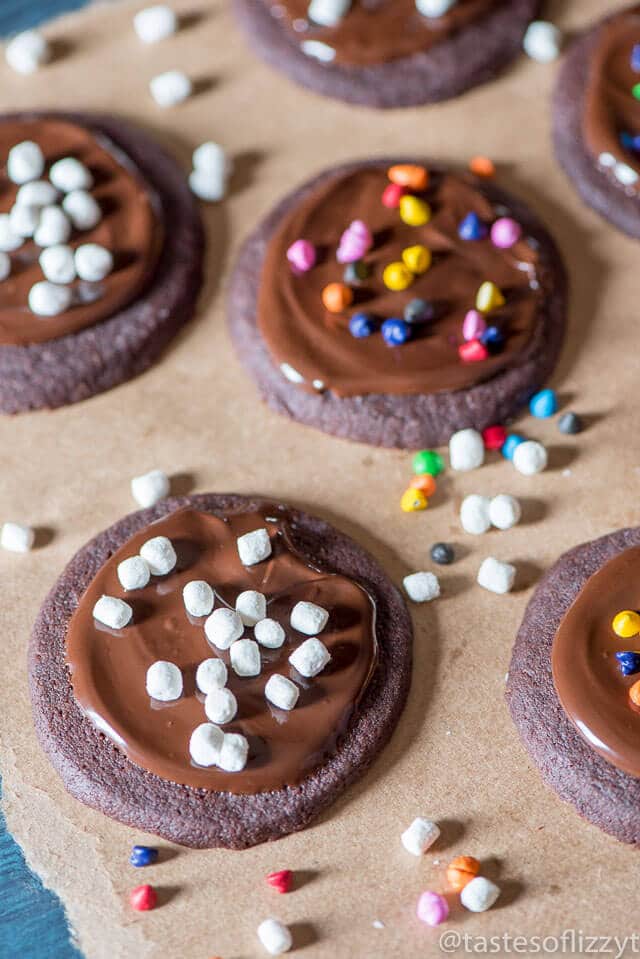 The chocolate shortbread cookies today are just a little bit different than my normal cookie. Instead of a thick, chewy cookie, these are thinner, buttery and melt in your mouth. Kind of like a wafer cookie. They have an intense, yet simple chocolate flavor. Does it even make sense to be intense, yet simple?
But that's what these cookies are.
The butter and powdered sugar work together to make the chocolate wafer cookies melt in your mouth.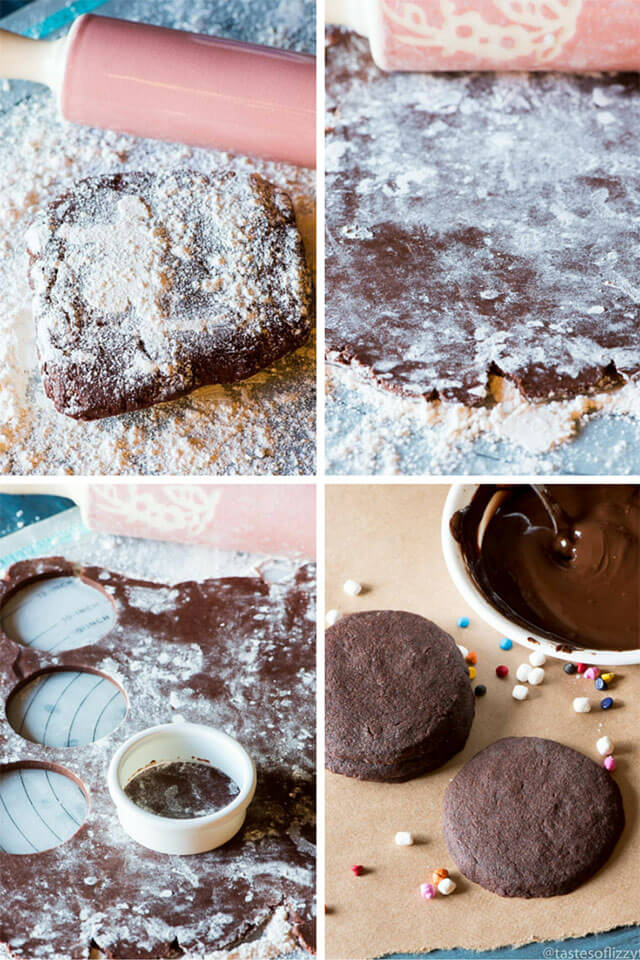 What is the best cocoa powder to use?
I truly wish I had the answer to this. For this recipe, I used raw cacao powder. I researched the difference between cacao powder, cocoa powder and dutch processed cocoa powder. And there are just as many opinions out there about which is best and how to use them as there are articles explaining the differences between the powders.  I'm not super sophisticated when it comes to baking. I do know that I really never buy dutch-process cocoa. I use raw cacao powder and cocoa powder interchangeably. And we're talking chocolate here so you know it is going to be good. If you want to read an explanation of cocoa powders, there's a good one here.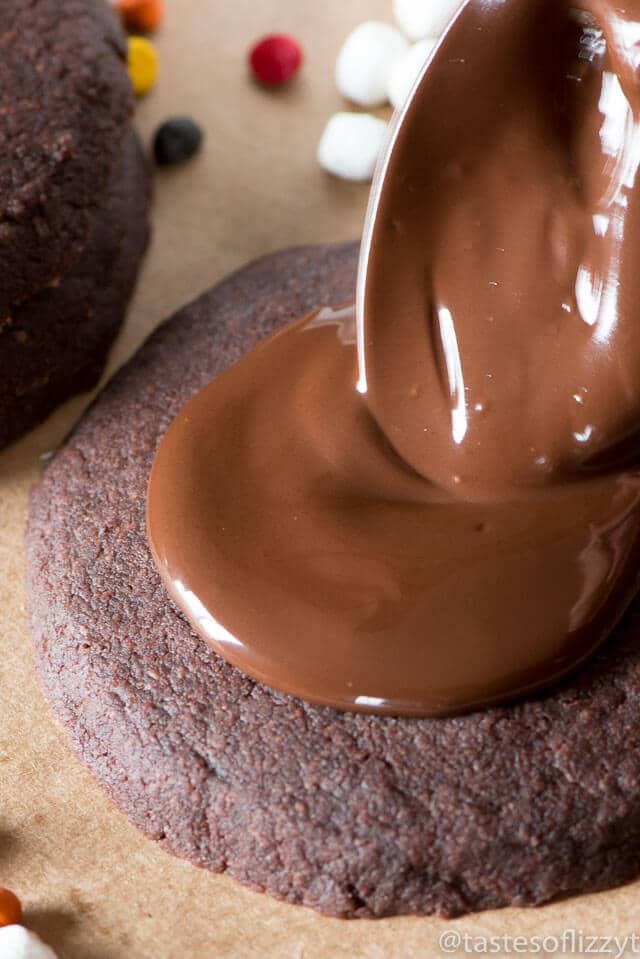 When you make these chocolate shortbread cookies, it's important to plan ahead because the dough needs to chill for at least 2 hours before baking. Right after you mix the dough it will be very soft. Put the dough on a piece of plastic wrap and wrap it up. Flatten it a little form a disc and refrigerate. The dough will get firm as it refrigerates, making it easier to roll out.
Be sure to use a decent amount of flour when you roll out the dough. It's a soft, sticky dough. Put flour down on your pastry mat and sprinkle the top of the dough with more flour. Then roll, adding flour to the top as needed.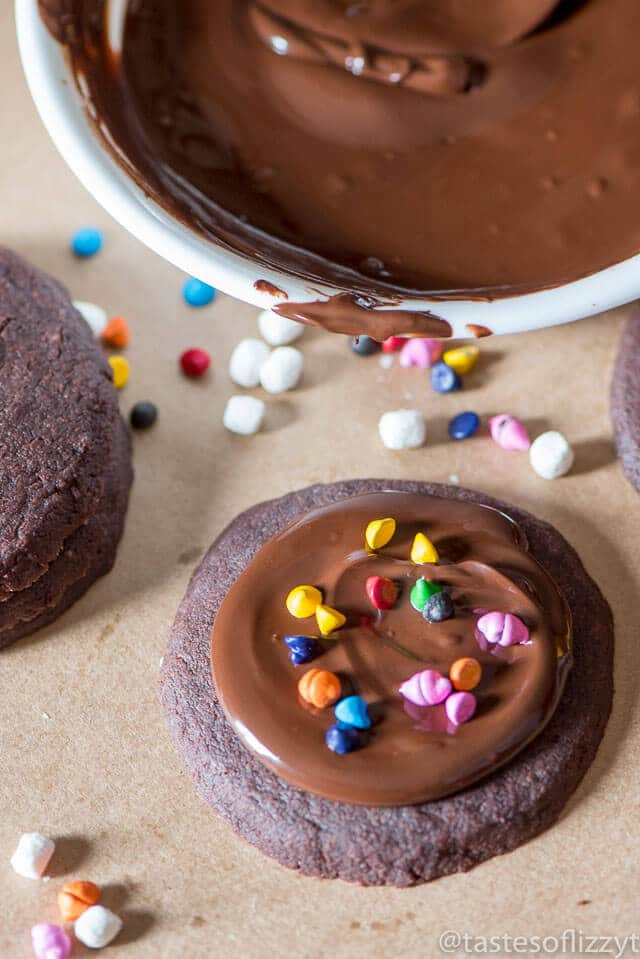 I used a simple circle cookie cutter that was about 2 ½ inches in diameter. I got 20 cookies with this cutter. The amount of cookies you get will depend on how thick you roll the dough (I rolled mine to about ¼ of an inch) and how big your cookie cutter is.
If you're not baking the cookies right away, pop the cookie sheet into the fridge so the dough stays as cold as possible.
Just a side note…if you are wanting strict shapes for your cookies, this is not the best recipe to use. Because of their soft texture, the cookies will expand just a little bit. Simple shapes work the best for this recipe.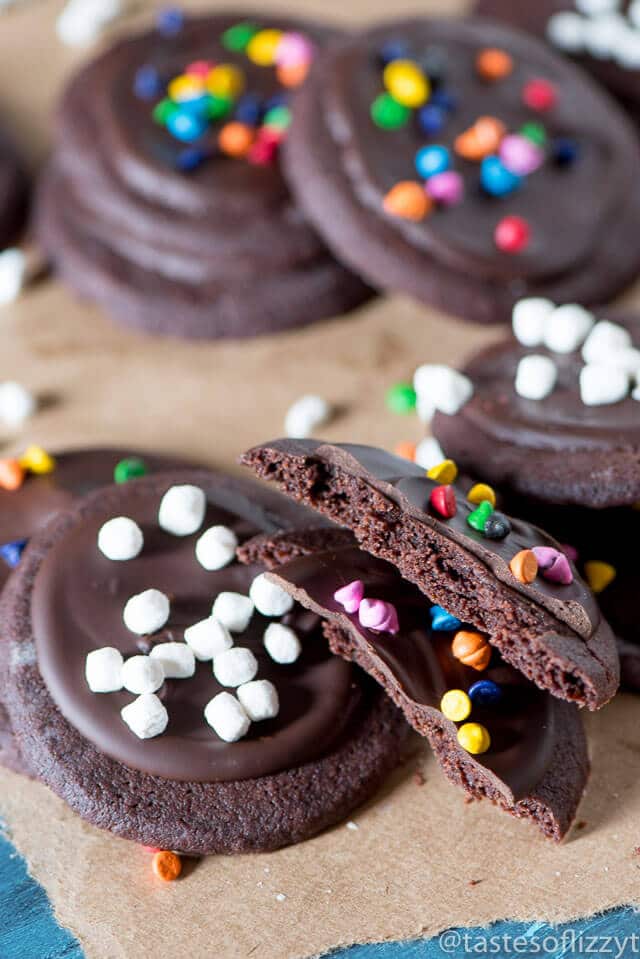 Bake the cookies on a baking mat at 325 degrees for 12-15 minutes. Again, the exact time will depend on how thick your cookie dough is and how large your cookies are. Just watch them carefully and don't allow them to get crispy on the edges if you want them to have a soft texture.
Because the chocolate shortbread cookies were so simple, I wanted to top them with some extra chocolate and the simplest way to do that was with melted chocolate chips. I chose this over frosting so that the chocolate would set and the cookies would be stackable. Wouldn't they be cute with melted white chocolate? Or you could use any color of Wilton candy melts to fit whatever occasion or holiday is near.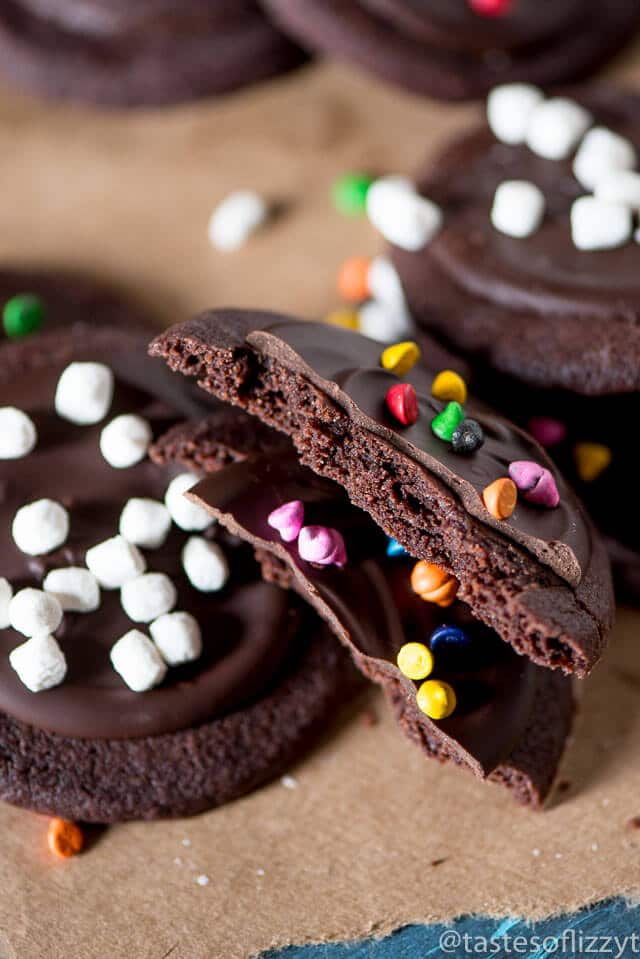 Melt the chocolate chips in the microwave in 20 second intervals, mixing each time until the chocolate is smooth. Then spoon the chocolate on top of the cookies. Sprinkle right away with sprinkles if you'd like!
These chocolate shortbread cookies are great dipping cookies. Dip them in milk, in coffee or in hot chocolate.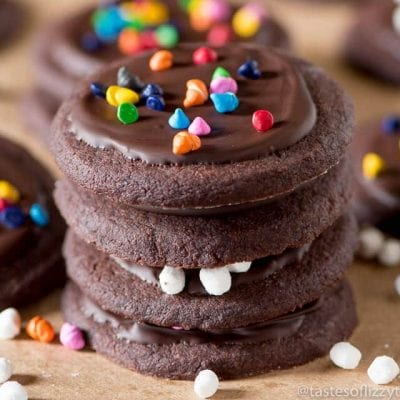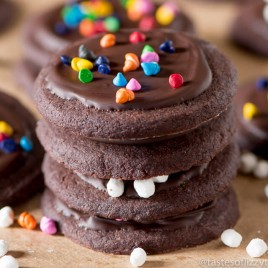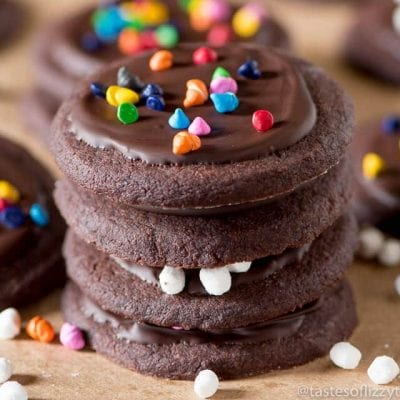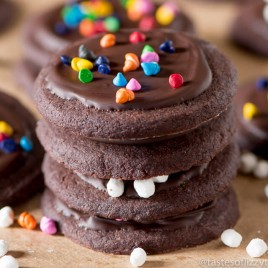 Iced Chocolate Shortbread Cookies
Chocolate lovers will flip for these 6-ingredient, egg-free, chocolate shortbread cookies with a melted chocolate topping. Sprinkle with holiday sprinkles!
---
Ingredients
3/4

cup

salted butter

softened

¾

cup

powdered sugar

2

teaspoons

vanilla extract

¼

cup

dutch process unsweetened cocoa powder

2

tablespoons

cornstarch

1

cup

all-purpose flour

¾

cup

dark chocolate chips

for frosting
Instructions
In a medium bowl, cream together the butter and powdered sugar with an electric mixer. Add vanilla and beat again.

In another bowl, combine the cocoa powder, cornstarch and flour. Mix with a wire whisk to break up any clumps.

Add the cocoa mixture to the butter mixture and mix on low speed just until completely combined.

Place the dough onto a piece of plastic wrap. Wrap the dough and press down slightly to flatten.

Refrigerate the dough for at least 2 hours.

Preheat the oven to 325 degrees.

Roll the dough out on a floured surface (flouring the top of the dough as needeto 1/4" thick. Use cookie cutters to cut shapes and place the shapes on a cookie sheet lined with a baking mat.

Bake immediately for 12-15 minutes.

Allow the cookies to cool for 2-3 minutes, then transfer them to a flat surface to cool completely.

Melt the chocolate chips in a microwave safe bowl in 20 second intervals. Stir each time, lowering the time to 10 seconds as the chips start to melt. Do this until the chocolate is completely smooth, being careful not to overheat the chocolate.

Spoon the melted chocolate on the tops of the cookies.

Sprinkle with sprinkles if desired.

Allow the chocolate to set completely, then store the cookies in an airtight container.
Nutrition
Serving:
28
g
|
Calories:
142
kcal
|
Carbohydrates:
14
g
|
Protein:
1
g
|
Fat:
9
g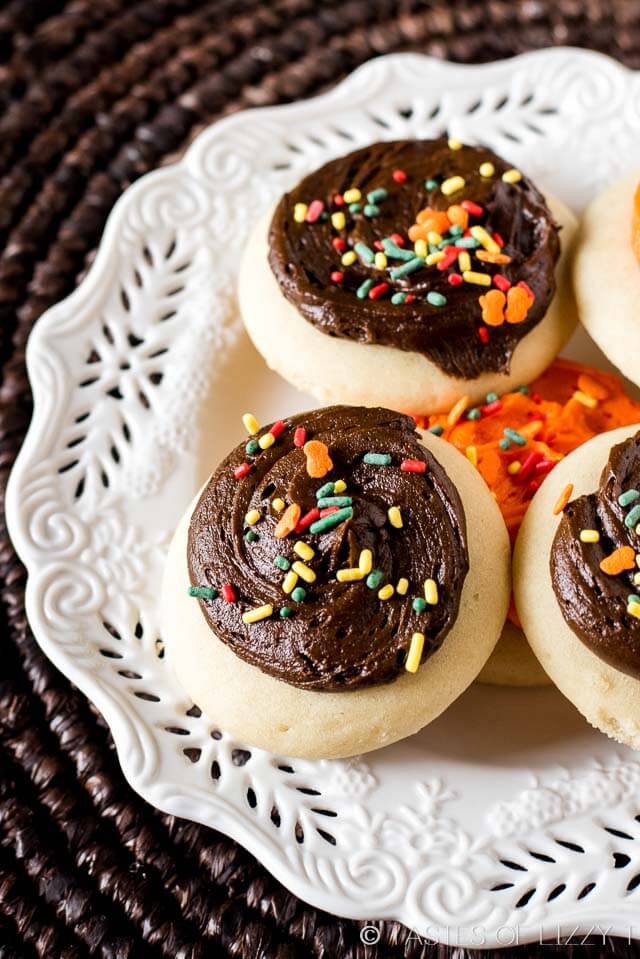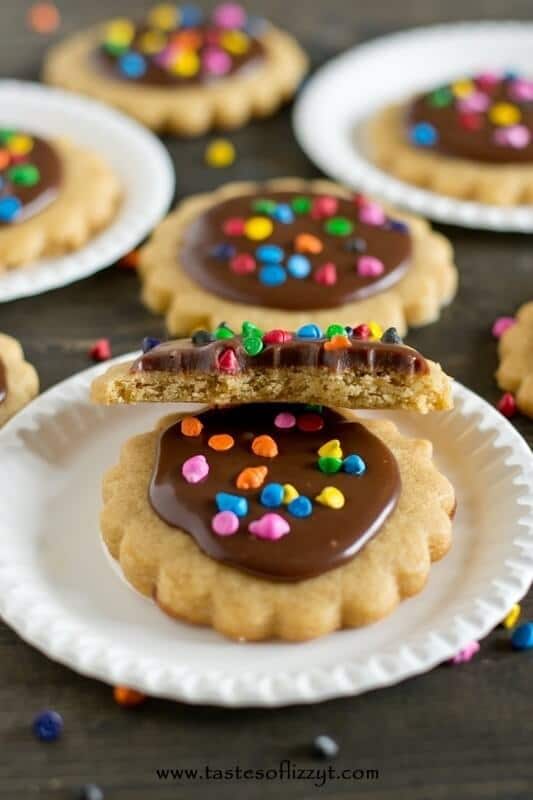 Chocolate Shortbread with Chocolate Buttercream Frosting