Nutella Stuffed Pretzel Doughnuts
Tastes of Lizzy T participates in affiliate advertising programs. We may earn a commission when you make a purchase through links on our site.
A simple pretzel mix gets transformed into these baked Nutella Stuffed Pretzel Doughnuts. Soft, chewy pretzels with sugar-coating and a Nutella center. The ultimate in breakfast treats.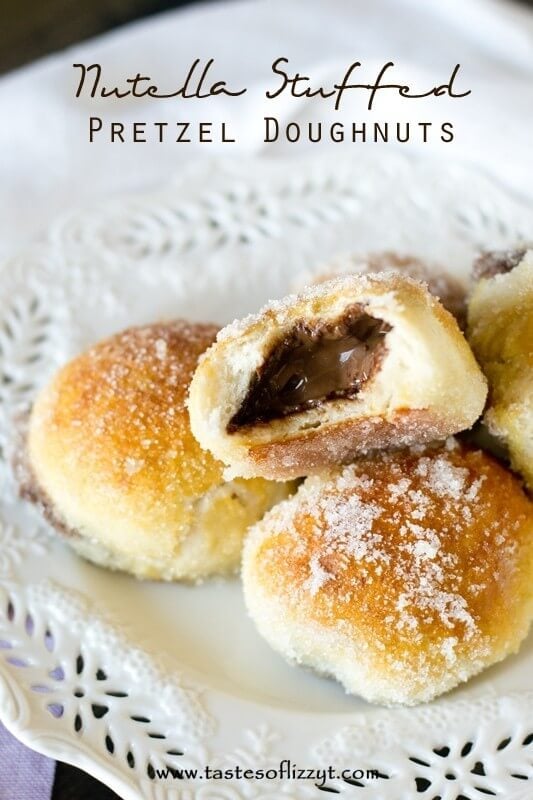 Today is a special day! My youngest daughter, Kinslee, loves pretzels. We had the opportunity to try these handy little pretzel mixes called Fleischmann's Simply Homemade Pretzel Creations. They're the perfect mix for kids to have fun with because they are so easy! Kinslee whipped up these little sugar-covered baked doughnuts in no time at all. I love baking with my kids and am glad that Kinslee has started enjoying cooking, too!
Without further ado…here's Kinslee!
Mother's Day is coming up and I wanted to make some delicious Nutella Stuffed Pretzel Doughnuts that would be easy for kids to make with their moms. My mom loved making them with me and thought they tasted amazing. They were chocolatey, soft but chewy, and buttery. The first bite tasted like a pretzel, but the second bite tasted like a Nutella-filled doughnut. I don't like donuts all that much, but these were soooooo good!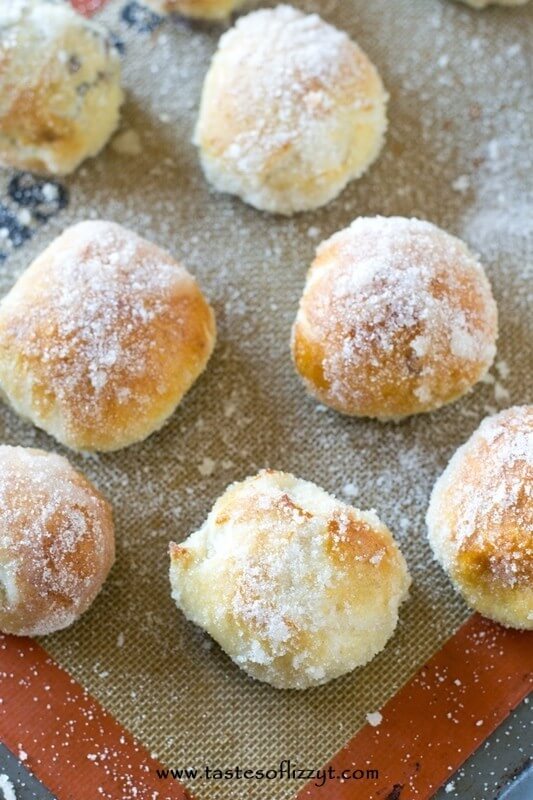 The baked pretzel doughnuts were bigger than bite-size, but not too big. They were about the size of a hacky-sack.
Making these little treats are easy and fun.  We started with this Simply Homemade Baking Mix for pretzels. Now, these pretzels are delicious made as they are shown on the box. But we decided to make them into a breakfast treat this time!
First, you just add the pretzel mix, yeast, oil and water to a bowl.  Mix it together well. You might have to knead it with your hands to get all of the flour off the bottom of the bowl. Kids will like this part because it is kind of like playing with Play-doh!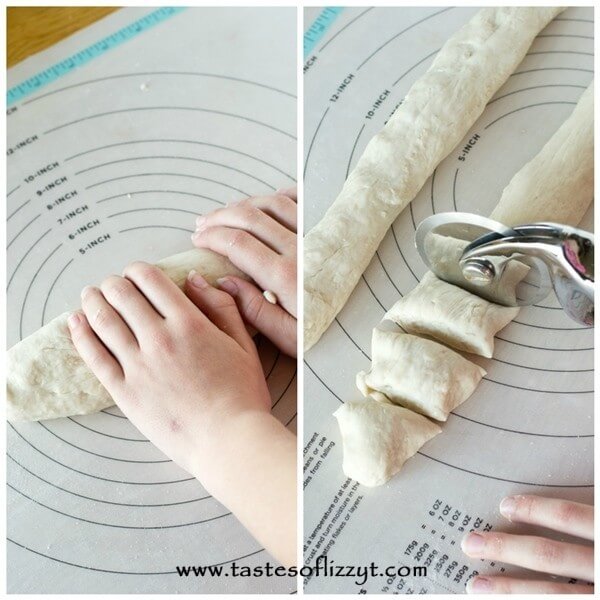 Once it is all mixed, let it rise for 25 minutes.
Then I rolled the dough into two snakes and used a pizza roller to cut it into 1-1/2″ slices.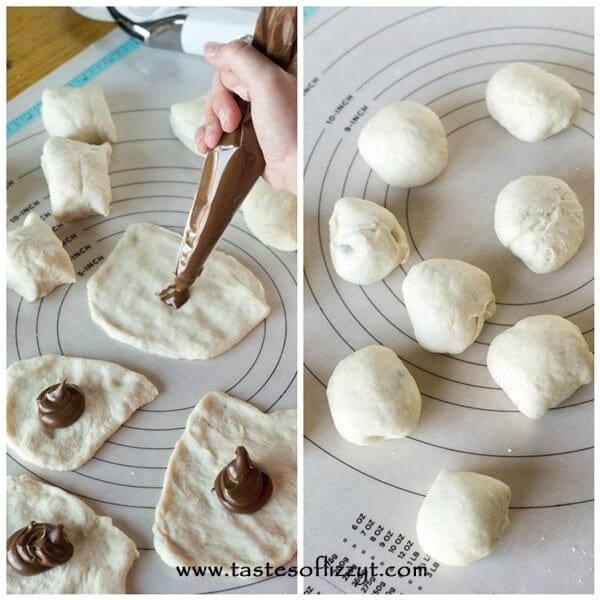 This part is especially fun. You press out the little bite-sized dough balls. Next, fill an icing bag or a Ziploc bag with the tip cut off with Nutella.  Squeeze Nutella out on the dough.  You can see in the picture about how much Nutella we put on our dough. It was a dollop about the size of a quarter. Next, fold the dough around the Nutella. Make sure the dough is tight around the Nutella and is not oozing out. Press the seams of the dough ball to close them completely.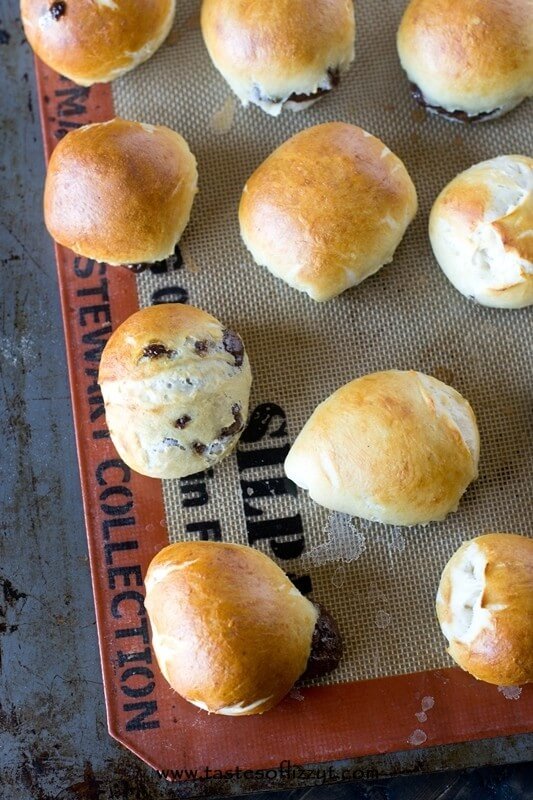 Then you'll bake the doughnuts at 400 degrees for 12 minutes. They'll come out golden brown.
You can see that some of these are oozing out Nutella, but it's okay! They still taste good!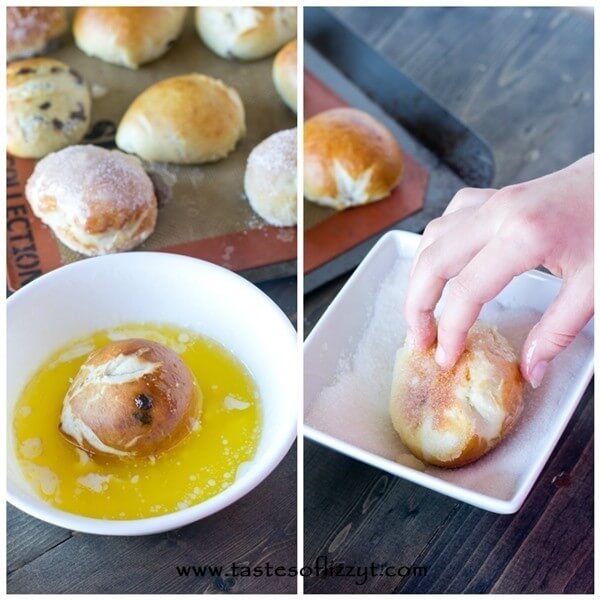 After that is done, you roll the baked doughnut in a bowl of melted butter then right away roll it in sugar.
There they are! Delicious looking Nutella Stuffed Pretzel Doughnuts! My mom loved these and I know she'd love them again for Mother's Day breakfast. And kids will love making them like I did!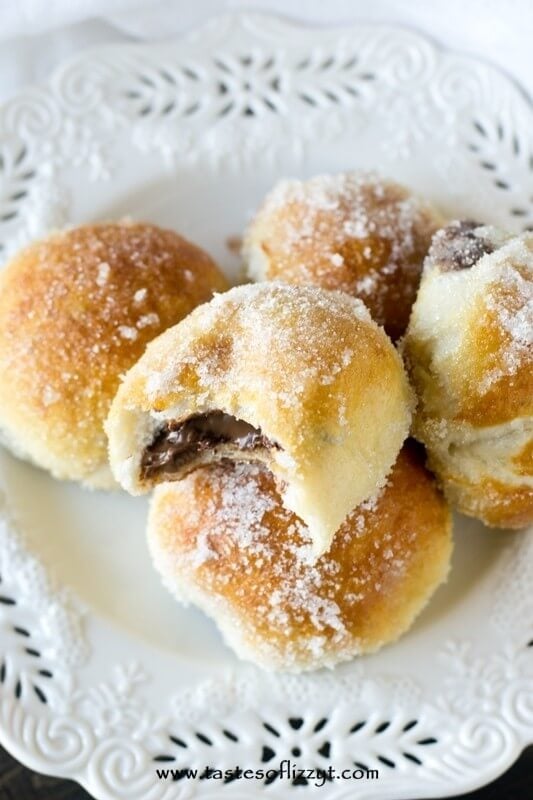 Thanks for reading!   -Kinslee
What I used to make this recipe:
Artisan Non-Stick Baking Mat
Non-Stick Pastry Mat
Disposable Pastry Bags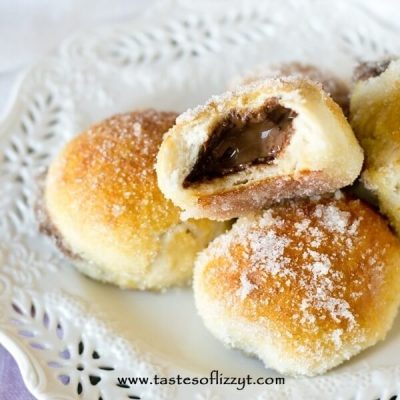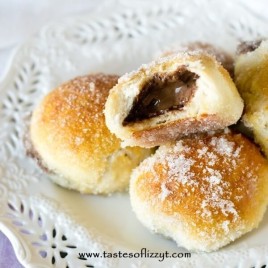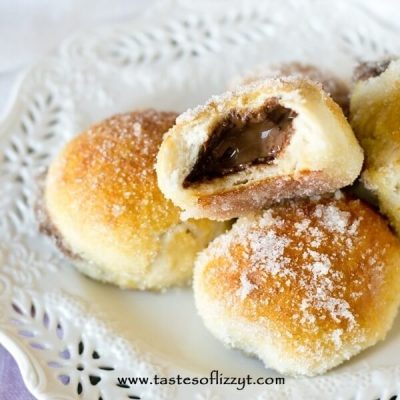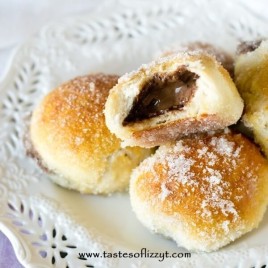 Nutella Stuffed Pretzel Doughnuts
A simple pretzel mix gets transformed into these baked Nutella Stuffed Pretzel Doughnuts. Soft, chewy pretzels with sugar coating and a Nutella center.
---
Instructions
In a medium-size bowl, prepare the pretzel dough according to the directions on the box.

Allow the dough to rise 25 minutes as directed.

Preheat the oven to 400 degrees.

Put a pot of water (about 3 quarts) on the stove to boil.

Split the dough in two pieces.

On a lightly greased or non-stick surface, roll each piece of dough into a snake about 1-1 1/2" in diameter. Using a knife or pizza cutter, cut the snack into 1-1 1/2" pieces, making about 15 pieces of dough.

Flatten each dough ball with the palm of your hand until it is about 1/4" thick.

Spoon the Nutella into a disposable frosting bag or Ziploc bag. Cut about 1/2" of the tip of one the bag (or one of the corners of the Ziploc bag).

Squeeze a dollop of Nutella into the center of each flattened piece of dough, The Nutella dollop should be about the size of a quarter.

Fold each dough ball together, completely covering and enclosing the Nutella. Roll it into a ball and pinch any seams closed.

Place each dough ball in the boiling water for 10 seconds, then remove them and place them on greased baking sheet.

Bake at 400 degrees for 12 minutes, or until golden brown.

Melt 1 stick of butter in a small dish.

Place the 1 cup of sugar in a separate small dish.

Once the pretzel doughnuts are cool enough to touch, dip each ball in the butter and turn to coat it, then place it immediately in the bowl of sugar and turn to coat.

These are best served warm, but are good later, too!
Nutrition
Calories:
289
kcal
|
Carbohydrates:
43
g
|
Protein:
3
g
|
Fat:
11
g
|
Saturated Fat:
8
g
|
Cholesterol:
17
mg
|
Sodium:
303
mg
|
Potassium:
87
mg
|
Fiber:
1
g
|
Sugar:
21
g
|
Vitamin A:
190
IU
|
Calcium:
25
mg
|
Iron:
1.8
mg