Puff Pastry tuna empanadas are great for parties and family gatherings! These puff pastry pockets filled with delicious tuna filling are very easy to make.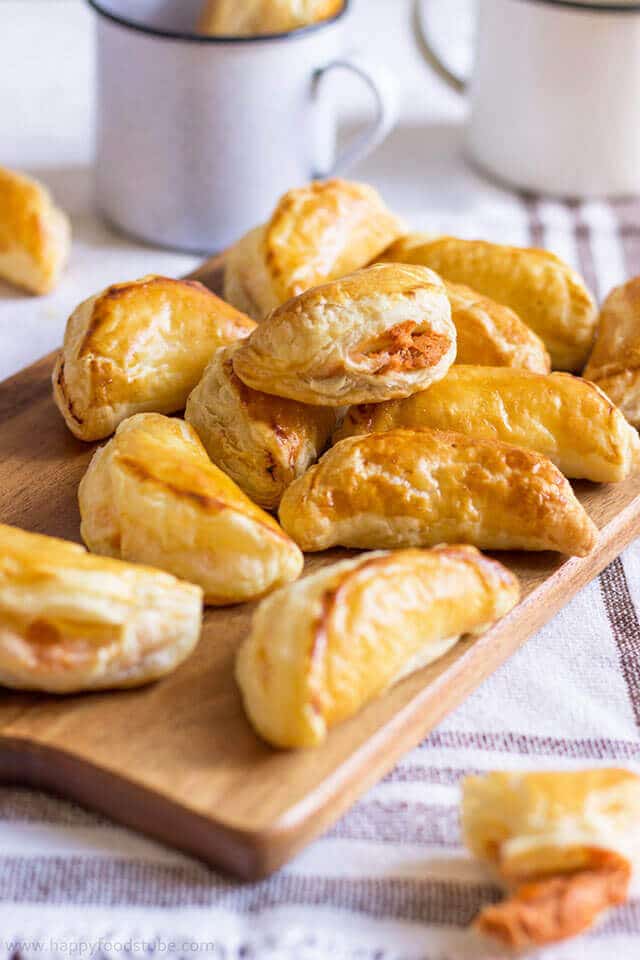 Hi guys, I am Julia from HappyFoods Tube blog! This is my first post here and I am super excited about it! I am sharing with you these tuna puff pastry empanadas! They are one of my favorite snacks!
These tuna empanadas taste amazing whether they are warm or cold! I made two batches in one day and they were gone shortly after I took photos of them! Well, to be perfectly honest I shoveled half of them into my mouth the minute they were cooled down a bit, so no wonder there. But they were so good! I just couldn't resist!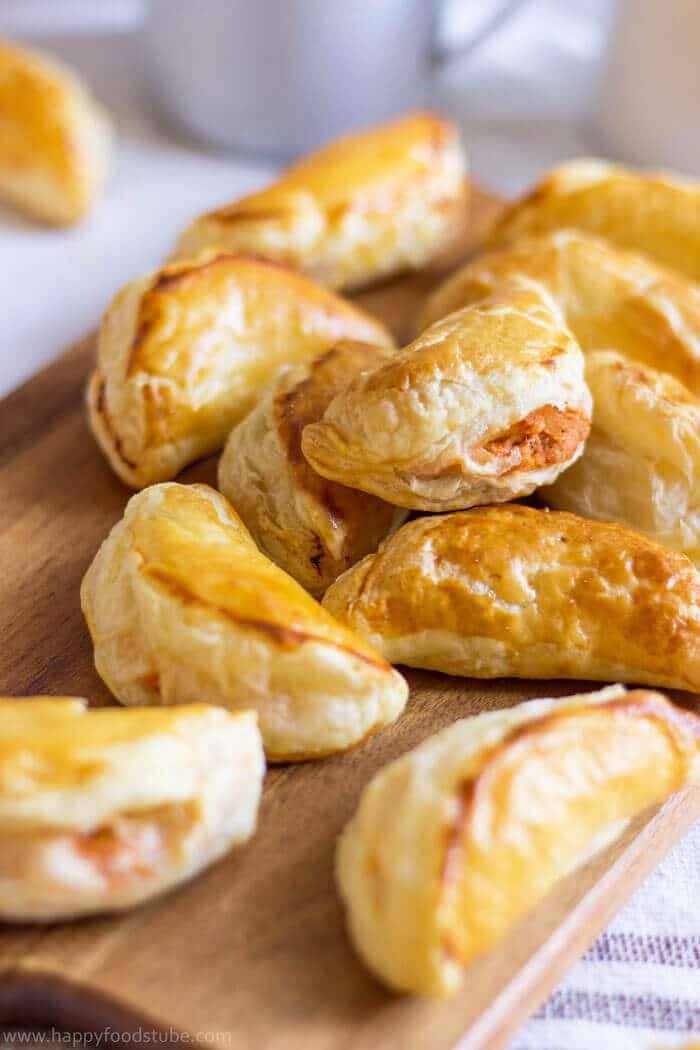 When I decided to make these empanadas I knew right then I wanted an easy and fast recipe. And guys, this is it! I used pre-rolled puff pastry which saves you a lot of time! Isn't it great? The tuna filling was something I just made up. In our local supermarket you can buy tuna empanadas and I like their taste so I tried to make something similar. I checked their packaging to see what ingredients I needed to work with.
The recipe is very easy.  If you like quick snacks, you will like this. By the way you might also like these Waldorf Cheese Ball Bites. They are perfect for large gatherings!
But let's get back to tuna empanadas now!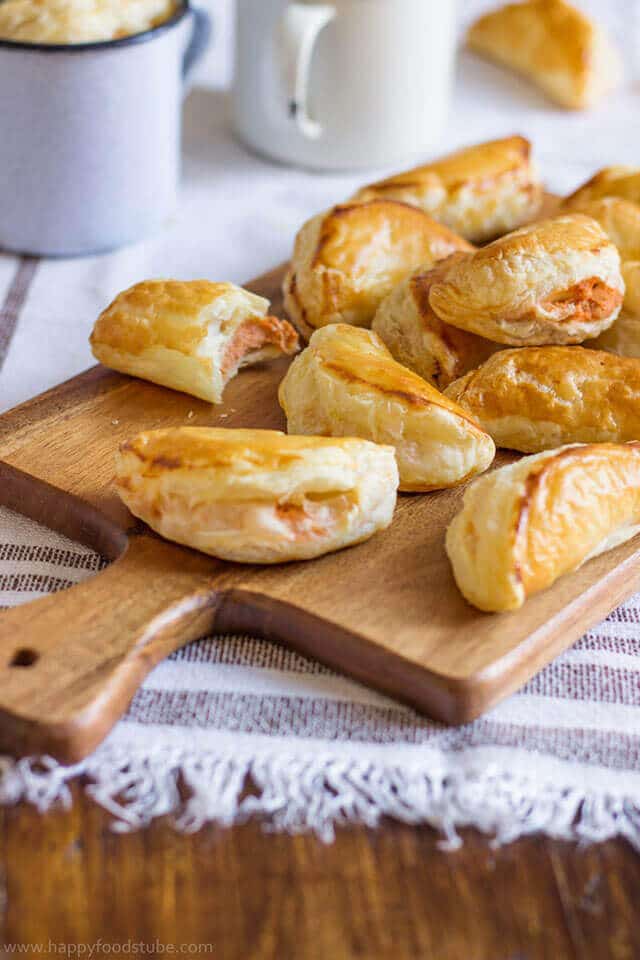 All the ingredients go in a food processor and it takes only a few seconds to get nice spreadable paste.  Once this has been done, you will need to cut circles out of your puff pastry. It does not really matter what shape your puff pastry is.
I used about a teaspoon of filling for each empanada. You can add a bit more but adding too much will cause you trouble when sealing them. Make sure you seal the edges properly (a fork is pretty handy here).
By the way, at first I wanted my empanadas to look nice – you know, with pretty edges. Well, let me tell you that with puff pastry this will not happen. They will rise and your hard work will disappear. It's not worth the while! The fork does the trick and it's also way faster!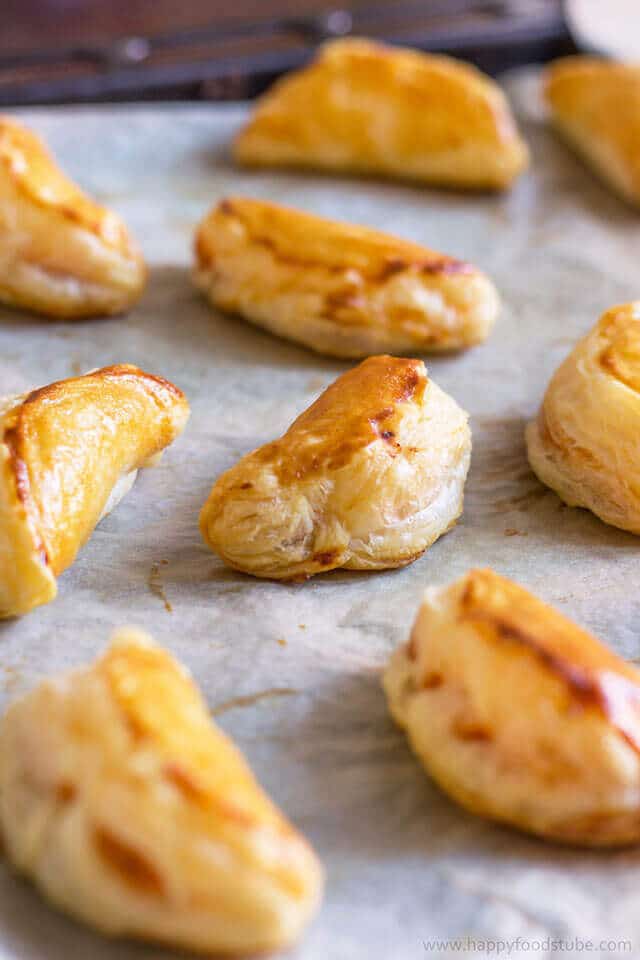 Now to give these puff pastry empanadas nice golden brown look, I used egg wash. This is completely optional and you can skip this step. However, piercing them is a must! This way they should hold their shape and they shouldn't open elsewhere.  Now some of them still might open so don't panic. They will still taste delicious!
Good to know: You will end up with some puff pastry cut offs. Don't throw these away. Bake them as well. Just as they are (they will take no more than 10 minutes to bake) and if you have some leftover filling you can just dip the puffs in it! That's what I do!
So guys, these tuna empanadas are the real deal! I hope you will love them as much as we do!
Happy Baking!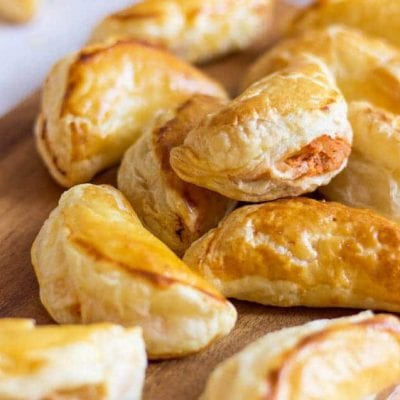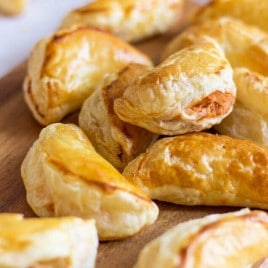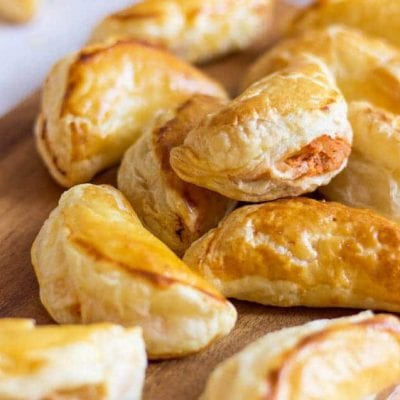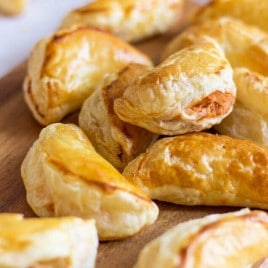 Tuna Empanadas
Tuna puff pastry empanadas are great for parties and family gatherings! These Puff pastry pockets filled with delicious tuna filling are very easy to make!
---
Ingredients
For the Filling:
2

Hard Boiled Eggs

peeled

5

ounces

Canned Tuna

drained

2

ounces

Marinated Peppers

1

Teaspoon

Oregano

6

Tablespoons

Ketchup

A Pinch of Salt & Black Pepper
For Empanadas:
20

oz

Ready rolled Puff Pastry Sheets

Optional: Egg Wash (1 small egg)

beaten
Instructions
Throw all ingredients in a food processor and pulse until smooth. Taste it and add more seasoning, if needed.

Using a 3 inch circle cutter cut as many circles out of the pastry as possible.

Place a teaspoon of the filling in the centre of each circle. Fold in half and seal with your fingers by pressing the edges together. Place them on your work top and seal the edges.

Transfer empanadas onto a baking tray lined with baking paper. Brush each empanada with egg wash and pierce with a toothpick/skewer several times.

Bake in a preheated oven at 400F for 15 minutes or until golden brown.

Enjoy warm or cold!
Notes
Don't put the cut offs together, knead and roll out with a rolling pin. This would destroy the layers so I suggest you just bake them as they are. If you have some leftover filling, just dip them in it! If you don't want to use egg wash, you can omit this step.
Nutrition
Serving:
34
g
|
Calories:
135
kcal
|
Carbohydrates:
11
g
|
Protein:
3
g
|
Fat:
9
g