If you love Almond Joys, you'll love these Almond Joy Chocolate Coconut Truffles. They're a mix of Oreos, cream cheese, coconut and Mounds candy bars, with an almond hidden inside!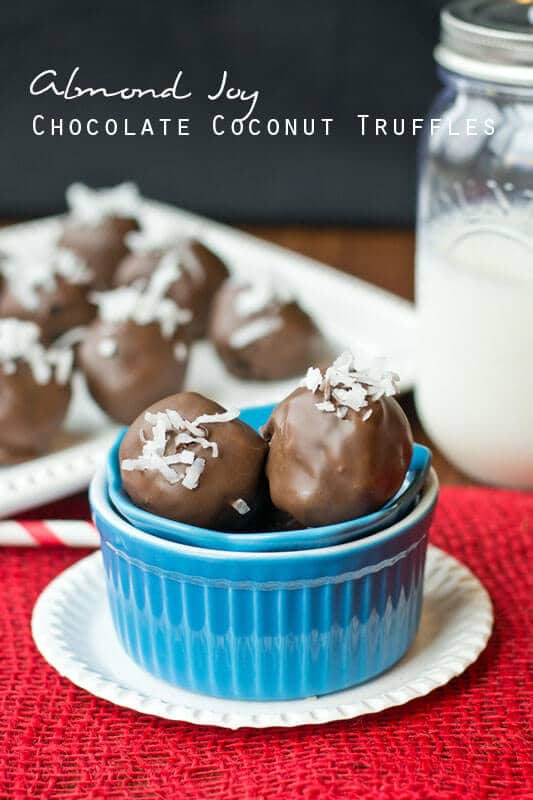 If there is one thing we love to make at Christmas time, it is chocolate dipped candies.  Whether it has pretzels, peanut butter, peppermint or salty crackers, we work to find new combinations that we can dip in warm, dark, sweet chocolate.
Chocolate dipped candies are a fairly messy process, but the little sweet bites are so worth it in the end.  I'll take a chocolate candy over a cookie any day.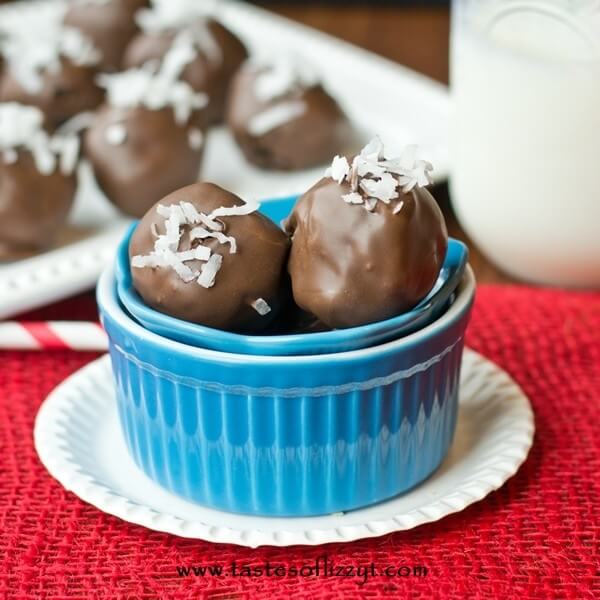 I'll have to admit that I'm not a huge lover of coconut.  I don't think I've ever even eaten an Almond Joy candy bar in my whole life.  My hubby, on the other hand, loves coconut.  This works out at Halloween since the kids always pass him the Almond Joys! After making two kinds of chocolate oreo truffles, I knew that I had to try an Almond Joy version for him.
If you have an Almond Joy lover in your life, you'll want to whip up a batch of these.  Just throw a package of Oreos, cream cheese, coconut and a few Mounds candy bars in a blender and beat it until all of the Oreos are crushed and the chocolate mess is smooth.
Refrigerate the mixture for about 30 minutes to an hour so that it is easier to roll into balls.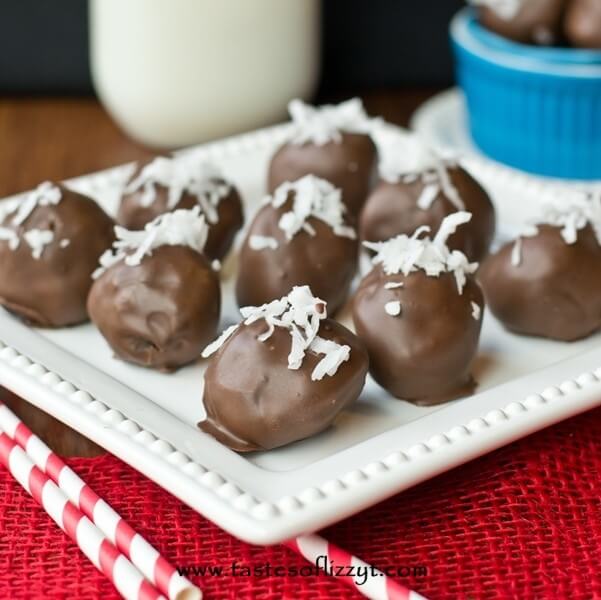 The fun part of these treats is that there is an almond hidden inside.  You'll take an almond and wrap some of that gooey chocolate around the almond to make a ball that is about 1 inch in diameter.  Freeze the balls, then dip them in chocolate.  If you're unsure how to melt chocolate, see this post on our Reese's Peanut Butter Oreo Truffles for all of the finer details on how we go about melting chocolate.
These Almond Joy Chocolate Coconut Truffles got rave reviews from the Almond Joy lovers in my life. You'll love the smiles you get from these!
Julie
Yields 36
Almond Joy Chocolate Coconut Truffles
A mix of Oreos, cream cheese, coconut and Mounds candy bars, with an almond hidden inside!
10 minPrep Time
10 minTotal Time
Ingredients
15 oz package of Oreos
8 oz cream cheese, softened
6 Fun Size Mounds candy bars
1 cup shredded coconut
36 almonds
6 squares semi-sweet baking chocolate
Extra shredded coconut, to garnish the tops of the truffles
Instructions
In a stand mixer or with a hand mixer, beat Oreos and cream cheese together for 2 minutes. Add in the Mounds candy bars and coconut. Beat until smooth. The type of Oreo cookies used (double stuff or brand type) can affect how thick the batter is. If it seems like the batter is too sticky, add some powdered sugar, a tablespoon at a time, until it thickens a bit. Be careful how much you add, however, since it will harden as it sits in the fridge.
Refrigerate the truffle mixture for an hour so that it is easier to roll into balls.
After refrigerating, take an almond and roll a scoop of Oreo mixture around it to form a 1 inch ball. Continue this until all of the Oreo mixture is used up. Place them on a baking sheet covered in wax paper and put them in the freezer to harden. This will make them easier to dip in chocolate!
Melt the chocolate, either in double broiler or in the microwave. Dip the frozen truffle balls in the chocolate, covering completely. While the chocolate is still wet, garnish with some extra coconut flakes, if desired.
Allow the chocolate on the truffles to harden completely.
Notes
Instead of semi-sweet baking chocolate squares, you can use chocolate chips, Hershey bars, Candiquik coating, or Almond Bark. If you end up with extra melted chocolate, you can put it in a baggie and freeze it for another time.
7.6.3
579
https://www.tastesoflizzyt.com/almond-joy-tornado-truffles/
Almond Joy Brownie Sandwich Cookies