This post was originally a sponsored post for No Yolks Noodles.
Amish Yumasetti Casserole is a traditional Amish dish. It's hearty, creamy, comforting casserole that is full of ground beef and noodles.
So how do you feel about casseroles? I'll have to be honest. We don't eat a lot of them. I'm not really sure why, but I think one of the reasons is that when the kids were younger, they did not like casseroles. At all. When there are three kids within four years, life is too hectic to fight over dinners. Maybe you can relate?  Since the kids weren't thrilled with eating casseroles, I just didn't make them.
Casseroles have always been true comfort food for me, though. I remember my mom fixing us tuna noodle casserole often, and when Matt and I were first married, we lived on casseroles. We still chuckle about how I'd bake a casserole on Monday and we'd eat it all week long. Those were the days!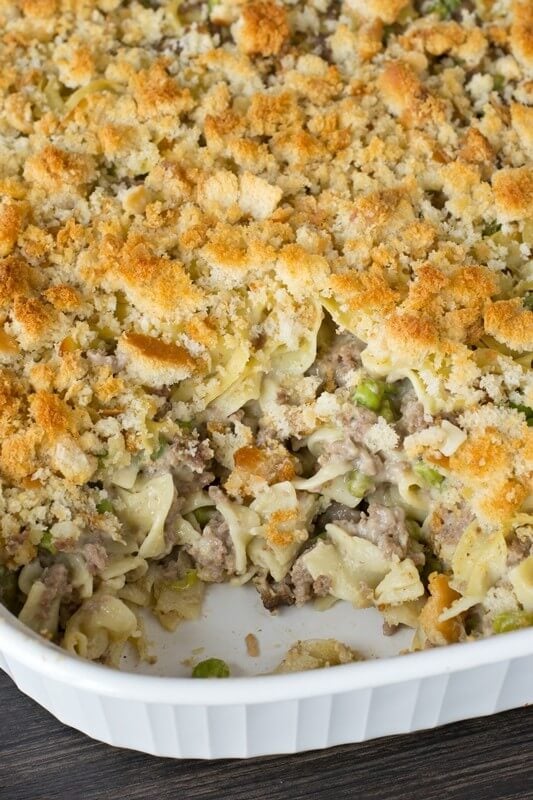 Just recently the kids have decided they liked having their meat, carbs and veggies combined in a creamy, comforting casserole. Finally. Today I'm sharing with you a fun, new-to-our-family casserole dish.
Amish Yumasetti Casserole.  Yumasetti.  Isn't that a great, fun name for a casserole? Have you ever heard of this comforting dish? Yumasetti is a traditional Amish dish that is comfort food at its best.  There are different versions of this casserole that I've come across.  Some have tomato sauce, some have cheese on top.  Ours is a simple combination of ground beef, onion, No Yolks noodles, peas, sour cream, cream of chicken soup and cream of mushroom soup.  Just 7 ingredients inside, with a golden brown, buttery bread crumb topping baked on top.
The day I made this casserole, the kids were swarming around the kitchen. Braden could hardly wait until I took pictures of it before he dug into it.  All three kids loved it. This recipe fits in a 9×13 pan and the pan will be very full. Because this recipe makes a large amount, it is great for when you need a leftovers meal, for feeding a large crowd and for potlucks. I honestly thought we'd be eating this casserole for about 4 days, but the kids loved it so much it lasted just two meals.
Do these No Yolks Noodles look familiar to you? I remember these cholesterol free egg noodles being in our pantry on a regular basis in my growing up years. I love when the sight of a product immediately brings back comforting memories. These deliciously smooth and firm noodles have stood the test of time because they always cook up right.  And now they are available in whole grain, too!
What's your favorite No Yolks comfort food?

Julie
Yields 10
Amish Yumasetti Casserole
Amish Yumasetti Casserole is a traditional Amish dish. It's hearty, creamy, comforting casserole that is full of ground beef and noodles.
30 minPrep Time
45 minCook Time
1 hr, 15 Total Time
Ingredients
1 12 ounce package No Yolks Extra Broad pasta noodles
2 pounds ground beef
1 onion, chopped
2 cups frozen peas
2 cans (10 ounces each) cream of mushroom soup
1 can (10 ounces) cream of chicken soup
1 cup sour cream
3 cups crumbled bread
3 tablespoons butter, melted
Instructions
Cook the No Yolks noodles according to the package directions. Brown the ground beef along with the onion. Drain the fat off the meat. In a large bowl, combine the noodles, beef, peas, soups and sour cream. Pour the mixture into a greased 9x13 (or even a bit larger) greased baking dish.
In a small bowl, toss the bread crumbs with the melted butter. Sprinkle the bread crumbs on top of the casserole. The pan will be very full.
Bake the casserole in a 350 degree oven for 40-45 minutes, or until is heated through and lightly browned on top.
Notes
For the bread crumbs, we used leftover hamburger and hot dog buns that we had in the freezer. This is a great way to use up some of those spare pieces of bread!
7.6.4
711
https://www.tastesoflizzyt.com/amish-yumasetti-casserole/