Tastes of Lizzy T participates in affiliate advertising programs. We may earn a commission when you make a purchase through links on our site.
A simple white cake and one decorating tip is all you need for this easy, red white and blue easy patriotic cake. Simple for kids to make and perfect for July 4th!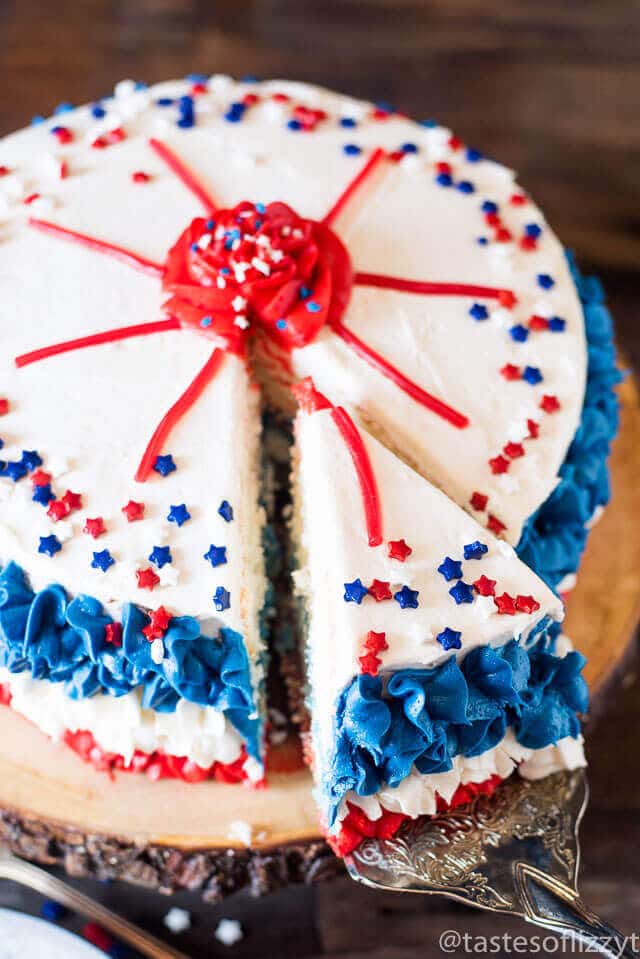 It the season for all things red, white, and blue. Patriotic cake, flag dip, and firecracker cupcakes will be appearing on everyone's picnic tables for the next few months.
This easy patriotic cake is a special red, white and blue dessert that you can serve at your summer party. Why?
Because it's one of Kinslee's cake designs. That's right, my 10-year old Kinslee designed and made this cake. She's here to talk with you about it today!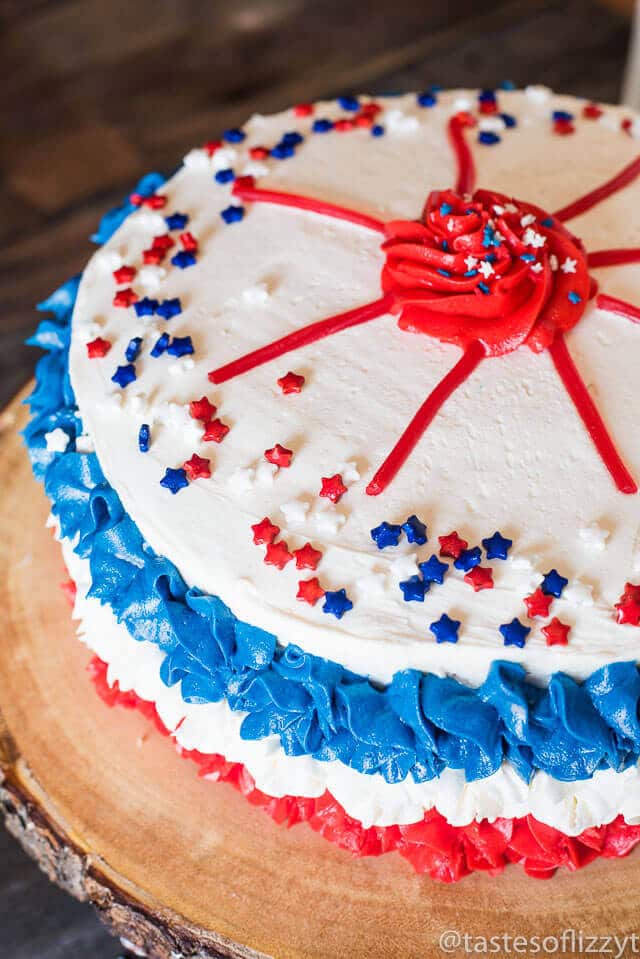 Hi! It's Kinslee here and today I am going  to tell you how I made this easy patriotic cake. Before I do, I am going to tell you what you are going to need:
Navy Blue and Super Red Americolor Food Coloring
Plus a white cake baked into 2 round layers and frosting, of course! 🙂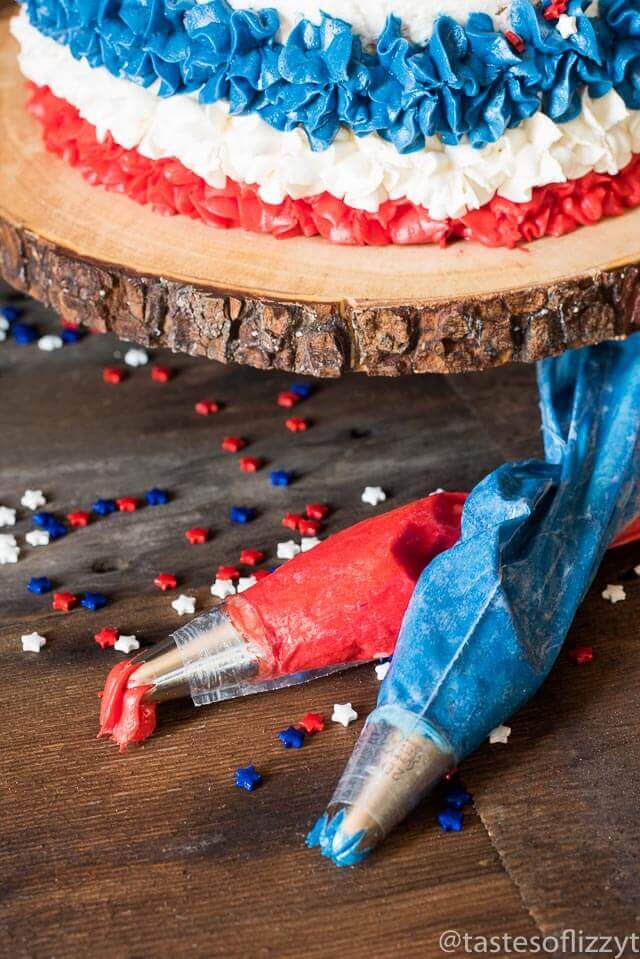 The first thing you are going to do is make your cake mix. It doesn't matter what you use for the cake, so you can use your favorite box mix or you can make a from-scratch cake like I did. I used our almond cream cake recipe but replaced the almond extract with vanilla extract. It's a thick, velvety cake and I think you'll like it!
The second thing to do is to make frosting. To make the frosting you can make three batches of our Simply Vanilla Buttercream, or if you'd like you can use store-bought frosting. You'll want 3 colors of frosting: red, white and blue. I made more white than any other color since it is used the most.
Place down one of the cake layers on a cake plate. Spread a thick layer of blue icing over that cake layer.
Now put your other cake layer on top of the blue frosting. Take the white icing and use a straight cake spatula to put a very thin layer of white frosting all over the cake. This is called a "crumb coat". It helps to hold the crumbs in and will help your frosting stars stick to the cake!
Now it's time to decorate! Use a Wilton 2D tip and a disposable decorating bag to pipe out large, red stars on the bottom. Just hold the piping bag at a right angle to the cake and squeeze out a star. Then pull back with the decorating bag. Repeat this until you've gone all around the cake.
Then do the white stars in the middle just as you did with the red.
Next, spread a thick layer of white icing on the top with your straight cake spatula. Get that frosting as smooth as possible.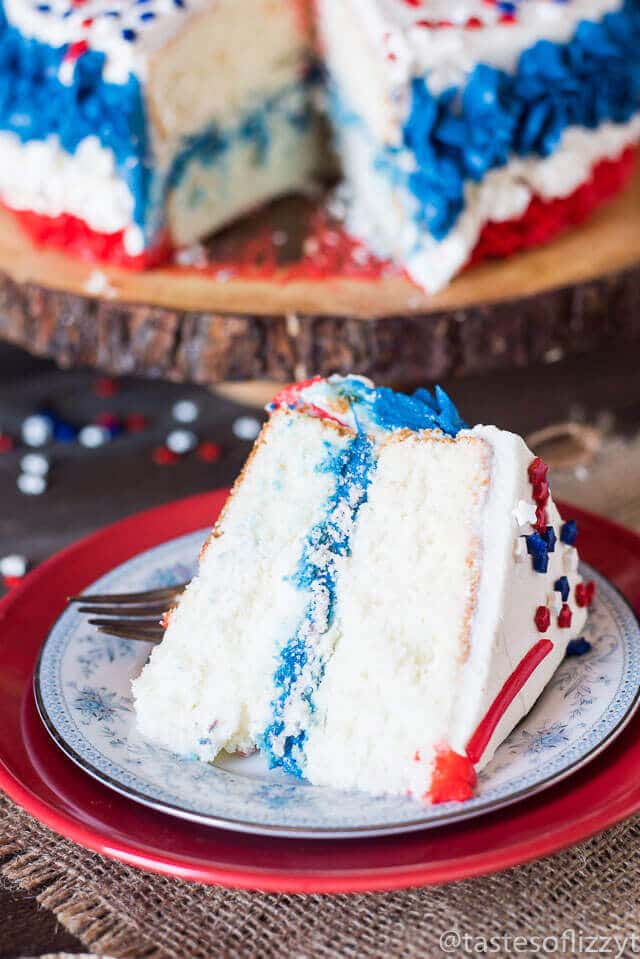 Now, use your blue icing to pipe out the top layer of stars. You can decorate the top however you want, but here's what I did. Pipe a big swirl of red frosting in the middle.  Then take Pull 'n Peel Cherry Twizzlers to represent a firecracker and place them around the red frosting swirl.
Then take your sprinkles and sprinkle them around the edges of the cake.
I hope you like this patriotic cake. I made two of these patriotic cakes. The second we gave all away because we didn't need to eat two cakes in one week!
Watch us make it here: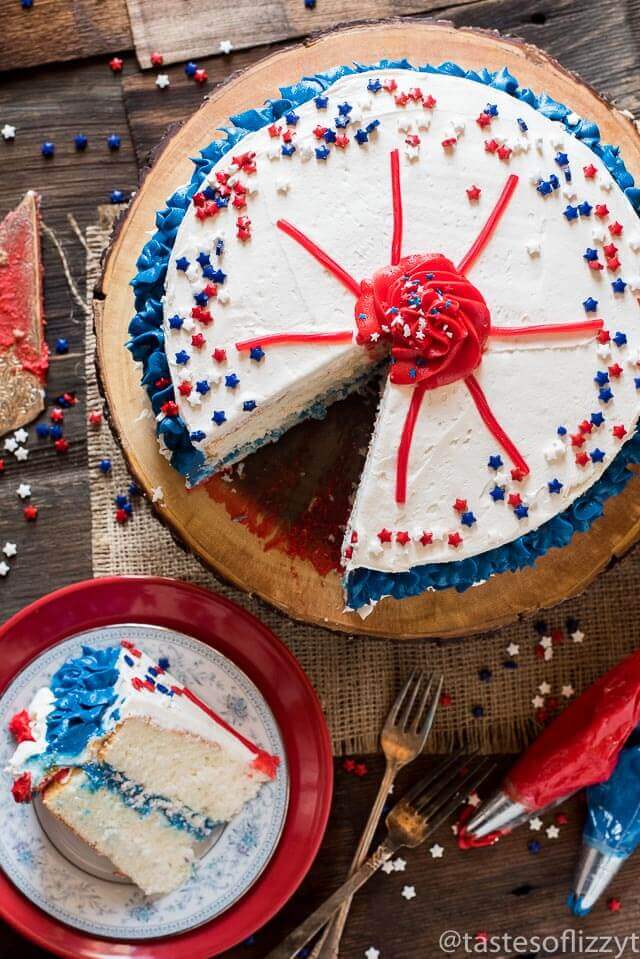 Stay tuned for more of my crazy cake creations!
Here's some of Kinslee's favorite recipes.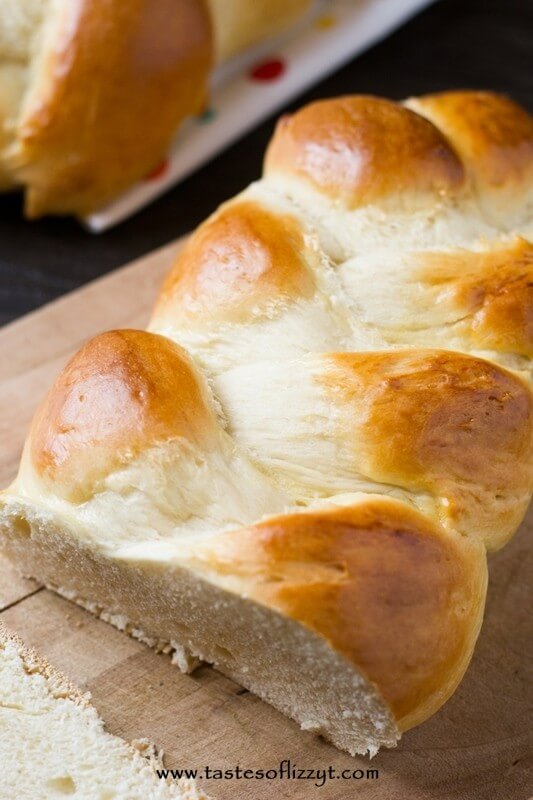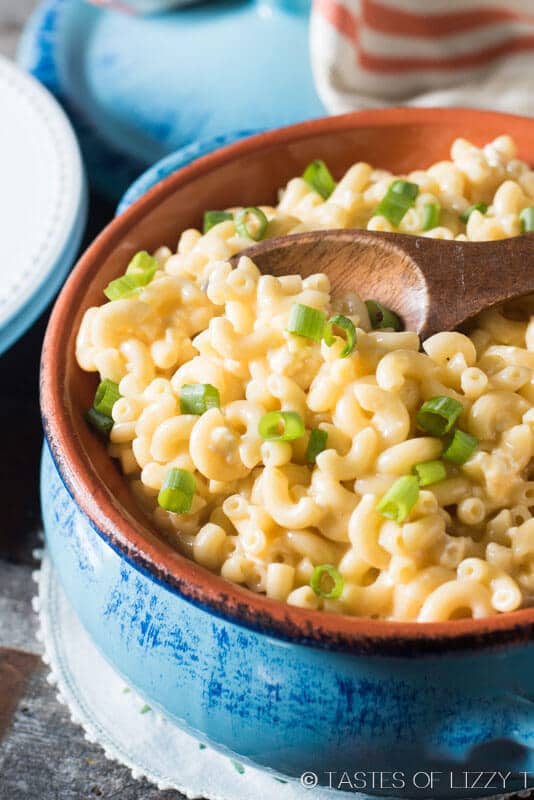 Chocolate Caramel Turtle Cupcakes