Easy Strawberry Turnovers
Quick and easy strawberry turnovers made with puff pastry and stuffed with fresh strawberry filling. Drizzle with glaze for a beautiful spring brunch recipe.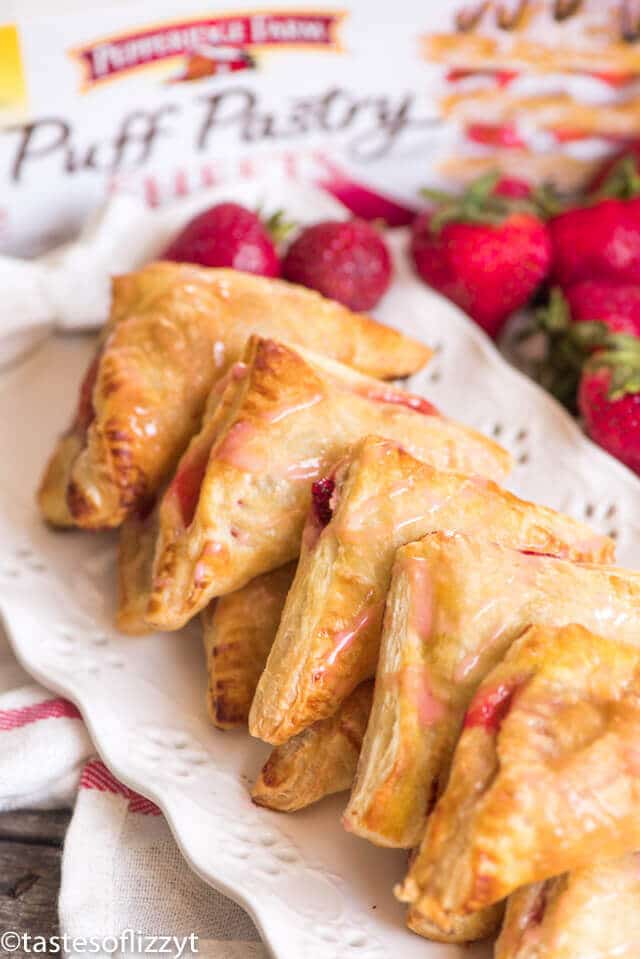 When I was younger, there was a fast food restaurant that served flaky pastry turnovers stuffed with fruit. Whenever my parents took me to that restaurant, that's what I wanted. Skip the sandwich and fries…just hand me that pastry!
I hadn't thought about them in years, but after picking up a few boxes of Pepperidge Farm® Puff Pastry Sheets at the grocery store, I knew exactly what I needed to make….fruit turnovers. And not just any turnovers. Since it is spring, I wanted fresh, easy strawberry turnovers. Little hand-held pastries that would be the perfect addition to spring breakfast, bridal shower brunch, even a light dessert at an outside picnic.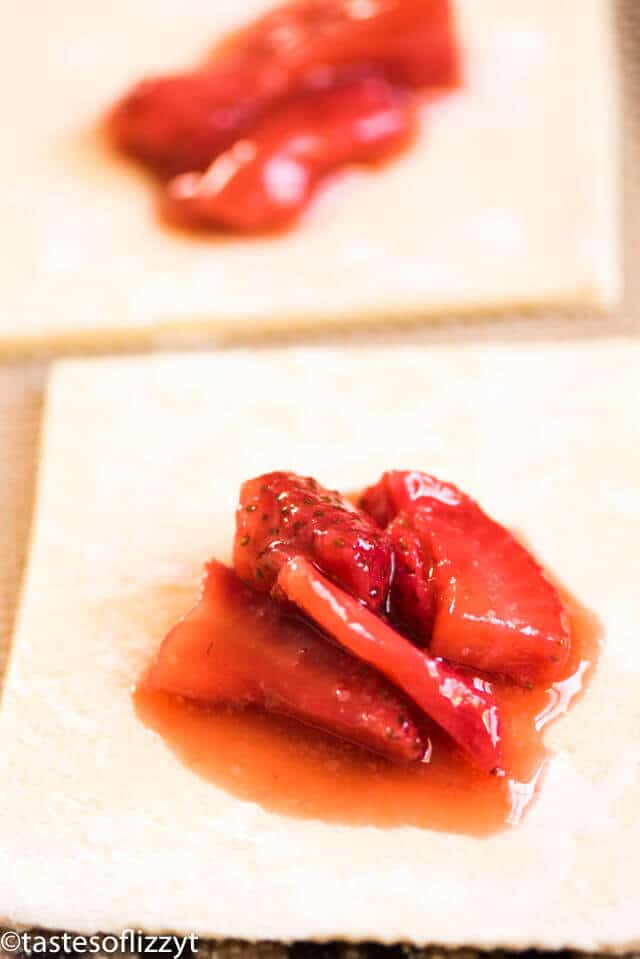 Puff Pastry Sheets are the ultimate in versatility. Whether you are making savory appetizers, sweet brunch pastries, or gorgeous desserts, Puff Pastry Sheets will be the perfect start to your special recipe.
For these easy strawberry turnovers, I made a quick strawberry filling using fresh strawberries. A little sugar to sweeten and some cornstarch to thicken…and about 10 minutes in a small sauce pan is all you need to make this delicious filling. Try not to eat it all just with a spoon. It's that good.
Allow that strawberry filling to cool completely before you start the turnovers. I like to make it a day in advance. Less mess the day I want to bake pastries!
To make the turnovers, I simply took two Puff Pastry Sheets and cut them into 9 squares each. Then I spooned a few strawberry pieces into the middle of the squares. You'll just want a little bit here and make sure most of the syrup stays put in the strawberry filling bowl (you'll use that later for glaze). You don't want to overstuff the pastries or they won't stay closed when you bake them.
Brush the tops of the pastries with an egg wash (1 egg and 1 tablespoon of water whisked together)….
….sprinkle with a bit of granulated sugar and bake at 400 degrees until have beautiful golden brown strawberry turnovers.
Now at this point you can leave them as is, or you can make a simple powdered sugar glaze with ½ cup of powdered sugar and two tablespoons of strawberry syrup.
Because who doesn't like a little pink drizzle in their lives?
Simple as that, my friends, and you have easy strawberry pastries that will melt in your mouth. The cutest little addition to your baby shower, spring tea party…or just a sweet indulgence for you. 🙂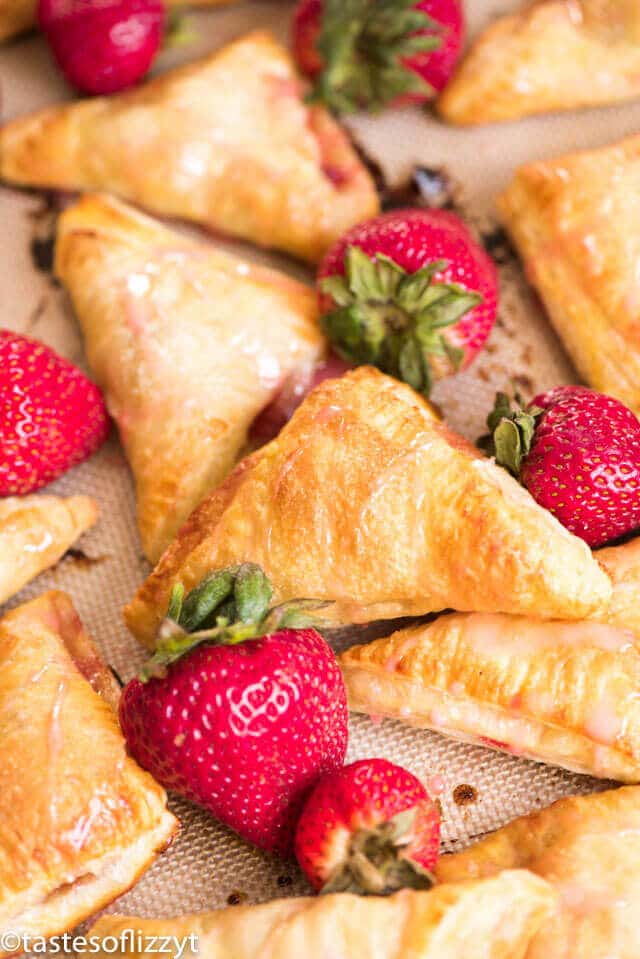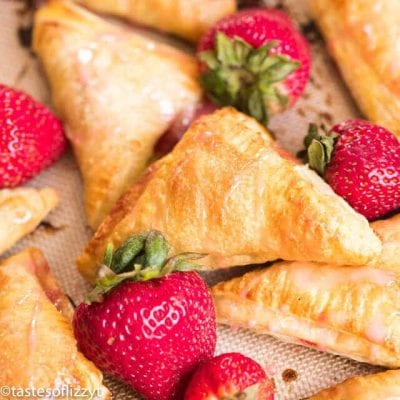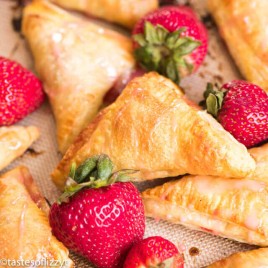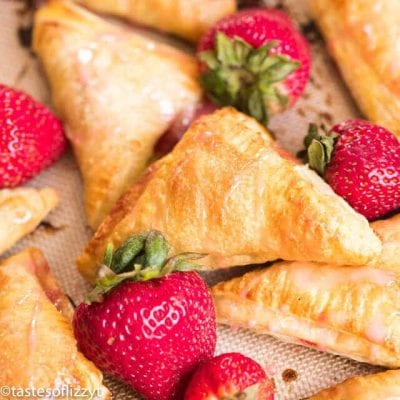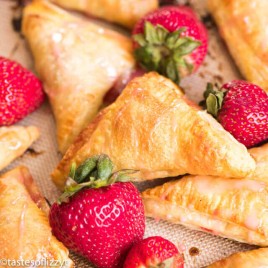 Easy Strawberry Turnovers
Quick and easy strawberry turnovers made with puff pastry and stuffed with fresh strawberry filling. Drizzle with glaze for a beautiful spring brunch recipe.
---
Ingredients
For the Filling:
3/4

cup

quartered strawberries

1/3

cup

white sugar

1/4

cup

water

1/2

teaspoon

vanilla

1/2

tablespoon

lemon juice

2

teaspoons

cornstarch

2

tablespoons

water

1

tablespoon

butter

1/2

cup

additional quartered strawberries
Instructions
In a saucepan over medium heat, stir together the strawberries, sugar and water until the sugar is dissolved. Heat the mixture to boiling, stirring often. Reduce heat and add the vanilla and lemon juice.

In a small cup, combine the cornstarch and two tablespoons of water. Mix well.

Pour this into the boiling strawberry mixture. Stir and boil over medium-low heat for 4 minutes or until the mixture has thickened a bit.

Remove the pan from the heat.

Add 1 tablespoon of butter and mix until the butter has completely melted.




If you'd like your strawberry syrup to have a nice red color, add a few drops of red food coloring. This is completely optional.

Allow the mixture to cool for 15 minutes, then add the last ½ cup of quartered, fresh strawberries. Cool completely.


When the strawberry filling has cooled completely, preheat the oven to 400 degrees.

Gently unfold the puff pastry sheets and cut each sheet into 9 squares.

Spoon 2-3 strawberry pieces in the center of each square, draining most of the syrup as you do this. (You can use the leftover strawberry syrup to make a glaze.)

Fold the puff pastry square to make a triangle and then use the tins of a fork to press the pastry closed along the two open edges.

In a small bowl, whisk together the egg and water.

Use a pastry brush to spread the egg wash on top of the puff pastry triangles.

Sprinkle a bit of granulated sugar overtop the egg wash and place the pastries on a baking sheet lined with a silicone baking mat.

Bake for 12-13 minutes until the turnovers are golden brown.

Remove from the oven and allow the turnovers to cool.

If desired, add two tablespoons of the leftover strawberry syrup to ½ a cup of powdered sugar and whisk together until smooth.

Drizzle the glaze overtop the cooled pastries.

Store in an airtight container until serving.
Nutrition
Calories:
198
kcal
|
Carbohydrates:
23
g
|
Protein:
2
g
|
Fat:
10
g
|
Saturated Fat:
2
g
|
Cholesterol:
11
mg
|
Sodium:
75
mg
|
Potassium:
35
mg
|
Sugar:
10
g
|
Vitamin A:
25
IU
|
Vitamin C:
6
mg
|
Calcium:
6
mg
|
Iron:
0.8
mg