Tastes of Lizzy T participates in affiliate advertising programs. We may earn a commission when you make a purchase through links on our site.
The melt in your mouth part of Homemade Caramel Corn is really true, you know. It's hard to get the perfect taste to caramel corn because all people like it different ways. But for our family? We've found it. This recipe is perfect for us, with sweet caramel and just a hint of saltiness. You may also like our honeyscotch popcorn!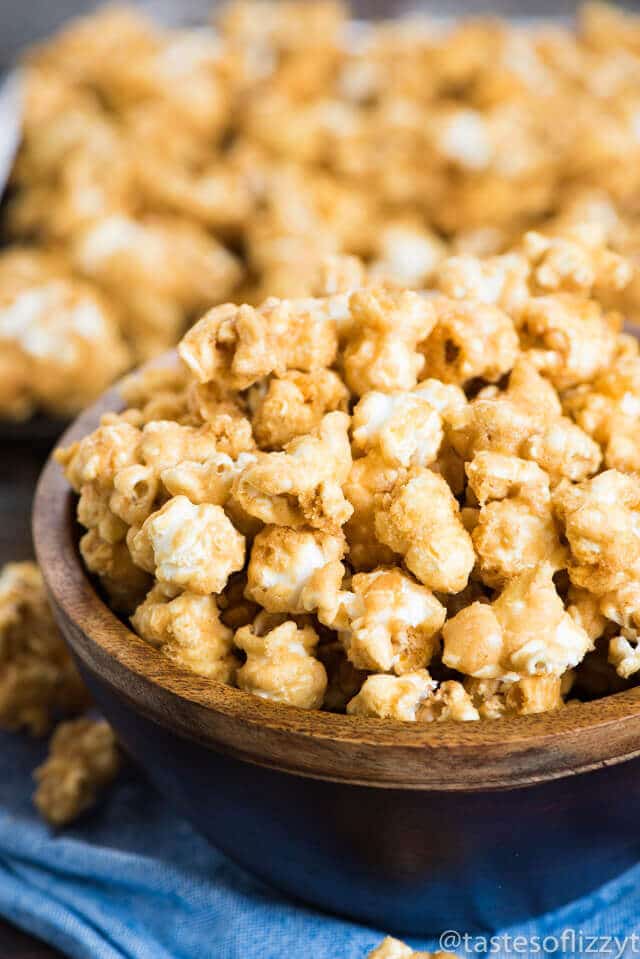 Homemade Caramel Corn
Sweet caramel over buttery popcorn. Really…I just can't seem to stay away from it. Once you start popping it, you can't stop.
Caramel corn is one of my family's traditional vacation foods. For me, you can't go on a vacation without caramel corn. We sometimes mix it with peanuts for an extra crunch, but I like mine as straight caramel corn, no nuts. Either way, it's the best snack food for your relaxing time.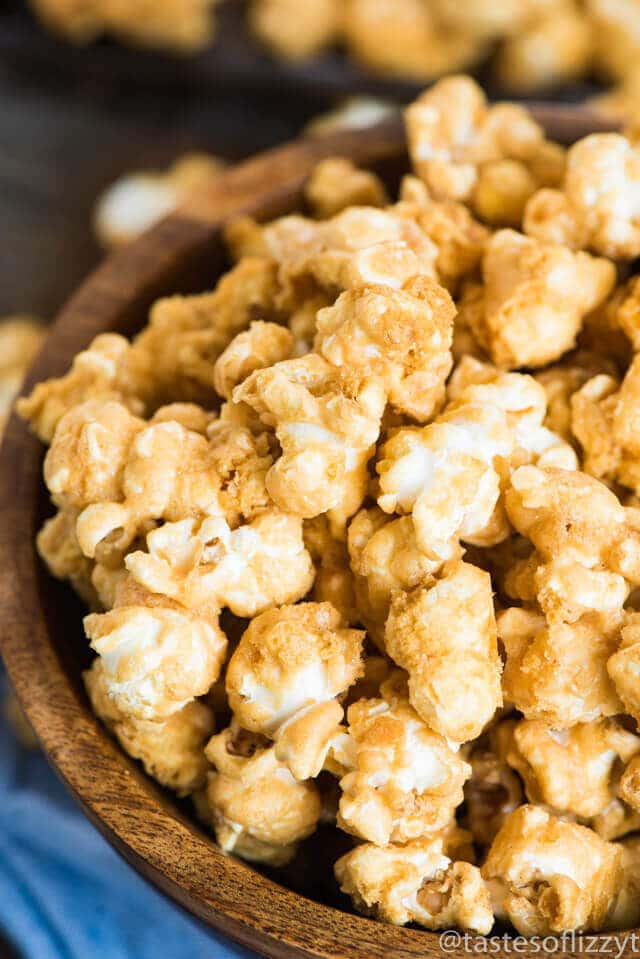 Microwave Popcorn Vs Air Popped Popcorn
This is a pretty straightforward recipe.  We normally use microwave popcorn, because it is so easy.
This time, however, since we had bags of popcorn kernels, we used our air popper.  I was afraid I'd miss the buttery/salty flavor of the microwave popcorn.  Once the popcorn was popped, I melted some butter in the microwave, and tossed it in the popcorn along with some salt, before I added the caramel mixture. I'm glad I did that step…the butter definitely adds to the melty-ness of this crunchy snack.
You can use air popped or microwave…whichever you choose!
How do you make homemade caramel corn?
It's easier than you think! Simply melt brown sugar, white sugar, corn syrup (yes…3 sugars!), butter, salt and vanilla together on the stovetop. You'll cook it, stirring constantly, and let it lightly boil for 5 minutes. You'll want to be sure you let it boil that 5 minutes because that is what is making the caramel texture. Once the syrup has boiled for 5 minutes, remove it from the heat and add baking soda…which leads us to a question people often ask.
What is the purpose of baking soda in caramel corn?
The baking soda is what gives the caramel corn an "airy" texture. The baking soda reacts with the acid in the brown sugar and corn syrup, which creates carbon dioxide bubbles. You'll want to be sure your pan is big enough because the sugar mixture will foam and "grow" a bit. Don't skip the baking soda. It's really what makes the caramel corn melt in your mouth!
How long can you keep caramel corn?
Store-bought caramel corn seems like it lasts forever, right? Homemade caramel corn can last just as long! This recipe makes a big batch, but if you store it in an airtight container in the pantry, you can keep it for up to 3 months. But really…with three teenagers in the house, ours never lasts more than two weeks!
Vacation Snack or Homemade Gift
Going on a vacation? Take along some of this popcorn for a fun snack.
Need a small gift of appreciation for a hostess, teacher, or friend?  Mix up some of this caramel corn and package it in a pretty clear bag with a bow.
They'll love it…and you can have the leftovers:)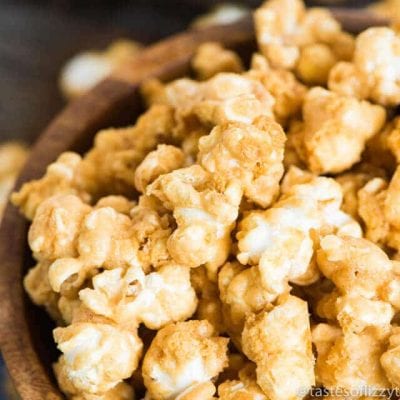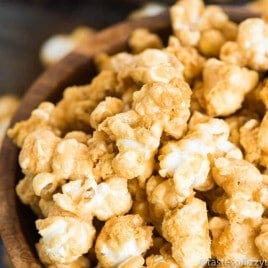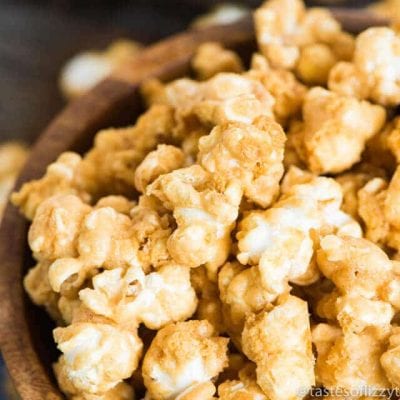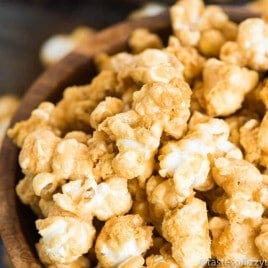 Homemade Caramel Corn Recipe
Melt-In-Your-Mouth Homemade Caramel Corn is perfect for bedtime snack, vacation fun food, or an appreciation gift!
Total Time
1

hour
10

minutes
---
Ingredients
1

cup

butter

1

cup

granulated sugar

1

cup

brown sugar

1/2

cup

white corn syrup

1/2

tsp

salt

1

tsp

vanilla

1

tsp

baking soda

20

cups

popped popcorn
Instructions
Bring the butter, sugars, corn syrup, salt and vanilla to a boil. Reduce the heat and let it boil for 5 minutes, stirring occasionally.

Remove from heat and stir in 1 teaspoon baking soda. This will start to "grow" so make sure your saucepan is big enough.

Put the popcorn in a roaster pan. Pour the caramel over the popcorn and stir to mix. Bake in 250 degree oven for 1 hour, stirring every 15 minutes.

After it is done baking, pour the popcorn out onto parchment paper to let it cool.

Store in an airtight container.
Notes
The calories shown are based on the 1 cup of caramel corn. Since different brands of ingredients have different nutritional information, the calories shown are just an estimate.
Nutrition
Calories:
229
kcal
|
Carbohydrates:
35
g
|
Protein:
1
g
|
Fat:
9
g
|
Saturated Fat:
5
g
|
Cholesterol:
24
mg
|
Sodium:
211
mg
|
Potassium:
53
mg
|
Fiber:
1
g
|
Sugar:
27
g
|
Vitamin A:
305
IU
|
Calcium:
14
mg
|
Iron:
0.4
mg