Tastes of Lizzy T participates in affiliate advertising programs. We may earn a commission when you make a purchase through links on our site.
Keep your holiday entertaining easy with this 8 ingredient Pasta Carbonara. Hints on how to make this traditional pasta dish that your family will love.
There is one type of dinner that is always a center of our family holiday traditions: pasta. Whether that's a homemade lasagna dinner, a simple pasta salad with veggies or a comforting soup, you can bet that pasta always finds a place on our table during the holidays.
Traditional Pasta Carbonara is a simple, yet elegant dish to serve your family and friends during the holidays. We've got all the tips on how to make this traditional dish with Barilla pasta. Plus, scroll on down underneath the recipe and we'll give you hints for easy holiday entertaining so that you can keep family and friends first this season.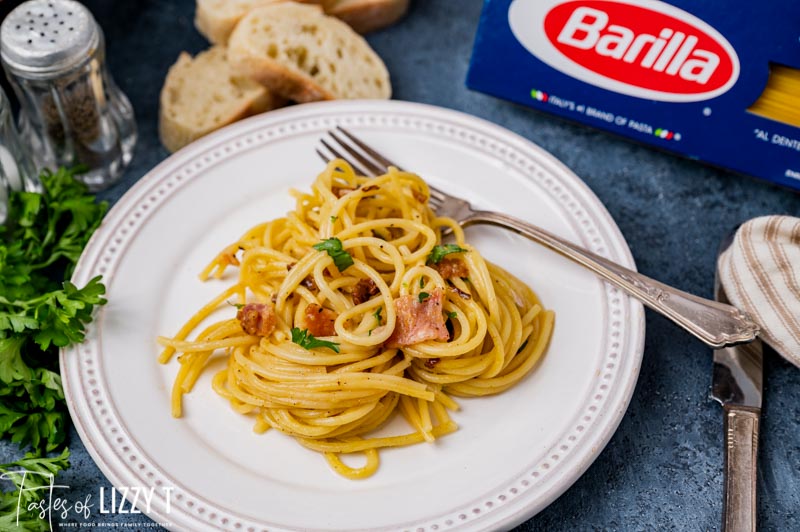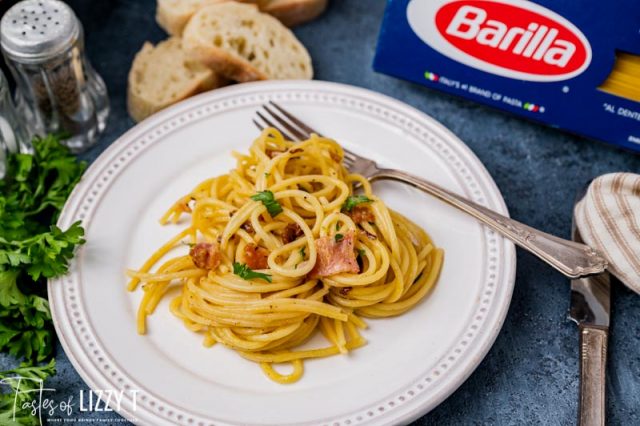 A special thank you to Barilla Pasta for sponsoring this post. As always, all opinions are my own.
Why you'll love this recipe:
Traditional, comforting flavor.
Only 8 ingredients.
Ready in about 35 minutes.
Beautiful presentation for an easy holiday dinner.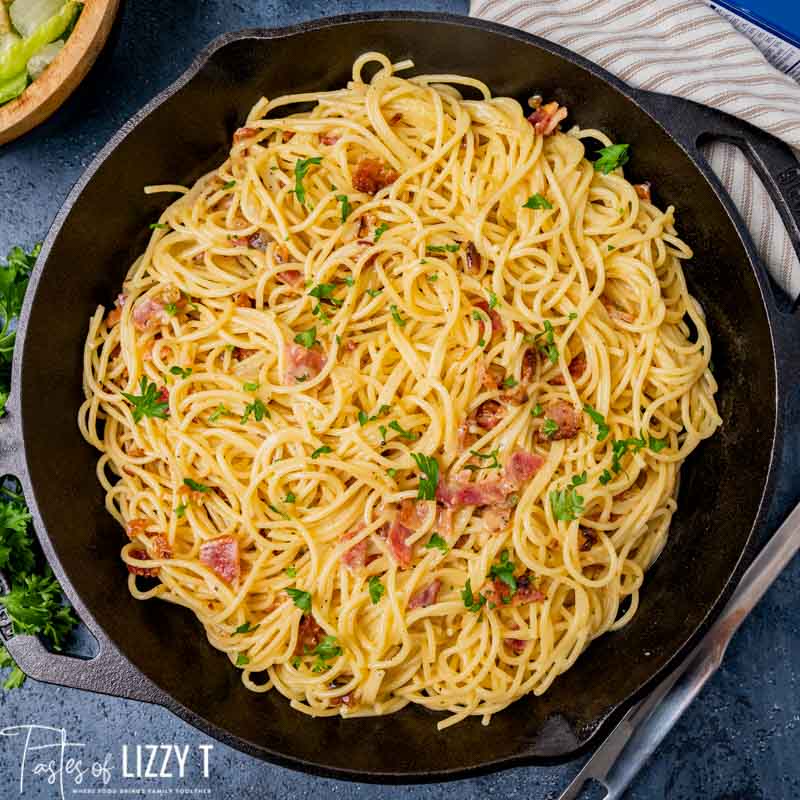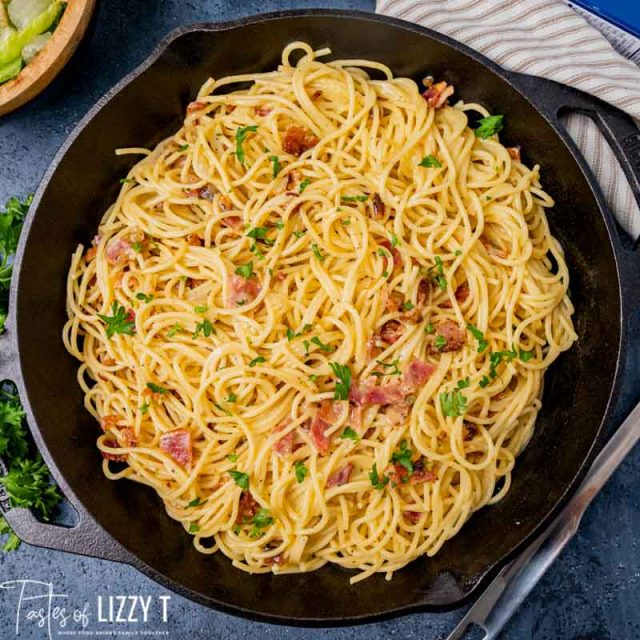 Tips for Making Pasta Carbonara
You can buy everything you need for this recipe at your local Meijer. They have everything you need for keeping holiday traditions…and making new ones.
Follow the instructions closely, especially when making pasta carbonara for the first time. This is not a hard recipe to make. However, you need to work quickly and not skip steps. This will ensure you have a smooth sauce while keeping a great flavor.
Start the bacon first. The bacon will be ok if it sits for a bit after cooking, so I always have the bacon done before I boil the pasta.
Boil the 1 pound of Barilla spaghetti in 8 cups of water. You don't want to use too much water because you'll use that pasta water to help make the sauce smooth. 8 cups is the perfect amount for boiling.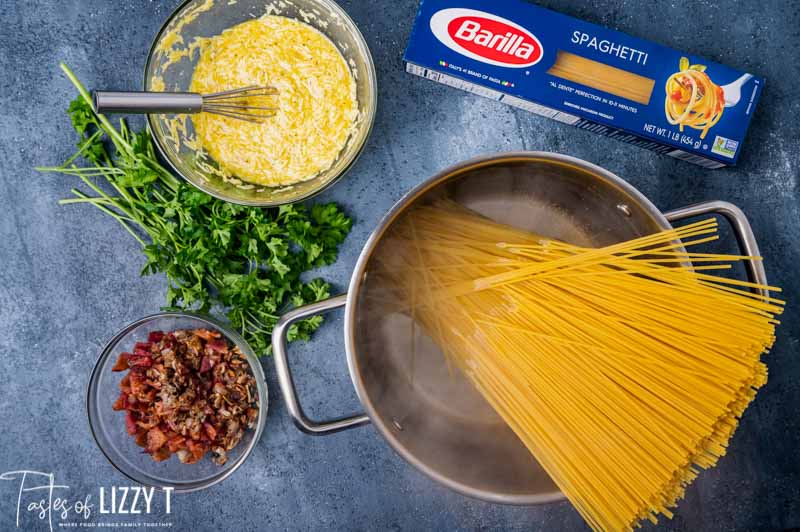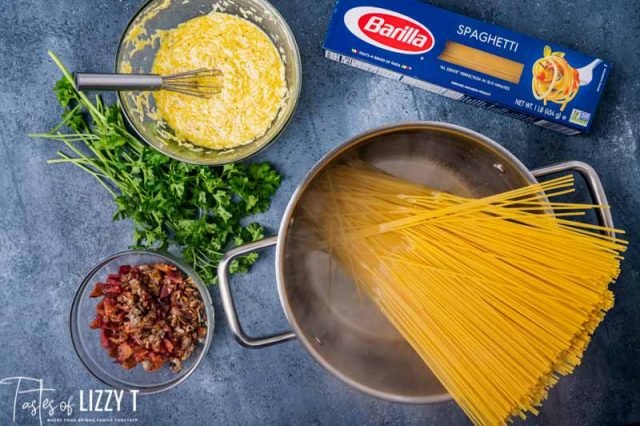 Don't overcook the spaghetti. Pasta is best al dente, so cook it the minimum amount of time for the best flavor, texture and prettiest look.
While your spaghetti is cooking, get the eggs and cheese mixed up in a medium bowl.
Put a colander in a large bowl (metal or glass) to drain the pasta. The hot water will heat the glass bowl which will help keep the pasta warm while mixing in the egg sauce.
Save 1 cup of the pasta water. This starchy water gives the spaghetti carbonara a great smooth texture. If you make a mistake and accidentally discard the pasta water, I recommend using a chicken broth instead.
Temper the eggs with the hot water. The one thing you do not want when making pasta carbonara is scrambled eggs all over the pasta. The way you prevent this is to temper the eggs. Drizzle ½ cup of the hot pasta water into the egg mixture, whisking quickly the entire time. This will slowly heat the eggs, bringing them to the temperature needed to melt the cheese but yet not scramble the eggs (145º Fahrenheit).
Once you have your eggs tempered with pasta water, stir it into the drained pasta and mix quickly. The sauce should come together to be smooth and lightly coat the pasta with delicious flavor. If for some reason the pasta doesn't seem creamy enough, drizzle in some of the remaining ½ cup of pasta water until it is the texture you'd like. We only used ½ cup though.
Then toss in your bacon and onions and it's ready to serve!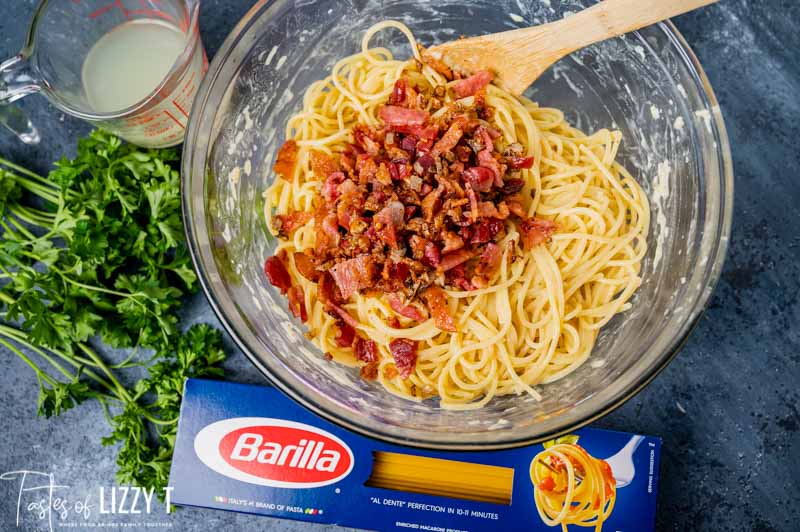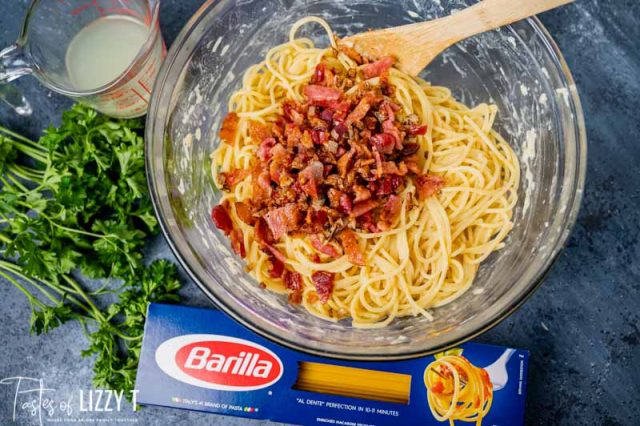 You'll want to make sure you work quickly, but this recipe takes about 35 minutes and when you make a second or third time, you'll be able to make it even faster.
What to Eat with Pasta Carbonara
This dinner is best if served with a simple side salad and a rustic bread. For the holidays, a sparkling winter fruit salad or cranberry punch gives a festive feel.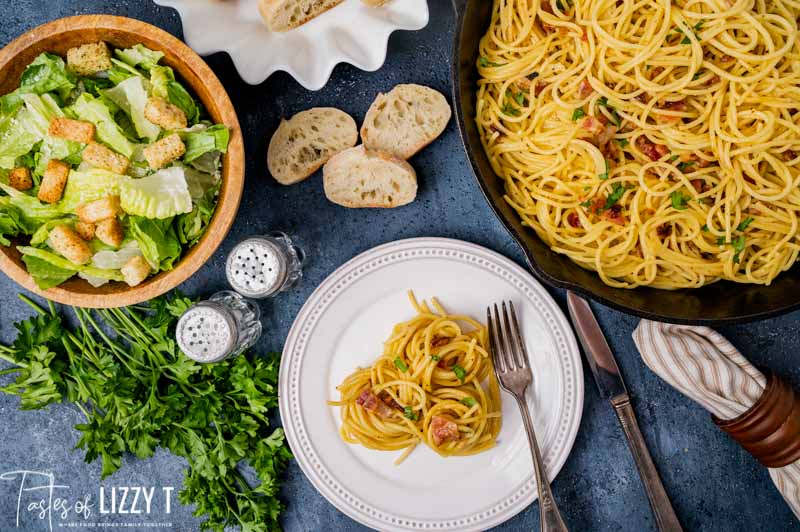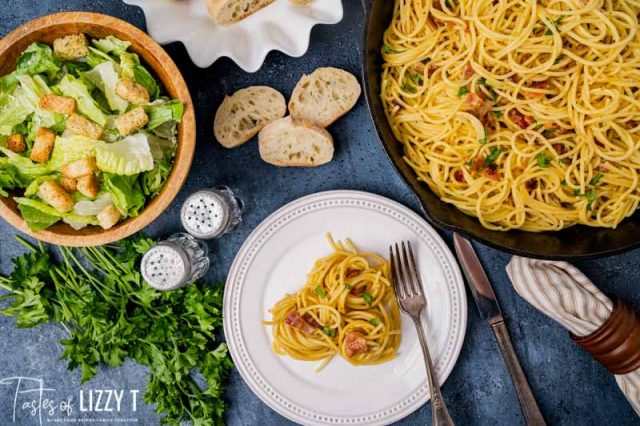 Recipe Variations
Add garlic to the skillet when you are sauteing the onion. Garlic is strong so we kept it out of our traditional recipe, but it does work well if you love the garlic flavor.
Carbonara traditionally uses guanciale (pork jowl) or pancetta (pork belly). Because these two ingredients can sometimes be expensive or difficult to find, we used bacon. You can swap out the bacon for one of these other meats if you'd like.
Add peas for a pop of color and an extra veggie.
Sun dried tomatoes add pretty color and flavor to this dish.
For a vegetarian option, use mushrooms or black olives in place of the bacon.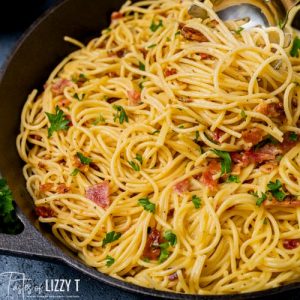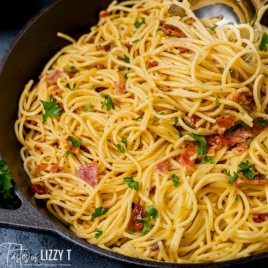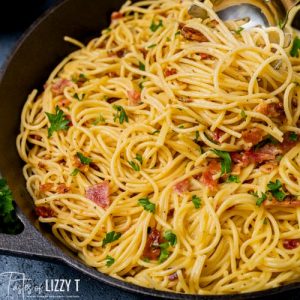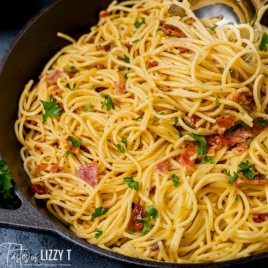 Pasta Carbonara
Keep your holiday entertaining easy with this 8 ingredient Pasta Carbonara. Hints on how to make this traditional pasta dish that your family will love.
---
Ingredients
8

ounces

high quality bacon

1

shallot

(diced finely)

16

ounces

Barilla Spaghetti

2

large

eggs

1

large

egg yolk

1/2

cup

freshly grated parmesan

1/2

cup

freshly grated romano

½

teaspoon

coarsely ground black pepper

1

cup

reserved pasta water

Freshly snipped parsley

for garnishing
Instructions
In a skillet over medium heat, cook the bacon until it is crisp. Remove the bacon to a paper towel lined plate to drain. Reserve 1 tablespoon of the bacon fat and discard the rest.

Saute the diced shallot in the reserved bacon fat over medium heat for 4-5 minutes or until the shallot is tender and translucent. Set aside. The pan will keep it warm while the pasta boils.

Place 8 cups of water in a large pan. Bring the water to a boil.

Add the spaghetti to the boiling water. Bring the water to a boil again and boil for 6-7 minutes or until the pasta is al dente.

While the pasta is boiling, whisk together the eggs and egg yolk. Add the parmesan, romano and black pepper. Whisk well until the eggs are broken up and combined.

Have a large bowl and colander ready. Place the colander in the bowl.

At this point, work quickly! The warm water and ingredients need to heat the eggs to thicken them, yet not scramble them. Read through the instructions ahead of time so you can work as quickly as possible.

Drain the spaghetti into the colander so that the bowl is holding the hot water.

Set the drained spaghetti aside.

Reserve one cup of hot pasta water and then drain the rest out of the bowl.

Place the spaghetti in the bowl (the bowl will be hot which you want).

Take ½ a cup of the hot pasta water and drizzle it into the egg mixture, whisking quickly. This is called tempering the eggs and helps them not to scramble.

Pour the egg mixture over the pasta and stir immediately to coat.

Drizzle in the other ½ cup of pasta water to make the sauce smoother if you'd like.

Toss in the diced bacon and shallots.

Top with freshly snipped parsley.
Notes
The calories shown are based on the recipe being divided 8 ways, with 1 serving being ⅛ of the pasta. Since different brands of ingredients have different nutritional information, the calories shown are just an estimate. **We are not dietitians and recommend you seek a nutritionist for exact nutritional information.**
Nutrition
Calories:
404
kcal
|
Carbohydrates:
44
g
|
Protein:
17
g
|
Fat:
17
g
|
Saturated Fat:
7
g
|
Cholesterol:
99
mg
|
Sodium:
385
mg
|
Potassium:
221
mg
|
Fiber:
2
g
|
Sugar:
2
g
|
Vitamin A:
183
IU
|
Vitamin C:
1
mg
|
Calcium:
164
mg
|
Iron:
1
mg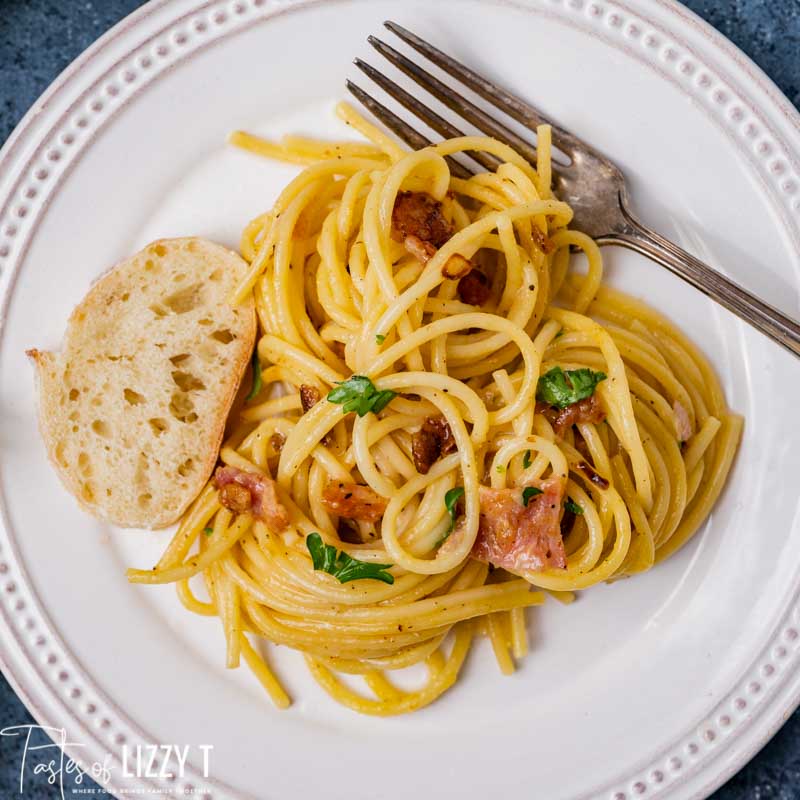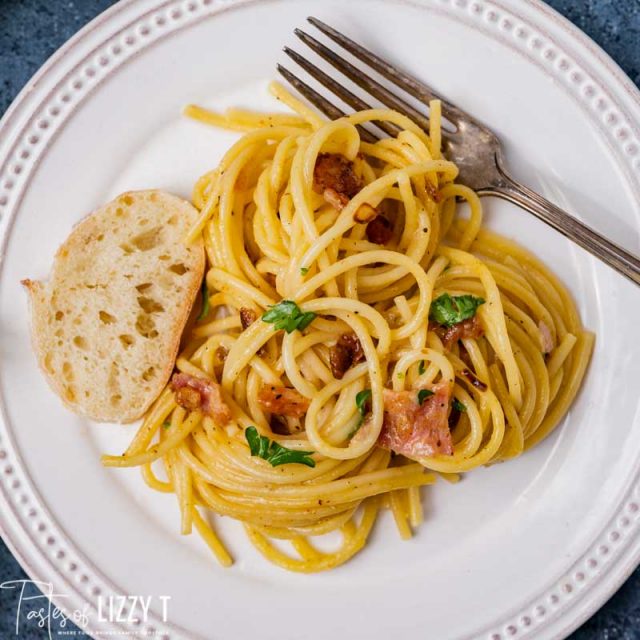 Tips for Easy Holiday Entertaining
Plan Ahead. When you take time to plan ahead for a holiday dinner, it just goes more smoothly! Think through guests, menu and plan a shopping day.
Cook Ahead. Make any food in advance that you possibly can. Things like desserts and side dishes and breads can be made in advance. Pies are actually best if they sit for a day or two so they are a great option for making ahead.
Special Touches. For holiday dinners, just a little special touch goes a long way. That could be a name card, a homemade candy sitting next to a plate or a pretty centerpiece. We use gingerbread houses for centerpieces during the holiday season.
Don't forget the drinks! Hot tea, cranberry punch, sherbet punch are great options. Don't forget to have plenty of ice made also.
Have plenty of extra storage containers for sending home any leftovers with family and friends. It's an easy way to share the love.
And remember…family is the most important thing and what people will remember the most. It's ok if things don't go perfectly. Listen, show love and laugh with your dinner guests. That will mean the most!