Patriotic Cake Mix Jello Cookies. A wonderful combination of a boxed cake mix and Jell-O. These are so simple and fun to decorate for the 4th of July!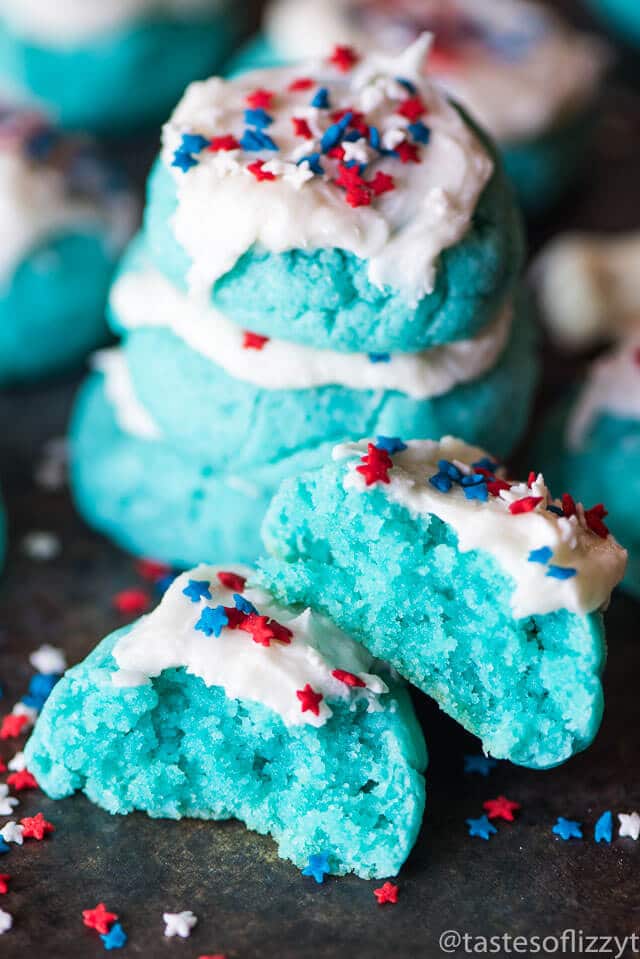 I think I've been in love with cake mix cookies lately. You might be sick of them since we've been posting so many different types. I'm surprisingly not tired of them. Maybe because it's so easy to make them and they look so pillowy-soft cute. So this little blue cookie is yet another take on the cake mix cookie.  But this one is a hint different because it has a box of JELL-O thrown in.  Yes. Jello Cookies. And I'm absolutely sure you'll love them.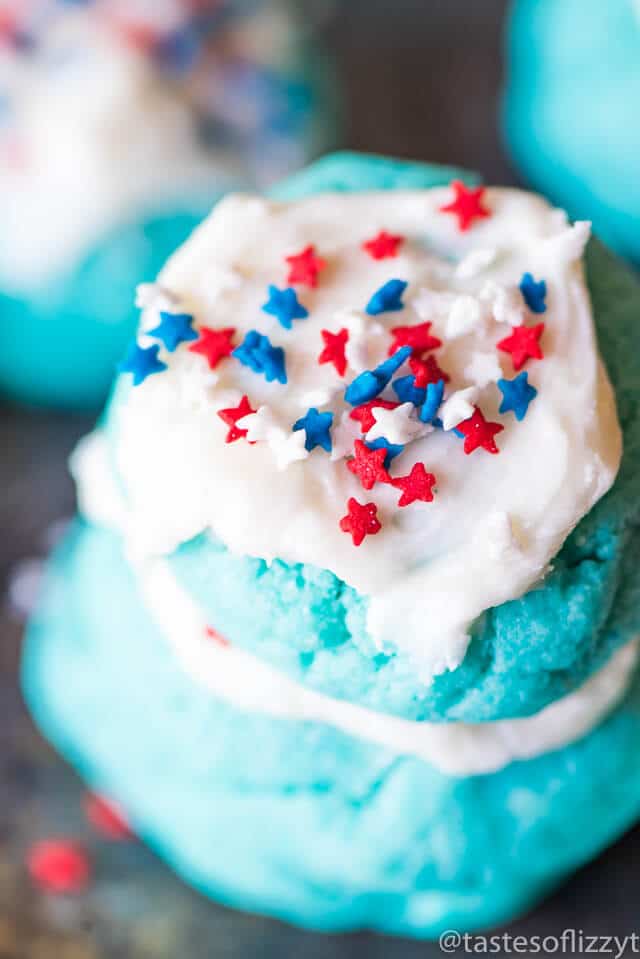 OUR LATEST RECIPES
There are simple ingredients in these jello cookies. Butter, cream cheese, cake mix, Jell-O, and an egg. You don't have to refrigerate the cookie dough as some of our other recipes require. They're just mix, roll, and bake.
It's just 11-13 minutes for your jello cookies to bake. Just enough time to whip up the simple powdered sugar vanilla frosting for the top of the jello cookies.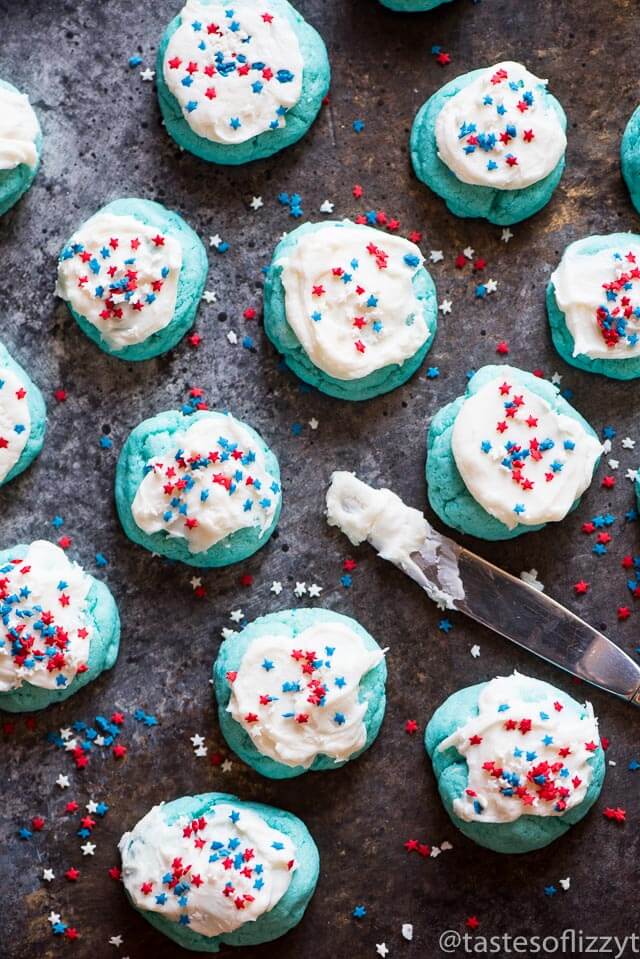 Do you know what cookies these remind me of? Those store bought Lofthouse sugar cookies. My brother LOVES those cookies. I was never a fan because they were way too sweet for me. I'm not stopping you from eating them, but if you're wanting something a little more tart and packed with a whole lot of flavor,these are the ones you want to make. You see, they get their blue color from blue raspberry Jell-O. We've found that different jello can make a difference in how blue the color is, so feel free to add in a few drops of blue food coloring if it is not bright enough for you.
How do jello cookies tastes? Although they don't necessarily taste like raspberry, they do have just a bit of tartness that goes so well with the sweet frosting.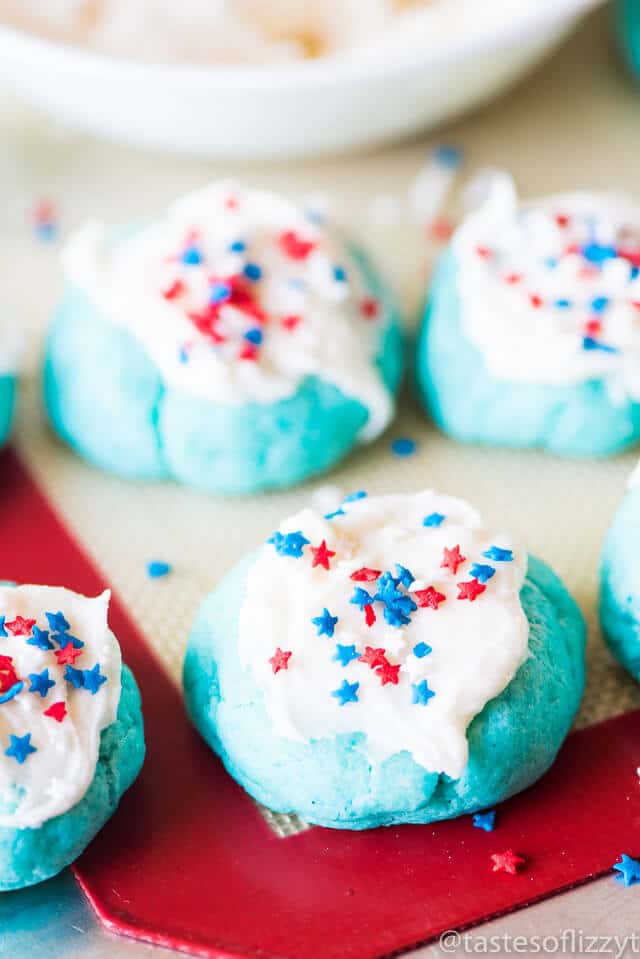 Maybe if I get a restaurant someday I will sell these in a little box like the Lofthouse cookies are in. In fact, they are very portable. The icing stiffens as it sits so you could stack them if you wanted, and the cookies stay soft and chewy because of the cream cheese.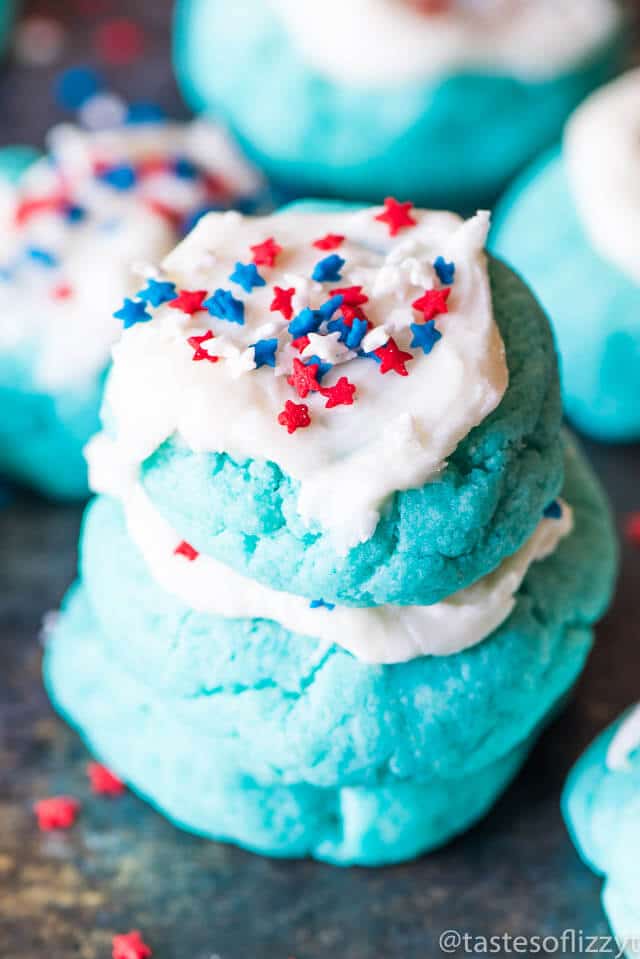 I could keep talking about how easy and delicious these jello cookies are, but you get the idea. They're fast to make and will be gone as quick as lightning. They are extremely delicious with a burst of tart flavor and cream cheese goodness!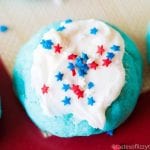 Patriotic Cake Mix Jello Cookies
Patriotic Cake Mix Jello Cookies. A wonderful combination of a boxed cake mix and Jell-O. These are so simple and fun to decorate for the 4th of July!
Ingredients
1

box Pillsbury white cake mix

(dry)

1

small box blue raspberry jello

(3 ounces)

1/4

cup

butter

softened

4

ounces

cream cheese

softened

1

large

egg

A few drops of blue food coloring

(if desired)
Instructions
Preheat the oven to 325 degrees.

In a small bowl, mix the dry cake mix, jello, egg, cream cheese and butter until it is all well combined. Roll the dough into about 24 balls. Place the dough balls about 2 inches apart on cookie sheets. Bake at 325 degrees for 11-13 minutes. Move the cookies to a wire rack to cool.

When the cookies are cooled, spread the frosting on top of the cookies. Immediately sprinkle with patriotic sprinkles, if desired.

Store in an airtight container.
Nutrition Facts
Patriotic Cake Mix Jello Cookies
Amount Per Serving
Calories 113
Calories from Fat 36
% Daily Value*
Total Fat 4g 6%
Cholesterol 10mg 3%
Sodium 181mg 8%
Potassium 19mg 1%
Total Carbohydrates 17g 6%
Protein 1g 2%
* Percent Daily Values are based on a 2000 calorie diet.