Tastes of Lizzy T participates in affiliate advertising programs. We may earn a commission when you make a purchase through links on our site.
A peanut brittle recipe from Amish country that is melt-in-your-mouth good. Hear our secrets for making this homemade brittle light, crisp, and airy. You'll love it!
It's no secret we are candy crazy in our house. Whether we are making homemade truffles or spring candies….or cookies with peanut butter cups or peanut blossoms. If there is candy (especially crack candy!), then count us in!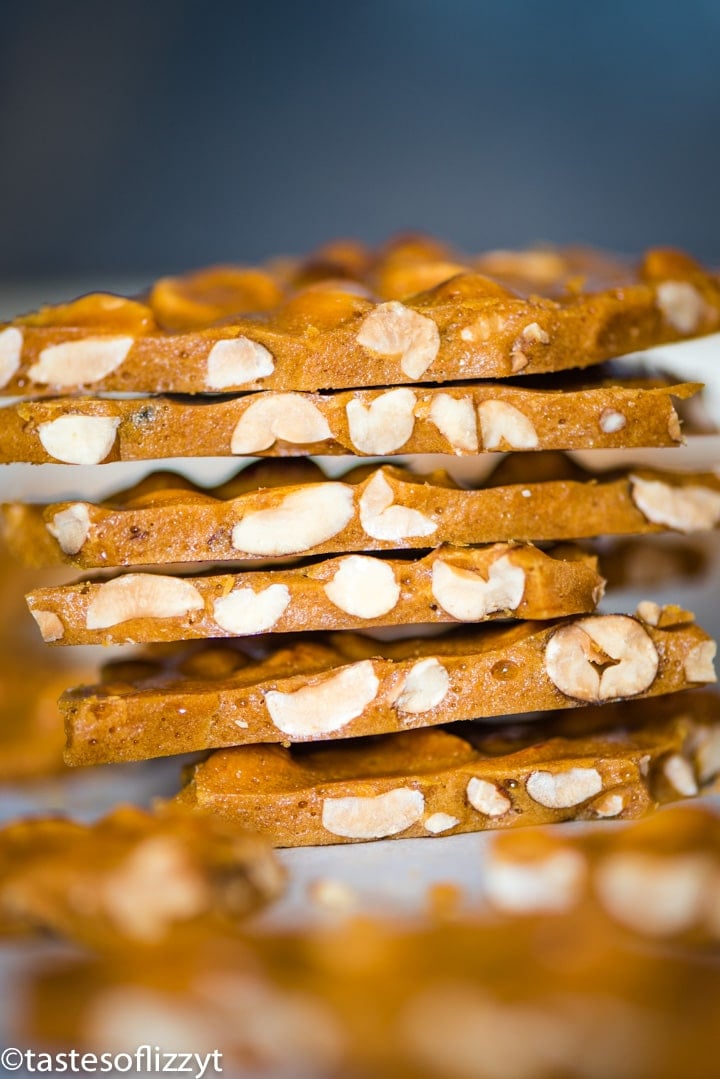 Peanut Brittle Recipe
Peanut Brittle always makes me think of Christmas. When I was Maddie's age, I loved to give my grandparents Christmas gifts but I never knew what to get them. My grandpa loved peanut brittle. I can remember often making homemade peanut brittle and giving it to him as a gift. It just holds a special place in my heart.
It had been a few years since I had pulled out my favorite peanut brittle recipe. It's an old Amish recipe. What makes it "Amish"? I really have no idea. I've never compared it to other brittle recipes. I've never felt the need to think too much about this recipe because it is perfect just the way it is. Light, crisp, airy…mouth-watering good.
Who invented peanut brittle?
It is unknown exactly who invented peanut brittle. It was first found in an American cookbook, but it is believed to be based on a celtic recipe of caramelized nuts. (source)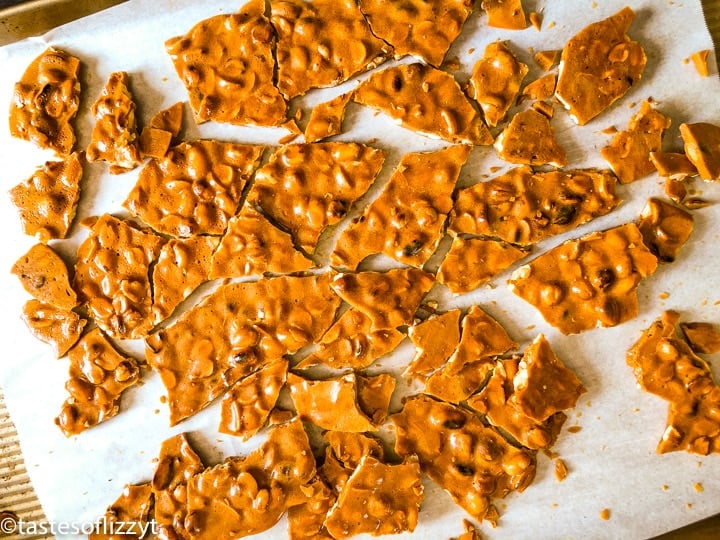 What is peanut brittle made of?
Peanut brittle is a mixture of sugars (white sugar and corn syrup) along with butter, vanilla, water, salt, peanuts and baking soda. These are basic ingredients that you'll most likely have in your pantry. The key to a good brittle recipe is in the technique. We'll talk about that below.
Why do you add baking soda to peanut brittle?
Baking soda is a key ingredient in making homemade brittle. When you add peanut brittle to the sugary syrup, it lets out tons of air bubbles (don't worry…they are tiny!) and it is what gives the candy such a light, airy texture. Don't skip it!
Without baking soda, the brittle will be hard and chewy.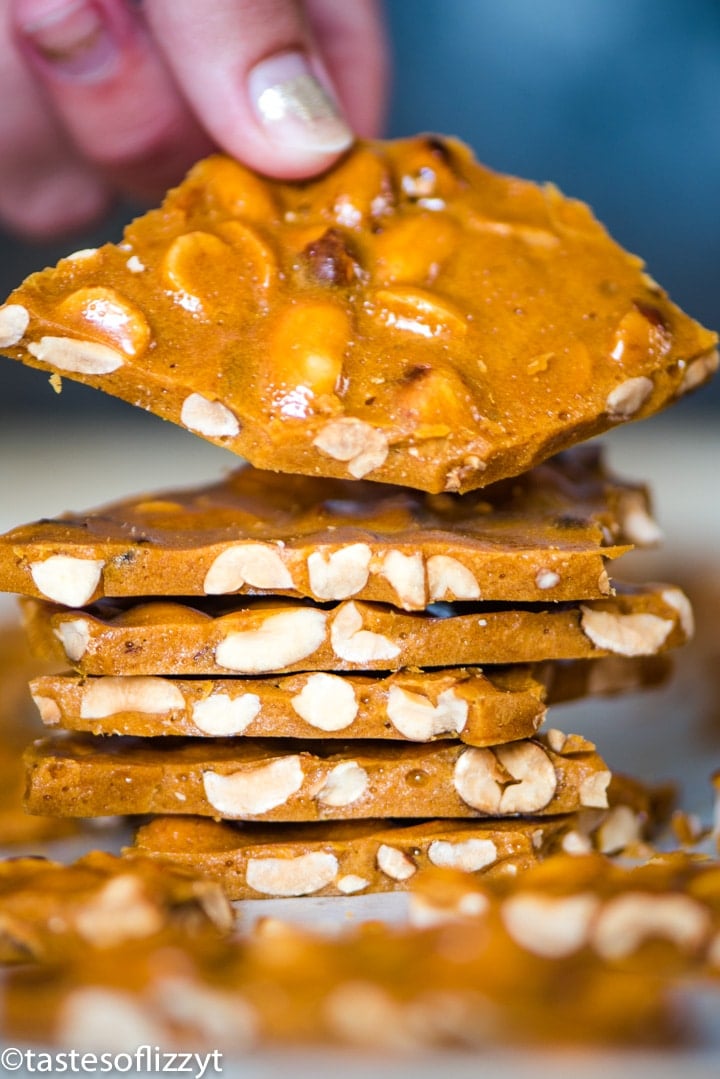 How to Make Peanut Brittle
Heat the mixture to first the soft ball stage and then the hard crack stage. What in the world are these stages? There are several different stages to candy making and in order to get it right you need to have a good candy thermometer. Here's a link to the one I have. I love it because it has clear markings for the different stages of candy making. You'll first heat the sugar, corn syrup and water until it reaches the soft ball stage (235-245 degrees). Then you add butter, peanuts and salt and heat it until the hard crack stage (295-310 degrees). It's called "hard crack" because the when the mixture cools, it will be hard and crisp. Seems simple, right? The hardest part of the recipe is having the patience to wait until the sugar syrup mixture gets to that temperature. I cooked my sugar mixture over medium heat for about 20 minutes to get it to the soft ball stage and then an additional 10-15 minutes for the hard crack stage. You don't have to stir the mixture constantly…just stir it a few times here and there, mostly in the first 10 minutes or so while you are waiting for the sugar to dissolve completely. You definitely don't want to stop cooking the mixture before it reaches the hard crack stage. That's where the patience comes in. If you take it off the heat too early, your brittle will not be crisp. Again, I highly recommend using a candy thermometer. It completely took the guessing game out of candy making and gave us success!
Add baking soda to the mixture. When the sugar mixture reaches the hard crack stage, you'll take it off the heat and add the baking soda. It's going to foam and the mixture will "grow" as you stir it, doubling in volume. Don't leave out the baking soda. The carbon dioxide that is created when the mixture foams is what gives the brittle its texture. Snap a piece of brittle apart and you'll see little bubbles or air pockets inside. Light….airy.
The last step is pouring this foamy mixture out on a cookie sheet that has been lined with parchment paper and sprayed with cooking spray. Spread the mixture to the thickness that you'd like. Our brittle is about 1/4″ thick. Then let it cool. Before you know it, you'll be able to snack on this amazing little salty & sweet snack.
Why is my peanut brittle soft?
If your peanut brittle is too soft, you didn't cook it long enough. It's important to use a candy thermometer and cook the sugar mixture until it reaches the hard crack stage. Watch it closely…you may be tempted to take it off the stove sooner, but don't!!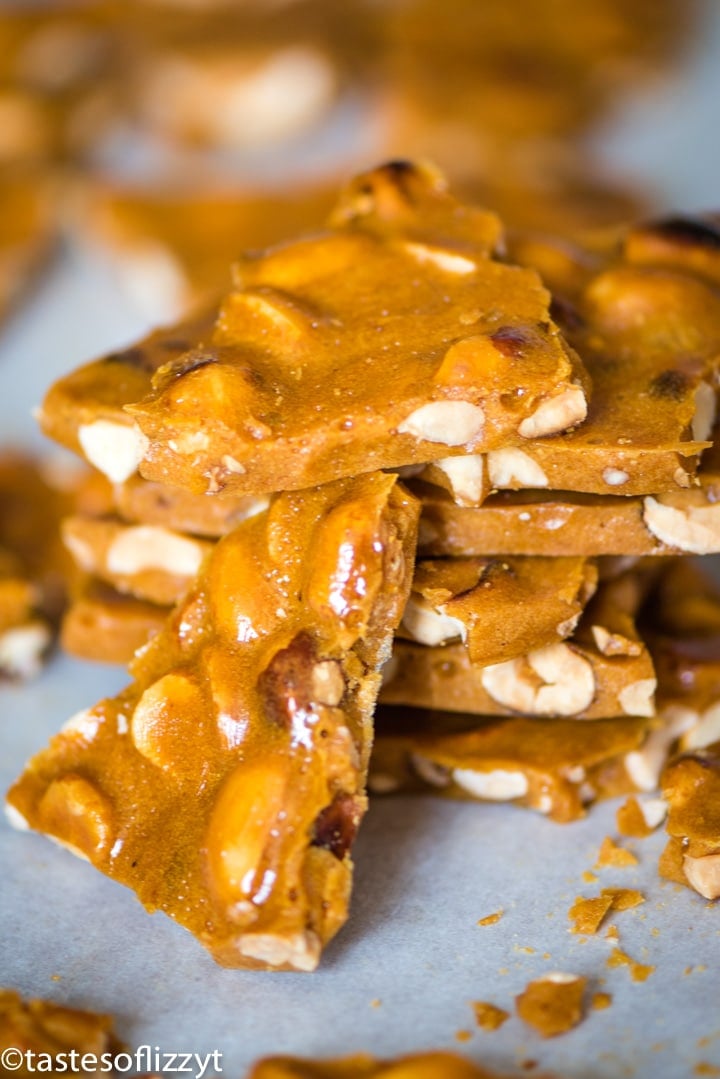 How long will peanut brittle last?
You can store peanut brittle in an airtight container at room temperature. If you store it properly you can keep it for about 2 months. This is great for make-ahead gifts!
Can you refrigerate peanut brittle?
There is no need to refrigerate peanut brittle. In order for it to stay crisp you'll want to keep moisture away from it. It is best stored at room temperature.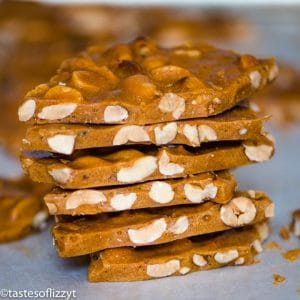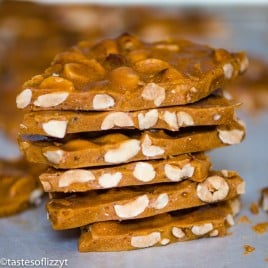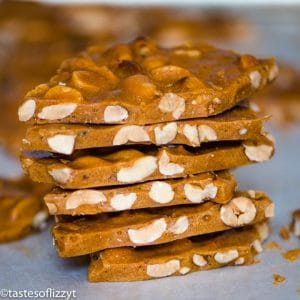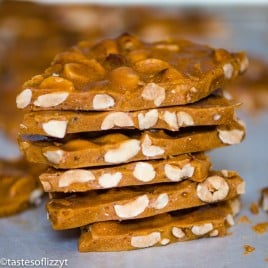 Peanut Brittle Recipe
A peanut brittle recipe from Amish country that is melt-in-your-mouth good. Hear our secrets for making this brittle light, crisp, and airy. You'll love it!

---
Ingredients
1 1/2

cups

white sugar

1/2

cup

light corn syrup

2/3

cup

water

1 1/2

cups

raw peanuts

1/2

teaspoon

salt

2

tablespoons

butter

1

teaspoon

baking soda

1

teaspoon

vanilla
Instructions
Cover a cookie sheet with parchment paper and spray the parchment paper with cooking spray.

In a 3 quart saucepan, combine the sugar, corn syrup and water. Cook this mixture over medium heat to the soft ball stage (about 238 degrees) on a candy thermometer, stirring it only until the sugar dissolved. Add the peanuts, salt and butter. Cook the mixture to the hard crack stage (about 290 degrees) on a candy thermometer. Remove the mixture from the heat and add the vanilla and baking soda. Stir the mixture thoroughly.

Pour the mixture onto the prepared cookie sheet. Spread it to about 1/4″ thick.

Let the candy cool completely before breaking the candy into pieces.

Makes about 1 to 1 ½ pounds of peanut brittle.
Notes
The calories shown are based on the recipe being broken into 24 pieces, with 1 serving being 1 piece of brittle. Since different brands of ingredients have different nutritional information, the calories shown are just an estimate.
Nutrition
Calories:
129
kcal
|
Carbohydrates:
19
g
|
Protein:
2
g
|
Fat:
5
g
|
Saturated Fat:
1
g
|
Cholesterol:
2
mg
|
Sodium:
109
mg
|
Potassium:
67
mg
|
Sugar:
17
g
|
Vitamin A:
30
IU
|
Calcium:
11
mg
|
Iron:
0.4
mg