Apple Butterscotch Snack Cake
Apple Butterscotch Snack Cake is one of our best apple recipes for a special fall treat. The apple, nut and butterscotch flavors of this moist snack cake blend together in an amazing way!

Apple Butterscotch Snack Cake
I'm not one for butterscotch chips. I never really have been, and I can never figure out why.
Apple, on the other hand, is one of my favorite fall flavors. We were flipping through an old cookbook that my grandma had given me, when we stumbled upon a recipe that called for apples and butterscotch chips. My mom and I both had to stop and think for a minute: Would those two flavors actually taste good together?
We decided to give it a try, even though both of us just couldn't visualize putting apple and butterscotch together in a cake.
I nervously made the batter into 12 little cupcakes and put them in the oven. When they finally came out, they looked really good! A soon as my mom tried to take one out, though, the whole cupcake fell apart. We ended up with a Tupperware container full of crumbles and chunks of butterscotch apple cupcakes.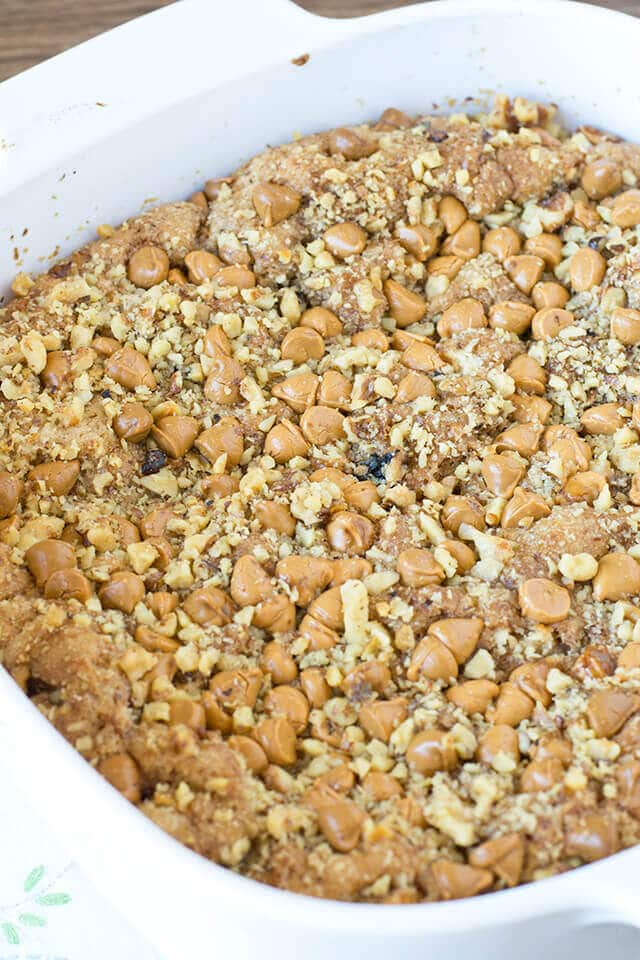 My dad still wanted to try them when he came home from work. So after dinner, we all sat down to a scoop of ice cream atop a warm, crumbled cupcake. I only had three words to describe the flavor of those apple butterscotch cupcakes: Oh.My.Goodness.
I am now a proud fan of a new flavor: Butterscotch and Apple. Applescotch. Pretty good name, right?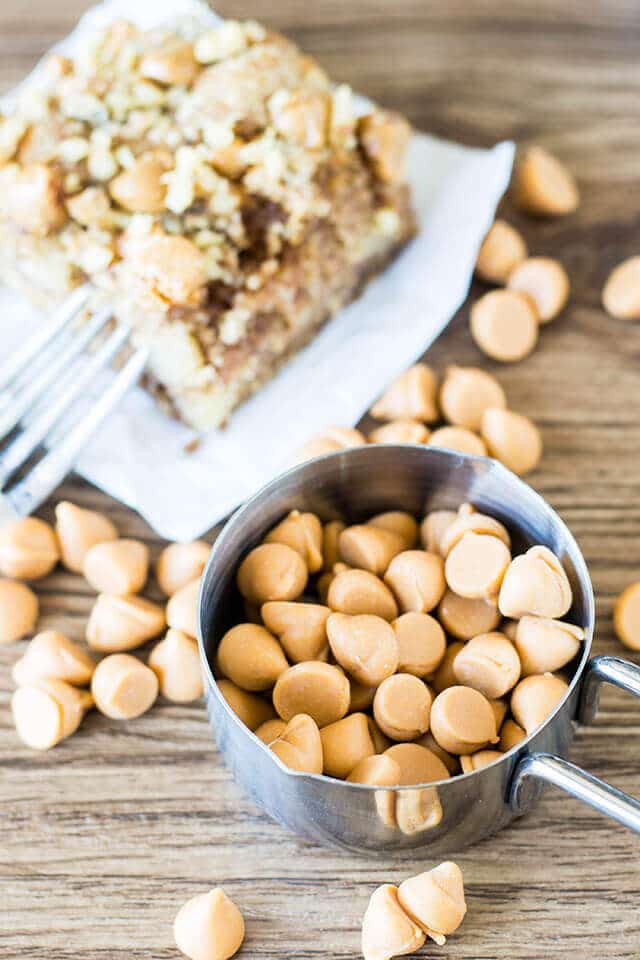 Now all we had to do was make them stay together. Because, you can't just give up on something this good.
How to Make Butterscotch Apple Snack Cake
So instead of making cupcakes like the recipe said, we just put the batter into an 8×8 inch pan to make bars, or basically a little apple butterscotch snack cake.
We also just added the butterscotch chips to the top so there wasn't too much to choke the batter. This time, thankfully, the cake worked, cut evenly and tasted amazing!
Somehow the apple cake lasted until Sunday, when we took it to a friend's house. That's some huge self-control, right? It was eaten so fast at my friend's house that I didn't even get to have a second serving!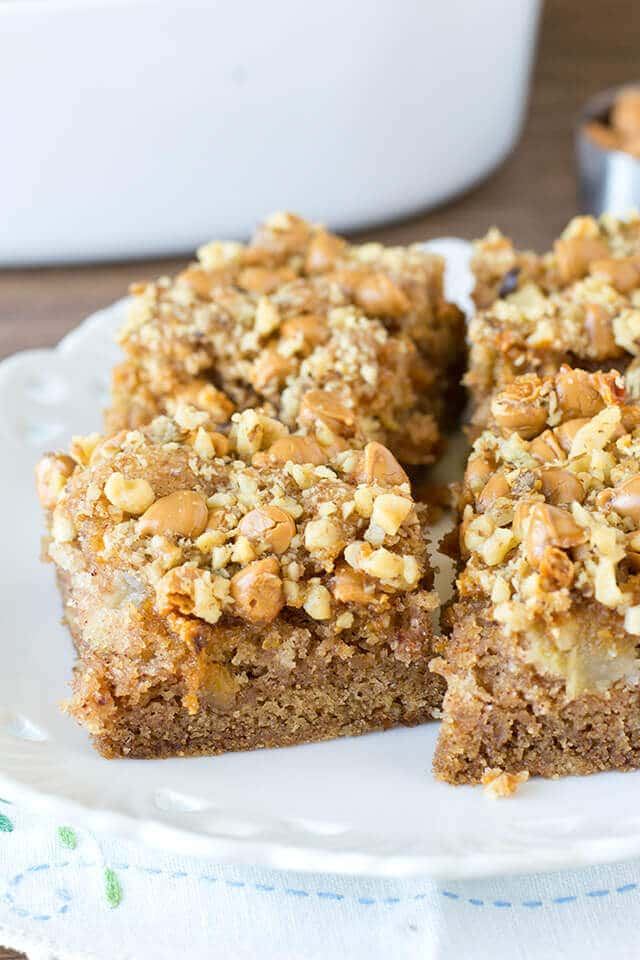 If you're ready to wow everyone with a special fall treat this year, this is your snack cake. Serve it up for breakfast with a cup of hot coffee, or with a scoop of ice cream for dessert. It's simple, fun, and delicious to eat!
Looking for a new apple dessert to try? Try our famous apple dumplings!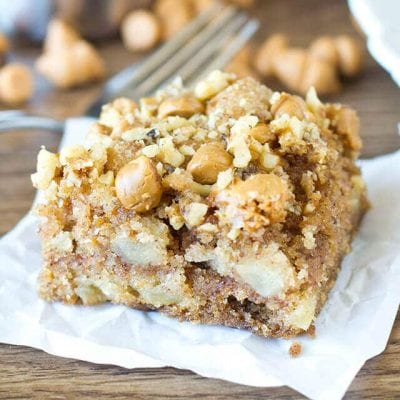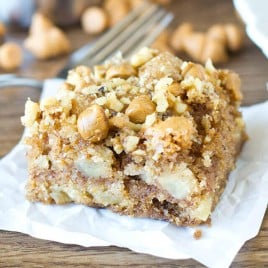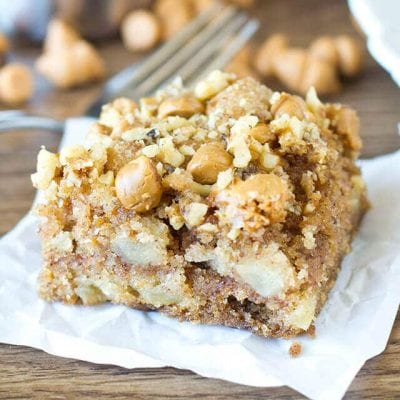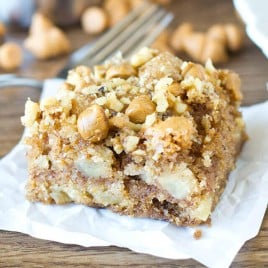 Apple Butterscotch Snack Cake
Apple Butterscotch Snack Cake is one of our best apple recipes for a special fall treat. The flavors of moist apple cake and butterscotch pair perfectly!
---
Ingredients
1/2

cup

canola oil

1

large

egg

1

cup

granulated sugar

214 grams

1 1/4

cup

all-purpose flour

168 grams

1/2

teaspoon

baking soda

1/2

teaspoon

salt

1/2

teaspoon

cinnamon

1/2

teaspoon

baking powder

1 1/2

cups

finely chopped apples

1/2

cup

walnuts

chopped

1

cup

butterscotch chips
Instructions
Preheat the oven to 350 degrees.

In a large bowl, mix together the canola oil, egg and sugar.

In a separate bowl, sift together the flour, baking soda, salt, cinnamon and baking powder.

Add the dry ingredients to the wet ingredients and mix just until combined.

Fold in the chopped apples.

Spray an 8x8 pan with cooking spray.

Spread this mixture in the bottom of the prepared pan.

Sprinkle the walnuts and butterscotch chips on top of the cake batter.

Bake at 350 degrees for 35-40 minutes or until a toothpick inserted in the center comes out clean.

Allow the bars to cool and cut them into squares.

This cake is best baked one day before serving.
Notes
This apple butterscotch snack cake is delicious alone, or warmed and served with ice cream on top!
Nutrition
Calories:
394
kcal
|
Carbohydrates:
56
g
|
Protein:
3
g
|
Fat:
18
g
|
Saturated Fat:
1
g
|
Cholesterol:
22
mg
|
Sodium:
272
mg
|
Potassium:
99
mg
|
Fiber:
1
g
|
Sugar:
39
g
|
Vitamin A:
60
IU
|
Vitamin C:
1
mg
|
Calcium:
23
mg
|
Iron:
1.1
mg