Butter Dips: These biscuit-like, buttery breadsticks have a crispy exterior and chewy interior. Just the right addition to your meal!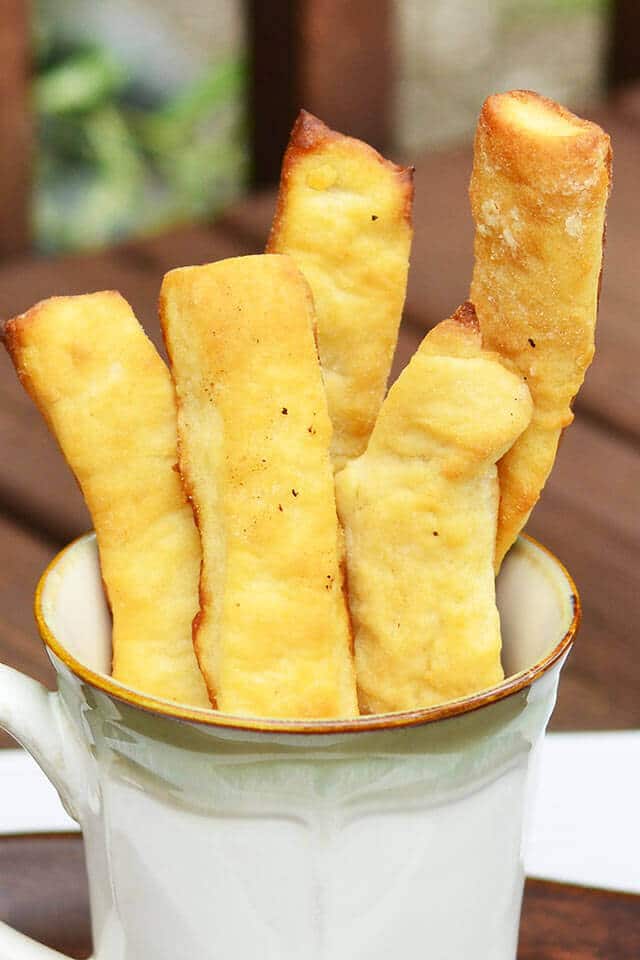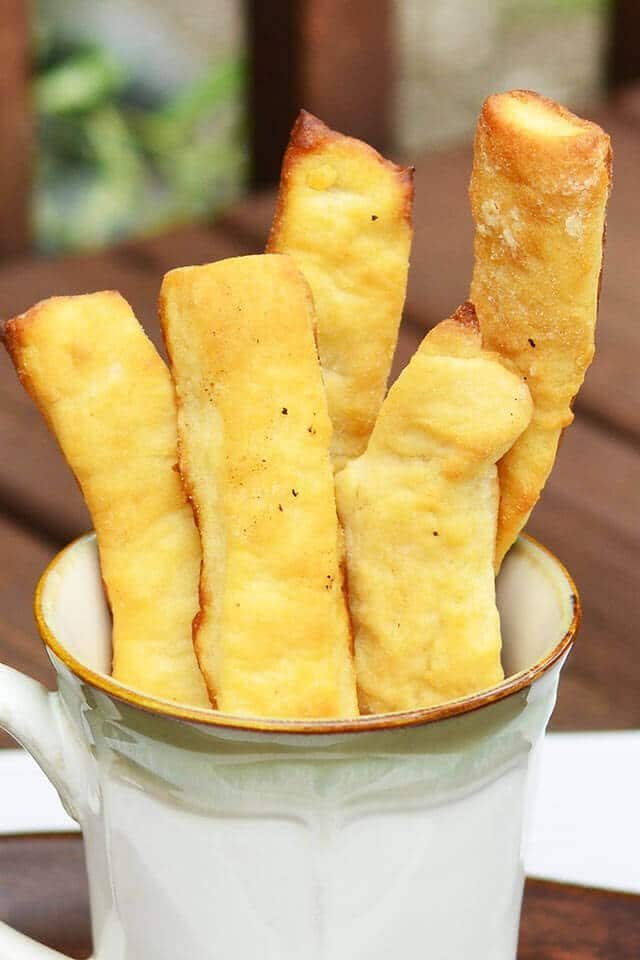 Butter Dips Breadsticks
Just the name sounds tempting, I think. These crispy on the outside, chewy on the inside, buttery sticks are easy to make and fast to pop in the oven. Don't mind that you have to roll them out…they are so worth it!
Let's get baking!
In a bowl, mix up the flour, sugar, baking powder, salt, and milk.  You will end up with a very sticky dough. On a dry surface, throw some flour on and knead the dough with your hands about 10 times. Keep putting a little flour on top, so the dough is nicely coated in flour. Roll out an 8″ square. Cut the square in half, then cut as many sticks as possible, about 1 inch wide. I ended up with about 18 sticks.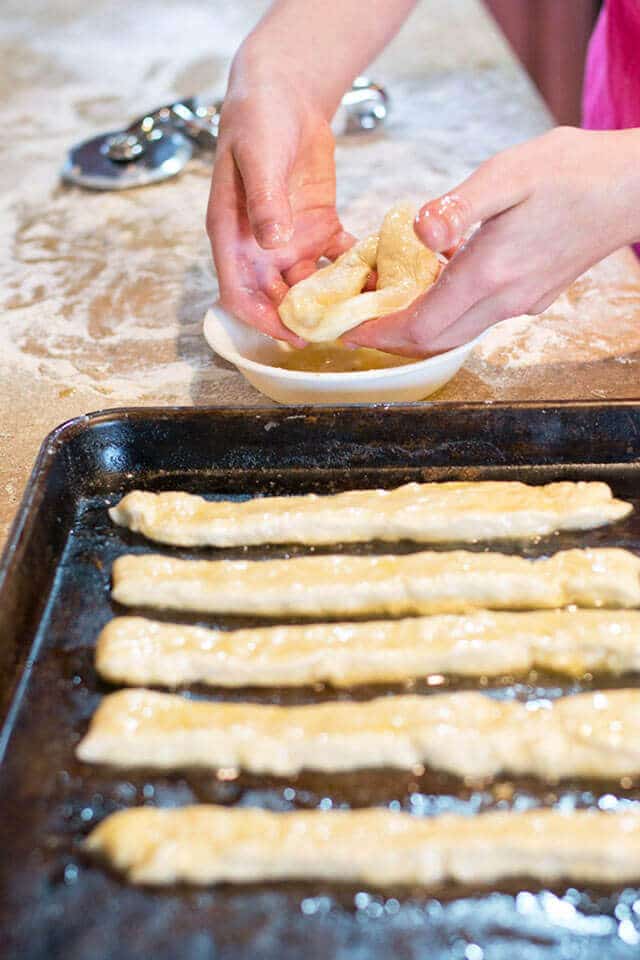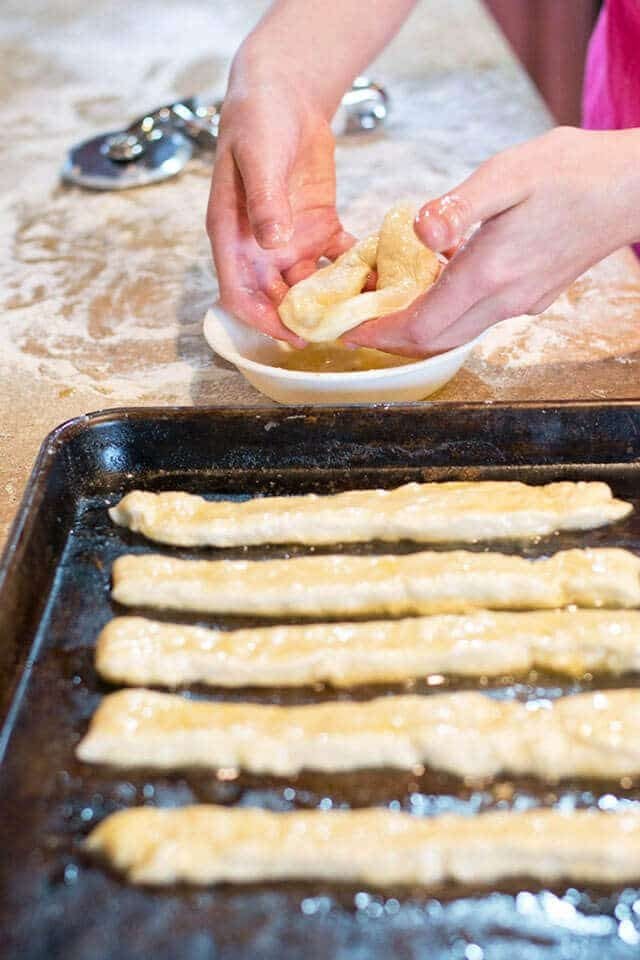 Then, melt ¼ cup of butter. There are a few ways to do this. You could separately dip the Butter Dips into the bowl, as shown below, or you could put the butter on an empty pan, spread it around, put the dough strips on, then flip all the strips over so they are all coated with butter. I have tried both methods, and they are both pretty easy.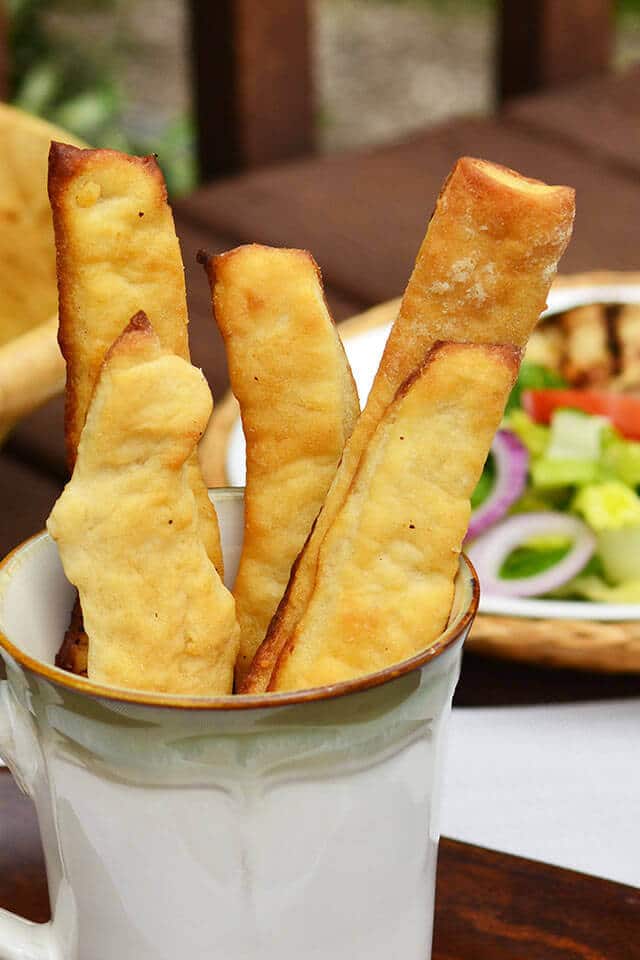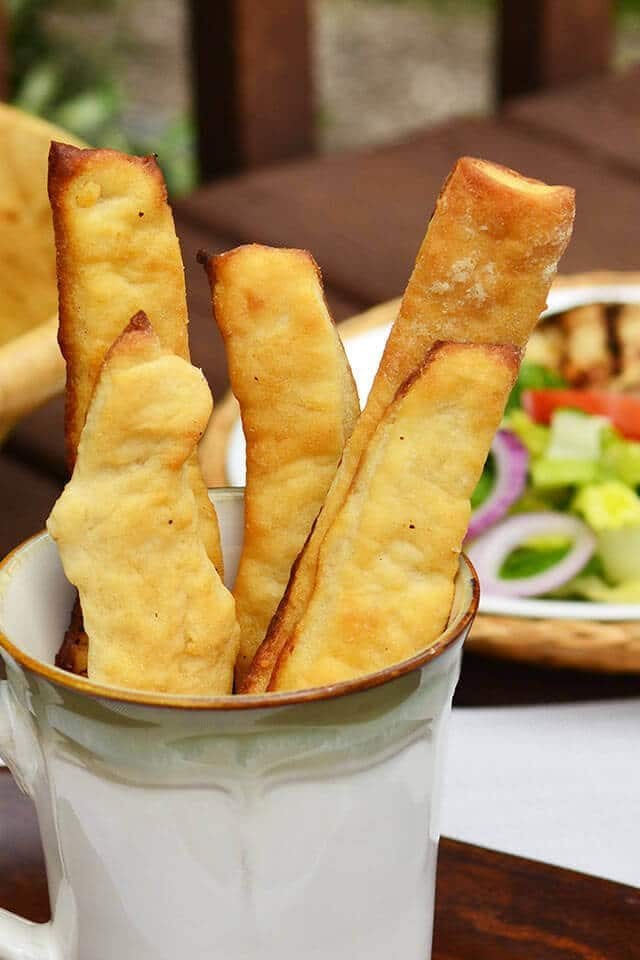 Here are some tips on how to make perfect Butter Dips:
– If you are unsure how to knead, all you have to do is fold the dough in half and press it out. Simple, right? This recipe says to knead it about 10 times on the counter. If it's too sticky, add a bit more flour on top and knead some more.
-When rolling out the dough, you can use a rolling pin or your hands. I used my hands for this and they turned out great! If you don't have a rolling pin, then just lightly press and stretch the dough into a 8 inch square.  If you roll your dough thinner, your butter dips will be crispier and less chewy in the middle.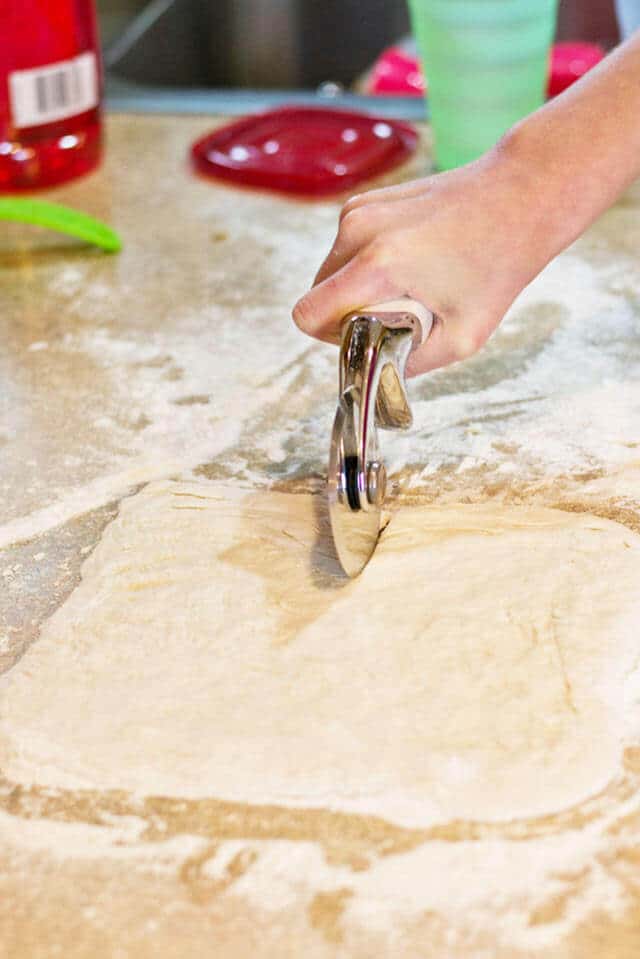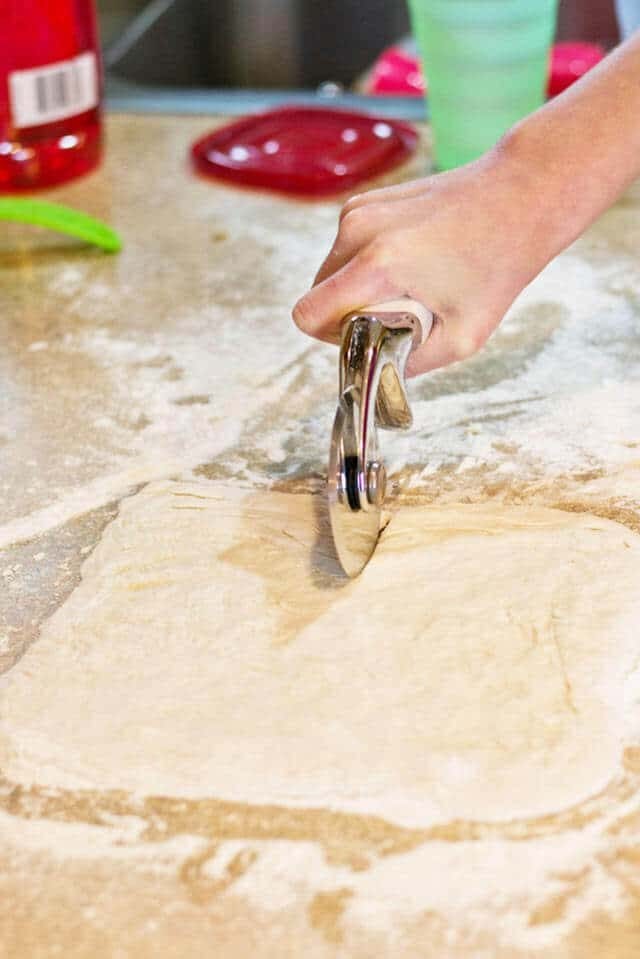 -Cutting out the dough isn't that hard, but we like to use a pizza cutter to make it fun.
 I think these Butter Dip breadsticks are good with any meal, but especially chicken salad recipes and spicy soups.  I'd make a whole batch just to eat for a snack if my mom would let me!  They're that good, especially warm from the oven!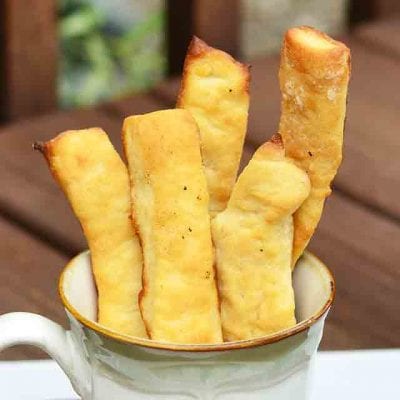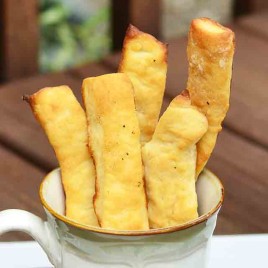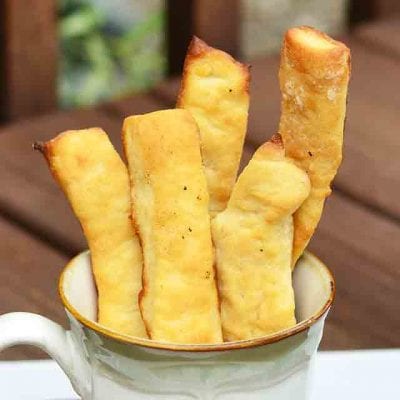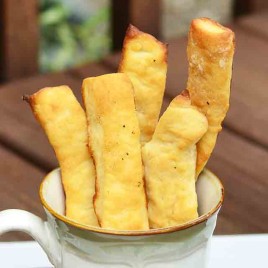 Butter Dips Breadsticks
Biscuit-like, buttery breadsticks are crispy on the outside and chewy on the inside!

---
Ingredients
1 1/4

cup

flour

2

teaspoons

sugar

2

teaspoons

baking powder

1

teaspoon

salt

2/3

cup

milk

1/4

cup

butter
Instructions
Preheat oven to 450 degrees.

In a medium bowl, measure the dry ingredients, add milk and stir just until the dough forms. Turn dough onto floured board. Knead lightly about 10 times. Roll or pat into an 8 inch square and cut the dough in half with a pizza cutter. Then cut into nine 4-inch strips.

In a separate bowl, melt the butter. Pour the butter into a baking pan and dip each strip into the melted butter, coating on all sides. Arrange strips in rows in the pan. Bake at 450 degrees, for 15-20 minutes or until golden brown. Makes 18 butter dips.
Nutrition
Calories:
61
kcal
|
Carbohydrates:
7
g
|
Protein:
1
g
|
Fat:
2
g
|
Saturated Fat:
1
g
|
Cholesterol:
7
mg
|
Sodium:
156
mg
|
Potassium:
66
mg
|
Vitamin A:
95
IU
|
Calcium:
32
mg
|
Iron:
0.4
mg
Recipe Source Betty Crocker