Tastes of Lizzy T participates in affiliate advertising programs. We may earn a commission when you make a purchase through links on our site.
Turn a much-loved candy bar into a cake! This Almond Joy Layer Cake starts with a boxed cake mix, but has homemade coconut buttercream and a silky chocolate ganache to make it a divine dessert.

Two weeks ago, my house was overflowing with desserts. Cakes…cookies…cupcakes…shortbread bars. You name it, we probably had baked it that week. That's how it goes with food blogging. Some weeks are mostly computer work. Other weeks seem to be baking weeks where you hardly find time to step out of the kitchen.
Although we bake something nearly every day, this week we had a particularly scary amount of desserts in the house. Like a don't-even-think-about-eating-healthy amount. Whether it is a baked good to sell, a promotional post or recipe testing, we go through more than our share of eggs, flour and sugar. And sometimes we just don't know what to do with it all.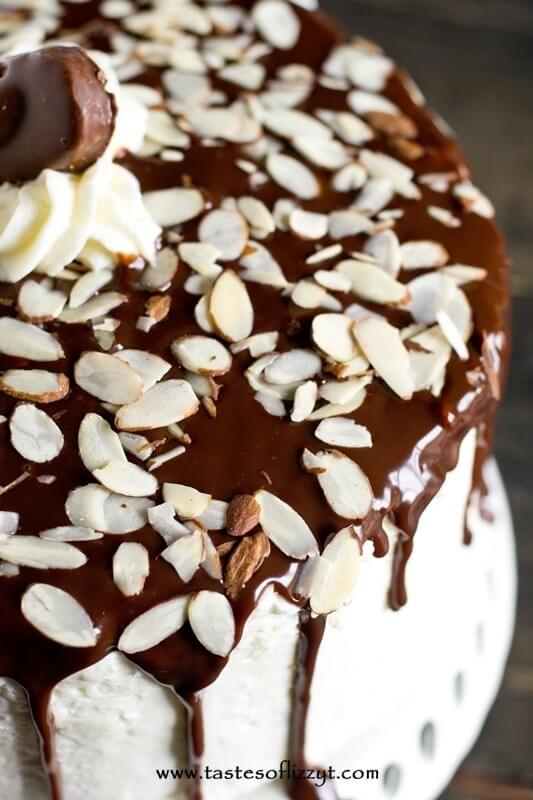 For this particular cake, I decided to post a picture on Facebook and see which of my friends would take this chocolate-dripping beauty off my hands. It didn't take long before I had takers. I knew my friends would come through for me!
I did save a slice for Matt, whose favorite candy bar is Almond Joy.  That's the candy that I based this layer cake off of.
This recipe starts with a simple boxed cake mix. You can make your own homemade chocolate cake from scratch, but I think boxed cake mixes turn out pretty great on their own. And they're easy!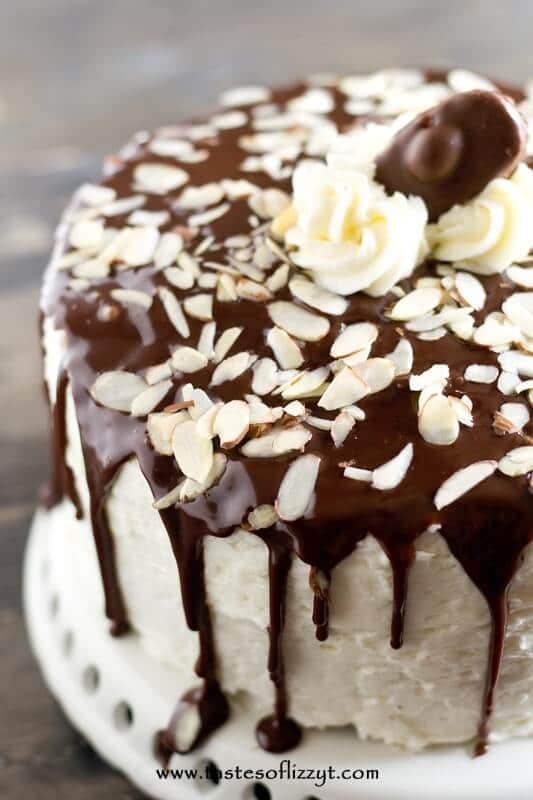 Bake the cake in 2 9″ round cake pans. Have you ever tried Wilton's Bake Even Strips
? They are strips of fabric that you dampen, slip around the outside of a cake pan and bake the cake. When the cake is done it will be perfectly level on top. No uneven layers. It's quite amazing!
While the cakes are cooling you can make the coconut buttercream. Now we like a lot of frosting on our Almond Joy Layer Cakes. A thick layer in the middle and the same on the outside. If there's one thing I don't like, it's running out of frosting. Nobody wants a cake with thin frosting. So this makes a lot of frosting. Because frosting is the best part of a cake. Plus, I wanted a little extra for making a sweet, creamy swirl on top.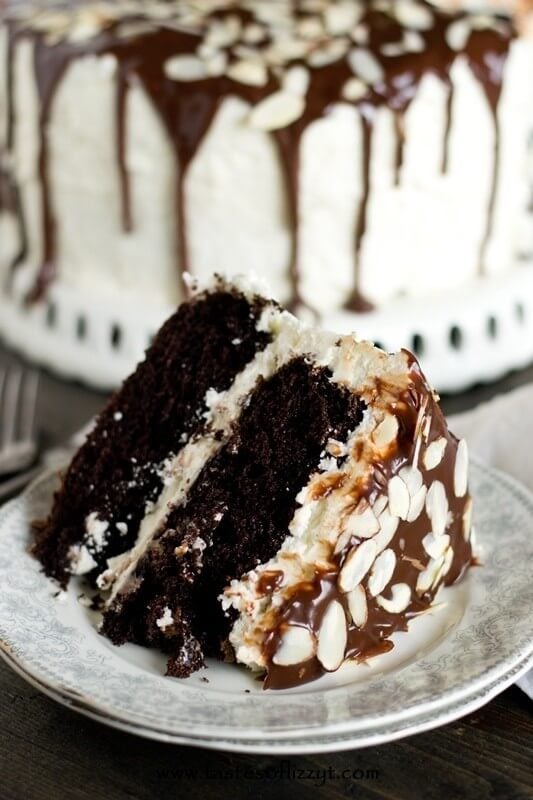 The final step to making this coconut almond chocolate cake is to make the chocolate ganache. If you've never made ganache, it's super easy.  If you have a double boiler
 (which I highly recommend having in the kitchen), just add the chocolate and the cream to the top pan of the double boiler. Heat water in the bottom pan and as the water heats, it will melt the chocolate. Continue to stir it all together until it is silky, shiny and smooth.  Need info on how to make chocolate ganache without a double boiler?  There's a great article here with all you need to know.
Make the ganache, allow it to cool and thicken for 25-30 minutes, then spoon it on the top of the cake, just barely to the edges.  It will eventually spill gently over the sides, or you can help it along with a spoon if it is not making pretty drizzles. If you don't the ganache cool a bit and thicken, it will all run off your cake, making a huge mess and leaving you with one sad, ganache-less cake.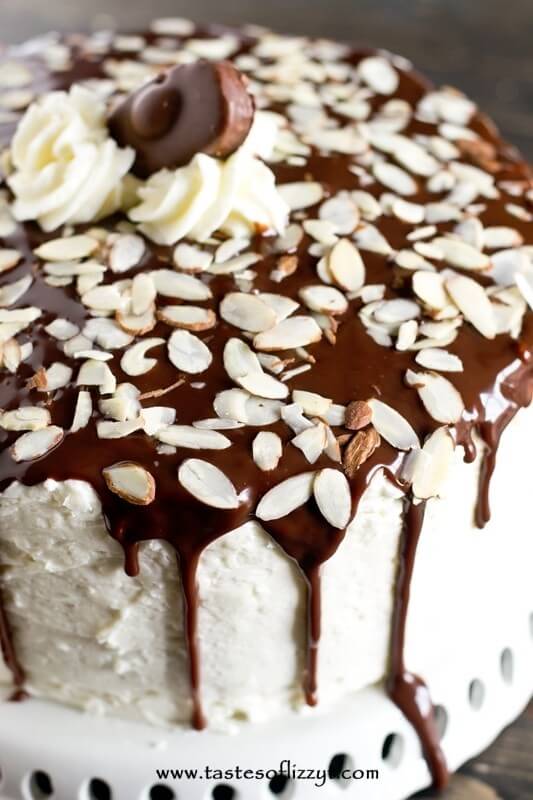 Decorate the top of the Almond Joy Layer Cake as you'd like, with sliced almonds and an extra swirl or dab of frosting, or even chopped Almond Joy candy bars.
Wouldn't this be a fabulous birthday cake for the loved one in your life who dreams of chocolate and coconut?
Q: What's your favorite candy bar? This will give us ideas for a new cake. 🙂
Q: Have you ever made chocolate ganache?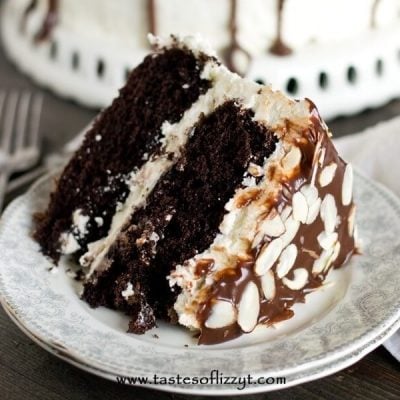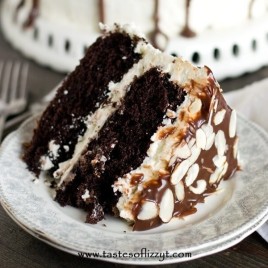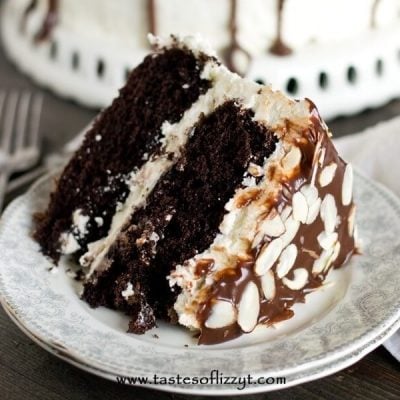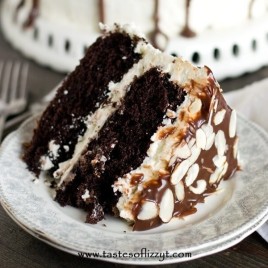 Almond Joy Layer Cake
Turn a much-loved candy bar into a cake! This Almond Joy Layer Cake starts with a cake mix, but has homemade coconut buttercream and chocolate ganache.
---
Ingredients
1

box

Duncan Hines Dark Chocolate Fudge dry cake mix

16.5 ounces

3

large

eggs

1

cup

whole milk

1/3

cup

canola oil
Coconut Buttercream:
2

cups

butter

4 sticks, softened

3

teaspoons

coconut extract

8

cups

powdered sugar

1/3-1/2

cup

heavy cream

2

cups

shredded coconut
Chocolate Ganache:
2

cups

semi-sweet chocolate chips

1

cup

heavy cream

1/2

cup

sliced almonds

Almond Joy fun-size candy bar

for garnishing
Instructions
Pre-heat the oven to 350 degrees. Grease and flour two 9" round cake pans

In the bowl of a stand mixer, combine the dry cake mix, eggs, milk and oil. Beat on low speed for 30 seconds, then on medium speed for 2 minutes. Divide the batter evenly between the two prepared cake pans.

Bake the cake at 350 degrees for 24 minutes, or until the top of the cake bounces back when you touch it.

Allow the cakes to cool for 5-6 minutes. Run a knife around the outside edge of a cake and remove them to a wire rack to cool completely.

While the cakes are cooling, prepare the coconut buttercream.

Place the butter in the bowl of a stand mixer. Whip the butter on medium speed for 2-3 minutes until the butter is almost white.

Add the coconut extract and mix again.

Add the powdered sugar, one cup at a time, to the butter mixture, mixing as you add the sugar.

Add about ⅓ cup of heavy cream and beat well. Continue to drizzle in the buttercream until it is a spreadable consistency.

Whip the frosting for 2-3 minutes until it is light and fluffy. Fold in the shredded coconut.

Once the cakes are cool, place the bottom cake layer on a cake plate. Spread frosting on top of that layer.

Sprinkle ¼ cup sliced almonds over the buttercream.

Place the second cake on top of the frosted cake.

If desired, set aside 1/4-½ cup of frosting for garnishing the top of the cake. With the remianing frosting, frost the cake all over the top and sides, making sure that the cake looks even and as smooth as possible.

For the chocolate ganache: In the top pan of a double boiler, place two cups of chocolate chips and 1 cup of heavy cream. Place water in the bottom pan. Place the double boiler over medium-low heat. As the water heats, stir the chocolate chips and cream until the chocolate is fully melted into the cream. The mixture should be shiny and smooth.

Remove the top pan from the bottom pan and set it on a wire rack to cool. Allow it to cool and thicken for about 25 minutes.

Once the ganache has thickened, spoon it on top of the cake. Start in the center and use a spoon to smooth the ganache barely to the edges of the cake. As you spread the ganache to the edges, a little bit will start to spill over the edge, creating the dripping look. Be careful that the ganache is cool and thick enough and that you are careful spreading it to the sides so that it doesn't all drip off.

While the ganache is still "wet", sprinkle the rest of the sliced almonds on top.

Add a spoonful or swirl (I used Wilton Tip 1M) of frosting to decorate the top. Place a fun-size Almond Joy candy bar in the frosting swirl if desired.
Notes
You can make the layer cakes a day in advance and freeze them as a time-saver. Double wrap them in plastic wrap and put them in a large Ziploc bag or plastic storage container with a lid. Pull them out of the freezer in the morning on the day you want to frost them. Leave them completely packaged (as they were frozen) until they are fully thawed, then unwrap and frost!
Nutrition
Calories:
954
kcal
|
Carbohydrates:
105
g
|
Protein:
6
g
|
Fat:
58
g
|
Saturated Fat:
31
g
|
Cholesterol:
134
mg
|
Sodium:
518
mg
|
Potassium:
357
mg
|
Fiber:
3
g
|
Sugar:
88
g
|
Vitamin A:
1160
IU
|
Vitamin C:
0.2
mg
|
Calcium:
115
mg
|
Iron:
3.4
mg