Light, moist and velvety, this Almond Cream Cake has a homemade cooked, whipped frosting that pairs perfectly with the almond cake. Decorate the cake simply with sliced almonds.
If you're looking at this cake and happen to remember the pinkalicious cake we shared, you'll think that we're in an almond kind of mood. It's true. We do love our almonds.
We posted this cake recipe back in 2015, but I wanted to give this cake the credit that it was due and give it a little update for you.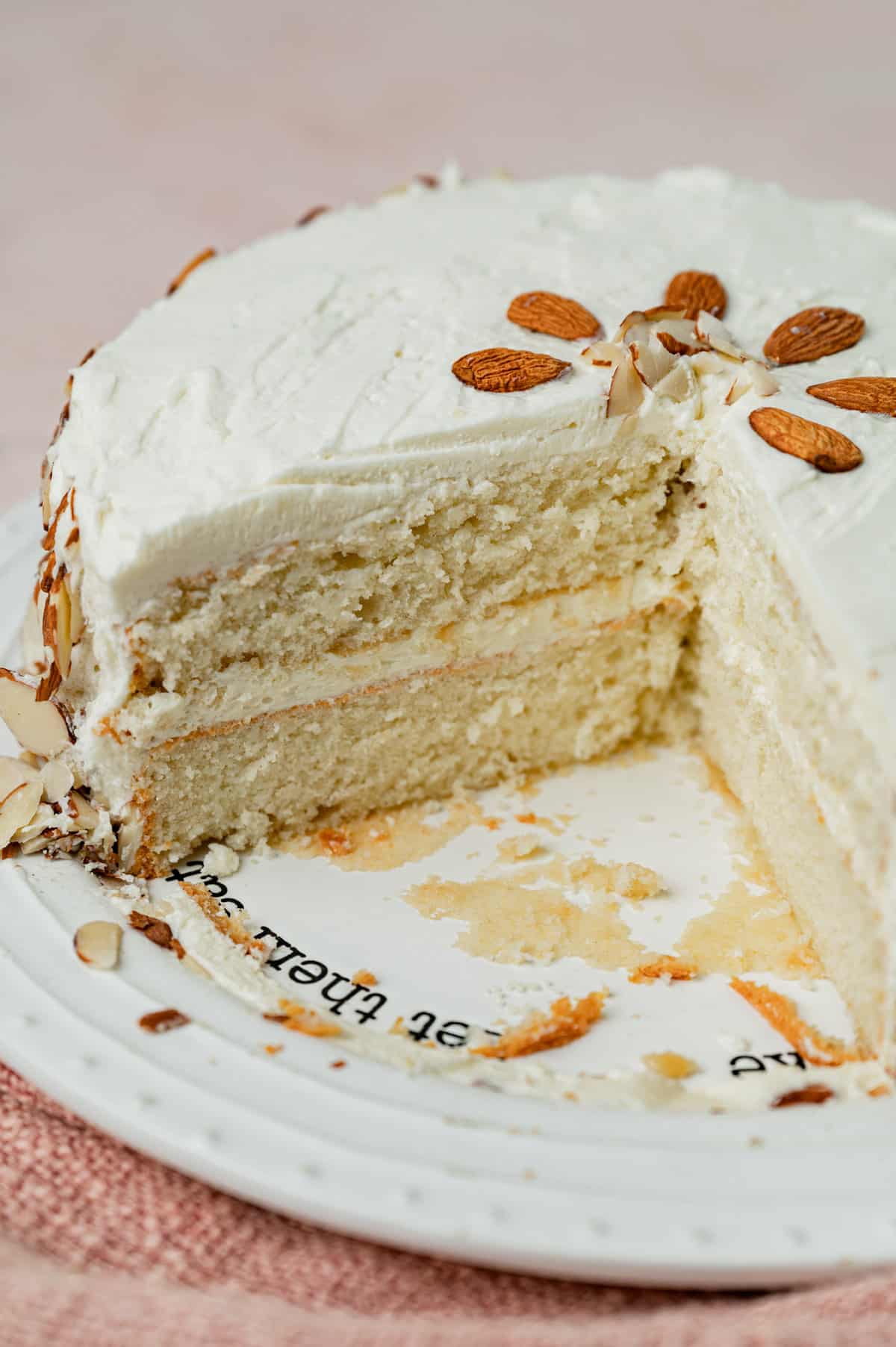 Almond Cream Cake Recipe
Flavor: This is a white cake with a simple, sweet flavor. It has a slight taste of almond, but you could easily switch that out for vanilla if you'd like. The frosting and the cake are not overly sweet…which makes it dangerous to have around.
Texture: Box mix cakes tend to be light and airy, but this homemade cake has more of a dense, velvety texture. It's sturdy, but that doesn't mean it is dry. It's moist. And the smooth frosting will melt in your mouth.
Homemade White Cake
First of all, this almond cream cake is a completely homemade white cake. That means from scratch. No boxed mix. I love boxed cake mixes because they turn out perfectly nearly every time.  But making a cake from scratch has always been this challenge that I've wanted to tackle.
In finding a delicious recipe for white cake (which happens to be my favorite flavor), we had several failures. I wanted a moist cake, but I wanted it to have a light crumb and be thick, but not heavy. We tossed aside several different attempts, but when I saw how this cake baked up? I knew this was it. For a homemade cake, this one beat the rest. Its velvety and moist. Can you see the texture in this photo?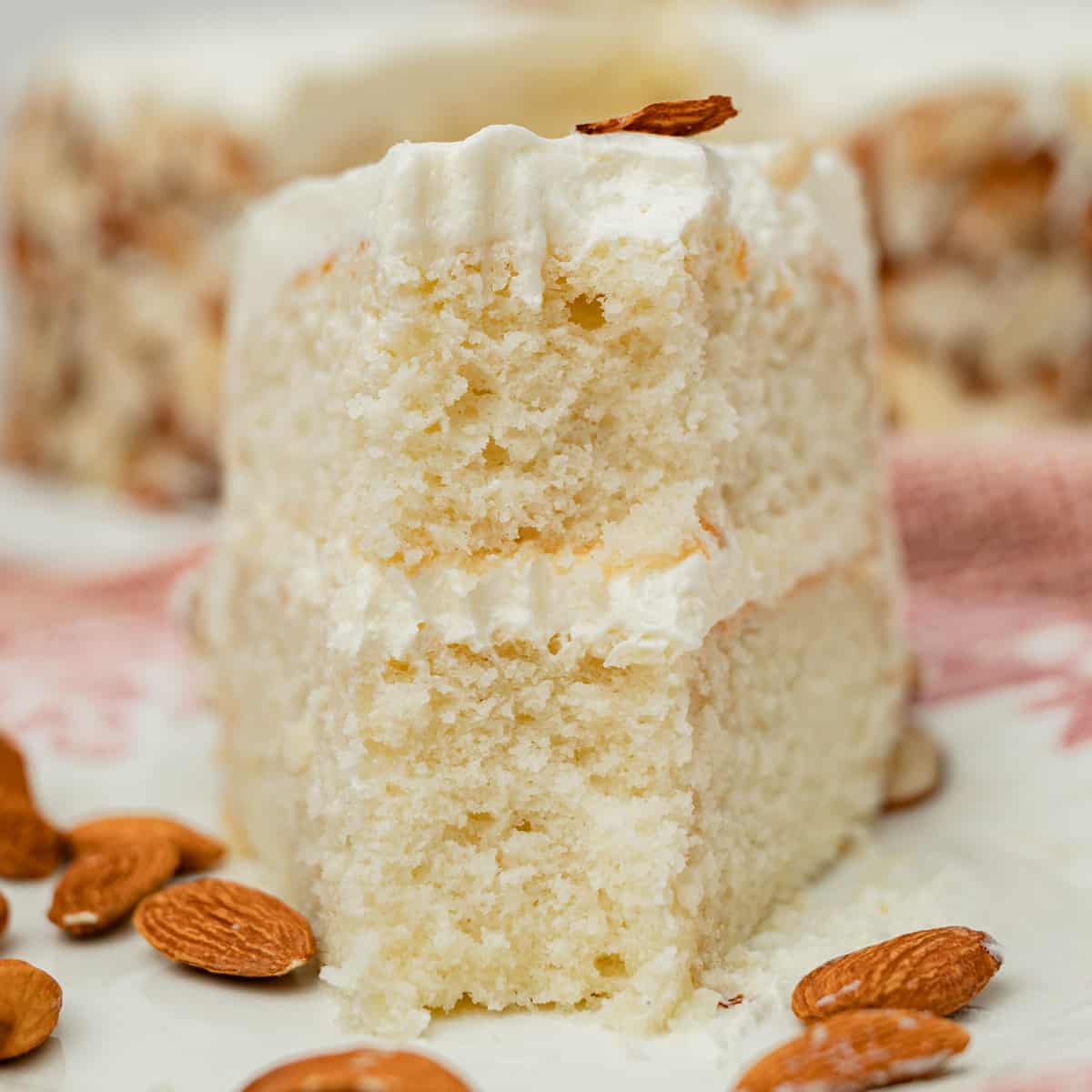 Cake Flour or All-Purpose Flour
The recipe uses cake flour instead of all-purpose flour. All purpose flour has more protein in it (10-12 grams in all-purpose as opposed to 8 grams in cake flour), which forms gluten when you mix it. The less gluten there is, the more tender the cake is.
The starch in the cake flour helps to stabilize the cake. There's more science behind the reasons you should use cake flour when baking a cake. Although I like learning the science behind baking and sharing it with you, sometimes it is just easier to let the experts explain it. You can read more of the science behind cake flour here.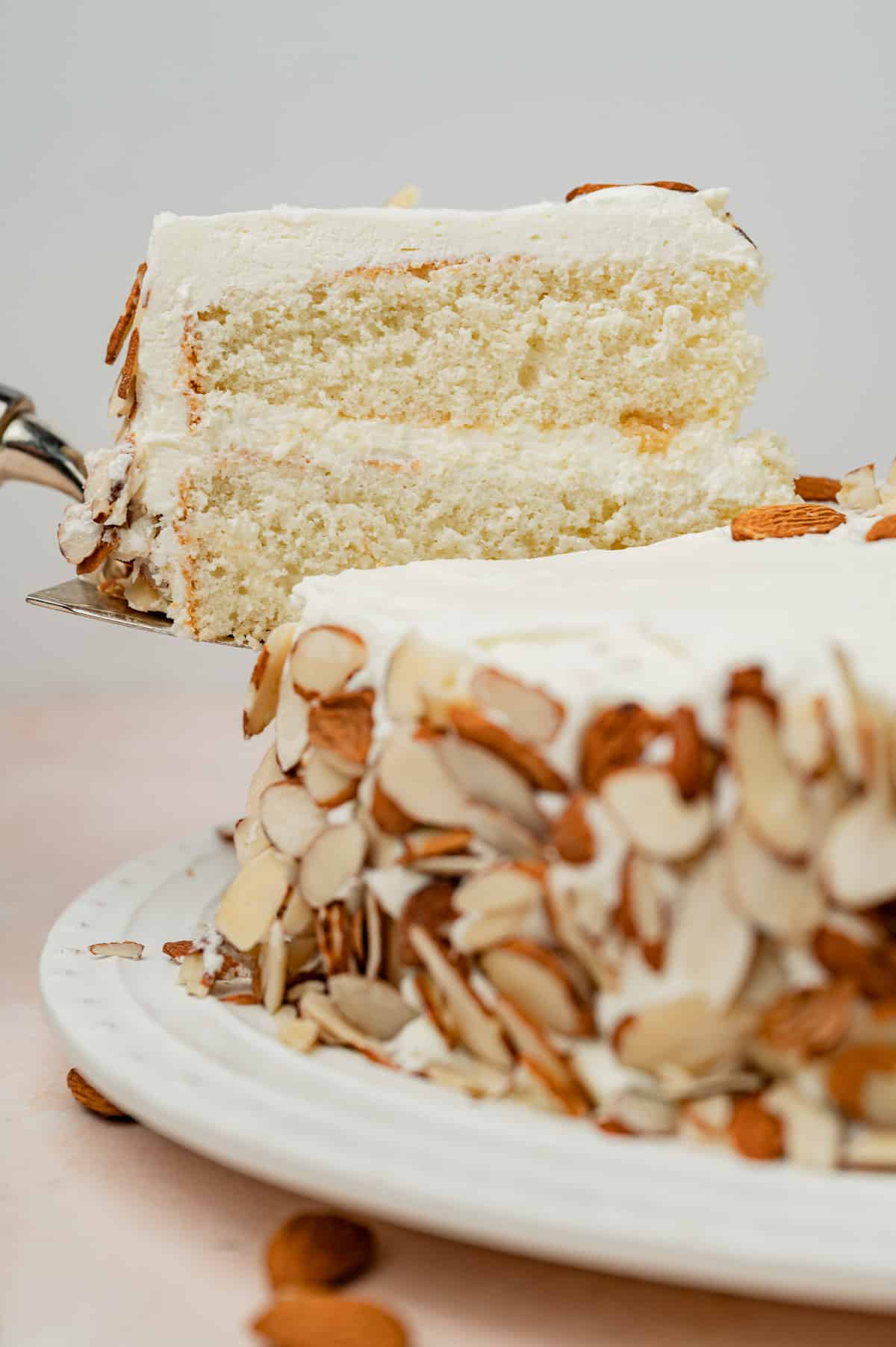 Whipped Frosting
The second special part of this cake is the frosting. Although we love our buttercream recipe, I was wanting to try something a little different for this cake. I've always loved whipped frosting because it is less sweet than many store-bought buttercreams.
I searched for a delicious whipped frosting and came across this recipe that got rave reviews. It's a cooked flour frosting…something I had never tried before. This frosting takes a bit of time to make, but one spoonful and you may just be hooked.
How to Make Cooked Flour Frosting
When you make the frosting, it is important to follow the directions carefully. You'll want to cook the milk and flour together over medium heat until the mixture is very thick and resembles mashed potatoes. Don't undercook this! It took about 10 minutes for me to get my mixture to this texture. Stir constantly while it is cooking so it doesn't burn on the saucepan.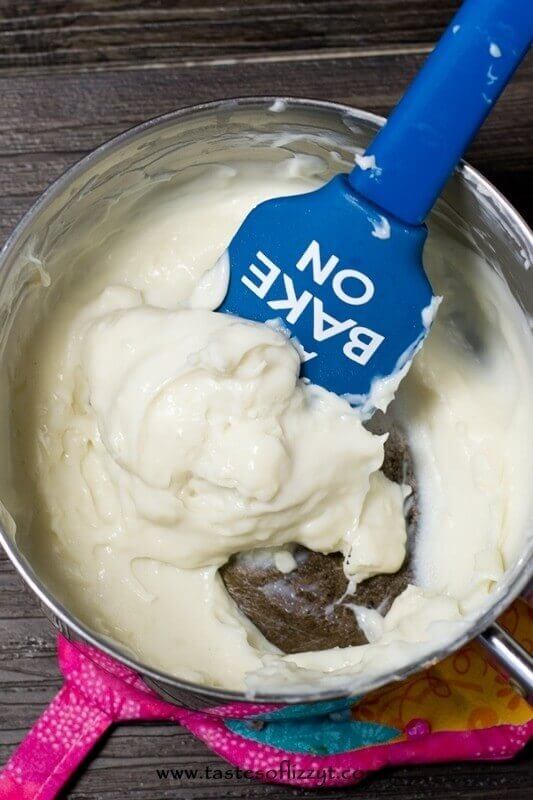 At this point you'll probably be questioning how in the world this is going to taste good on your precious cake. Trust me. It will. Here are the steps after the flour & milk mixture is cooked.
Let the flour and milk mixture cool to room temperature and add the almond extract. You can speed up the process by placing the pan on ice if you'd like. It cools within minutes if you use this trick. Also, stir the frosting a few times while it is cooling. This will prevent a film from developing over your frosting. Stirring it and even placing plastic wrap right on top of the frosting will help to keep your frosting smooth.
While this is cooling, take the granulated sugar and put it through your food processor to make the grains of sugar finer. Why do this? In the next step, you'll cream the butter and sugar together until there is no graininess left. It will take less time if you process the sugar first. Or you can use a superfine sugar such as this one.
Once the butter and sugar are completely creamed together (beating about 5 minutes), add the cooled flour mixture and beat the mixture with the wire whisk attachment for a good 5 minutes. The mixture will go from having a separated look to coming together into a beautiful whipped cream. Just when you think it isn't going to work it will start getting fluffy and look like a delicious whipped frosting. Go ahead. Sneak a little taste. Just be warned that you may not be able to stop eating it.
We wanted a nice, thick layer of frosting on our almond cream cake. If you'd just like a thin layer of frosting you can halve the frosting recipe.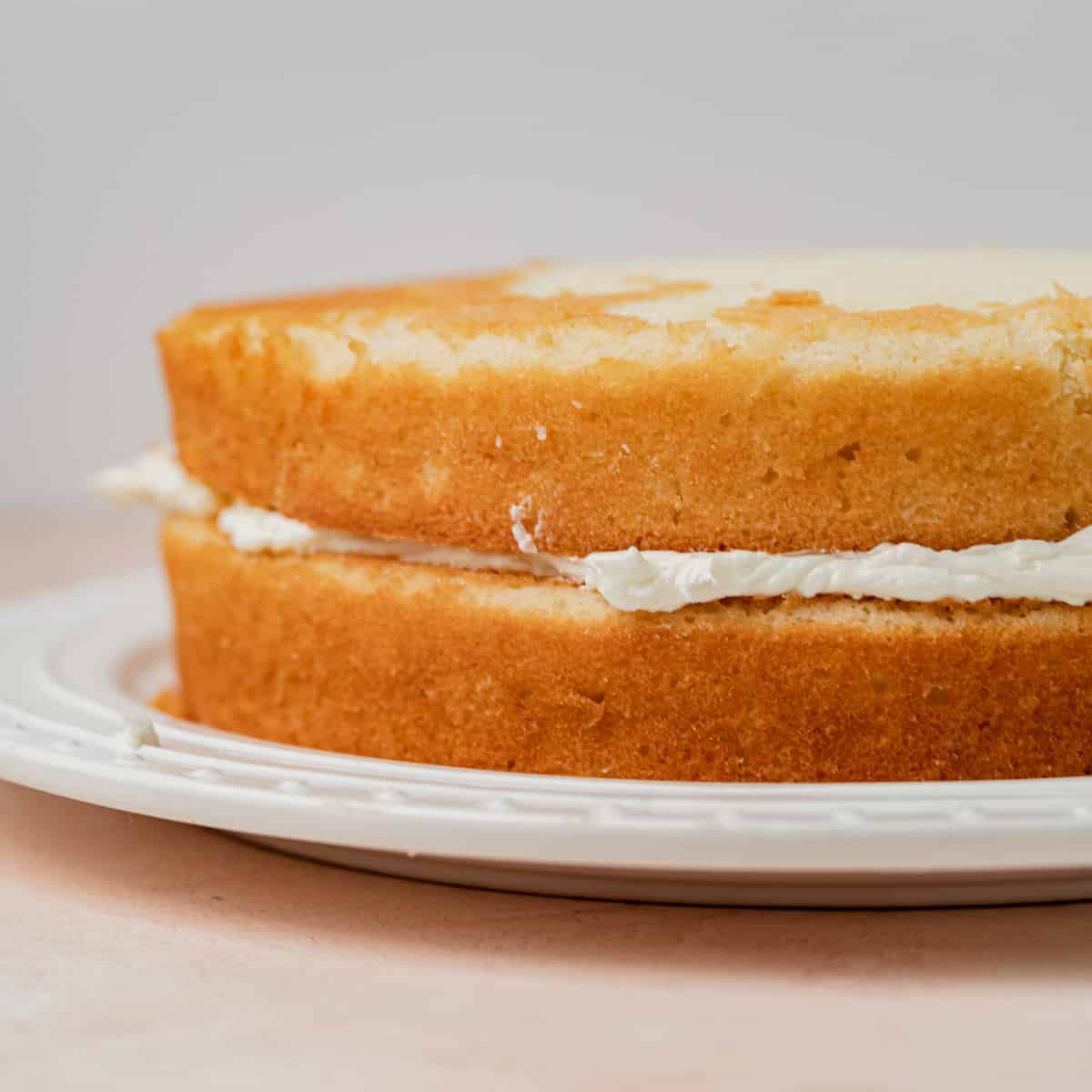 Decorate a Cake with Almonds
You can leave the almond cream cake a pure, snowy white if you'd like, or press some sliced almonds onto the sides. Arrange a few whole almonds on the top . Make it your own and be proud of it!
I'd say our first try at making cooked frosting was a success. What about you? Have you ever tried homemade whipped frosting or from-scratch cakes? I'd love it if you shared any other hints for homemade cakes or whipped frosting with us!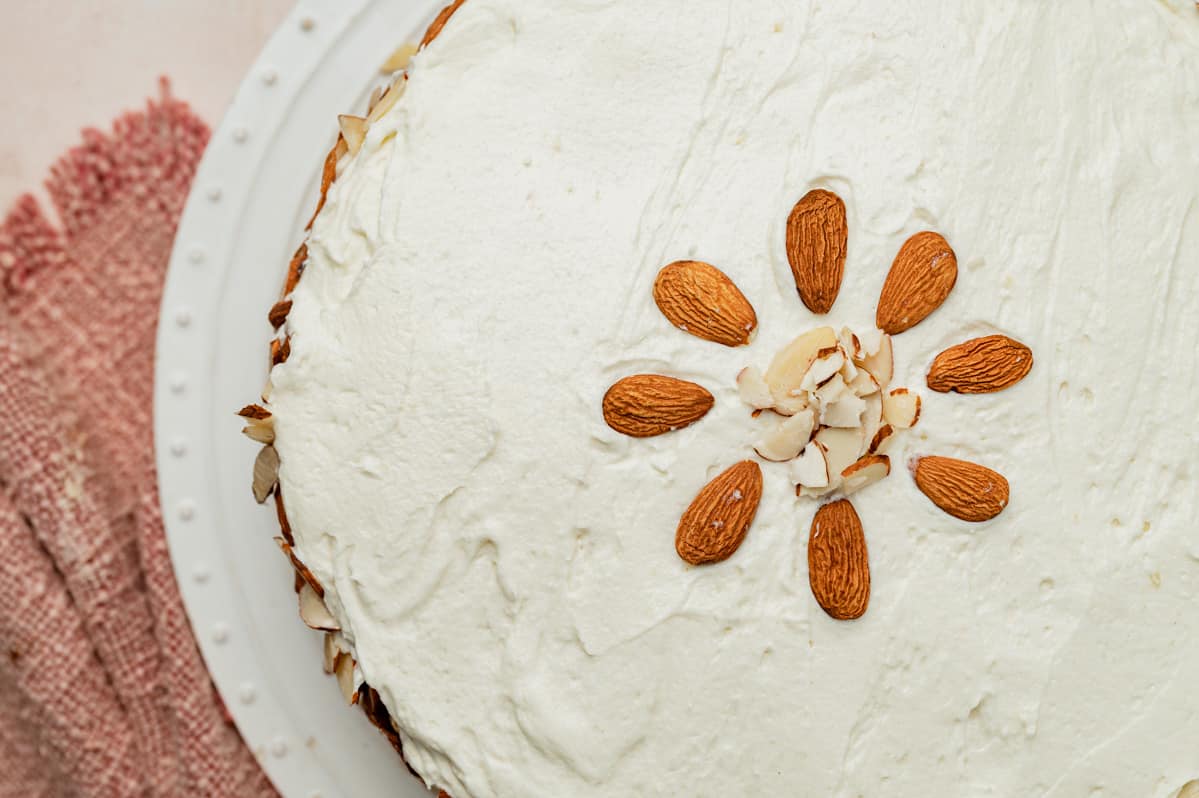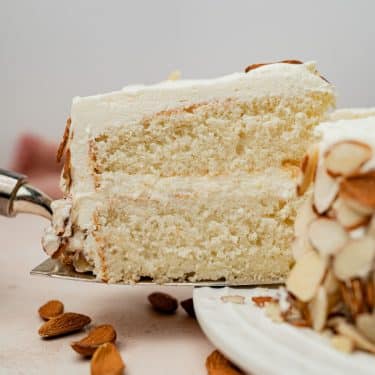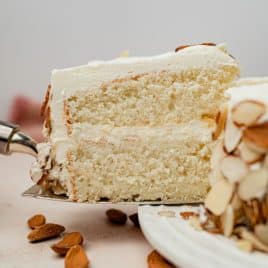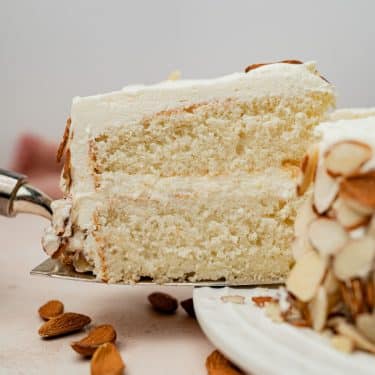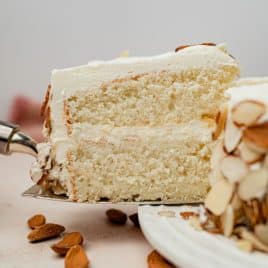 Almond Cream Cake
Light, moist and velvety, this Almond Cream Cake has a homemade cooked, whipped frosting that pairs perfectly with the almond cake. Top with sliced almonds.
Total Time
1

hour
35

minutes
---
Ingredients
1

cup

salted butter

room temperature, 8 ounces

1 1/2

cups

granulated sugar

300 grams

3

cups

cake flour*

(345 grams) spooned & measured carefully

1/2

teaspoon

salt

3 grams

2

teaspoons

baking powder

6 grams

1

cup

milk

2% milkfat

1

teaspoon

almond extract

3/4

cup

egg whites

plus 3 tablespoons*
Frosting:
1/2

cup

plus 2 tablespoons all-purpose flour

2

cups

milk

1 1/2

teaspoons

almond extract

2

cups

salted butter

softened

2

cups

granulated sugar

Sliced almonds and whole almonds for decorating
Instructions
Using a stand mixer, beat the egg whites with the whisk attachment until they are stiff and form peaks. This may take a minute or two. Pour the egg whites into another bowl and place them in the refrigerator until you're ready to add them to the batter.

Using the same bowl that you used to beat the egg whites, place the softened butter in and cream the butter for about 2 minutes (using the beater blade attachmenuntil it is white in appearance.

Add the sugar to the butter and beat until fluffy (about another 1-2 minutes).

In a small bowl, combine the flour (measured carefully*), salt and baking powder. Set aside.

In another bowl, combine the milk and almond extract.

Add the flour mixture to the butter/sugar mixture alternately with the milk.

Add the stiffly beaten eggs to the cake batter. Fold the egg whites in gently. Do not overmix at this point. If you do, your cake will become more dense.

Grease and flour 2 9″ round cake pans. Pour the cake batter equally into the prepared cake pans.

Bake the cakes at 350 degrees for 25-27 minutes or until the top bounces back when you touch it.

Allow the cakes to cool for 10 minutes, then loosen the edges and remove them from the pans to a wire rack, allowing them to cool completely.

While the cakes are cooling, prepare the frosting. In a saucepan, whisk the flour into the milk over medium-low heat until it thickens. Stir it constantly, lowering the heat to low if needed. The consistency should be very thick, like mashed potatoes. This step took about 12-15 minutes.

Remove the pan from the heat and set the pan in a bowl of ice for 5-10 minutes to quicken the cooling process. The temperature of the mixture should be at room temperature.

Stir in the almond extract.

If you have a food processor, process the white sugar for a minute or so so that the granules become finer.

While the mixture is cooling, cream together the butter and processed sugar using a stand mixer with the whisk attachment until light and fluffy. Do this for 5 minutes until the sugar is completely creamed and there is no graininess left.

Add the cooled flour mixture and beat it until it all combines and looks like whipped cream. This will take about another 3-5 minutes of beating. Keep scraping the sides of the bowl while the mixture is beating together so that everything gets well incorporated. Once the mixture has the texture of fluffy whipped cream, you are ready to ice the cake.

Once the cakes are cool, place one cake on a cake plate. Spread frosting on top of that layer, then place the other cake on top of the frosted cake. Use the remainder of the frosting to frost the top and sides of the cake.

Decorate the sides and top with sliced and whole almonds, as the picture shows, if desired.
Notes
*This is about 6-7 large egg whites. *Some are having problems with the cake being too dense. This can happen when you mistakenly add too much flour. When you measure the flour, spoon it from the flour container gently into the measuring cup. Do NOT pack it down at all. This technique will help you not put too much flour into the cake.
Refer to the article above for more tips and tricks.
The calories shown are based on the cake being cut into 15 pieces, with 1 serving being 1 slice of cake. Since different brands of ingredients have different nutritional information, the calories shown are just an estimate. **We are not dietitians and recommend you seek a nutritionist for exact nutritional information. The information in the nutrition box are calculated through a program and there is room for error. If you need an accurate count, I recommend running the ingredients through your favorite nutrition calculator.**
Nutrition
Calories:
650
kcal
|
Carbohydrates:
70
g
|
Protein:
6
g
|
Fat:
38
g
|
Saturated Fat:
24
g
|
Cholesterol:
102
mg
|
Sodium:
444
mg
|
Potassium:
178
mg
|
Sugar:
49
g
|
Vitamin A:
1215
IU
|
Calcium:
94
mg
|
Iron:
0.5
mg
Tools for Making This Cake