Cookie Dough Layer Cake…for that serious cookie dough lover! Chocolate cake layered with cookie dough and chocolate buttercream icing!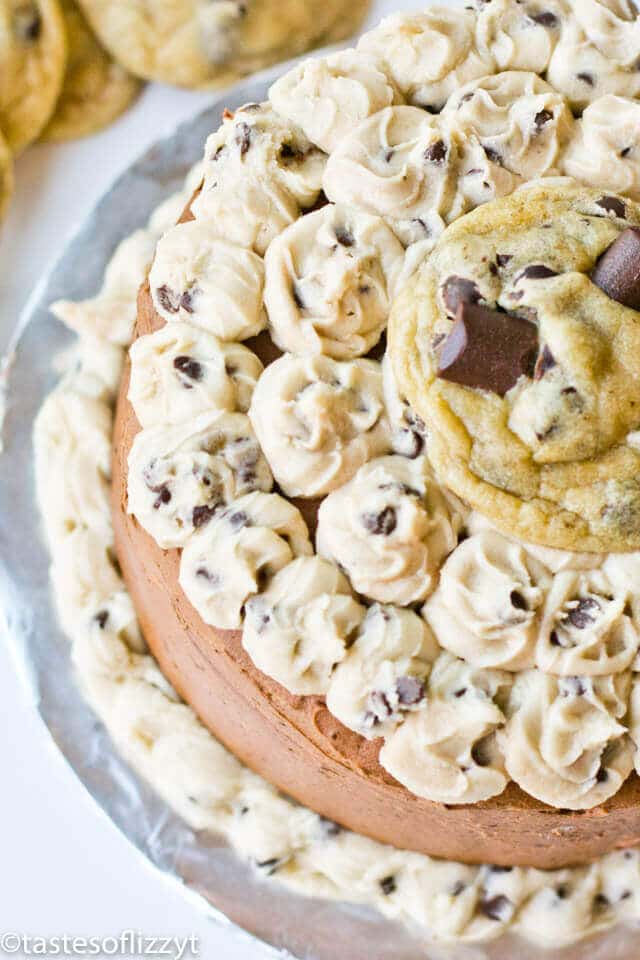 If there is one dessert I love the most it would be cookies. Better yet, we could stop before baking the cookies and I'd just enjoy the cookie dough! So when my mom and I got the idea of a Cookie Dough Layer Cake, I was excited to get started. I used the same chocolate cake I always use, the one that I used for the Reese's Peanut Butter Cake and the Ho Ho Layer Cake. I layered the two cakes with a cookie dough icing in the middle. The cookie dough icing has a hint of cookie dough flavor and a few mini chocolate chips thrown in there, too.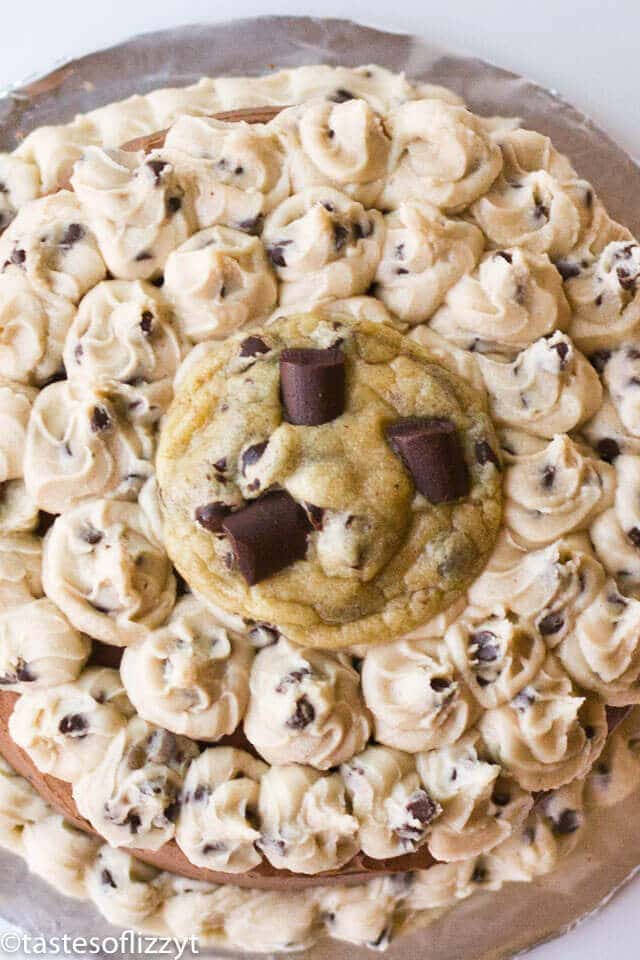 I put lots of that heavenly chocolate buttercream icing on top, and then did little dollops of cookie dough icing.
How did I do this? Well, since I figured out that my biggest tip wasn't big enough for all of the mini chocolate chips to easily flow through, I cut off the tip of a disposable icing bag, and just made icing drops as I would make stars on the cake.
We weren't sure how it would look, but it doesn't look too bad, does it?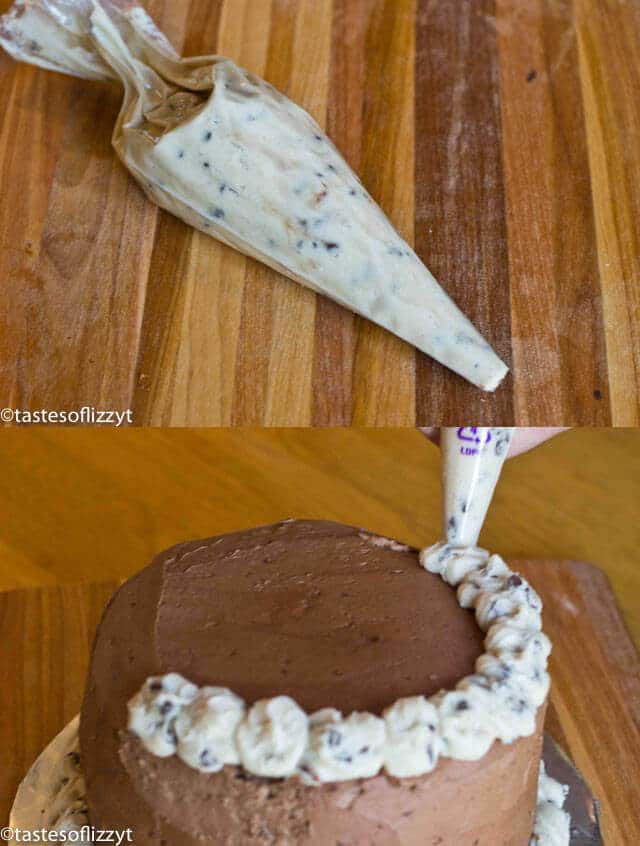 After I did the dollops around the bottom and top edges, I decided the cake needed something just a little more. I filled the top of the cake with dollops of cookie dough icing, and squashed on a Chewy Chocolate Chunk Cookie.
Which, by the way, are amazing. And I wasn't surprised that all of you thought they looked amazing, too!
So, what you end up with, is a scrumptious chocolate chip cookie dough layer cake with lots of icing on top.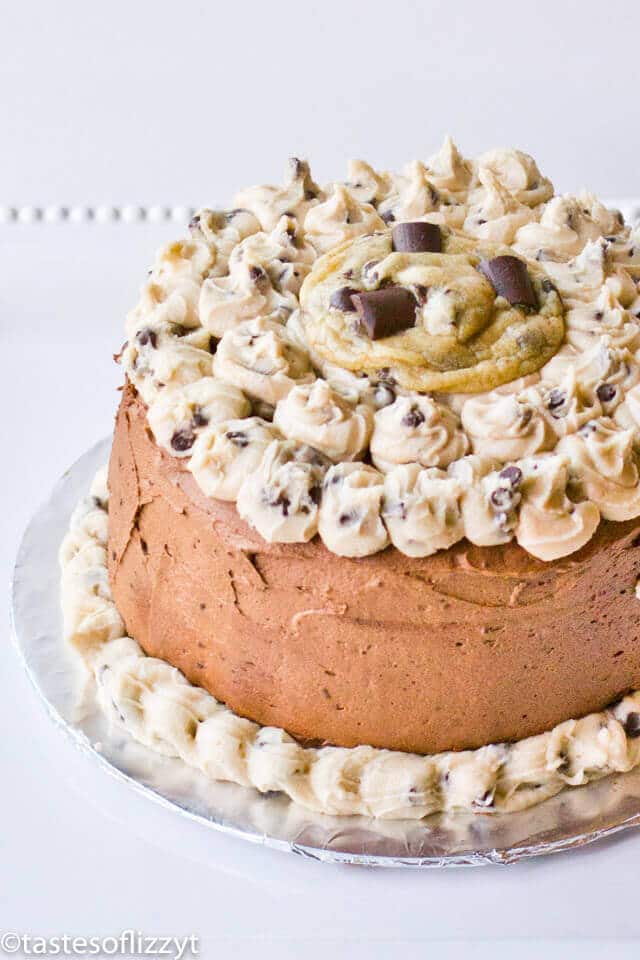 We ended up giving this cake away.  But, my birthday is coming and guess what kind of cake I want?
 You guessed it:)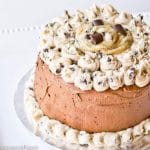 Chocolate Cookie Dough Layer Cake
Cookie Dough Layer Cake…for that serious cookie dough lover! Chocolate cake layered with cookie dough and chocolate buttercream icing!
Ingredients
Chocolate Layer Cake:
1 3/4

cups

all-purpose flour

1 3/4

cups

granulated sugar

3/4

cup

unsweetened cocoa powder

1

teaspoon

baking powder

2

teaspoons

baking soda

1

teaspoon

salt

1

cup

buttermilk

1/2

cup

vegetable oil

2

large

eggs

room temperature

1

teaspoon

vanilla

1

cup

freshly brewed strong hot coffee

1

recipe

Chocolate Buttercream
Instructions
Preheat oven to 350 degrees. Grease and flour 2 round 9-inch cake pans.

For the cake, put flour, sugar, cocoa, baking powder, baking soda and salt in a bowl and mix well.

In a stand mixer, mix the buttermilk, oil, eggs, vanilla together. Slowly add in the mix of dry ingredients while the mixer is on low. Add the coffee and make sure everything is combined. Batter will be very thin.

Pour the batter into the prepared pans and bake for about 25 minutes or until a toothpick inserted in the middle comes out clean.

Turn the cakes out onto a cooling rack. While the cakes are cooling, make your frostings.

Cookie Dough Frosting:

Cream together the butter and sugars in a stand mixer until smooth and creamy.

Add the flour, milk and vanilla and beat on high until well combined, about 2-3 minutes.

Now it's time to put together your cake!

Frost the top of the first cake with the Cookie Dough Frosting. Then layer the other half of the cake on top. Frost the outside of the cake with the Chocolate Buttercream Frosting.

Pipe dollops along the bottom edge and top with the leftover Cookie Dough Frosting and/or decorate as desired. Top with a chocolate chip cookie!
Recipe Notes
You can easily substitute a boxed cake mix and store-bought chocolate icing in order to save some time!
Nutrition Facts
Chocolate Cookie Dough Layer Cake
Amount Per Serving
Calories 616
Calories from Fat 243
% Daily Value*
Total Fat 27g 42%
Cholesterol 51mg 17%
Sodium 498mg 21%
Potassium 241mg 7%
Total Carbohydrates 92g 31%
Protein 5g 10%
* Percent Daily Values are based on a 2000 calorie diet.
Cake Recipe from Sally's Baking Addiction
Chocolate Buttercream Recipe from Savory Sweet Life
Cookie Dough Frosting from Java Cupcake