Thanks to Ninja for providing me with a Ninja Coffee Bar for this post. All opinions are my own.
Chocolate cake layered with peanut butter frosting and chopped peanut butter Snickers bars make this Snickers cake a must for all chocolate peanut butter lovers.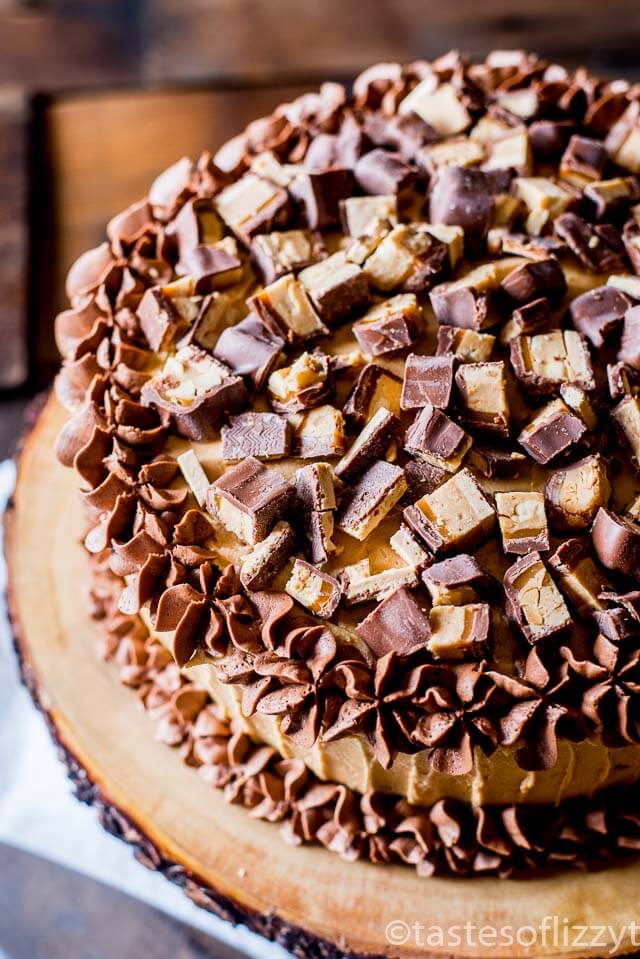 I'm skipping the small talk today and jumping right into talking about this Snickers cake. This is not just any Snickers cake, but a Peanut Butter Snickers Cake. Oh yes, we did!
Here's the layers:
Chocolate Cake. This is our go-to, from-scratch chocolate cake recipe. What makes this the best chocolate cake recipe? Number 1, it calls for buttermilk. Why use buttermilk in a cake recipe? It not only adds some depth to the flavor, but it also breaks down the gluten in the cake batter, which makes it have a soft, moist crumb.  Number 2, it calls for strong coffee. Why coffee in chocolate cake? Coffee enhances the flavor of the cocoa powder. Don't worry. If you don't like coffee, you won't taste it in this recipe. It will in fact taste more of chocolate because of the coffee. (Side note…be sure to scroll down to the end of the post. I'm showing you our new favorite coffee maker, the Ninja Coffee Bar. It's perfect for brewing strong cups of coffee for recipes such as this!) (Another side note…if you'd like more info and pictures on making this homemade chocolate cake, you can find them here. That cake is one of our very first posts and will be updated soon!)
Peanut Butter Frosting. Melt in your mouth, to die for, peanut butter frosting. Although I go at this frosting with just a spoon and am happy, it makes the best frosting for chocolate cake. If you like chocolate and peanut butter that is. This frosting most likely looks familiar since we use it in cakes, brownies, and cupcakes.
Peanut Butter Snickers. If you've never had a peanut butter Snickers bar, drop everything and get yourself one. You won't be disappointed. I chopped up those yummy candy bars and layered them in the middle and on top of the cake. Sweetness overload? You betcha.
Chocolate Buttercream. The best chocolate buttercream. I know I'm throwing around a lot of absolutes, but these are seriously our favorites. I wanted to do little dollops of chocolate buttercream on the outside of the cake to give it a finished look. You could skip this step if you'd like, but even if you have no cake decorating skills, you can make these simple stars. All you need is a decorating bag and Wilton Tip 2D.
Those are your 4 layers! Now let's look at what I did to make this cake pretty.
First, you'll ice the outside of the cake with peanut butter frosting. As you can see, I got the frosting as smooth as possible, but didn't fuss about making sure it was perfect. Most of the cake is going to be covered and all eyes will be on those peanut butter Snickers bars!
Then I took a butter knife and made smooth, vertical lines around the outside edge of the cake.  Hold the knife vertically and then starting at the base, lightly pull the knife up so that it makes a slightly indented "line" in the frosting. Don't worry if the top edge has a little extra peanut butter frosting. If you pipe chocolate stars around the outer edge, it will all be covered up.
As you can see, this is a simple way to give your cake a little texture.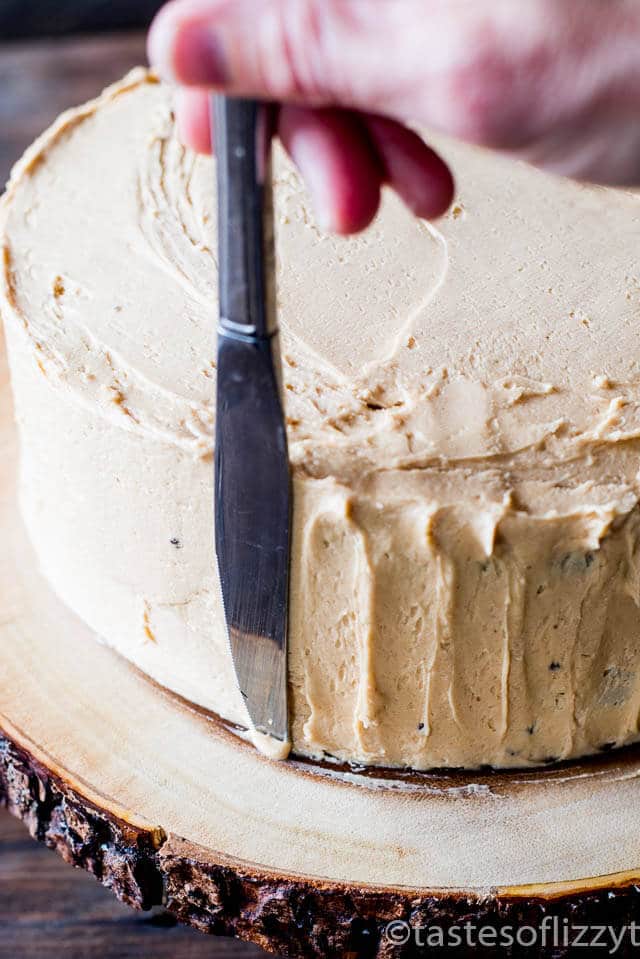 To pipe chocolate stars, simply place Wilton tip 2D in a decorating bag that has the tip cut off. Fill that bag with buttercream, squeeze out the air, and then, holding the bag perpendicular to the cake, squeeze gently to make stars around the top edge of the cake. Do the same along the bottom edge, holding the frosting bag at a 45-degree angle.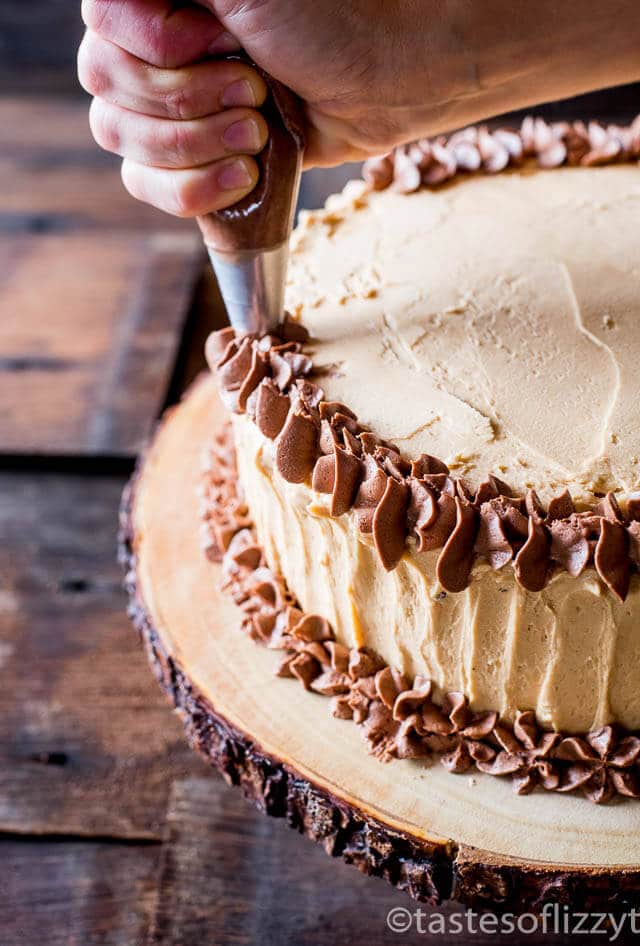 Lastly, fill the top of the cake with chopped peanut butter Snickers bars.
And there you have one of the Clark family's favorite cakes. This shows up at birthdays quite often!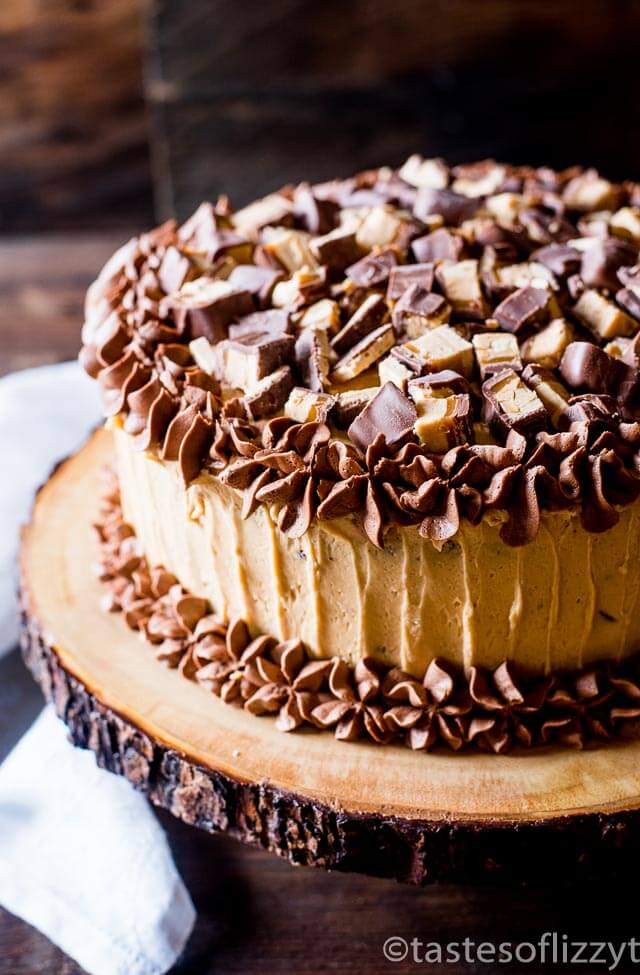 Please don't email me telling me that this cake is too rich. 🙂 Yes, it is very rich. This is not diet food, friends. We love our rich desserts here. Have just a small slice alongside a glass of milk or cup of coffee and I'm pretty sure you won't be disappointed.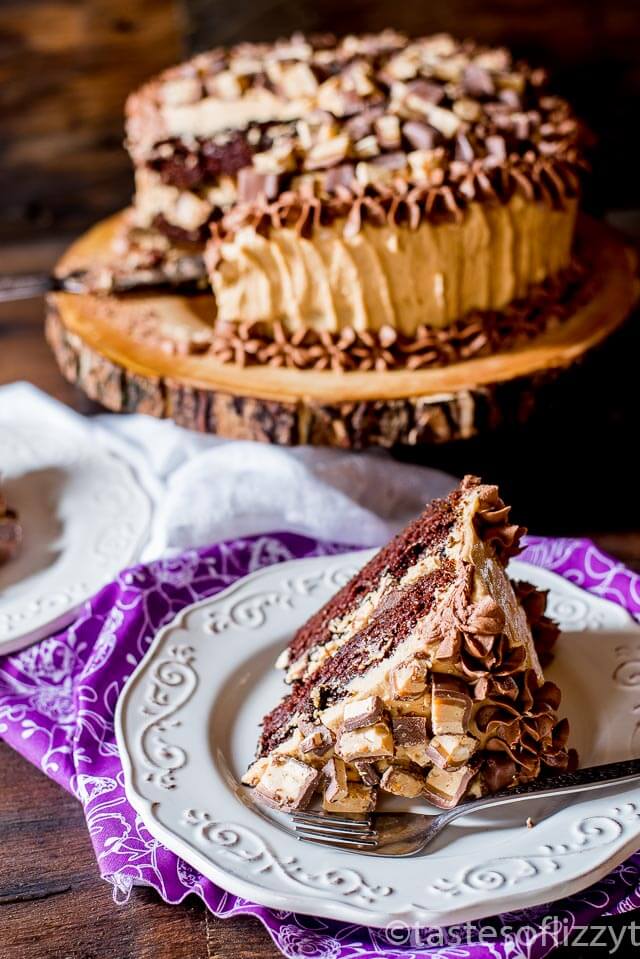 Ninja was most kind to send us their new Ninja Coffee Bar to try out. We're coffee fanatics and this coffee maker did not disappoint. You use your own favorite coffee, so there are no pods or cups to deal with. You can choose settings for how strong you'd like your coffee. We like a rich brew and this coffee machine does it perfectly! That rich brew is also just right for your recipes that call for strongly brewed coffee.
Brew just a cup, a travel-size mug, half a pot or a full pot. You can even brew concentrated coffee to pour over ice for iced coffee and frozen drinks. No more watered down iced coffee!
It comes with a milk frother. In seconds, you'll have frothed milk for all of your specialty drinks.
Oh…and it comes with a recipe book showing how you can make frappes. We made cookies and cream frappes that the kids LOVED!
If you have a coffee lover in your life, consider getting this as a gift. They'll have a blast trying out all of the unique drinks! This coffee maker is available on Amazon.
Julie
Yields 12-15
Peanut Butter Snickers Cake
Chocolate cake layered with peanut butter frosting and chopped peanut butter Snickers bars make this Snickers cake a must for all chocolate peanut butter lovers.
Ingredients
Chocolate Cake:
1 and 3/4 cups all-purpose flour
1 and 3/4 cup sugar
3/4 cup unsweetened cocoa powder
1 teaspoon baking powder
2 teaspoons baking soda
1 teaspoon salt
1 cup buttermilk
1/2 cup vegetable oil (or canola oil, or melted coconut oil)
2 large eggs, room temperature
1 teaspoon vanilla
1 cup freshly brewed strong coffee
Peanut Butter Frosting:
1 cup butter, softened
2 cups creamy peanut butter
6-8 tbsp heavy cream
4 cups powdered sugar
1/2 recipe Chocolate Buttercream
4 King Size Peanut Butter Snickers Bars, chopped
Instructions
Preheat oven to 350 degrees. Grease and flour 2 round 9-inch cake pans.
For the cake, put flour, sugar, cocoa, baking powder, baking soda and salt in a bowl and mix well.
In a stand mixer, mix the buttermilk, oil, eggs, vanilla together. Slowly add in the mix of dry ingredients while the mixer is on low. Add the coffee and make sure everything is well combined. The batter will be very thin.
Pour the batter into the prepared pans and bake for about 25 minutes or until a toothpick inserted in the middle comes out clean.
Turn the cakes out onto a cooling rack. While the cakes are cooling, make your frostings.
Peanut Butter Frosting:
In a stand mixer with the beater blade attachment, blend together the butter, peanut butter, powdered sugar, and 6 tablespoons heavy cream. While the mixture is beating on low speed, add in additional tablespoons of heavy cream if needed to get a spreadable consistency. Beat the frosting on medium-low speed for 1-2 minutes. This frosting will be thick, but should lighten up a bit after beating.
Make the Chocolate Buttercream .
Now it's time to put your cake together!
Frost the top of the first cake with a thin layer of peanut butter frosting. Put about 1/2 of the chopped Snickers bars on top of the peanut butter frosting. Then layer the other half of the cake on top. Frost the outside of the cake with the remaining peanut butter frosting, smoothing as much as possible, but it doesn't have to look perfect!
Spoon the chocolate buttercream into a decorating bag with Wilton tip 2D. Pipe stars on the top outer edge and around the bottom.
Sprinkle the remaining candy bar pieces on the top of the cake.
This cake can be made a day in advance. It is OK to leave sitting at room temperature for about a day, but if you are keeping it longer than a day, cover the cake and refrigerate it.
Notes
If you'd like a shortcut, use your favorite chocolate box cake mix!
7.6.4
885
https://www.tastesoflizzyt.com/peanut-butter-snickers-cake-recipe/
Cake Recipe from
Sally's Baking Addiction
Thanks to Ninja for providing me with a Ninja Coffee Bar for this post. All opinions are my own.