A unique pie recipe from an old Amish cookbook. This Amish Pineapple Pie is a creamy, cool sweet treat that won't heat up your kitchen!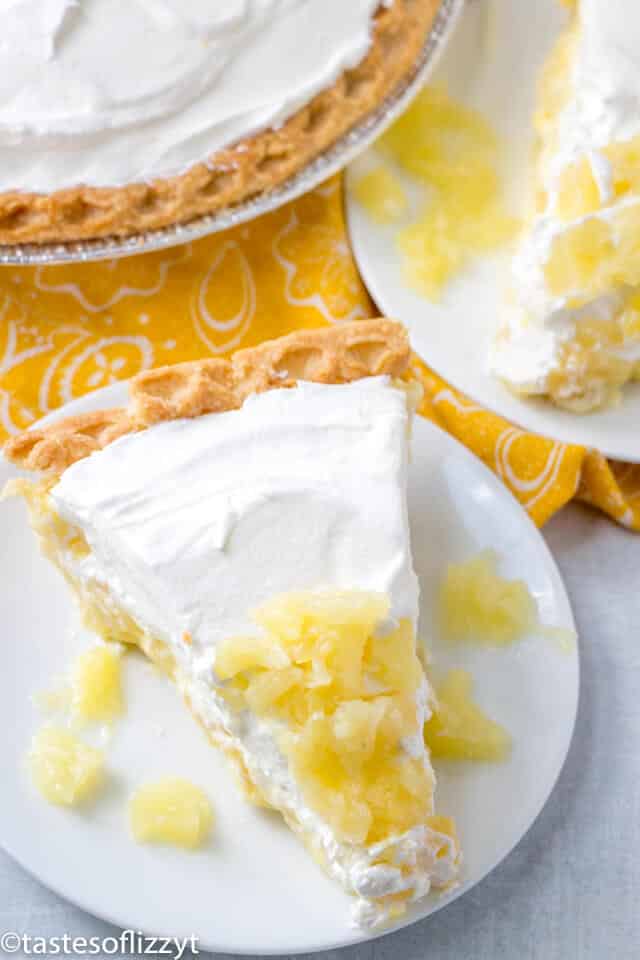 Amish Pineapple Pie
I'm super excited about this week because it is our first "lazy days of summer" week. We've actually been done with school for about 3 weeks now, but those 3 weeks have been crazy busy. Cake and cookie orders, kids' activities, graduation parties and traveling have kept us from truly relaxing. I'm ready to take some time to kick my feet up and bask in the wonderfulness that is summer. And this Amish Pineapple Pie fits that summer theme perfectly.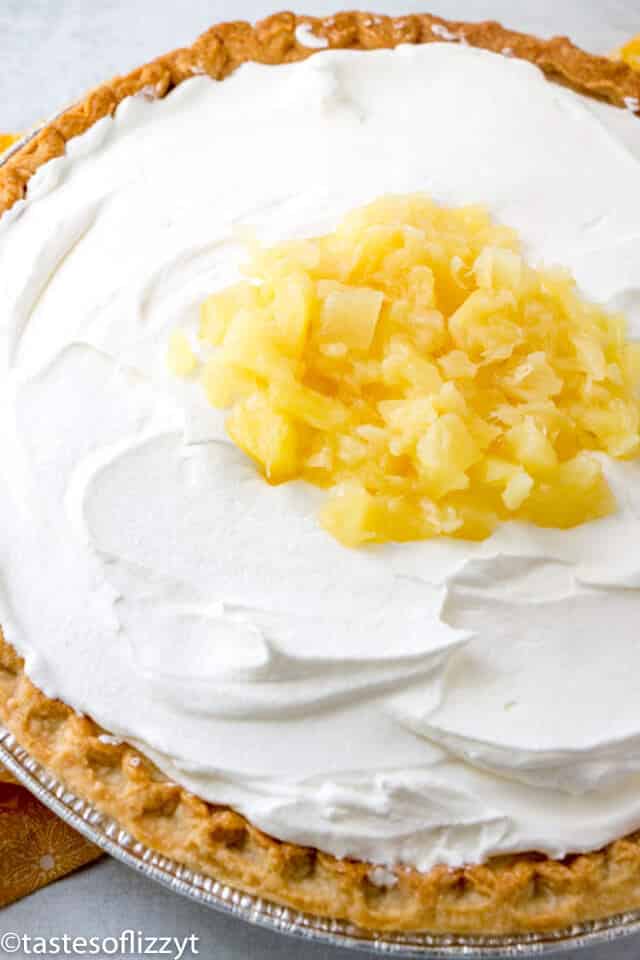 Amish Pie Recipe
This Amish recipe is from my old Amish cookbook. Anytime I need a new and different recipe, I pull out that book and pore over the custard pies, breads, casseroles and homemade candies that fill its pages.  When I spied this creamy, cool, no-bake pineapple pie, I knew I had to try it!
No Bake Pineapple Pie
You could go several different ways with the crust for this recipe. I decided to do a homemade crust, which makes this pie not actually a "no-bake" pie since I had to bake the pie crust. You could pick up a pre-baked pie crust in the store, or use a graham cracker crust. But I just love our pie crust recipe so much that I had to make it. If you do decide to use our recipe, you can halve the recipe since all you will need is a single crust.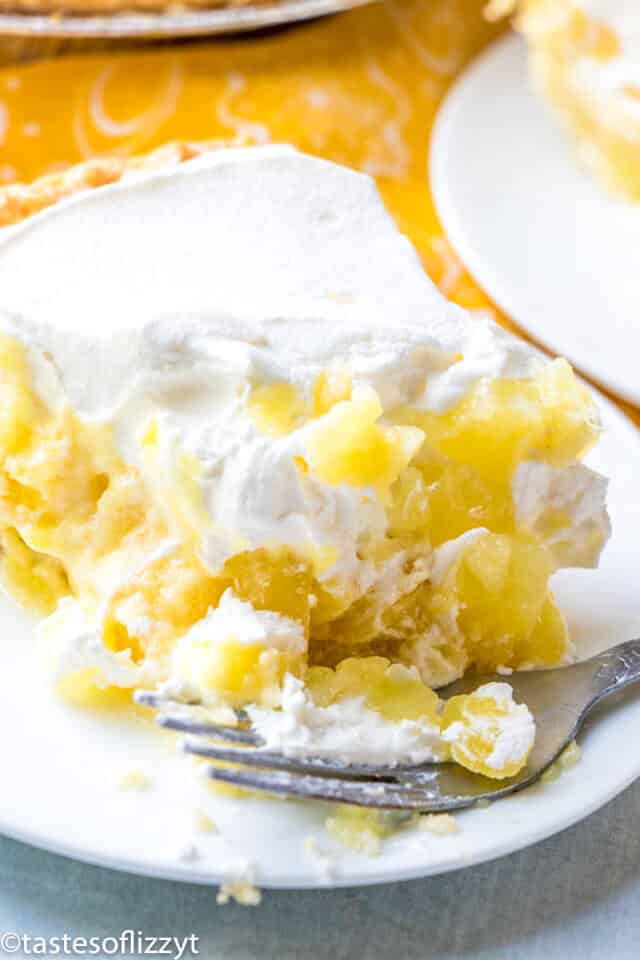 Pineapple Pie Filling
For the pie filling, you'll cook the 6 ingredients over medium heat. (Be sure to separate the eggs…you'll add the egg yolks to the saucepan and then whip the egg whites into a frothy meringue to add later.) Stir this mixture often so that it does not scorch.  The cornstarch will cause the mixture to start to thicken as it heats. I found that once the mixture started boiling, it only took a minute or two after that to be the right consistency.  Think of a"runny" pudding, which I know does not sound appetizing at all, but that is the texture you want. Thickened, but still very soft.
Once the mixture has thickened, fold in the beaten egg whites into the hot pie filling. Make sure it is all folded in together really good and then pour it into your pie crust.
Refrigerate Pie
The hardest part now is waiting! Pop that pie into the fridge. The filling will continue to thicken a bit as it cools. The pie will be ready to serve after it has been refrigerated for at least 4 hours.  Top it with Cool Whip. Or get fancy and make your own homemade whipped cream.
And there you have yourself a fun, distinct pie that pineapple lovers will appreciate!
Other Pineapple Recipes
Tools to Make This Pie
Cute Pie Plate: Because if you're taking the time to make pie, serve it up in style!
Hand mixer: I don't pull out my stand mixer for this recipe. It makes a small amount so a hand mixer works perfectly.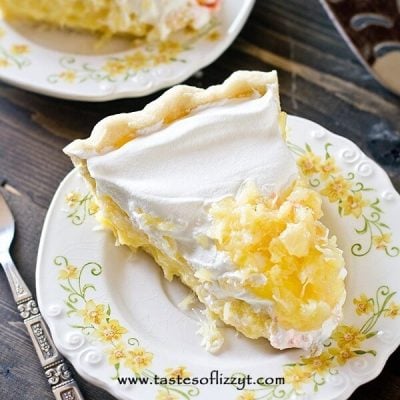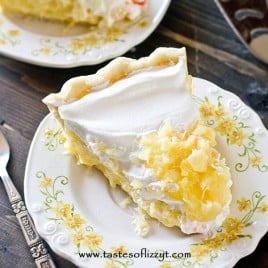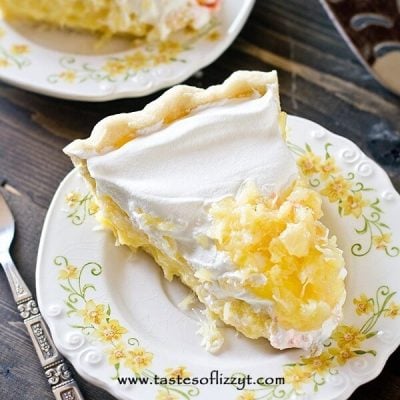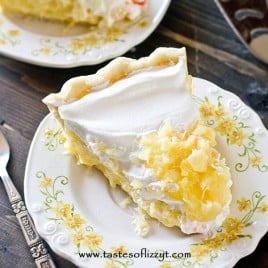 Amish Pineapple Pie
A unique pie recipe from an old Amish cookbook. This Amish Pineapple Pie is a creamy, cool sweet treat that won't heat up your kitchen!
---
Ingredients
1

cup

crushed pineapple

undrained

1

cup

cold water

1/2

cup

white sugar

1/8

teaspoon

salt

3

tablespoons

cornstarch

2

large

eggs

separated

1

baked pie crust

or graham cracker crust

Cool Whip

8 ounces
Instructions
In a medium saucepan over medium heat, cook the pineapple, water, sugar, salt, cornstarch and egg yolks, stirring constantly.

Once the mixture starts to boil, reduce the heat slightly and let the mixture cook until it has thickened. It should be about the texture of a very soft pudding.

In a small bowl, beat the egg whites until they are frothy and thick.

Add the egg whites to the pineapple mixture while it is hot. Fold it in to mix.

Pour the pie filling into the baked pie shell.

Refrigerate the pie for at least 4 hours.

Before serving, top the pie with Cool Whip.

Slice and serve cold.
Nutrition
Calories:
213
kcal
|
Carbohydrates:
36
g
|
Protein:
2
g
|
Fat:
6
g
|
Saturated Fat:
2
g
|
Cholesterol:
46
mg
|
Sodium:
90
mg
|
Potassium:
112
mg
|
Fiber:
1
g
|
Sugar:
22
g
|
Vitamin A:
95
IU
|
Vitamin C:
6.7
mg
|
Calcium:
21
mg
|
Iron:
0.9
mg