An old-fashioned homemade egg custard recipe, reminiscent of Grandma's kitchen. Our vanilla custard recipe boasts smooth and creamy flavors with just 6 ingredients.
In the cozy corners of many family kitchens, there's always that one cherished dessert that brings back memories of days gone by. For me, that dessert is a silky egg custard.
Our Amish baked custard recipe, originally shared here in 2016, promises a perfect vanilla custard every time. With only 6 ingredients and straightforward steps, crafting this homemade custard recipe is as easy as it is delightful.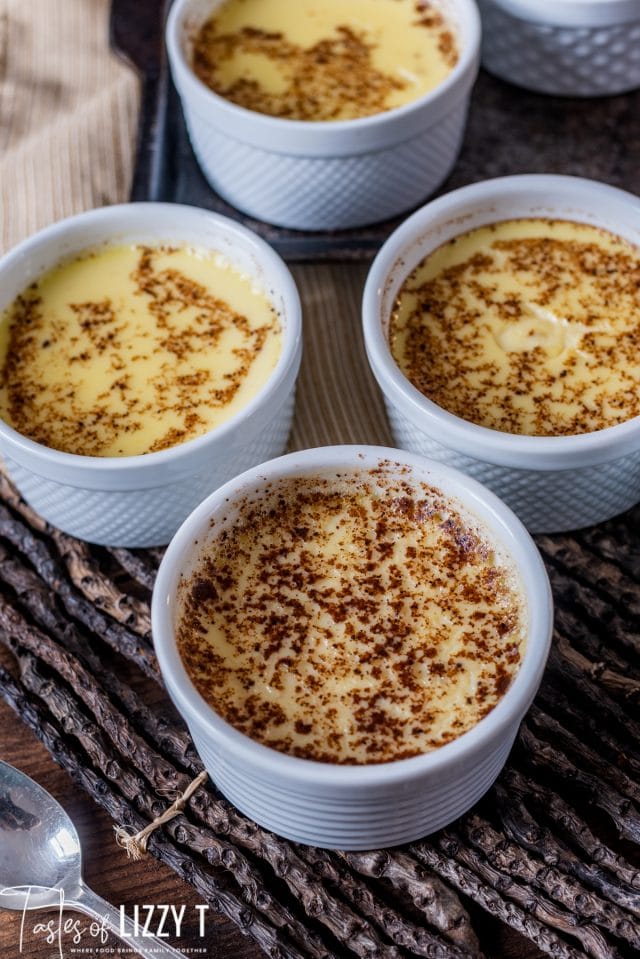 Why you'll love this Baked Custard Recipe:
This baked custard recipe has just 6 ingredients.
What seems like a tricky dessert to make was surprisingly easy.
There's just a few hints I will give you so that your custard has that creamy texture you remember from your childhood.
Smooth, simple vanilla flavor with a touch of spice on top.
Made in custard cups for an easy dinner party dessert.
What readers are saying:
⭐️ ⭐️ ⭐️ ⭐️ ⭐️ Larry says, "Fantastic!!! I made this and followed the recipe exactly with the exception that I only have (6) 9oz ramekins so I baked them for 1 hour and 10 minutes. The mixture made the perfect amount to fill all 6 to the rim. Boy ohh boy were they ever good! I will definitely be making this one a lot. Thanks so much for this recipe."
⭐️ ⭐️ ⭐️ ⭐️ ⭐️ Dorsey says, "I made the custard and it was incredible even though I had to make two main substitutions due to diet needs. I used extra creamy oat milk and used coconut palm sugar I still did them scald step and temper step and it was amazingly soft and smooth I have been making custard for eons but this will be the recipe I will use from now on. AMAZING!!! Thank you for sharing."
⭐️ ⭐️ ⭐️ ⭐️ ⭐️ Sarah says, "Perfect! Made it for my mom and she said it reminded her of her childhood. Very comforting, like warm tapioca pudding. I added almond extract to mine and it turned out great."
What is the difference between pudding and custard?
The main difference between pudding and custard is what makes them thick. In homemade pudding (which is fairly soft), cornstarch is used to make the pudding thick.
In custard (which is generally firmer than pudding), it is eggs that makes the custard thick.
Key Ingredients for Homemade Custard
This recipe takes only 6 ingredients:
Eggs. Large eggs are standard.
Sugar. Granulated white sugar is best for this. I would not recommend subbing for brown sugar.
Salt. This adds flavor and cuts the sweetness slightly.
Vanilla. Pure vanilla extract and nothing less for the best flavor. You can even simmer a vanilla bean in the milk if you'd like.
Milk. I used 2% milk. There's not really a need to use a higher fat milk, but if you have whole milk, it will work. I do not recommend using skim milk.
Nutmeg. Nutmeg gives such a comforting flavor to this custard. If you can, use freshly grated nutmeg. It's amazing.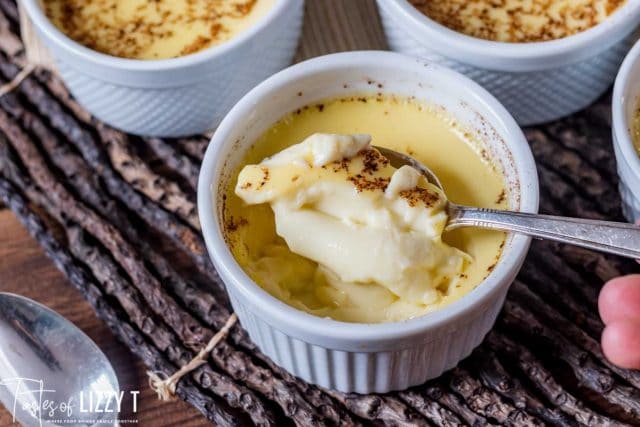 How to Make Baked Custard
Scald the milk. This means you'll heat the milk until it reaches 180ºF, near boiling. Many old recipes call for this process. It is not necessary to scald milk for safety reasons any longer due to the pasteurization process. However, scalded milk does give the custard a little bit of a smoother texture. You can scald milk in the microwave or in a heavy-bottomed saucepan over medium heat. Watch for the milk to start steaming and bubbling around the edges. Stir the milk constantly to prevent a film forming on top of the milk. If  you don't have a thermometer to test the temperature, remove the milk from the heat right before it comes to a boil.
Temper the eggs. You have near-boiling scalded milk. Pour 1 cup of that milk ever so slowly into the eggs, whisking the entire time. It is so important to drizzle slowly and whisk constantly. If you don't, you'll end up with  pieces of cooked eggs. Which is not going to make for a creamy custard.
Bake the custard cups in a hot water bath. What does a hot water bath do? It prevents the custard from curdling or cracking. Egg-based desserts need to cook slowly at a low temperature to keep a creamy texture, and the hot water helps to do just that.
How do you make a hot water bath?
Put a pot of water on the stove over medium heat and bring it to simmering, not a rolling boil. Place the custard cups in a large baking pan with sides that are nearly as tall as the custard cups.
Pour the hot water around the custard cups, being careful not to spill any water into the cups. You want the level of the hot water on the outside of the cup to be just at the level of the custard.
Oh…and be careful when placing this heavy baking pan into the oven. Don't let that water spill onto your custard mixture!
How Long To Bake Custard
The length of time you bake the custard may vary slightly based on the size and shape of the ramekins you use. The custard should thicken and be set around the edges, yet slightly jiggly in the center.  A knife inserted in the center of the custard should come out clean.
Test the temperature with a thermometer. It should read at about 170-175ºF.
The Best instant read Thermometer
We LOVE our Thermoworks ThermaPen to quickly test temperatures. This probe thermometer is AMAZING.  Get it here.
Recipe Variations
Bake in a baking dish instead of individual ramekins. It will take longer to bake (close to an hour depending on the baking pan you use) and you'll still want to use a water bath.
Use almond extract instead of vanilla.
Top with caramel or maple syrup.
Top with fresh berries.
If you have someone in your life who loves old fashioned recipes, surprise them with this old fashioned baked custard recipe. See if it brings back memories of days with grandma.
Love pies? Bake this recipe in a crust or make our custard pie or frozen custard ice cream.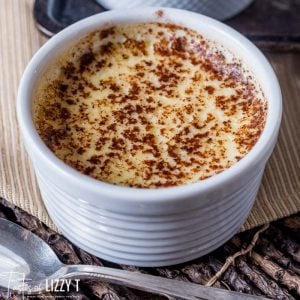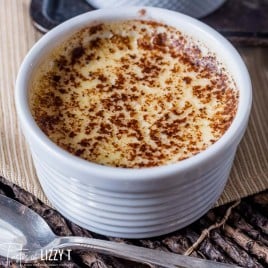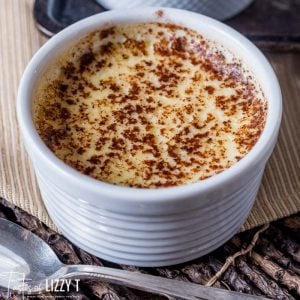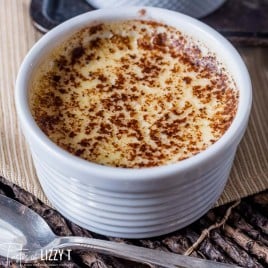 Baked Custard Recipe
An easy, Amish Baked Custard Recipe that will make you feel like you are at Grandma's house again. Smooth & creamy, with just 6 ingredients.

---
Ingredients
4

large

eggs

1/2

cup

granulated sugar

100 grams

1/2

teaspoon

salt

3 grams

1

teaspoon

vanilla extract

4 grams

4

cups

2% milk

32 ounces

1/2

teaspoon

ground nutmeg
Instructions
In a medium-size bowl, beat the eggs on medium-low speed for 30 seconds. Add the sugar, salt and vanilla. Whisk gently until mixed.

Pour the milk into a microwave-safe bowl and heat in 1 minute increments until the temperature of the milk reaches 180ºF.* Stir between each time interval to distribute the heat. Depending on the bowl and microwave you use, this will take about 5 minutes. Be sure not to let the milk boil.

Remove 1 cup of the heated milk and slowly drizzle it into the egg mixture, whisking the eggs quickly the entire time.** Slowly pour the remainder of the milk over the egg mixture, whisking constantly. Beat with a hand mixer for 20-30 seconds.

Pour the milk mixture into 10 6-ounce ramekins, dividing the custard equally between the cups. There is no need to grease the ramekins. Sprinkle nutmeg overtop the custard.

Place the ramekins in a 10×15" baking pan with sides about as tall as the ramekins.


Heat about 10 cups of water, not quite to boiling but very hot, on the stovetop or in the microwave. Pour the hot water into the pan around the ramekins, being careful not to get any of the water into the custard itself.

Carefully place the pan into the middle rack of a preheated oven and bake for 35-40 minutes. The exact time may depend on the size and shape of the ramekins you use. The custard is done when you insert a knife into the center of a cup and it comes out clean.

Serve cold or warm as desired, with whipped cream. Refrigerate any leftovers.
Notes
*This is called "scalding" the milk. Many old recipes call for this process. It is not necessary to do this for safety reasons any longer due to the pasteurization process. However, scalded milk does give the custard a little bit of a smoother texture, so I do recommend taking the time to scald the milk. You can also do this on the stovetop instead of the microwave.
**This is called "tempering" the eggs. Be sure to drizzle the hot milk slowly and constantly whisk (or use a hand mixer beating on medium speed the entire time you are drizzling) so that the hot milk doesn't cook the eggs.
The calories shown are based on the recipe making 10 custard cups, with 1 serving being 1 custard cup. Since different brands of ingredients have different nutritional information, the calories shown are just an estimate.
Nutrition
Serving:
128
g
|
Calories:
116
kcal
|
Carbohydrates:
14
g
|
Protein:
5
g
|
Fat:
3
g
|
Saturated Fat:
1
g
|
Cholesterol:
81
mg
|
Sodium:
189
mg
|
Potassium:
159
mg
|
Sugar:
14
g
|
Vitamin A:
205
IU
|
Vitamin C:
0.2
mg
|
Calcium:
124
mg
|
Iron:
0.4
mg