Fresh, light, sweet, and with a hint of citrus, this grilled brown sugar salmon recipe is perfect on a warm weeknight for dinner! 
There's something about the warmer months and eating seafood. As soon as the temperatures hit 70 degrees, we start brainstorming what seafood recipes to make for dinner during the upcoming week.
Our family loves to eat this savory salmon with brown butter and almond sauce and prosciutto for a healthy high protein meal option. We also love our chili lime tilapia that is great to shred and top with our tropical peach salsa to create the best ever fish taco!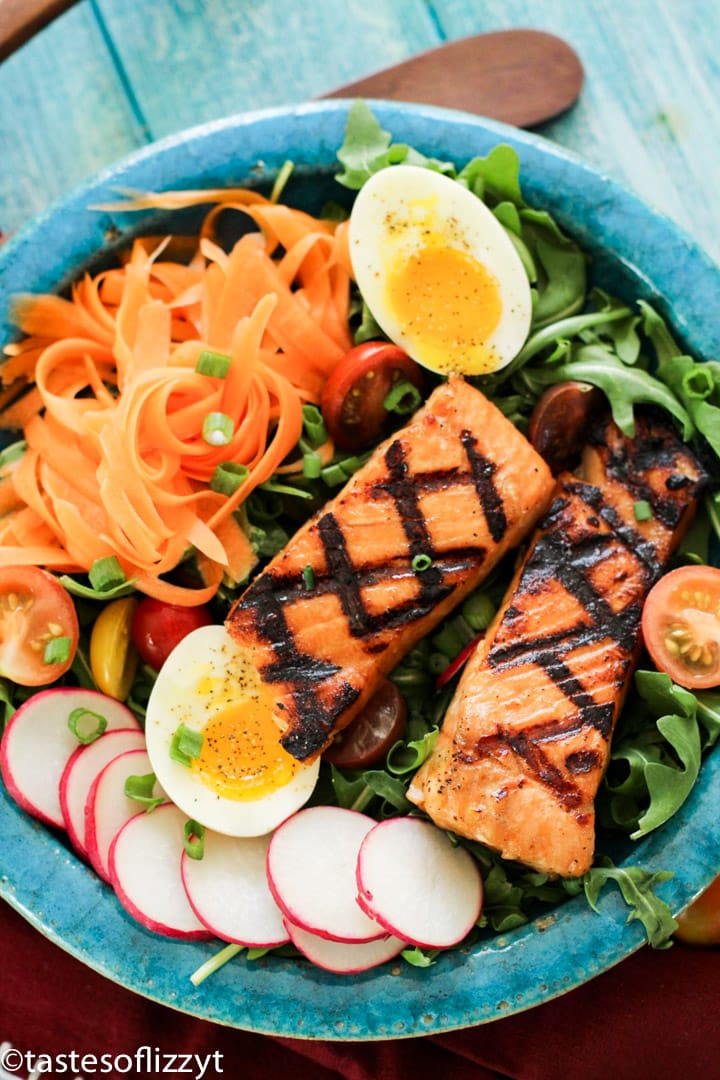 We're excited to share with you this new salmon recipe. It's a quick and easy dinner, perfect for a salmon salad or alongside a veggies and potatoes.
What does brown sugar salmon taste like?
Brown sugar + lemon slices + soy sauce + garlic = an incredible flavor combination to create this easy yet tasty brown sugar salmon recipe that your family is sure to love.
The beauty of this salmon recipe is that no ingredient overpowers the other. You still get that freshly grilled salmon taste that is nowhere near dry, has juicy flavor, is sweet but not extremely sweet. Basically, completely balanced!
Should I use frozen or fresh salmon for grilling?
The best salmon for grilling would be fresh salmon. In general fresh fish is always your best option, especially for grilling. Of course, frozen fish has its place, especially when making stews in the winter.
Tips for buying fresh salmon for grilling:
Buy boneless salmon.
Buy a whole piece and slice it at home to your desired thickness. Typically, it's cheaper this way.
Make sure your salmon is wild caught, or if farmed, make sure it's ethically raised.
Look for a juicy salmon. You want to avoid salmon that looks dried out.
Take advantage of your butcher. If you're buying fresh salmon from a butcher, have him remove the bones and the scales.
To remove the scales, use a knife and work against it to easily flake them off. Here's a 9 step process to gut and scale fresh salmon from The Spruce Eats.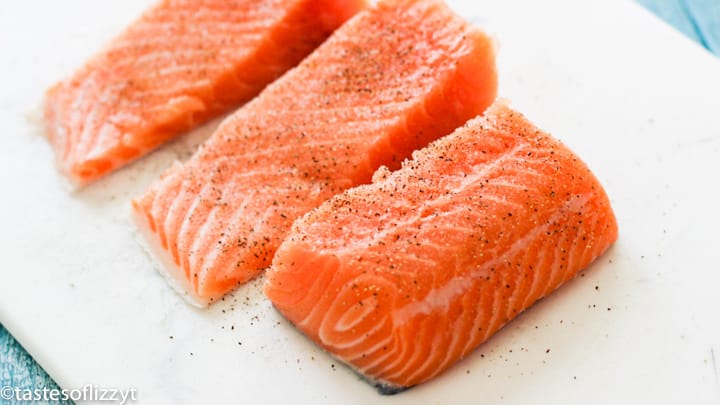 Brown Sugar Marinade for Salmon
I think you'll love this easy marinade! It has only 5 ingredients and only needs to marinate about 15 minutes.
lemon slices
brown sugar
soy sauce
water
minced garlic
How To Make Salmon On The Grill
Once your salmon has the bones and the scales removed, dry them with paper towels. You want dried salmon on the outside so the seasonings and marinade adhere to the salmon.
Cut the salmon into 3 inch portions for the perfect serving size.
For an easy clean up, it's best to dump your ingredients into a large Ziploc bag, remove the air, and gently rub the salmon with the brown sugar marinade.
Let your salmon sit for 10-15 minutes while you preheat and oil the grill.
Once your salmon has marinated and your grill has preheated over medium heat, it's time to grill it.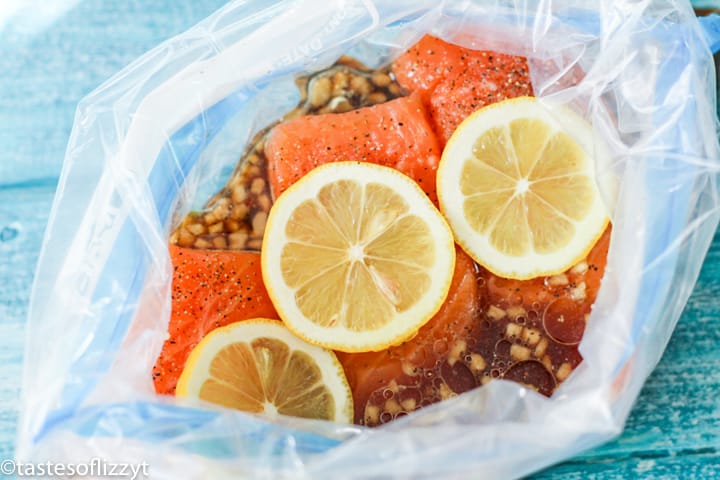 Tips for Grilling Salmon
Grease your grill griddle well with olive oil before turning on the grill. Carefully, apply a fresh coat of olive oil over the griddle again right before adding on the salmon. This helps keep the salmon from sticking to the grill!
Start skin side down. Grilling your salmon skin side down allows your skin to achieve a beautiful crispy finish. Grilling your salmon skin side down also helps retain more fluid since the skin acts as a barrier which means juicer salmon!
Grill skin side down for 4 minutes. Before flipping, check for resistance. Once your salmon is ready to flip, it should no longer be sticking to your grill. If the salmon is still sticking to your grill, let it cook an extra minute. Be sure to NOT try flipping or even moving your salmon before the 4 minutes are up, unless you have a very thin cut of salmon. You will know it's time to flip your salmon when the "lighter" color that occurs with cooking salmon reaches the halfway mark of the center of the salmon.
Grill only 2-3 minutes on the flesh side down. Once you've grilled your skin side down and have flipped it the salmon will cook much quicker skin side down.
How do you know when salmon is done?
Don't overcook your salmon! The salmon will continue cooking for about a minute more once you remove it from the grill until you cut it.
**Pro Tip: If you see white pellets beginning to form on the sides of your salmon, that is when you know you've overcooked your salmon. Like chicken, clear is best.**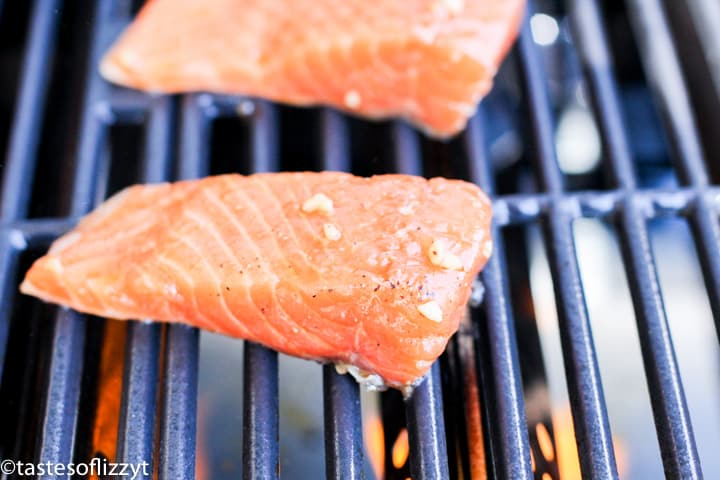 Can you eat salmon skin?
Yes! Many of the nutrients found in salmon are also in the salmon skin. Be sure to eat the skin since the scales have been removed, it's completely edible. It's really a matter of preference. Some in our family eat it…and some don't.
What should I serve with brown sugar salmon?
This brown sugar salmon is pretty versatile and will go with just about anything! We've decided to go more of an Asian route with this brown sugar salmon recipe and we served it on a salad with pickled carrots, fresh cut tomatoes, lettuce, and soft boiled eggs.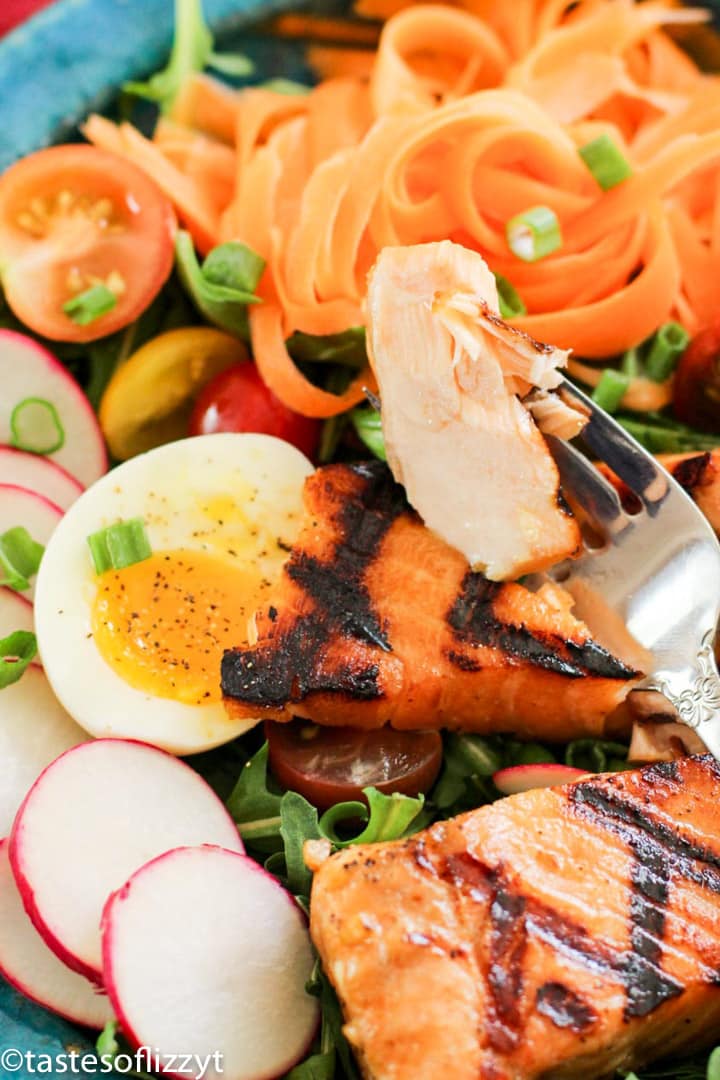 Other Salmon Side Dishes: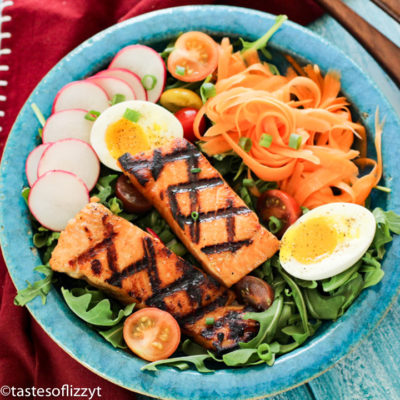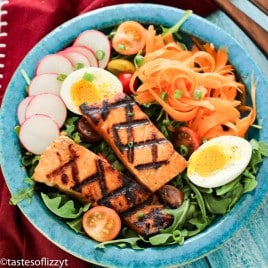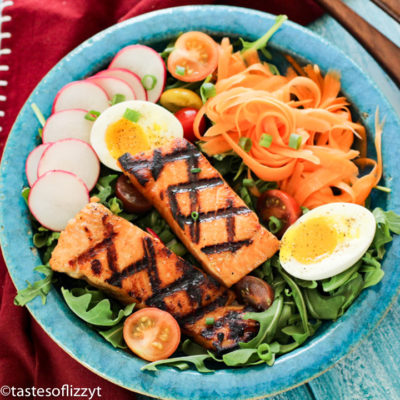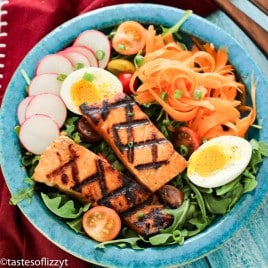 Brown Sugar Salmon
Fresh, light, sweet, and with a hint of citrus, this grilled brown sugar salmon recipe is perfect on a warm weeknight for dinner! 
---
Ingredients
3

fresh salmon fillets

(deboned and scales removed)

1/2

teaspoon

salt

1/2

teaspoon

black pepper

3

lemon slices

¼

cup

brown sugar

1/3

cup

reduced sodium soy sauce

2

tablespoons

olive oil

2

tablespoons

water

2

cloves

garlic

(minced)
Instructions
Dry salmon on all sides with paper towels.

Season salmon with salt and pepper. Set to the side.

In a gallon ziploc bag add in remaining ingredients. Add in salmon and gently coat salmon with sauce and set to the side for 10-15 minutes before grilling.

Preheat grill to medium heat and oil the grill.

Grill salmon, skin side down 4 minutes, then GENTLY flip and cook 2-3 minutes on the other side.

Salad was made with arugula, radishes, soft boiled eggs, pickled carrots, and tomatoes.

Notes
The calories shown are based on 1 piece of marinated salmon. Since different brands of ingredients have different nutritional information, the calories shown are just an estimate. **We are not dietitians and recommend you seek a nutritionist for exact nutritional information.**
**Note...this recipe shows that it is high in sodium, but most of the marinade will get thrown away, so the actual sodium content is lower.
Nutrition
Calories:
412
kcal
|
Carbohydrates:
21
g
|
Protein:
35
g
|
Fat:
20
g
|
Saturated Fat:
3
g
|
Cholesterol:
94
mg
|
Sodium:
1413
mg
|
Potassium:
908
mg
|
Fiber:
1
g
|
Sugar:
18
g
|
Vitamin A:
70
IU
|
Vitamin C:
0.7
mg
|
Calcium:
44
mg
|
Iron:
2.1
mg