Homemade Yellow Cake Recipe
Tastes of Lizzy T participates in affiliate advertising programs. We may earn a commission when you make a purchase through links on our site.
Hints for making a homemade yellow cake recipe. Use the right ingredients and special egg technique for a fluffy, buttery from-scratch cake.

One thing I love about you all is that you stretch me to try new things. If you were with us at the start of the new year, I sent out a reader survey asking people what recipes you'd like to see me share. The response was overwhelming. I've got a spreadsheet full of the names of delicious food you want on your family's table. Thank you!
For many of you who found us because of this cake, your request was that you wanted a homemade yellow cake. Yellow cake was something I hadn't considered too much before. What makes the cake yellow? What makes yellow cake tastes differently than white cake? It was easy, really, once I actually did think about it. Yellow cake does have a different flavor than white cake. It's richer and full of butter flavor.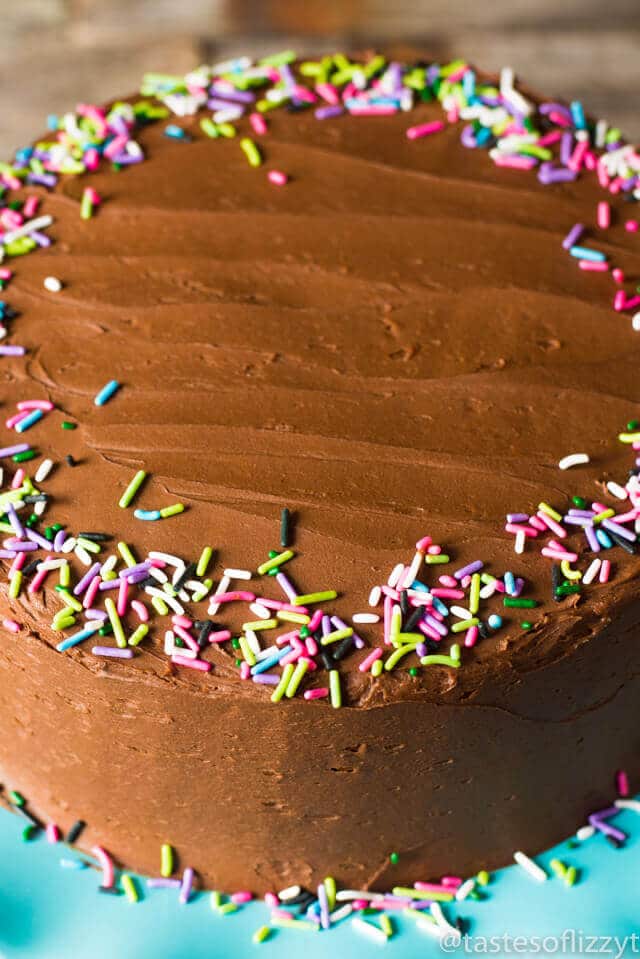 I went digging in my favorite old cookbook to find a potential recipe to work with. It didn't take long to find a cake that I knew had huge possibilities based on the ingredients & technique they used to make it. Let's chat about it.
Ingredients for a From-Scratch Yellow Cake
Cake flour. In my from-scratch cake testing I've done the past few years, I've realized that cake flour is a must for homemade cakes. Can you use all-purpose flour in this homemade cake? Probably. But I haven't tried it and don't recommend it. If you want good texture, buy cake flour. You can usually find it in a box in the baking aisle right by all the other flour.
Butter. Most of the old-fashioned cake recipes I find call for shortening. After testing the recipe with both butter and shortening, I decided to switch out the shortening for butter. Although the texture seems potentially a bit better with shortening, the flavor the butter gave the cake totally won out. The butter also helps give the yellow color a boost.
Butter flavor. Most cakes will call for vanilla extract and this cake is no different. But to really give this cake a flavor that is a little different than traditional white cake, you'll also use butter flavor. You can find little bottles of butter flavoring right by the extracts in the baking aisle. Dont' skip it! It gives the cake such a rich, delicious taste.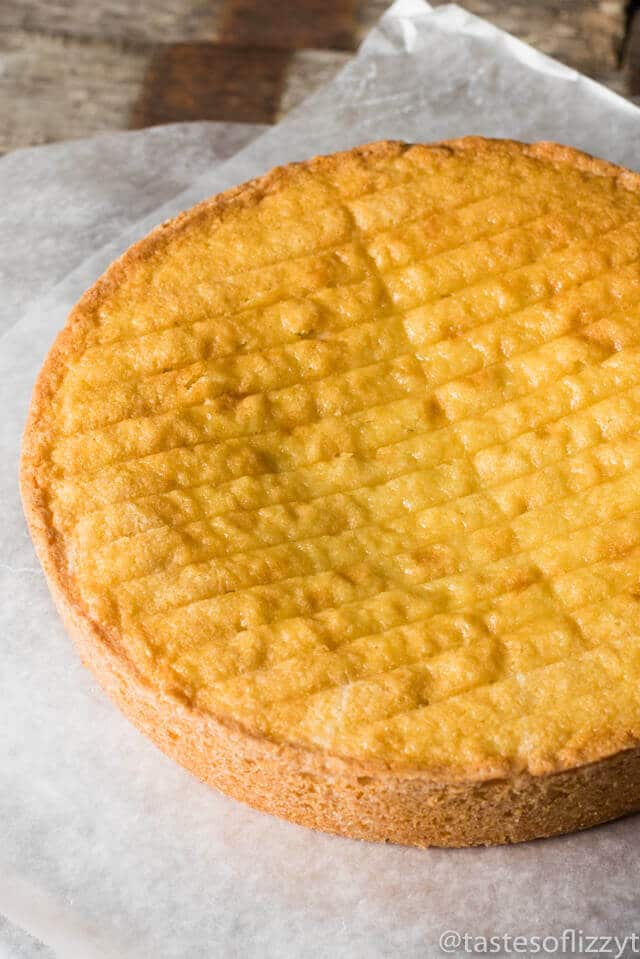 Our Hint for a Fluffy Yellow Cake
The ingredients give this homemade yellow cake recipe an amazing flavor, but there's a technique we use to give it the perfect texture. Here's the secret. Divide the eggs and beat the egg whites until they are thick and stiff, like a meringue. Then fold those fluffy egg whites into the prepared batter. This adds a lightness to the cake. It's the same technique we use for our almond cream cake.
There are a few keys to making the fluffy egg whites successfully. 1. Make sure the bowl and utensils that you use to froth the egg whites are clean and grease-free. If your eggs don't get to the point where they can hold a peak in a few minutes, you may have to start over. Clean utensils and a fast, strong mixer are important.  2.  Do NOT overmix the batter once the egg whites are added. I cannot emphasize this enough. Fold gently. Do not mix quickly.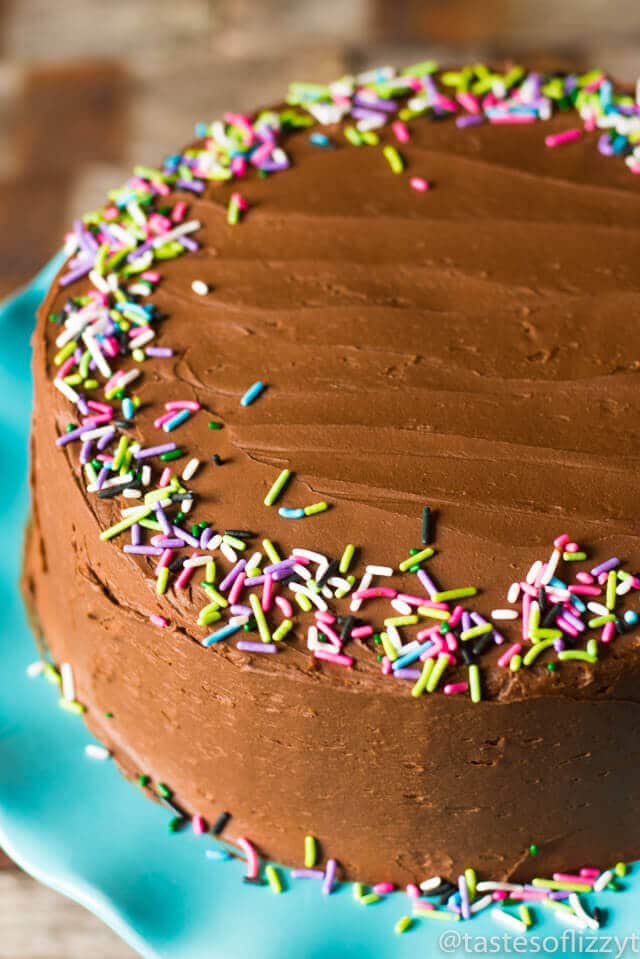 And with those hints, this homemade yellow cake recipe should go fairly smoothly for you.
Our favorite topping? Chocolate Frosting. Homemade, of course. But honestly, we've eaten this homemade yellow cake recipe without any topping before. Because the flavor is simply that good.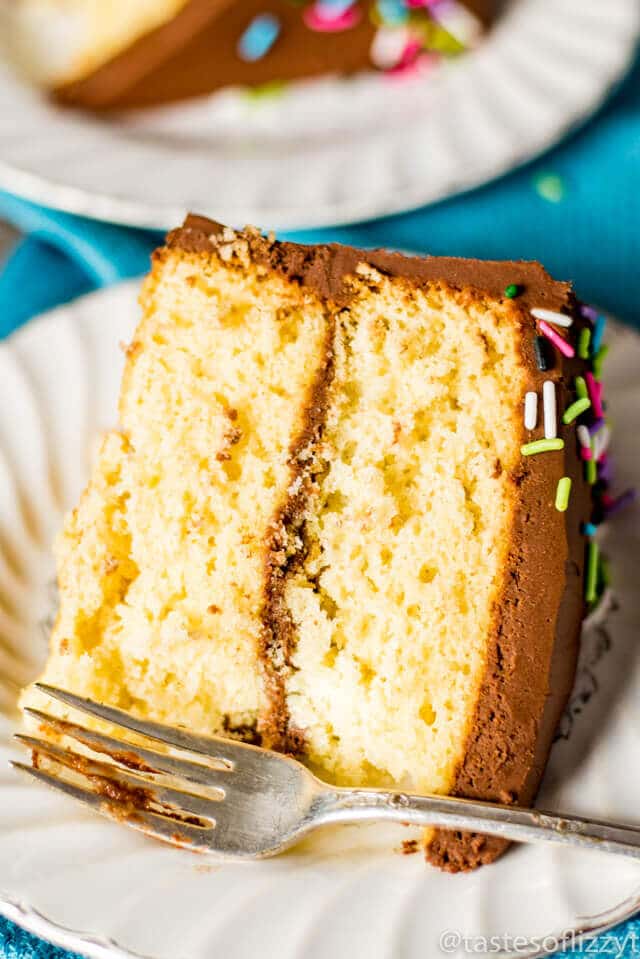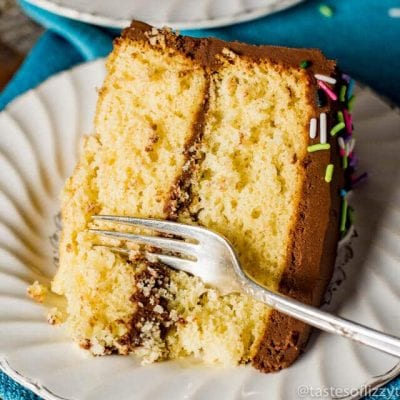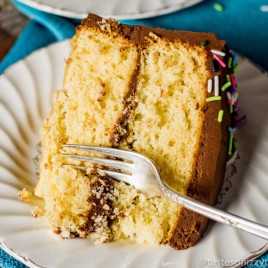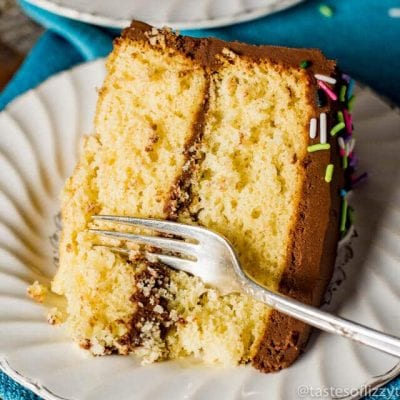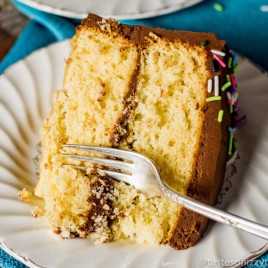 Homemade Yellow Cake Recipe
Hints for making a homemade yellow cake recipe. Use the right ingredients and special egg technique for a fluffy, buttery from-scratch cake.
---
Ingredients
3

large

eggs

divided

3/4

cup

butter

softened

1 1/2

cups

granulated sugar

1

teaspoon

vanilla extract

1 1/4

teaspoons

butter extract

2 1/4

cups

cake flour

270 grams

1 1/2

teaspoons

baking powder

1

teaspoon

baking soda

1/2

teaspoon

salt

3/4

cup

thick buttermilk

1 1/2

recipes

Chocolate Buttercream
Instructions
Preheat the oven to 325 degrees.

Divide the egg yolks from the egg whites. Place the egg whites in a medium bowl. Place the egg yolks in another bowl and set aside.

Use a hand mixer on high speed to beat the egg whites until the are frothy and can hold a peak.

Transfer the egg whites to a smaller bowl and set aside.

In the same mixing bowl that you beat the egg whites in, cream together the butter and sugar.

Add the egg yolks, vanilla and butter extracts. Beat for 1 minute.

In a small bowl, whisk together the flour, baking powder, baking soda and salt.

Add half the flour mixture to the creamed butter. Mix.

Add half the buttermilk. Mix.

Add the remaining flour mixture and then buttermilk to the cake batter, mixing between each addition.

Beat until smooth, no more than 1 minute. Do not overbeat the cake batter.

Fold the egg whites into the cake batter using a rubber spatula very gently. Be careful not to mix too quickly or harshly. Just fold gently just until the egg whites are completely folded in. This is what keeps your cake fluffy!

Grease and flour two 9" round cake pans.

Divide the cake batter evenly between the two prepared pans.

Bake for 25 minutes, until the top of the cake bounces back when you touch it. Be careful not to open the oven door until you think your cake is done or the cakes may fall.

Allow the cakes to cool for 5 minutes, then loosen the edges of the cake with a knife and turn them out onto a wire rack to cool completely.

Once the cake is cool, frost with the chocolate frosting (or whatever frosting you'd like!).
Nutrition
Calories:
249
kcal
|
Carbohydrates:
34
g
|
Protein:
3
g
|
Fat:
10
g
|
Saturated Fat:
6
g
|
Cholesterol:
62
mg
|
Sodium:
259
mg
|
Potassium:
91
mg
|
Sugar:
20
g
|
Vitamin A:
355
IU
|
Calcium:
42
mg
|
Iron:
0.4
mg