I can't even believe that Christmas is sneaking up on us. I know we haven't even had Thanksgiving yet, but to me, it might as well be Christmas Eve. Do you have you tree up yet- or do you like to wait until after Thanksgiving? In our family, we start "counting" days until the next Christmas somewhere in between New Year's and Valentine's Day. Yes, we love Christmas that much! I always look forward to the pre-preparations of Christmas- all the shopping, decorating, and baking. Adding more great recipes is almost too much to handle.
Almost.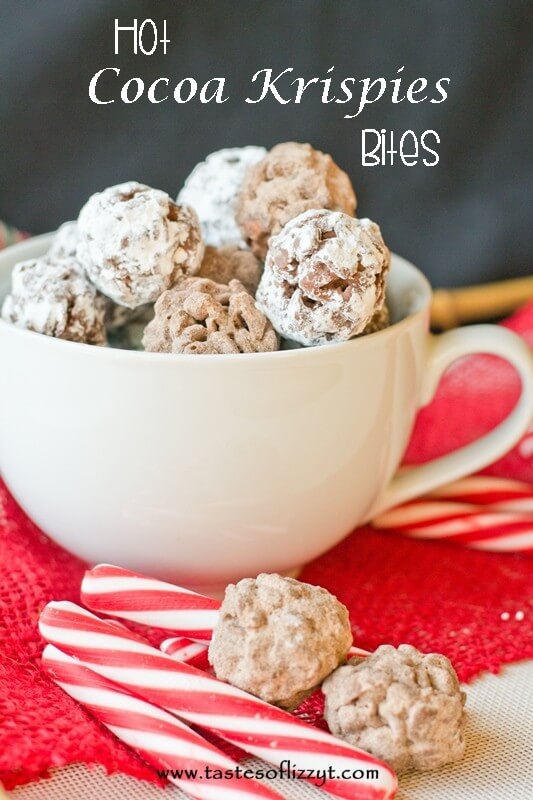 These Hot Cocoa Krispies Bites are new to me, but that doesn't keep me from loving them any less. We have lots of favorite Christmas treats that we like to make, but every year there is always room for one more cookie. Dinner is always warm and comforting at this time of year, but it's the dessert that we eat the most of and look forward to the most. At least that's what the kids are thinking. The parents just don't look at the scale for a few months.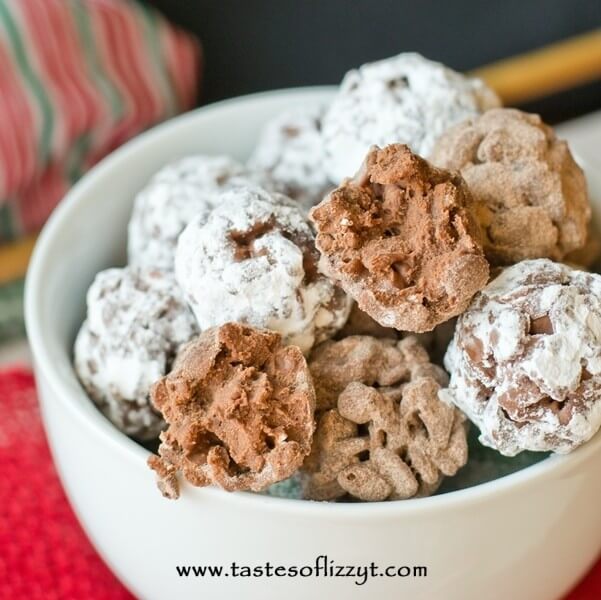 That's pretty much the reason why these little bites are really going to kick off the Christmas season. They are irresistible. It is the interesting combination of chocolate Cocoa Krispies cereal, Three Musketeers bars, and hot cocoa mix to make these spectacular Hot Cocoa Krispies Bites.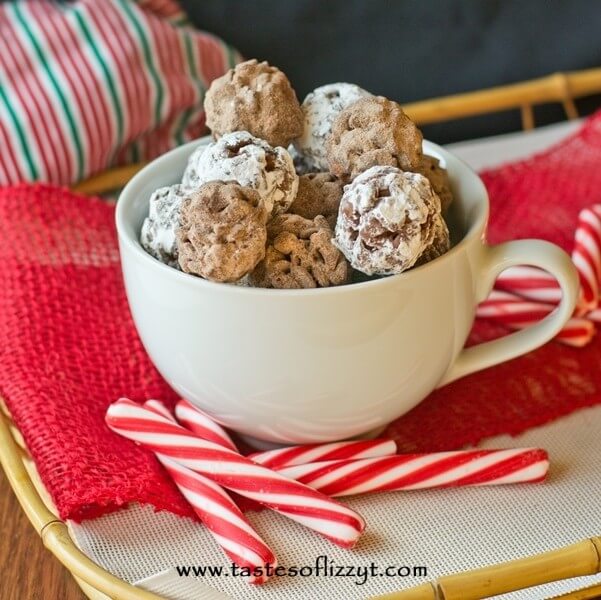 These crispy bites are sweet, chocolaty, and crunchy. They are the perfect snack if you are looking for something to satisfy your sweet tooth.
They're also fun to make since you get to melt down 3 Musketeers bars.  I never even knew you could do this before, but just had to try it!  Make sure you use the heaviest saucepan you have, keep the stovetop on medium to low temperature, stir the chocolate constantly, and remove it from the heat as soon as the chocolate is melted.
Thanks for visiting!
-Maddie
Yields 40
Hot Cocoa Krispies Bites
Melted 3 Musketeers candy bars and hot cocoa mix give these little crispy treats the taste of hot chocolate!
Ingredients
1 bag (10 ounces) Hot Cocoa 3 Musketeers candies
2 tablespoons milk
1 tablespoon hot cocoa powder
2 1/2 cups Cocoa Krispies cereal
3 tablespoons marshmallow bits
3 tablespoons mini chocolate chips
1/4 cup hot cocoa mix powder
1/4 cup powdered sugar
Instructions
Unwrap the 3 Musketeers candy bars and place them in a heavy bottomed saucepan. Turn the heat on to medium low. Add the milk and hot cocoa powder. Melt the candies, stirring constantly until they are smooth. Once the chocolate is melted, remove it from the heat.
Stir in the Cocoa Krispies cereal and mix. Add in the marshmallow bits and mini chocolate chips and mix well.
Drop by teaspoonfuls onto cookie sheets that have been lined with wax paper or parchment paper. Make about 40 mounds.
With buttered fingers, roll the mounds into balls, then roll the balls in either powdered sugar or hot cocoa mix, whichever you desire!
Store in an airtight container.
Notes
Note: We used the Hot Cocoa flavor of 3 Musketeers bars, but you can use regular flavored 3 Musketeers, too!
7.6.4
576
https://www.tastesoflizzyt.com/hot-cocoa-krispies-bites/
Inspired by Red & Yellow's Bright Ideas Cookbook
If you haven't tried out our Homemade Hot Chocolate Mix, you'll want to make some soon! It's great for a cup of hot cocoa, or for your favorite recipes!