Thanksgiving Day tips on everything you need to know about how to cook a turkey! From brining to smoking to roasting, serve a delicious turkey, every time.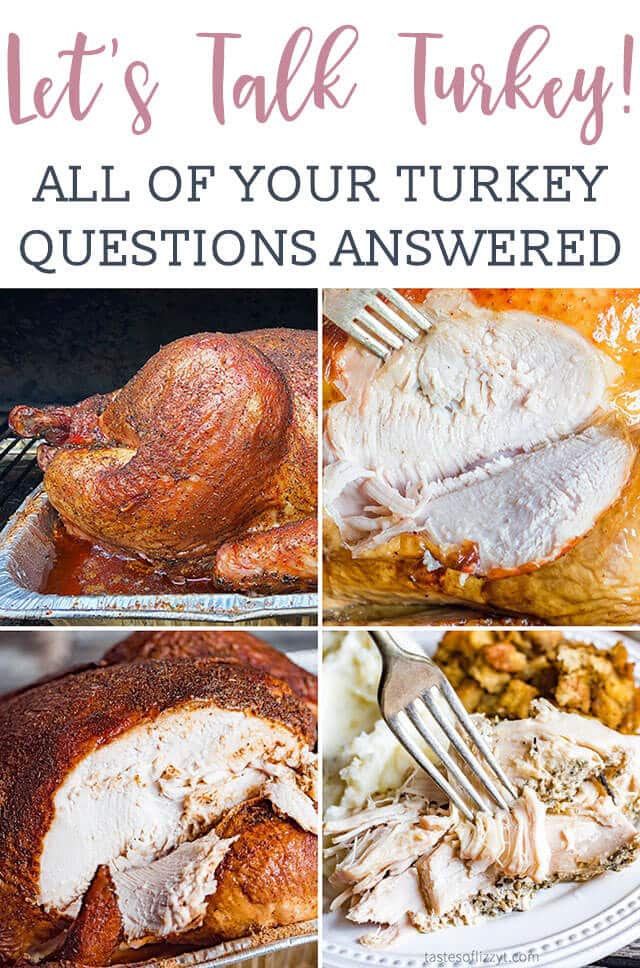 Thank you to the Ohio Poultry Association for sponsoring this post. As always, all opinions are my own.
A few weeks ago we had the opportunity to visit Bowman & Landes Turkey Farm. This is a free range turkey farm in southwest Ohio that has been in operation for 30 years…since 1948! If anyone knows turkeys, it's Bowman & Landes. And since nearly 88% of Americans eat turkey on Thanksgiving, we should all be cooking turkeys that we LOVE.
There are several different ways to prepare the turkey and methods of cooking. We're going to highlight a few today so that you can try out a new method or tip this holiday season.
Scroll down for pictures and more info on our farm visit.
Turkey Questions Answered
If you're like me, cooking dinner for Thanksgiving Day can seem overwhelming.
How do I know how much food to prepare?
How do I make sure my turkey isn't dry?
How much time should I allow for the turkey to defrost?
These are all questions I have had and still have every time I'm in charge of Thanksgiving dinner. We're breaking down all the questions today to make sure your turkey day comes off without a hitch.
How big of a turkey should I buy?
You should plan for about 1 pound of turkey per person. If you want leftovers, plan for 1 ½ pounds per person.
Fresh Turkey vs Frozen Turkey
Fresh vs frozen…is one better than the other? Technically, there is no quality difference between a fresh turkey and a frozen turkey. Frozen turkeys are flash frozen to 0º Fahrenheit immediately after they are packaged. Many people will say that fresh turkey has better flavor than frozen. If you are cooking your turkey within 2-3 days, give fresh a try. If you need to buy in advance, stick with frozen turkey.
Bowman & Landes was kind enough to give us a fresh turkey to try. We smoked it on our pellet smoker and I will say it was one of the most delicious turkeys I've had. Doesn't it look perfect?! We followed this recipe for the smoked turkey rub. It makes such good sandwiches, too!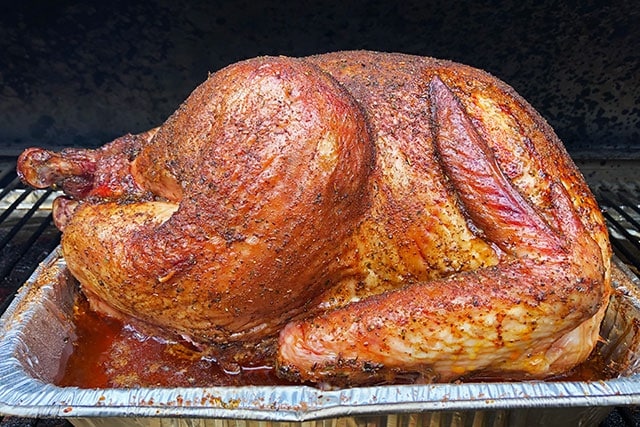 How do I thaw a turkey?
The best way to thaw a turkey is to let it sit in the refrigerator until it is fully thawed. So how far in advance do you need to remove the turkey from the freezer?
A general rule is to allow 1 day of thawing for every 4 pounds of turkey. Do not thaw your turkey on the countertop at room temperature! Read the OPA's turkey safety instructions here.
Should I brine a turkey?
Turkey brining definitely seems to be a current trend. But if you aren't sure you want to take the time or learn how to brine a turkey, the turkey experts at Bowman & Landes say that it isn't necessary.
If you buy a quality turkey to begin with, your turkey will be moist and tender even without brining. I personally have never brined a turkey, but it is on my list of things to try! Here is a tutorial for brining a turkey.
Is it safe to stuff a turkey?
My family has served a stuffed turkey almost every Thanksgiving, year after year. I grew up with my mom preparing it that way and we've kept the tradition going.
So is it safe to stuff a turkey? Yes, but you want to be sure the middle of the stuffing reaches 165º Fahrenheit. That makes a meat thermometer an essential Thanksgiving Day tool. Also be sure you stuff the turkey loosely. You'll want to use about ¾ cup of stuffing per pound of turkey. Cook the turkey immediately after you stuff it.
Looking for a stuffing recipe? Try my best turkey dressing!
How to Cook a Turkey
There are several different ways you can cook a turkey. Here are a few of our favorites!
The most traditional way to roast a turkey is in the oven. One tip for cooking turkey is to cook it breast side down for the first 2 hours. Then flip it over and cook it the remainder of the time breast side up. If you don't want to cook the turkey upside down, cover it with foil after it has baked for ⅔ of the time so that it doesn't dry out. Read all about how to Here is a tutorial for roasting a turkey with peach bourbon glaze.
My mom has cooked turkey in a bag for years…ever since I can remember! It's an easy method. It keeps the turkey moist, shaves off cooking time and tastes amazing.
We have two different posts about smoking turkey. One includes a dry rub method and the other has the cavity stuffed with citrus fruits and…soda pop! Both are delicious. Use hickory, apple or cherry wood chips to enhance but not mask the turkey flavor. And be sure you plan about 30-40 minutes per pound of turkey to cook it completely. Read about our dry rub method here and the juiciest smoked turkey here.
How to Cook a Turkey in an Electric Roaster
My new favorite method to cook a turkey is in an electric roaster. It saves oven space and creates the juiciest turkey! Kinslee actually said the turkey was the BEST turkey she had ever eaten. So I consider that a win! This method is also one of the fastest ways to cook a turkey. Roaster lids are often self-basting, so there is no need to baste the turkey. Read all about cooking in an electric roaster here.
How to Cook a Turkey in a Slow Cooker
If you're only cooking a small turkey, a slow cooker is a great option. It makes the turkey fork tender and fall off the bone delicious. The skin won't be as golden brown as it is when you roast it in the oven, but the taste will make up for that! Read all about slow cooking a turkey here.
Watch Us Prepare a Slow Cooker Turkey Breast
**We LOVE our Thermoworks ThermaPen to quickly test meat temperatures. This probe thermometer is AMAZING.  Get it here.**
What if I don't need a whole turkey?
If you are cooking just for a few people and don't want to cook a whole turkey, you can cook a bone-in turkey breast or a turkey roast. A turkey roast normally has a gravy packet included, which can make it a little more expensive by the pound.
If you like to make your own gravy, I highly suggest cooking a whole turkey breast. You'll have enough for Thanksgiving dinner but also some delicious meat for turkey sandwiches.
What to do with Leftover Turkey
Turkey sandwiches, open faced turkey hot shots and turkey casseroles are always a good idea. If you're looking for something a little different, try one of these: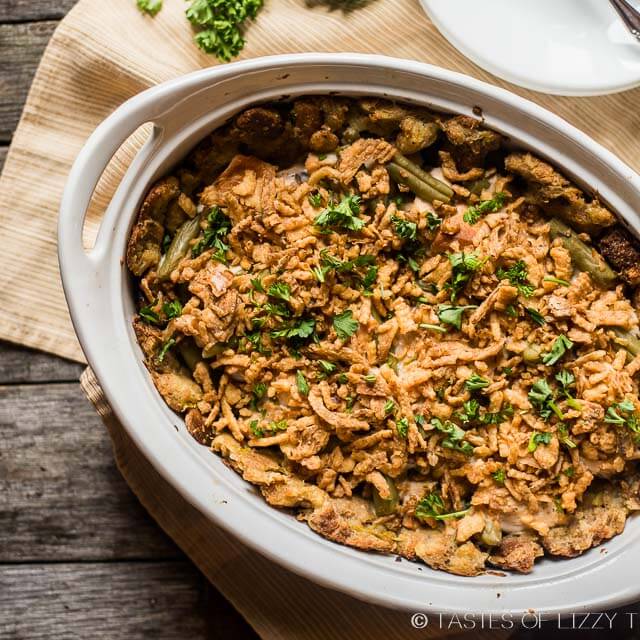 Ohio Turkey Farms
Ohio ranks 9th in the nation for turkey production and produces over 236 million pounds of turkey each year. Turkey consumption has nearly doubled since 1970 since people have realized what a healthy protein turkey is. Read some important turkey facts here.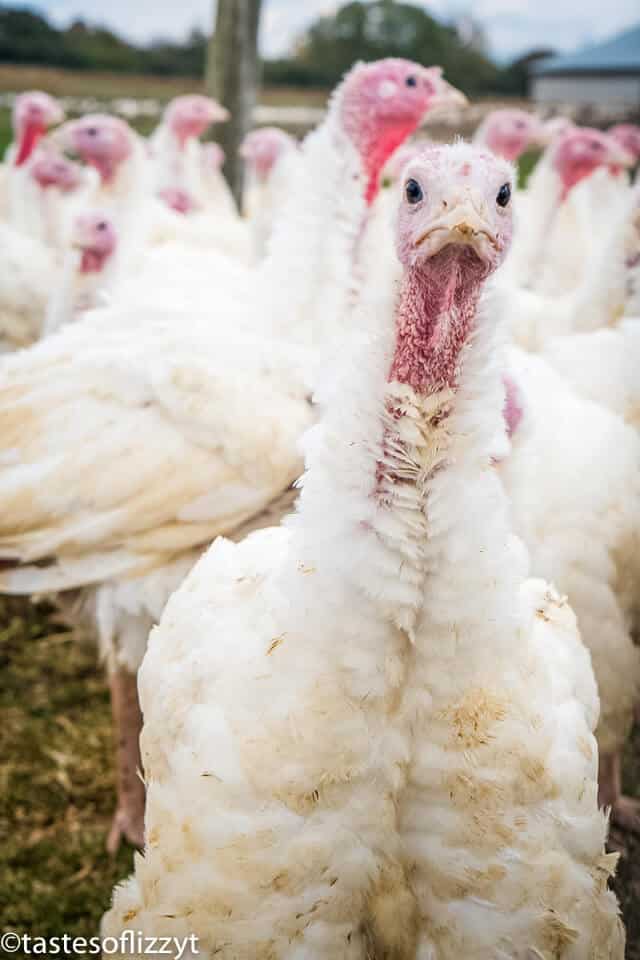 Free Range Turkey Farms
Bowman & Landes is a free range turkey farm. That means that they turkeys can come and go as they please from their barn, but have feeders, shelter and water, plus heavy duty fencing to keep the turkeys safe from predators. They are rotated every few days to a different pasture land so they always have some green grass to roam in. I love that Boman & Landes also has corn planted in patches so the turkeys can rest in their shade.
At Bowman & Landes, the turkeys are harvested in their USDA inspected processing plant. No need for transporting the birds, which makes for less-stressed birds and higher quality meat after processing.
Are turkeys given antibiotics?
Bowman & Landes uses no antibiotics at all in their turkeys. Other turkey farms may use antibiotics to treat illness just as we would treat our children's illness with antibiotics if absolutely necessary. Medication is closely monitored and there is a withdrawal period and other guidelines that farmers must strictly adhere to based on FDA standards. Only meat that is guaranteed safe to eat will enter the food supply.
What about the Avian Flu?
Farmers have had to adhere to strict standards to prevent the spread of Avian Flu. They do everything they can limiting access to their turkeys, showering upon going into a facility and showering out, using boot covers, and controlling ventilation. It is devastating to farmers to lose birds, so they work hard to prevent the spread of Avian Flu. You can ensure that turkey that enters the food supply is safe and nutritious because farmers work hard to do this.
Be sure to thank the Ohio Poultry Association for all they do to educate and inform us. You can follow them on Facebook, Instagram, Pinterest and Twitter.